While most of us are just regular people who like to enjoy a nice time at Disney World to relax and unwind, there is another group of super-human athletes that come to Disney to COMPETE!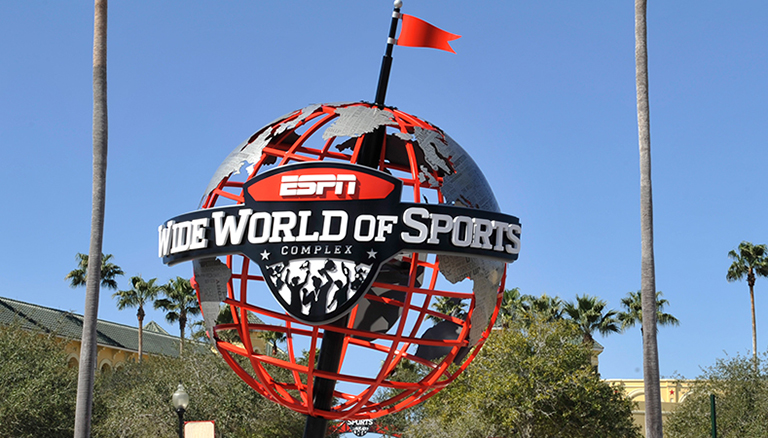 And no, we're not talking about power-walking around World Showcase to snack and sip around the world, we're talking about thousands of cheer and dance athletes along with their families who descend on Disney property to compete in tournaments.
ESPN Wide World of Sports complex hosts all sorts of sporting events throughout the year, from runDisney events to eSports tournaments (yep, that's a thing!). But let's take a little dive into one of the events that might be peppiest of them all, the Cheer and Dance events.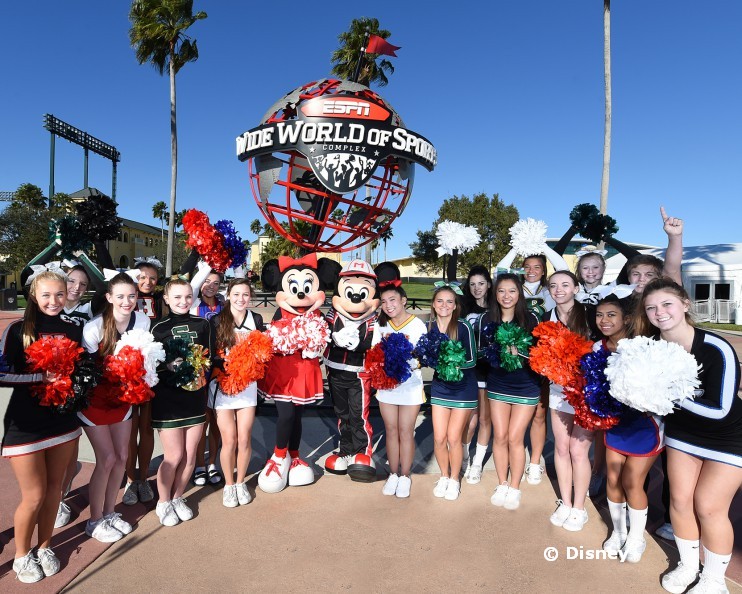 If you're not a cheerleader or proud cheer parent, you may not be super familiar with their competitive schedule or how it could impact your Disney World plans. So, let's review some quick stats on when these cheerleading championships typically occur — and what you can expect if your vacation dates coincide with Disney World's Dance and Cheer Season!
2023 Disney World Cheer Events Calendar
Competitions typically take place from early December through early May.
January 13 – 15, 2023: College Cheerleading and Dance Team National Championships. This is the most prestigious collegiate national championship in the country. Because it's for college cheer and dance teams, you'll see more young adults descend into Disney World than you will a large influx of families, as you might experience from some of the youth events. So, be prepared for the increase in EPCOT's college-age crowd celebrating their achievements around World Showcase.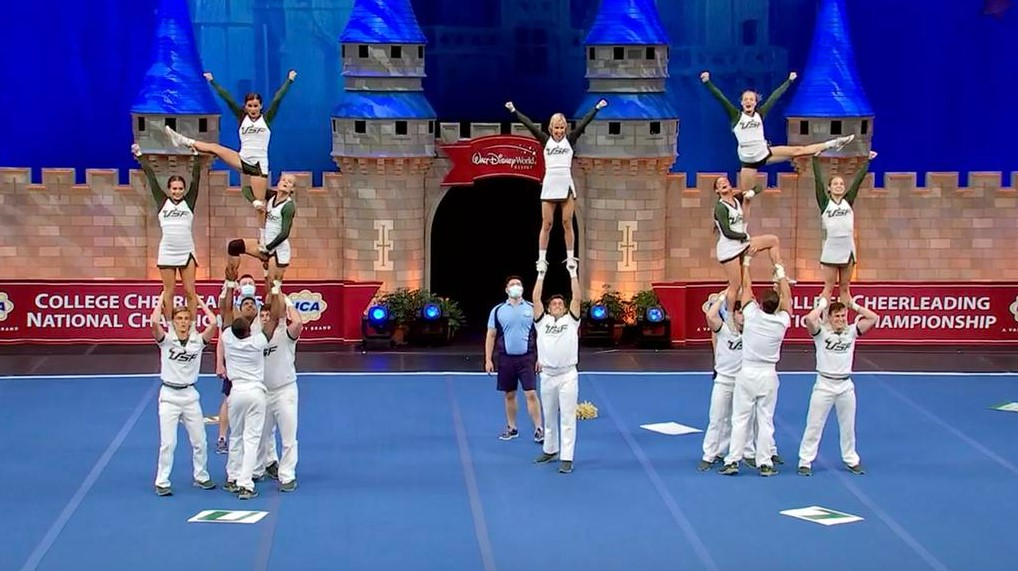 February 3-5, 2023: National Dance Team Championship, Just as there is a championship for college cheer and dance athletes, the UDA hosts the National Dance Team Competition for junior high and high school dance teams to crown the national championship team. The tournament is open to high school and junior high teams, but there are also youth levels in this tournament, also.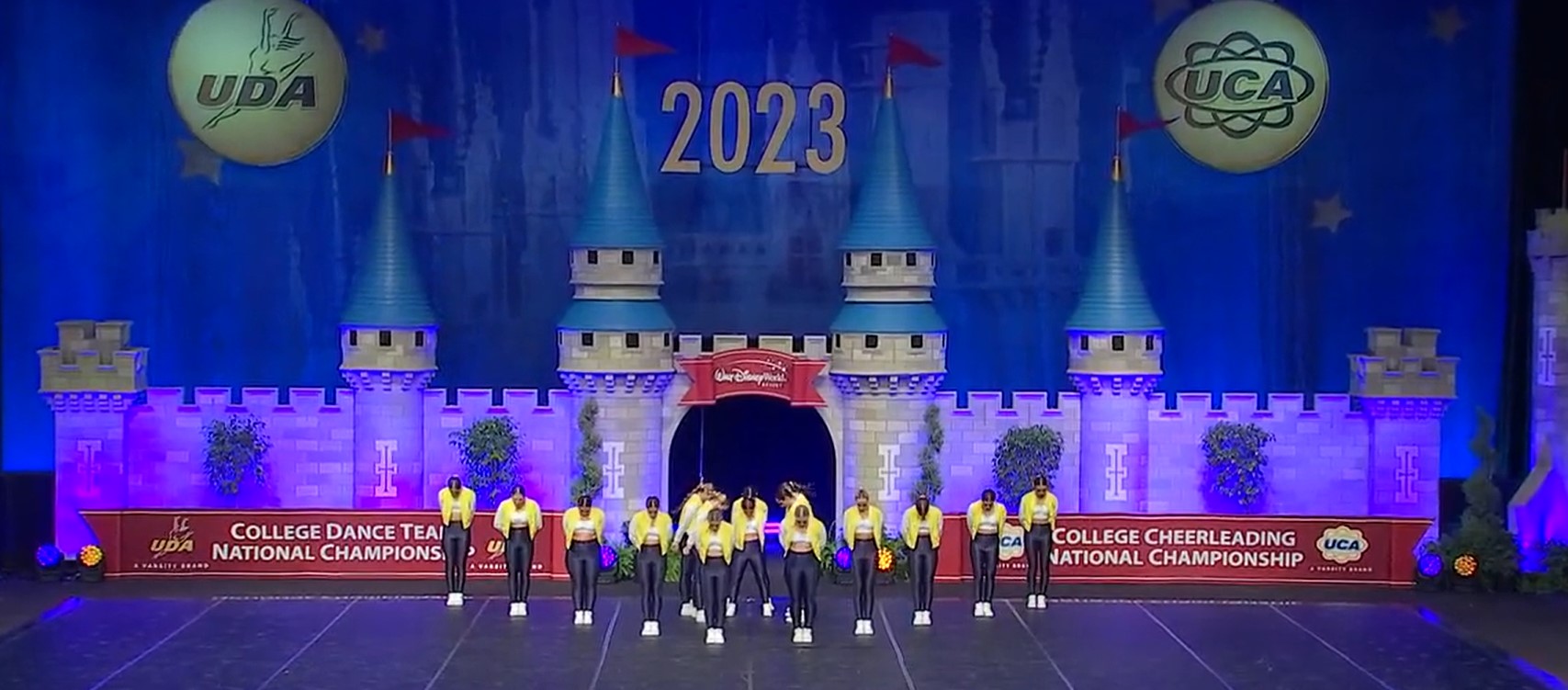 February 10-12, 2023: National High School Cheerleading Championship. Following the National Dance competition is the National High School cheer competition. The best of the best high school cheer teams strive for honor to become national champions. This is the biggest high school cheer competition in the country, and is also where high school teams come to compete for the last time in their season.
The 2023 event hosted 1,125 teams across 33 states.  And let's do that math really quickly. If each team has about 20 athletes (plus a coach or two), and each athlete/coach has family with them (let's say three family members) supporting them and cheering them on during their tournament,  That's 99,000 cheer athletes and fans coming to Disney World — and maybe to YOUR resort!
March 3-5, 2023: Contest of Champions Nationals. This open event is not directly connected with any association or camp, nor does it require a qualifying event to participate. So it is open to any dance troop to enter and compete.
March 10-11, 2023: The Quest – Recreational Cheerleading Championship. This event claims to be "the most competitive and prestigious end-of-season event for Rec & Youth Cheer." This event allows recreational cheer athletes a chance to compete at the top level and gain that one-of-a-kind competitive experience.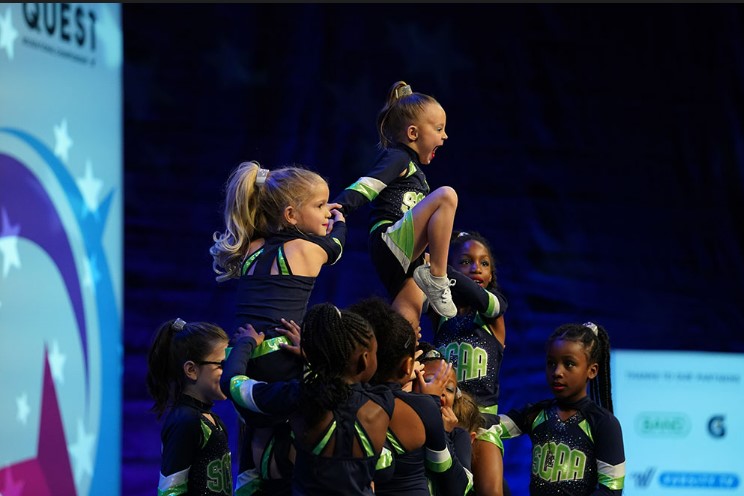 March 11- 12, 2023: UCA International All Star Cheerleading Championship. "The UCA International All Star Championship is the ONLY event at the Walt Disney World Resort for Tiny, Mini and Youth athletes to compete." This event provides opportunities for teams at several age levels to compete together and provide growing experiences and comraderie.
April 19-21, 2023: ICU Cheerleading World Championship. This event allows cheer teams from all around the world to compete. There are several cheer team categories including: All Girl Cheer, Coed Cheer, Stunt, Doubles, Pom, Hip Hop, Jazz, High Kick, and ParaCheer. These are also available at the youth and junior levels. So, there's a lot of cheering happening here.
April 22-24, 2023 (USASF & IASF) US All-Star Federation Cheerleading and Dance Worlds. Teams that may have competed and ranked for the National Cheer and Dance competitions earlier in February may qualify for the opportunity to represent the USA in the All-Star Worlds events.
April 27-30, 2023: The Summit-Varsity All-Stars Cheerleading and Dance Championship. The Summit is the pinnacle event of the all-star cheerleading world for the majority of non-Cheerleading Worlds eligible teams. Nearly 1,000 teams compete every year. And again, some quick math, with about 20 cheer athletes per team, plus coaches, plus family, that about 88,000 visitors arriving for Summit, and also to Disney World.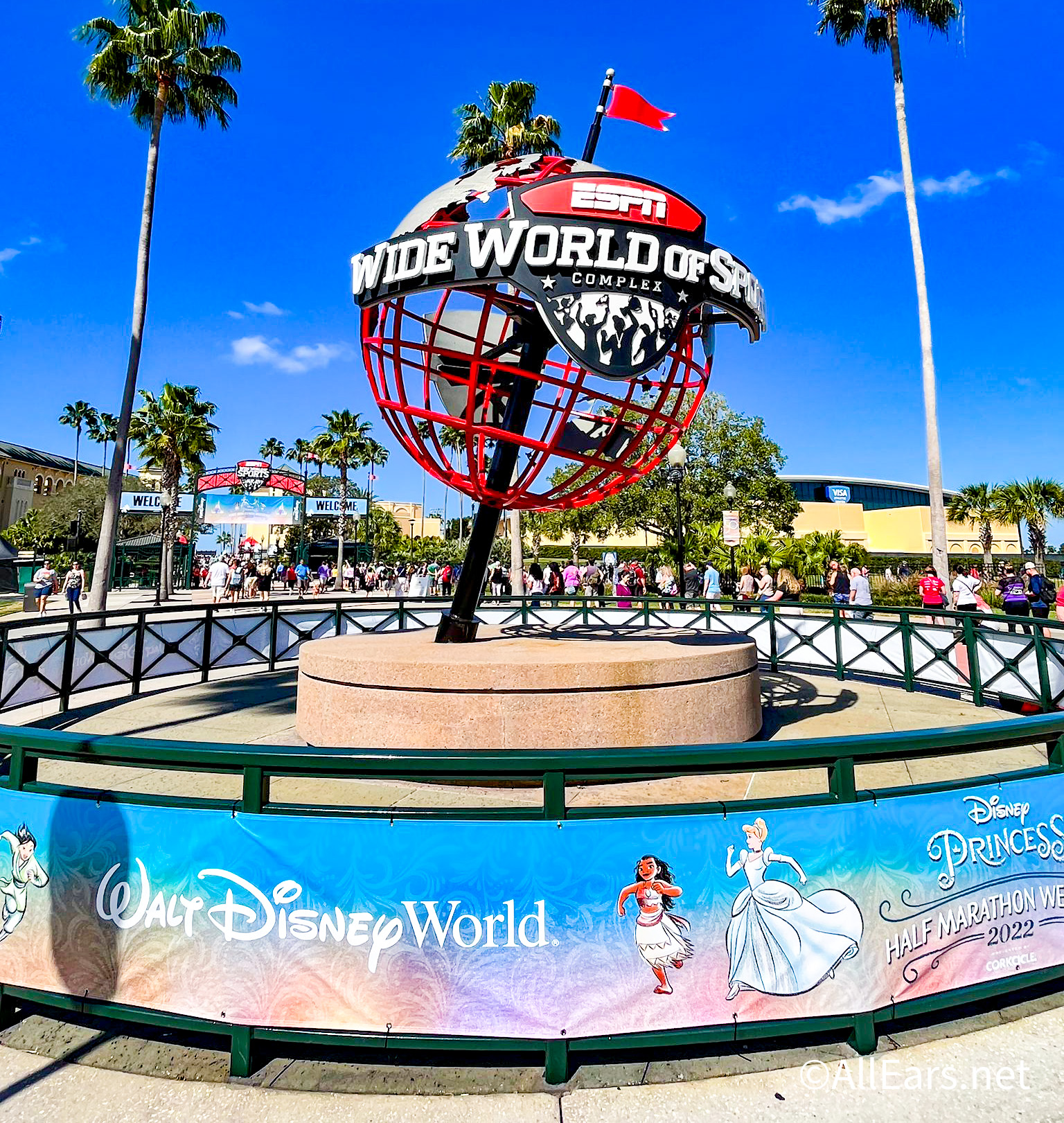 May 5-7, 2023: The D2 Summit – All Star Championship. This event is organized similarly to the "other Summit" but this event was designed for "small gym divisions" to provide competition access for teams from smaller organizations.
December 2- 9, 2023: Pop Warner Week. Pop Warner Week hosts hundreds of boys and girls from 72 football teams and over 500 cheer and dance teams to compete in the Pop Warner Superbowl and the National Cheer and Dance Championships. The cheer and dance teams compete in five different age categories, ranging from Mitey-Mite all the way up to Varsity.
Areas of Disney World Impacted
When thousands of cheerleaders descend on Disney World for a competition event, it will impact all of the parks and Disney properties, but many of their events are concentrated in some specific areas.
ESPN Wide World of Sports Complex — This space is hosts all of the competitive events and is located on the southern point of Disney property, closest to the All Star Resorts and in between Osceola Parkway and US 192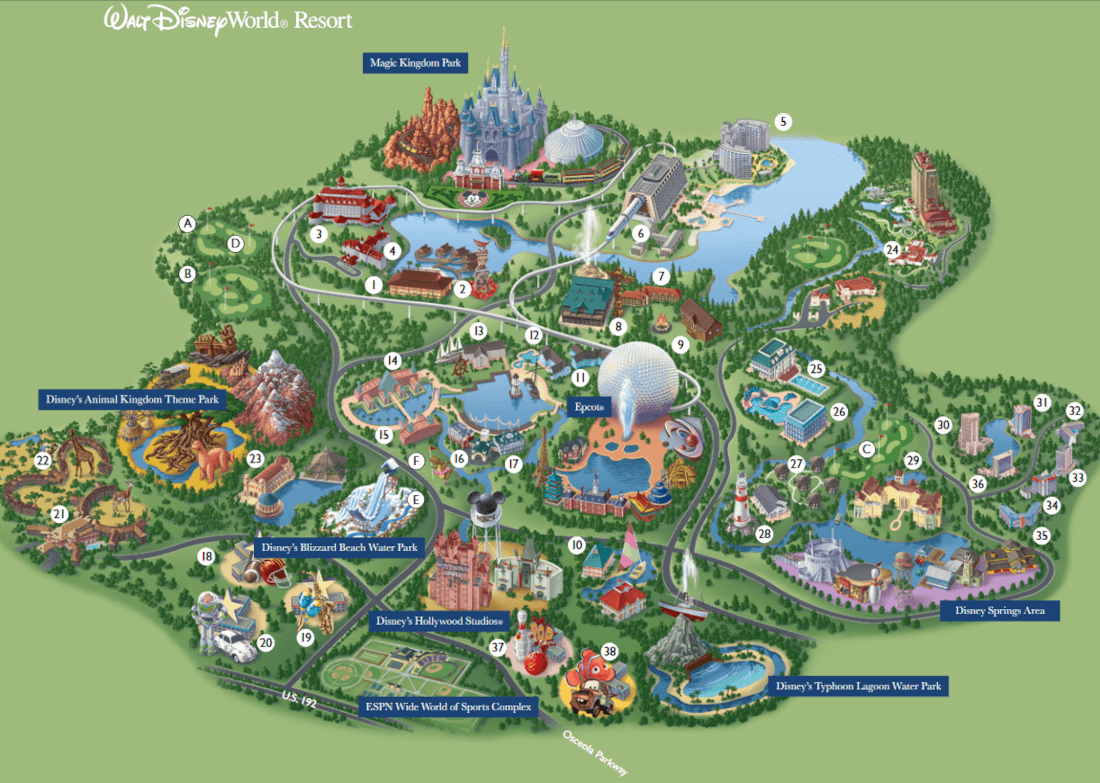 Hollywood Studios — The closest Disney theme park to the ESPN Wide World of Sports Complex and the location of "Celebration Party" at the end of the competition (for an additional ticketed fee). So this park will likely close early at the end of each tournament's schedule for this special party.
All-Star Sports Resort — The unofficial resort for visiting competitors. The All-Star resorts are the closest Disney resorts to the ESPN Wide World of Sports Complex. They also provide the convenience of being the most moderately priced resort as well as having plenty of open outdoor green space for teams to practice, stretch, and prepare for their competition.
Coronado Springs — One of the closest Disney Moderate Resorts to the ESPN Wide World of Sports Complex and as a Convention Resort, has some indoor large conference areas that teams can reserve for practice and meetings.
Disney Transportation — You should also know that these cheerleaders travel in packs. You'll hardly ever see just one; where there's one, there are usually 20 or so. Therefore, if they're in line for a bus, it will be full.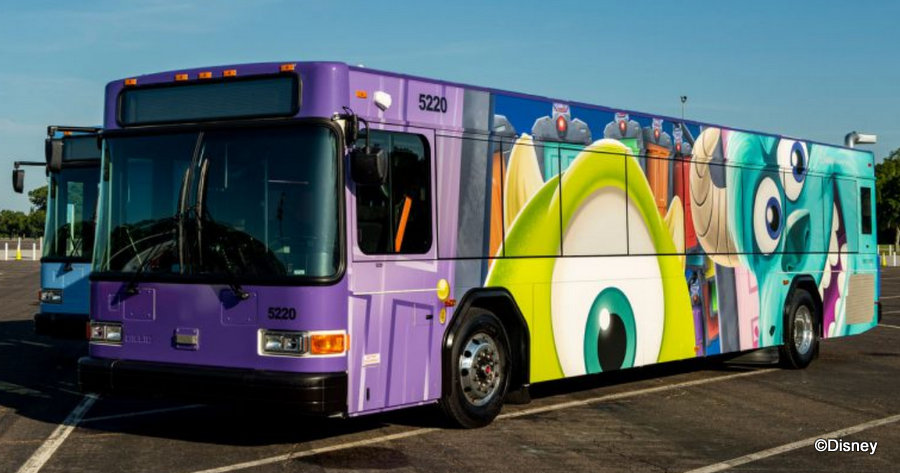 Even though thousands of cheer athletes and their families come to Disney World for these events, that doesn't necessarily mean they will clog up the parks. These are competitive athletes, and while they're in the tournament, they will usually adhere to some pretty strict rules to ensure they're primed and ready to compete. That means that most coaches won't allow the team to visit the parks (sometimes not even the pools), and they have a strict curfew to keep athletes focused, well-rested, and away from fatigue and sunburn.
Competitive events are scheduled during the day, so any impact on park attendance will occur in the evenings. As mentioned above, cheer groups that are still competing likely won't visit the parks until after they've either won or been eliminated, and family members with them are there to support their athlete and cheer them on.  As the competition continues and groups are eliminated from the competition, park attendance will reflect that
Consider the Cheerleader:
As with any situation, the best way to provide empathy is to imagine what the other party is experiencing. So, let's a take a moment to consider what these young athletes are feeling.  This is probably their biggest competition of the year in a place with a ton of activities and environmental stimulus (Disney World is exciting for anyone!).  Not only that, after spending the winter indoors or in gloomy, snowy weather, these young athletes arrive in Florida with sunny skies and moderate temperatures, the perfect combination to shake off that winter gloom and infuse them with more energy.
Add to the mix, that many of these kids are with their very closest friends and teammates, and some of them may be competing with this team for the very last time this season. They are also cheer and dance athletes, so they may naturally be wired to be positive, bubbly, energetic, and outgoing young people. Finally, this is a competition, the adrenaline is flowing, the energy is heightened, and all cylinders are firing. When you take all of this into consideration,  it's understandable why these cheerleaders are yelling and screaming their way through the theme parks.  It's simply a very exciting time for them.  It's been something they've been waiting for all cheer season long.
It's all of their favorite things rolled up into one……Cheer, friends, and Disney World.
So when you see a cheer or dance group touring through the parks (and you'll notice them, they have some pretty distinctive competition quality make-up and hair bows), now you'll know a little about why they're there, what they're feeling, and you can root for them, too.
Consider the Park Guest:
All that sentiment above for the emotional journey of a cheer/dance athlete during a competition is a great place to start, but let's all remember that theme park etiquette still applies. Cheer and dance parents, coaches, chaperones, and yes, even cheer and dance athletes as well, this is an exciting time for you and your teams, but this doesn't grant you carte blanche to charge into the Disney Parks, pom-poms a-blazin'.
Disney guests spend thousands of dollars to experience the Disney Parks and the unique charm and emersion associated with the parks.  They may have saved for years, this might be their only Disney trip in their lifetime, or they could be commemorating a special occasion or even a final trip with a loved one before they're no longer with us. They saved and made sacrifices and chose Disney World out of every other destination for their own special reasons. They did not necessarily agree to also have to be an audience for thousands of cheerleaders cheering and chanting in line at the Haunted Mansion.
So, cheer teams and families, just be cognizant of the Disney guests around you. Be courteous and kind and adhere to the park rules because nothing can break the wonderful spell of the Disney magic like almost getting trampled by a dance team running to the next attraction, having a squad of 15 cheerleaders push past you in line to meet up with four teammates ahead in the line (rule of thumb says the the four ahead in the line should lag back to join the others), or being caught in the crossfire of competing cheer chants through the queue.
There is all of the information for Cheer and Dance competitions hosted at Disney World, how to navigate them and a little about what to expect if you're visiting during this time of year. Stay tuned to AllEars for more information on the events at the Disney Parks!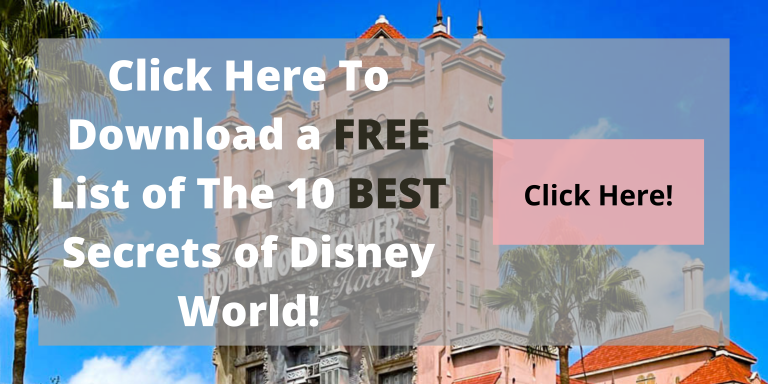 Have you visited Disney World for a cheer event or during a cheer event? Let us know your best WDW cheer event tips in the comments!