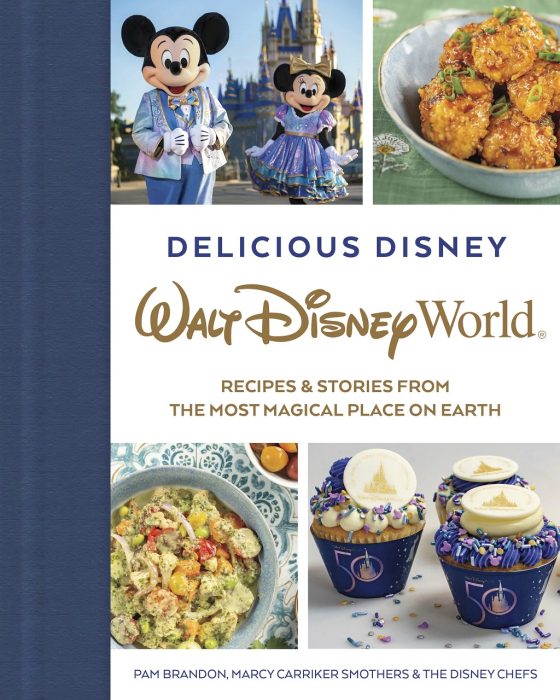 Delicious Disney:  Walt Disney World:  Recipes & Stories from The Most Magical Place on Earth
Authors:  Pam Brandon and Marcy Carriker Smothers
Hardcover, 320 pages, Disney Editions, List Price: $35
[An advance copy of this book was provided by Disney for review purposes without restriction on thoughts or opinions.]
Delicious Disney: Walt Disney World is one part travelog to one part cookbook, as it takes readers on a trip around the resort, looking at it through the lens of the varied and memorable food it has served throughout its 50 years.  It starts off with a chapter on recipes from now-extinct locations such as The Golf Resort (eventually changed to The Disney Inn, and now living on as the military-only Shades of Green) and the Contemporary's Top of the World (now California Grill) and continues on to dishes as recent as the Batuuan Ronto Wrap from Galaxy's Edge.
Each recipe has at minimum a short blurb about the venue it was/is served at, with multi-page spreads given to topics of particular culinary interest.  I found the article on the long-lamented Land Pavilion shows "Kitchen Kabaret" and "Food Rocks" particularly fun with a lot of great photos and art.  In general, the book looks gorgeous–not only with the beautiful food shots that are endemic to most cookbooks, but with an abundance of dreamy concept art from talents such as Imagineering legend Dorothea Redmond and famed architect Welton Becket.
As a fan of Disney history, the chapters on "Gone but Not Forgotten" and "Eating and Imagination" were the most interesting as they offered a closer look at the role food plays in theming, and conversely, how theming plays a role in the presentation and marketing of food.  While more recent additions to WDW like the Riviera Resort lack the same nostalgia or strong themes as old-school Disney, they do give the authors an opportunity to showcase the many culinary options now available to people with various dietary restrictions.
If there's a weakness in the book, it's that it feels more successful as a general book about WDW than as an actual cookbook you would use regularly.  Times have clearly changed and recipes from the 1970s are not all going to fit within the preferences and diets of 2022.  Similarly, quite a few of the recipes are more complicated and require more ingredients than most people would be able to manage on a regular weekday when they're just trying to get dinner on the table.  The most awkward part is that, to accommodate the wonderful photos, the recipes are frequently broken up into parts spread over several pages which makes it a little confusing to plan and unwieldy to flip around and refer to while actually cooking.
Even if you don't make the majority of the recipes however, Delicious Disney: Walt Disney World is still a great read with gorgeous art.  It's a fitting addition to Walt Disney World's 50th anniversary celebration and a must-buy for anyone aching to sit back in their house with a handwich in one hand and an Orange Bird Flip in the other, dreaming of years gone by.
[I did manage to make the Beef and Barley Soup from King Stefan's Banquet Hall, which was simple in preparation, and comforting to taste.  ]
Beef and Barley Soup
From Delicious Disney: Walt Disney World: Recipes & Stories from The Most Magical Place on Earth, courtesy of the Walt Disney Company.
Ingredients:
1 tbsp vegetable oil
1 lb beef chuck, cut into 3/4-inch pieces
1 tsp salt
1/2 tsp freshly ground black pepper
1/2 cup chopped onions
1/2 cup diced celery
1 cup diced carrots
1 tbsp minced garlic
1 tsp dried thyme
4 cups reduced-sodium beef broth
1/2 cup uncooked medium pearl barley
1/4 cup chopped scallions for serving
Directions:
Heat oil in a large pot or Dutch oven.
Season beef with salt and pepper and cook over medium-high heat, stirring occasionally, until browned.  Remove with a slotted spoon and reserve.
Add onions, celery, carrots, garlic, and thyme to the pot and cook over medium heat, stirring occasionally, until vegetables start to brown.
Return beef to pot and add broth.  Bring to a boil, lower heat, and simmer 45 minutes to 1 hour or until beef is tender.
Add barley and simmer 30 minutes more.  Season to taste with salt and pepper.
Serve in a deep bowl topped with scallions.
Delicious Disney: Walt Disney World: Recipes & Stories from The Most Magical Place on Earth has been sold at WDW, and is available on Amazon.com starting April 19, 2022.
Be sure to follow @allearsnet on Facebook, Instagram and Twitter!
Check out our YouTube Channel for reviews, news, information and more!
Click below to subscribe to the AllEars® newsletter so you don't miss any of the latest Disney news!

Questions?  Comments?  Suggestions?  Drop us a line below.