Spring is here and that means new growth — even in Disney World!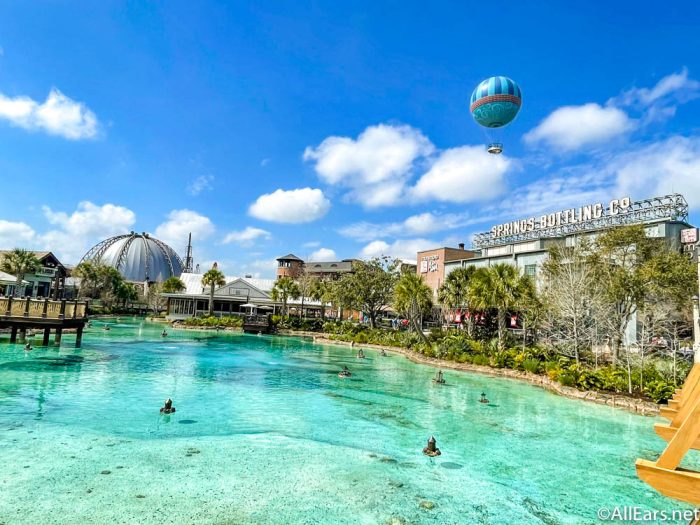 New merchandise locations and dining options are popping up all the time — like Local Green Orlando, the newest food truck to join the Disney Springs lineup that specializes in fresh, healthy foods. But, life is all about balance right? Enter Salt & Straw — the newest ice cream shop to come to Disney World. We've been to (and love!) the Downtown Disney location in Disneyland, so come with us as we check out Salt & Straw Disney Springs!
Salt & Straw is known for coming up with interesting and unique flavors of ice cream made with locally sourced ingredients, so we are stoked that they've come to Disney Springs.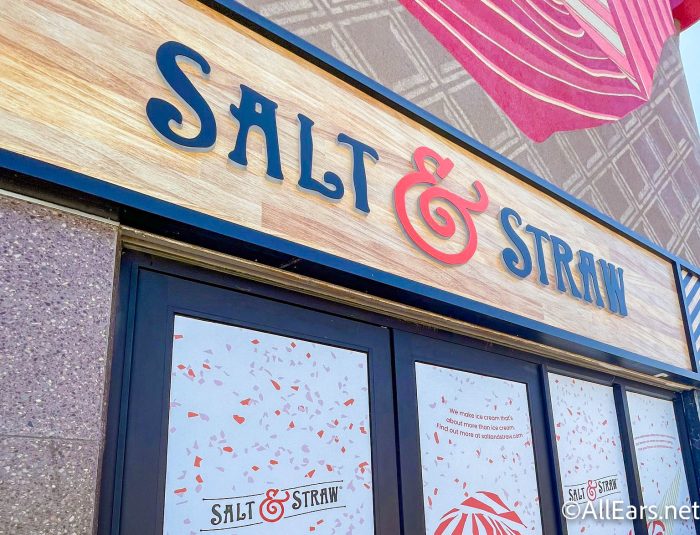 This location has a similar vibe to its California counterpart and is located on the West Side of Disney Springs, near Splitsville and AMC.
🚨Preview alert🚨

We're going inside Salt and Straw before it ✨officially✨ opens tomorrow!

🍦🍦🍦🍦🍦🍦🍦🍦🍦
(Approximate estimation of how many flavors we'll be trying)#saltandstraw #hosted @saltandstraw pic.twitter.com/yJdsop5rHR

— AllEars.Net (@AllEarsNet) April 19, 2022
It's set to open tomorrow, Wednesday, April 20th, but we were invited to a media preview to check everything out a day early. We definitely foresee this becoming a popular dessert spot!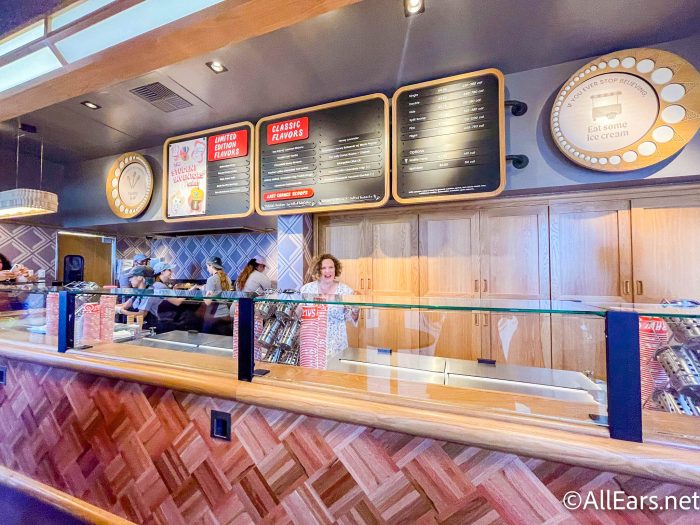 There are all kinds of flavors on the menu, including some limited-edition options. The seasonal flavors change on the first Friday of every month. Currently, the limited edition list includes:
Bottomless Limes
The Ice Cream of Moo
Triple Tropic Twist
Rosie the Pink Flamingo
The Adventurous Llamanaut
(And yes, we're questioning what a "llamanaut" is too! 😂)
But besides those, there are a variety of classic flavors that'll be sticking around long-term here. You've got some that are pretty typical, like Double Fold Vanilla and Chocolate Gooey Brownie, but they also get more adventurous with The Salty Donut Guava + Cheese and Strawberry Honey Balsamic w/ Black Pepper. We're intrigued!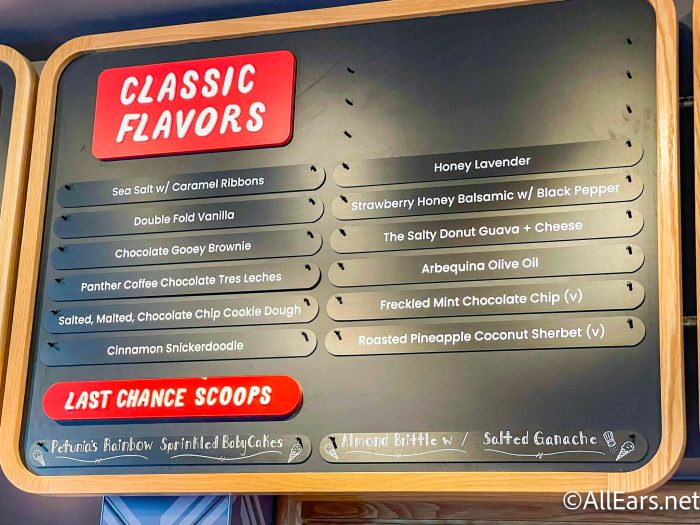 So what can you expect to pay? Well, a single scoop will cost $6.95, a double is $9.50, and a kiddo-sized scoop is $5.75. There are upcharges for split scoops, waffle cones, or sprinkles, and you can also purchase ice cream in pints or flights. YUM!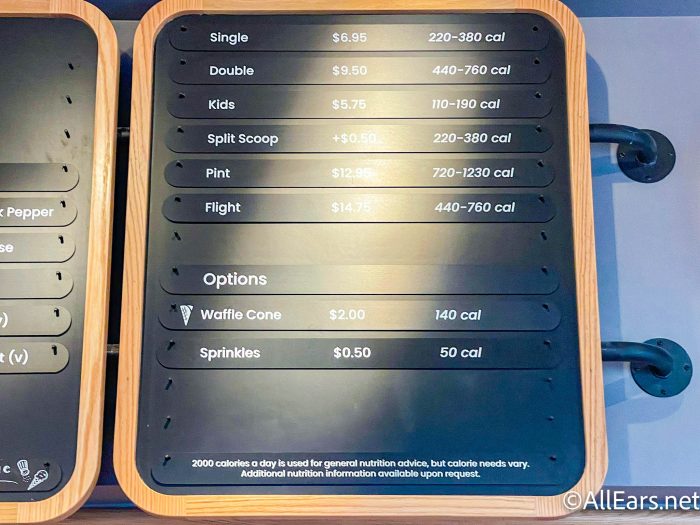 Obviously, we've got to EAT some ice cream while we're here! First up, we tried Gooey Chocolate Brownie, Sea Salt Caramel Ribbon, Coffee, and Cookie Dough.
Ice. Cream. Flight. 👏

We're trying some @saltandstraw flavors ahead of tomorrow's ✨official✨ opening!

On the menu:
Gooey Chocolate Brownie, Sea Salt Caramel Ribbon, Coffee (‼️), and Cookie Dough

🍦🍦#saltandstraw #hosted pic.twitter.com/qh3Odw00GU

— AllEars.Net (@AllEarsNet) April 19, 2022
The chocolate brownie flavor is made with homemade brownies (filled with marshmallow fluff), and they met with a salt master to specifically curate the sea salt for the second flavor. The coffee ice cream was born from a partnership with Panther Coffee Maker in Miami and is a 1977 blend that's only available to certain shops. Cookie Dough is their most popular flavor at Salt & Straw.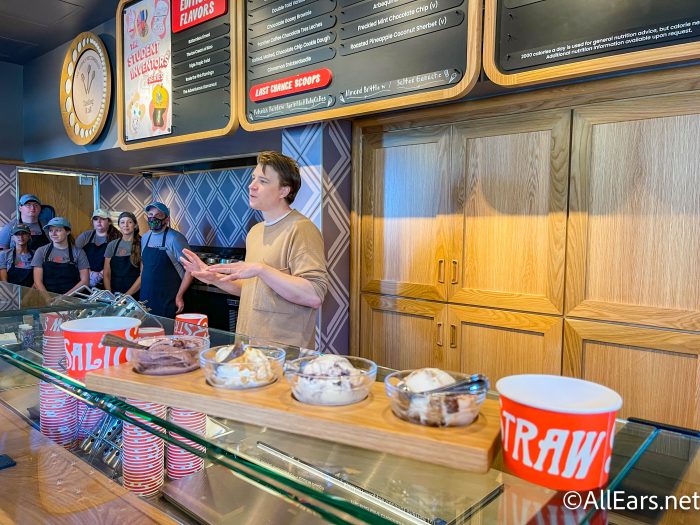 There are 12 classic flavors that stay on the menu year-round here. The next four that we tried were Cinnamon Snickerdoodle, Honey Lavender, Strawberry Honey Balsamic with Black Pepper, and Salty Donut Guava + Cheese.
Round ✌️@saltandstraw

We're getting a little more funky 🕺💃🏼

Cinnamon Snickerdoodle, Honey Lavender, Strawberry Honey Balsamic with Black Pepper, Salty Donut Guava + Cheese 👀

🍦🍦#saltandstraw #hosted pic.twitter.com/uwGbR0R8vK

— AllEars.Net (@AllEarsNet) April 19, 2022
These are their more "provocative" flavors, but they're just as thought out, with ingredients like local honey and partnerships with other businesses, including The Salty Donut. The Strawberry Honey Balsamic is Kim the owner's favorite, and it's made with the old Italian trick of dipping berries in balsamic with pepper to flavor them.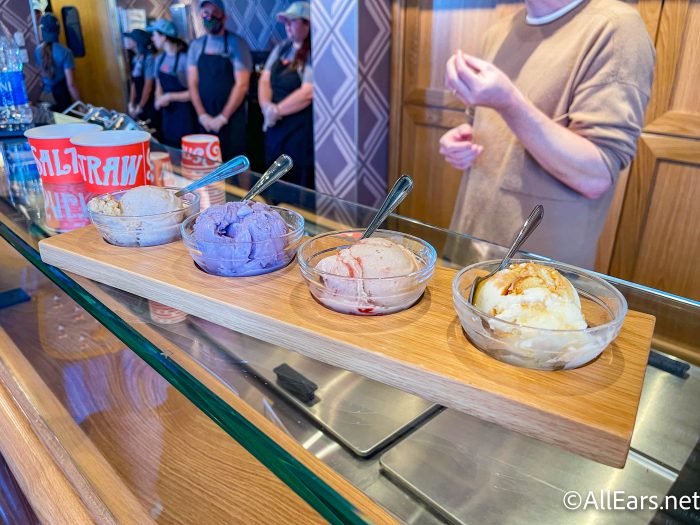 And our final sample flight included the Arbequina Olive Oil, the vegan Mint Chocolate Chip, and two limited-edition flavors: Bottomless Limes and Adventurous Llamanaut. The limited-edition flavors for this month were inspired by stories written by children — isn't that fun?!
One last round @saltandstraw 🥳

Spoiler, llamas are involved 🦙

🍦Flavors:

Arbequina Olive Oil, Mint Chocolate Chip (vegan🌱), Bottomless Limes!, Adventurous Llamanaut #saltandstraw #hosted pic.twitter.com/jJMw7rN1EK

— AllEars.Net (@AllEarsNet) April 19, 2022
Next month, the seasonal, limited-edition flavors will be floral-based for May, and we can't wait to check them out. If a seasonal flavor particularly piques your interest, make sure to keep an eye on the "last chance scoops" menu. This list includes the limited-edition flavors from previous months that were over-ordered and have some supply remaining.
As far as purchasing the flights inside the store goes, you'll select your four flavors to try, and they'll be served up in a clear dish. To go along with your ice cream, you get a card with questions to discuss while you eat!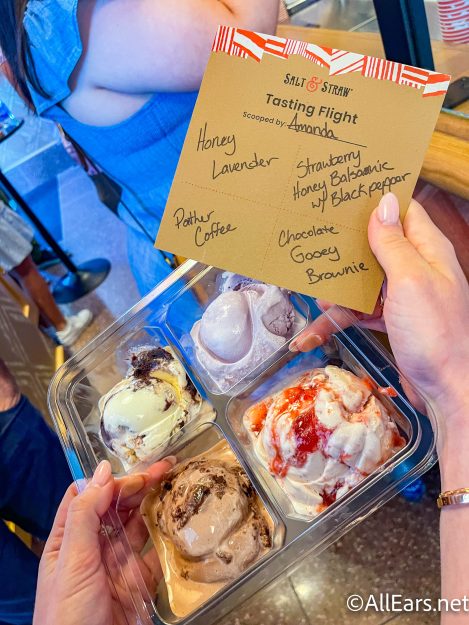 Our card included questions like "Which ingredient is the superhero in this flavor?" and "Which flavor was the most unexpected?"
We can't wait to see what other fun flavors Salt & Straw will bring to Disney Springs. For more news and updates on all things Disney World, be sure to stay tuned to AllEars.
Join the AllEars.net Newsletter to stay on top of ALL the breaking Disney News! You'll also get access to AllEars tips, reviews, trivia, and MORE! Click here to Subscribe!

Which unique flavor do you hope to see on Salt & Straw's menu? Let us know in the comments!
Disclosure: We were invited by Salt & Straw to attend a media preview of the new location. This did not affect our reporting of the event — our opinions are our own.