You already know we're big fans of EPCOT's International Food & Wine Festival, but what if we told you there were even more bite-sized plates to try? It's true!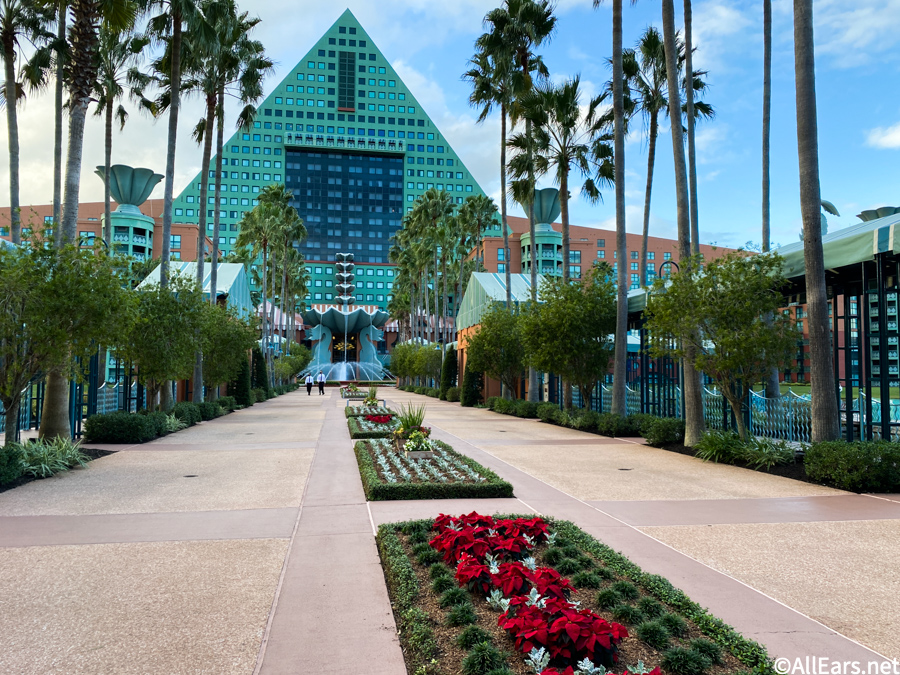 For a limited time, you can enjoy some new foods, drinks, and desserts at the  Food & Wine Classic hosted by the Walt Disney World Swan and Dolphin Resorts! What's on the menu? What should you try? Let's take a look!
The Food & Wine Classic is located right next door to EPCOT at the Swan and Dolphin resort (a VERY underrated resort, by the way). During the outdoor event, guests can enjoy unlimited samples, so be sure to save plenty of room!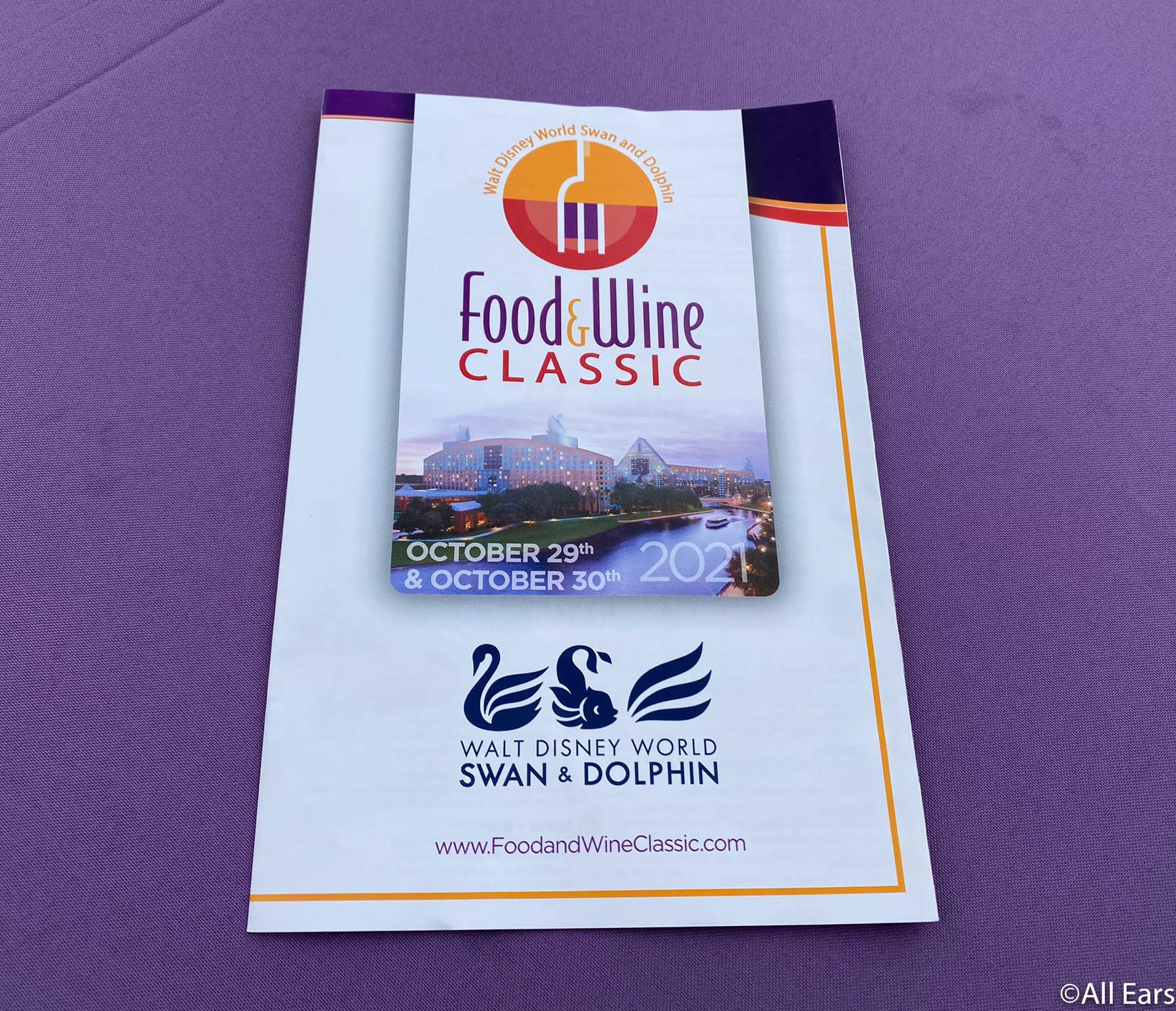 Guests are given a map with full details about the entertainment, eats, and more available during the event…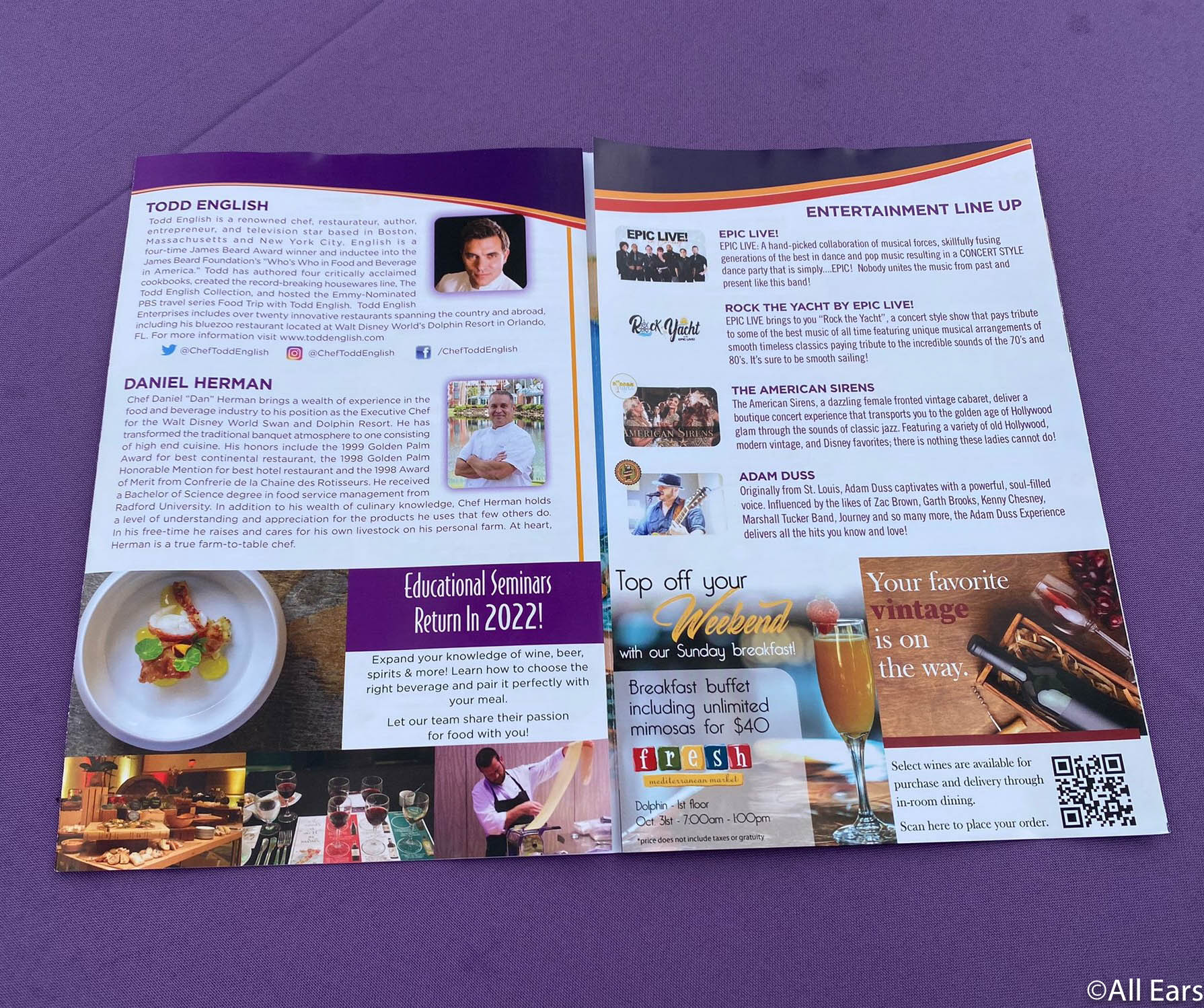 …as well as where they are located around Disney's Swan & Dolphin Resort.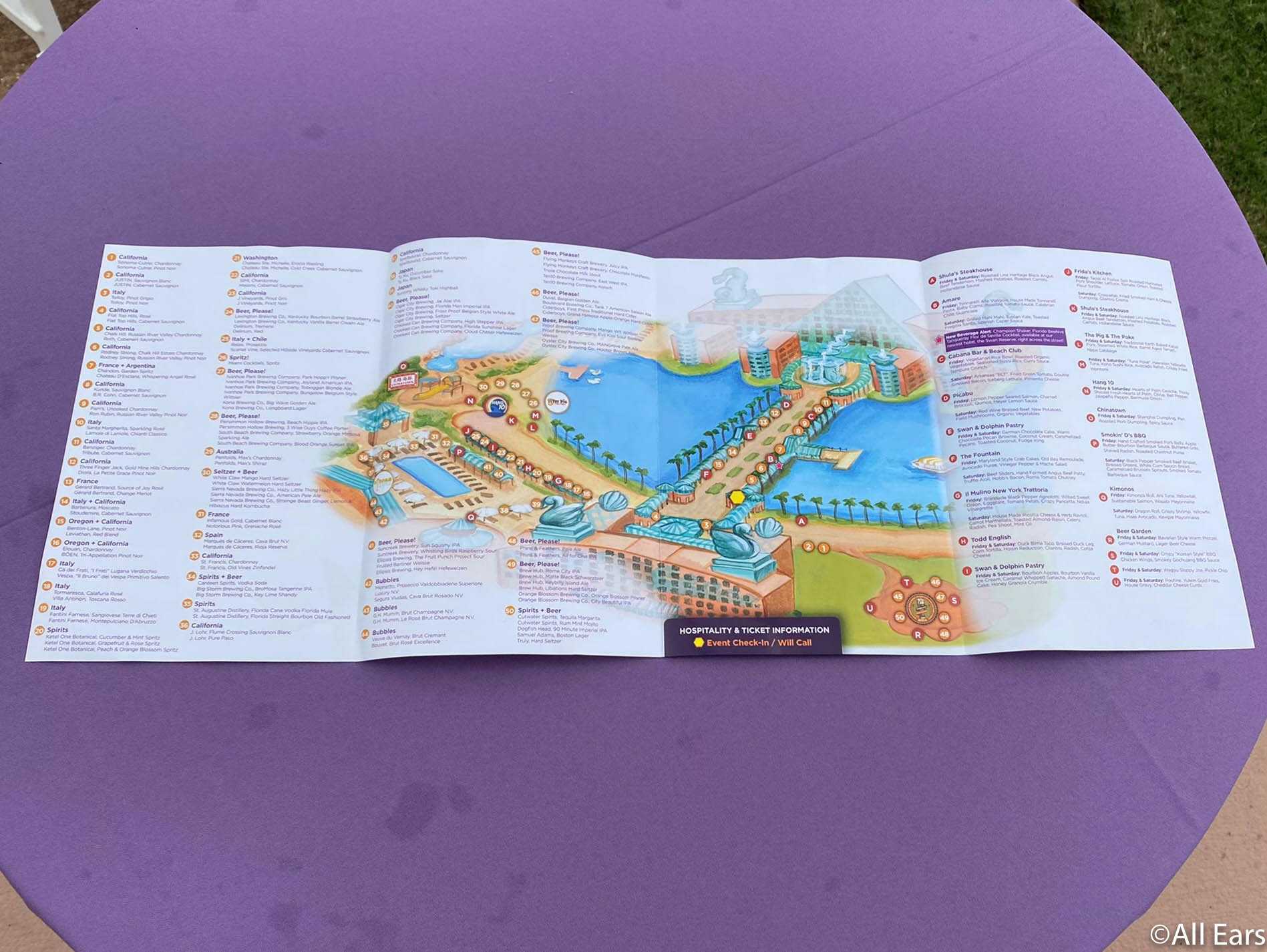 There various areas of the Food & Wine Classic, including the Beer Garden with six drink locations…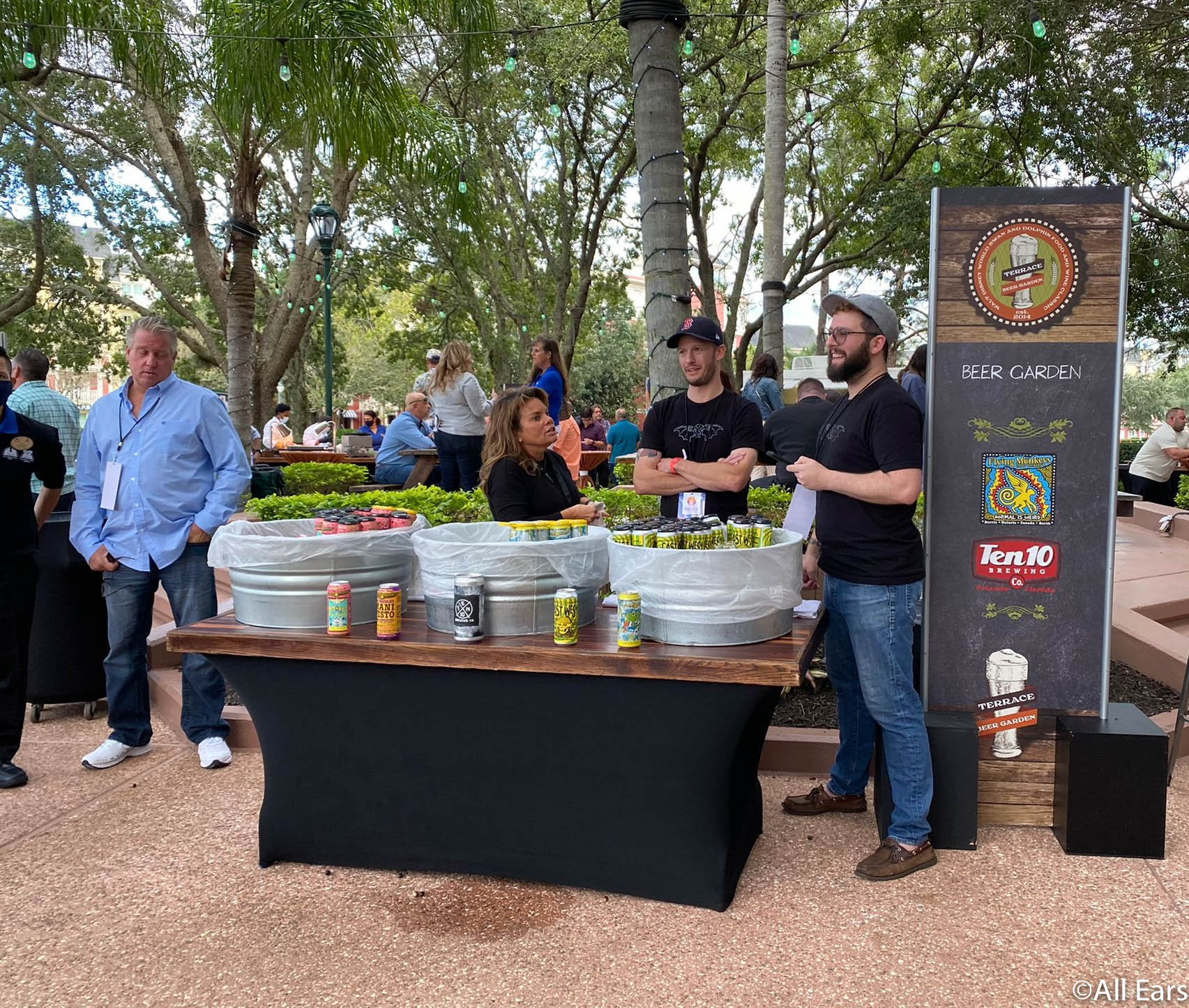 …as well as four food serving spots to enjoy as you walk around and enjoy the weather, music, and atsmosphere.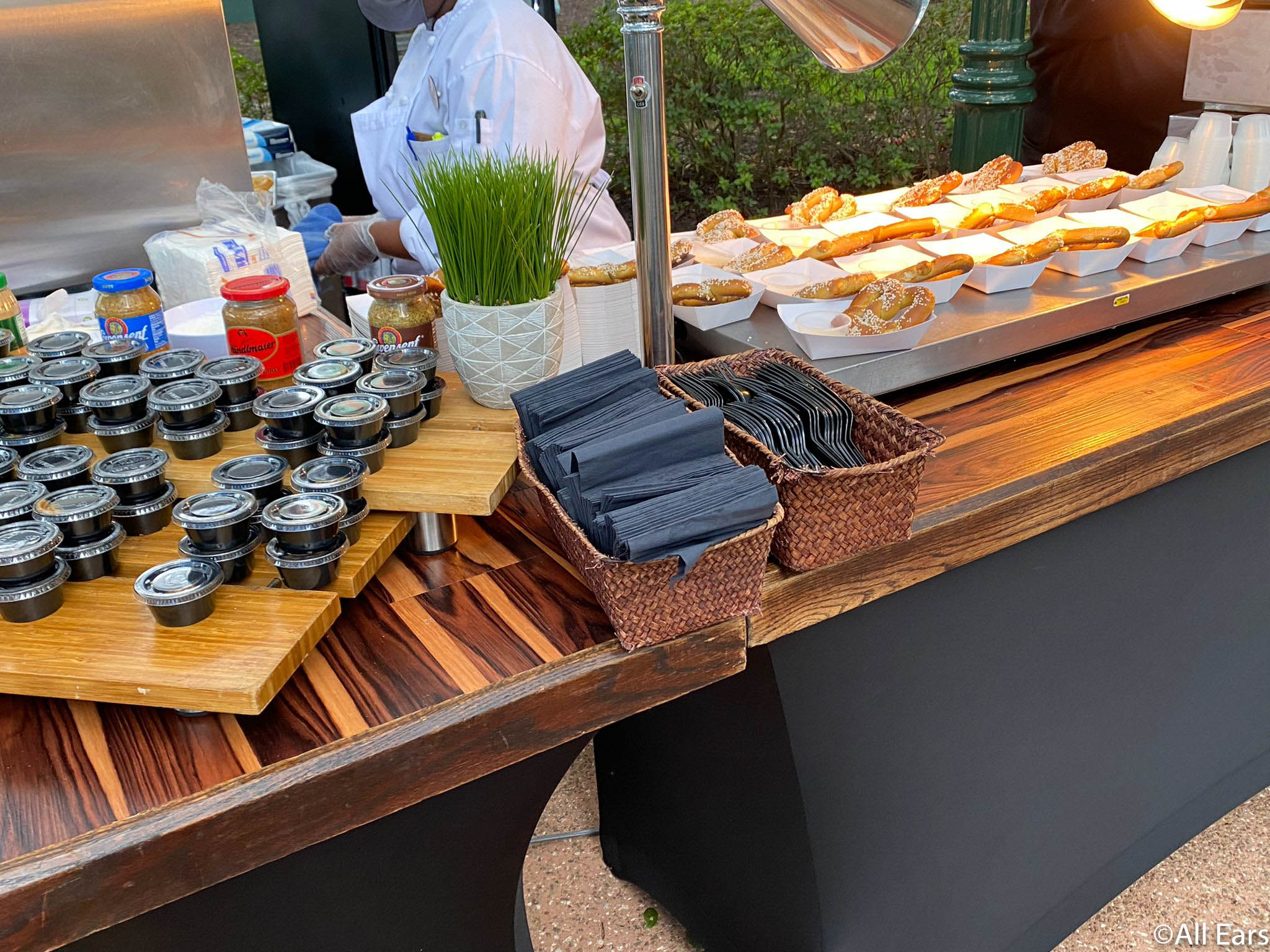 This is where we grabbed some delicious Poutine!
Poutine from the Beer Garden 😋 pic.twitter.com/c68bfLGfdU

— AllEars.Net (@AllEarsNet) October 30, 2021
There's also a main strip of food and drink booths that guests can visit, themed after Food & Wine locations. However, the Food & Wine Classic also features dishes and drinks from restaurants across the Swan and Dolphin Resorts! You can stop by the Shula's Steakhouse Booth…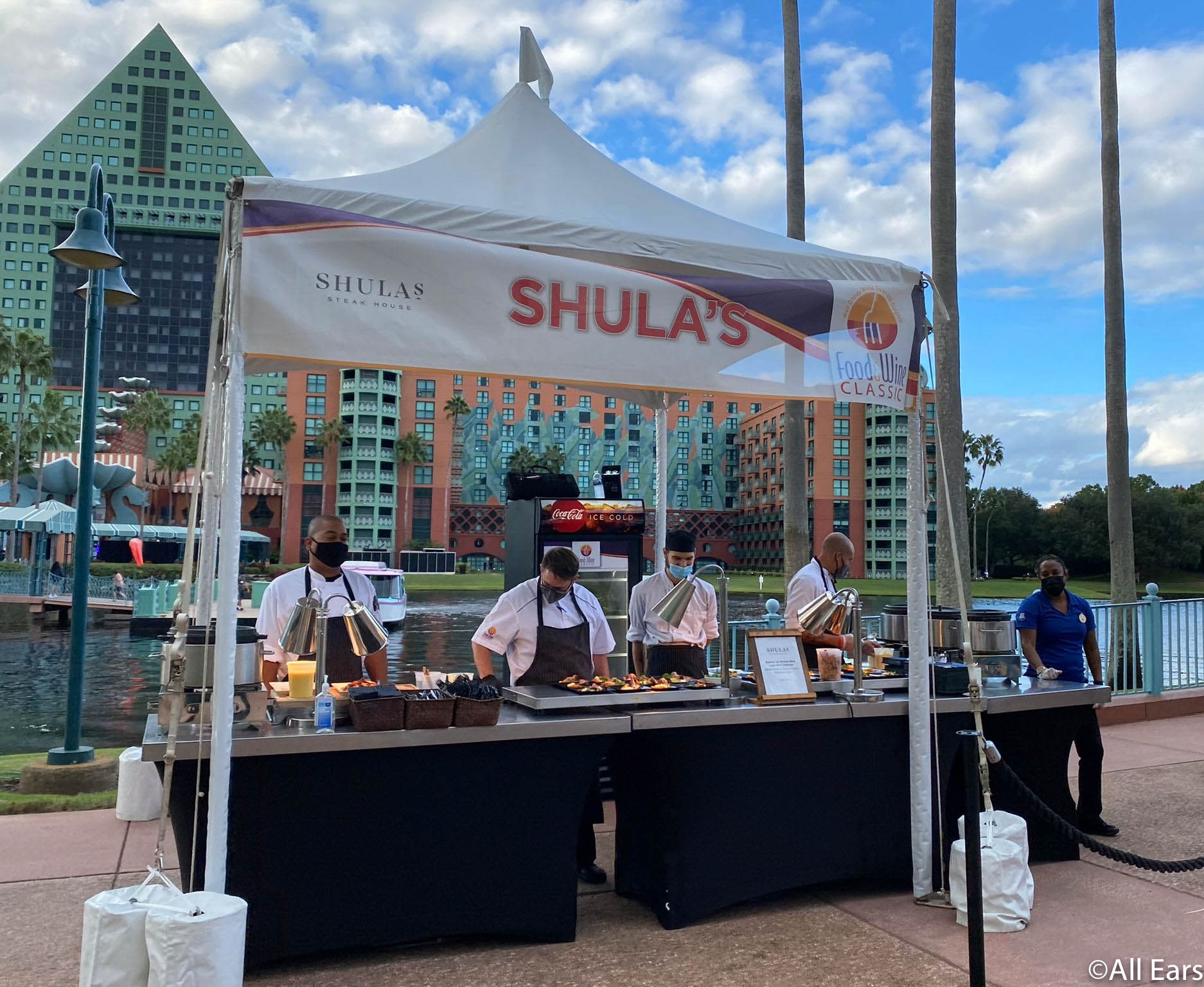 …Picabu Booth…
…The Fountain Booth…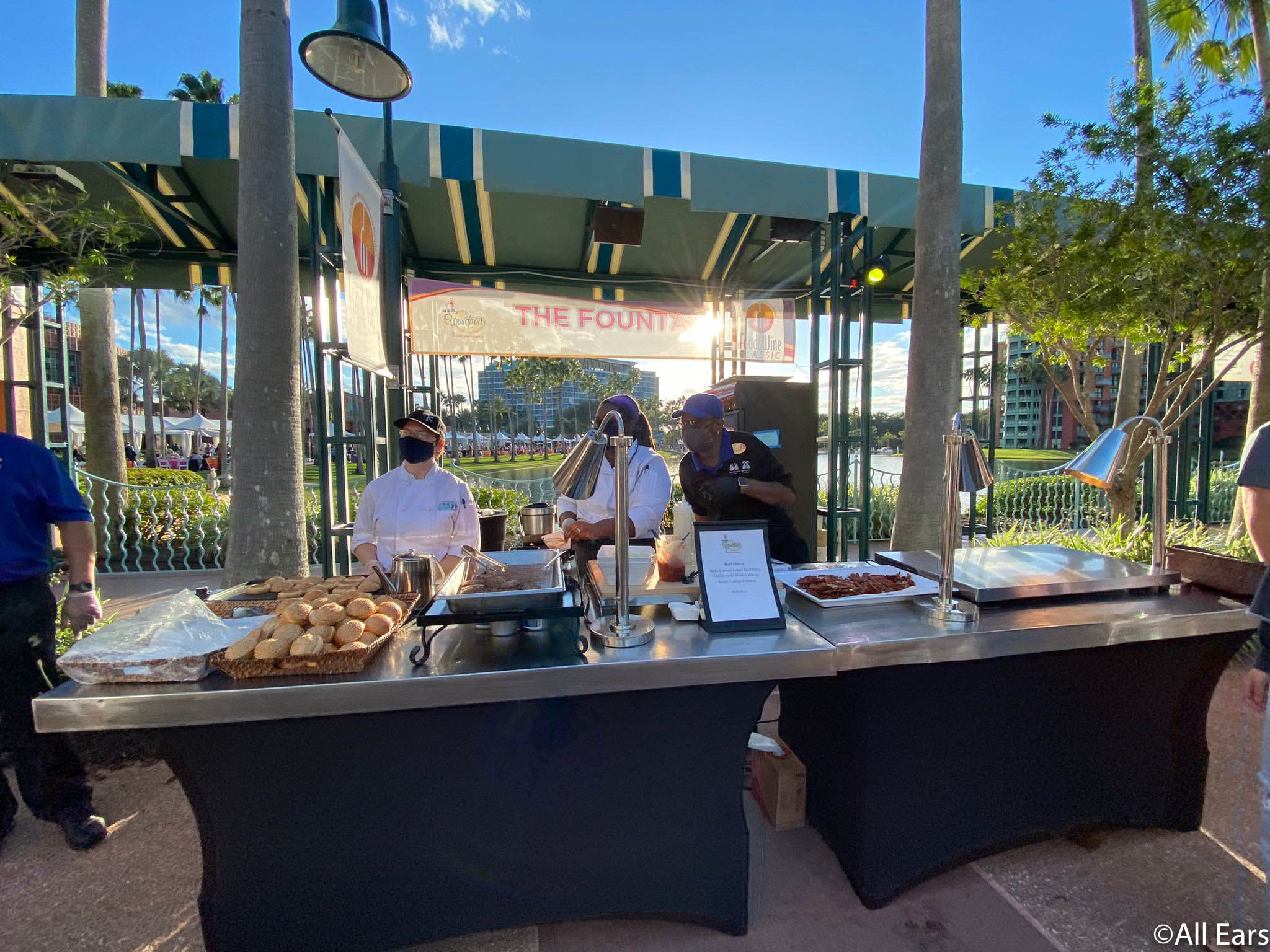 …Cabana Bar and Beach Club Booth…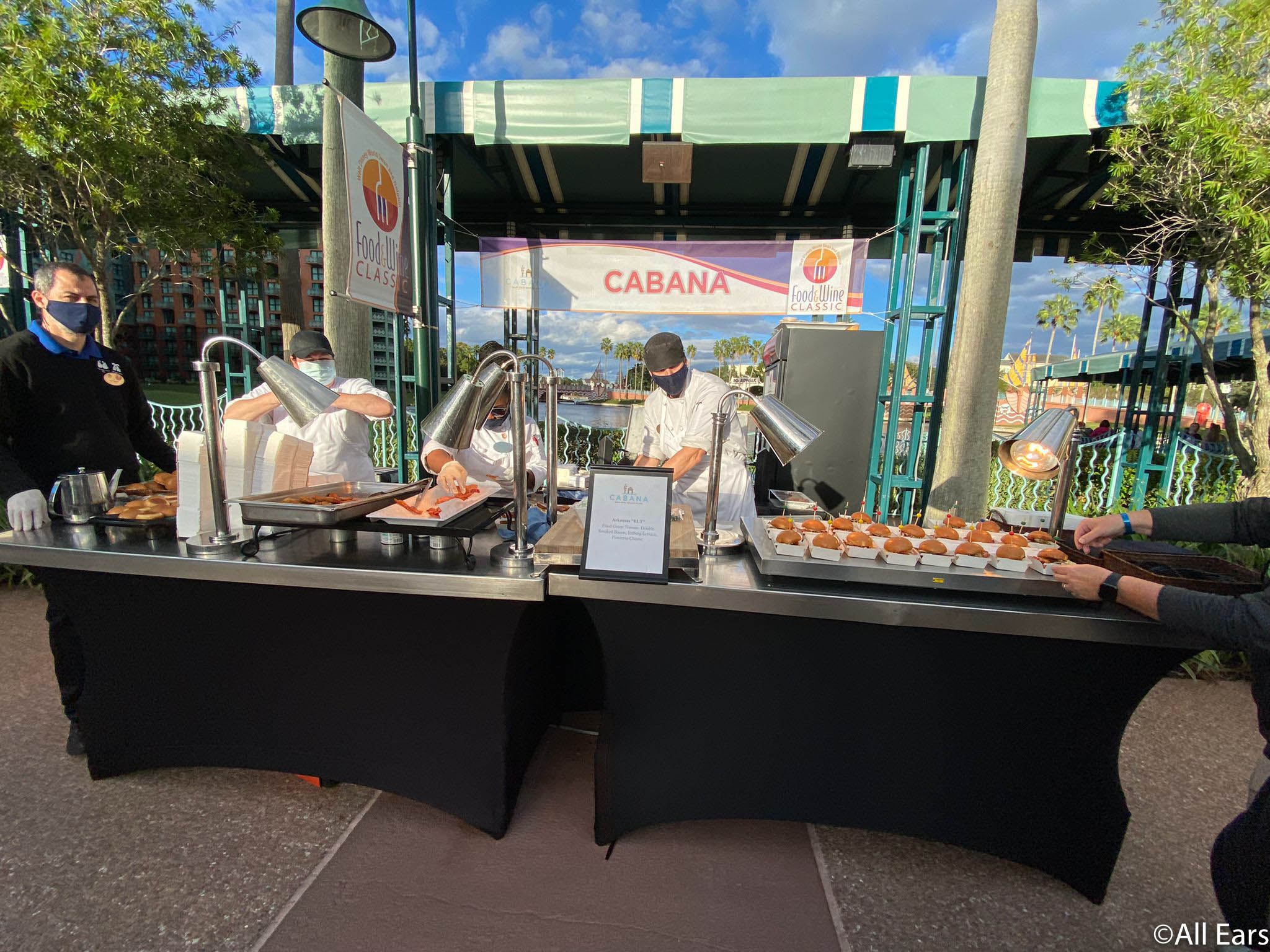 …Il Mulino Booth….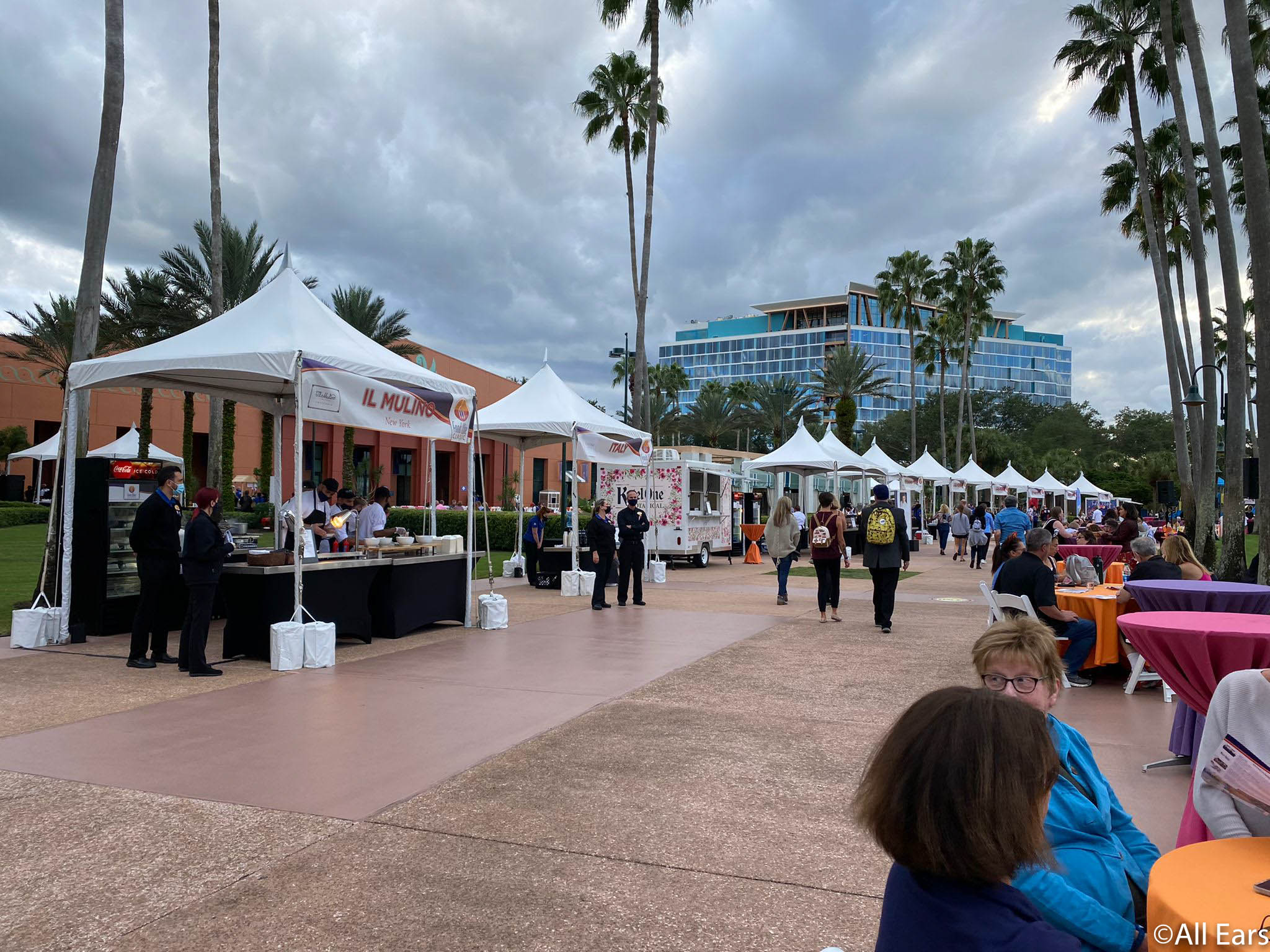 …and a selection of pastries for a taste of what the Swan and Dolphin Resorts have to offer.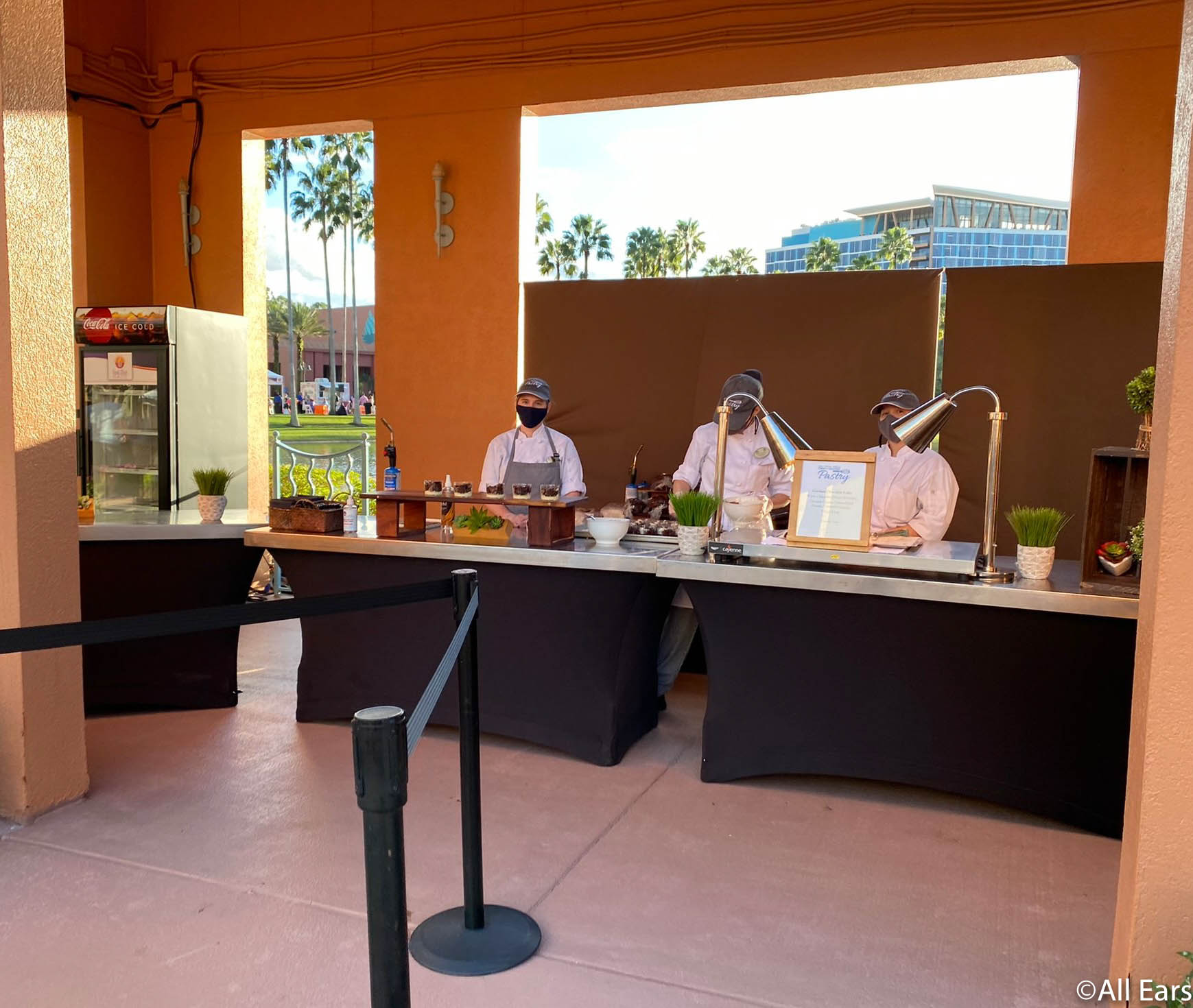 There's even a booth for the new Amare Restaurant coming to the new Walt Disney World Swan Reserve…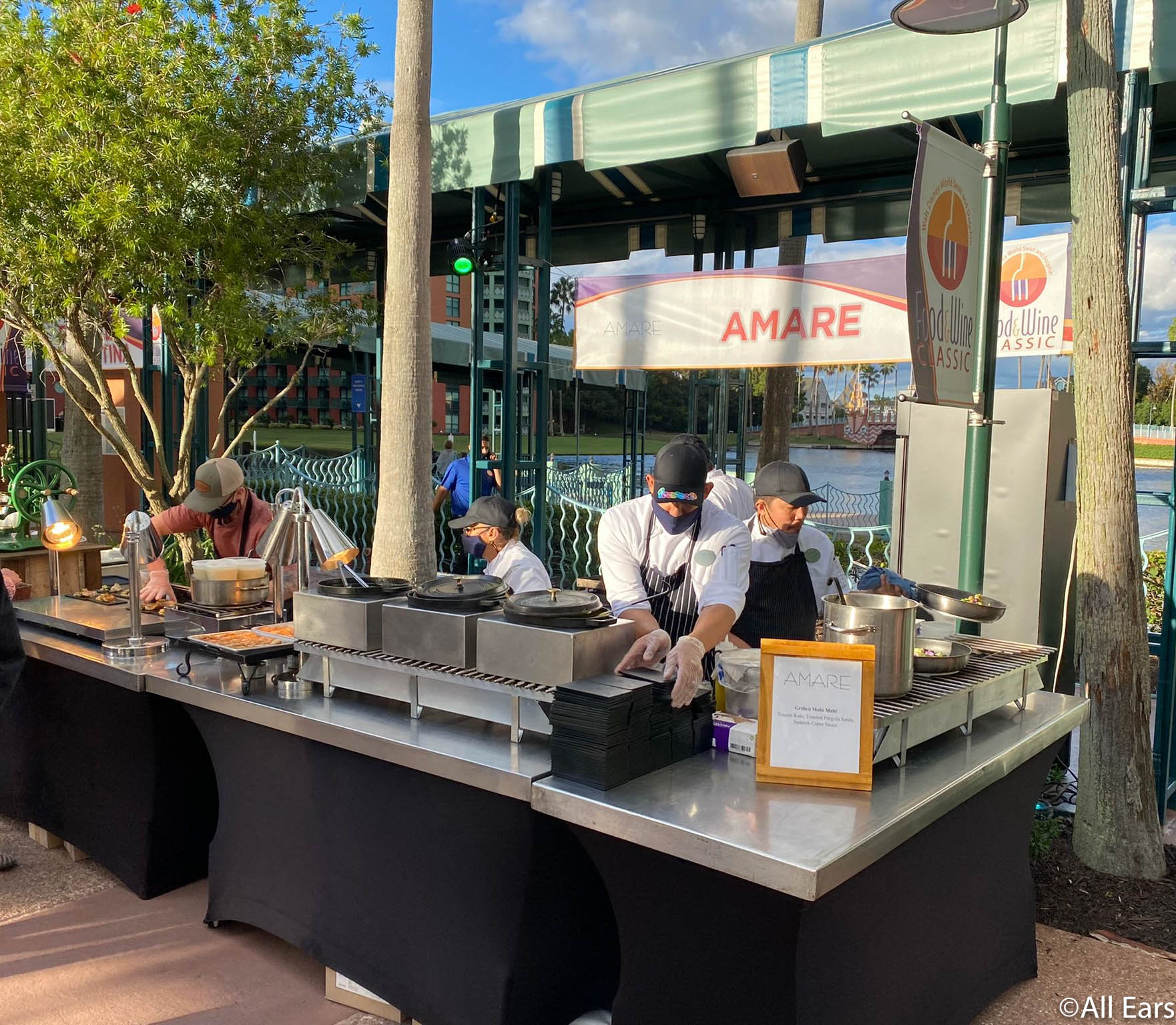 …with dishes like the Grilled Mahi Mahi with Tuscan Kale, Toasted Fregola Sarda, and Spanish Caper Sauce.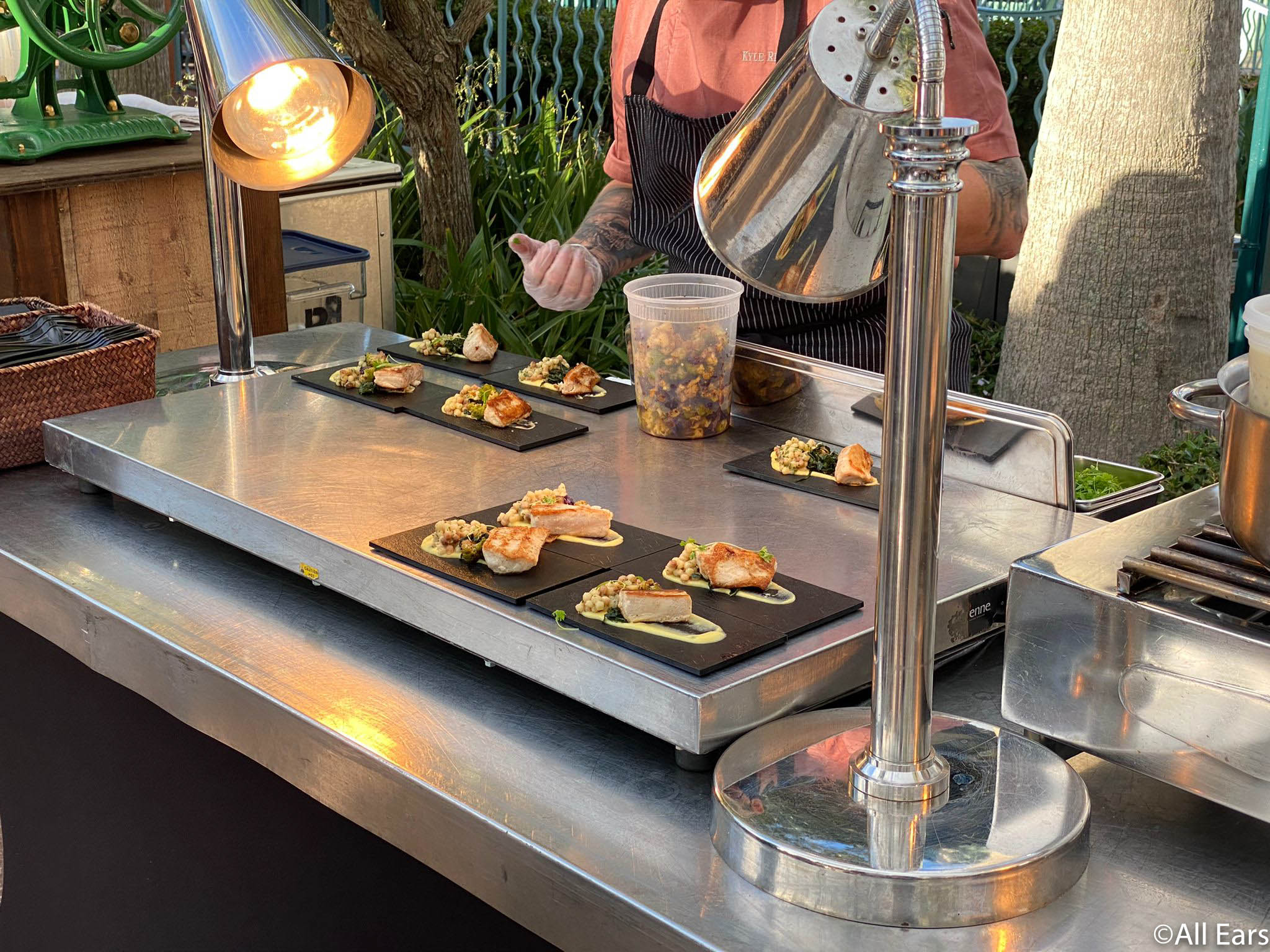 But, you can find other more classic Food & Wine booths as well! There are a few of these spots scattered throughout the resort area, so you can try various wines and dishes from the regions that inspired them. As you're walking around, you can stop by the California Booth…
…Italy Booth…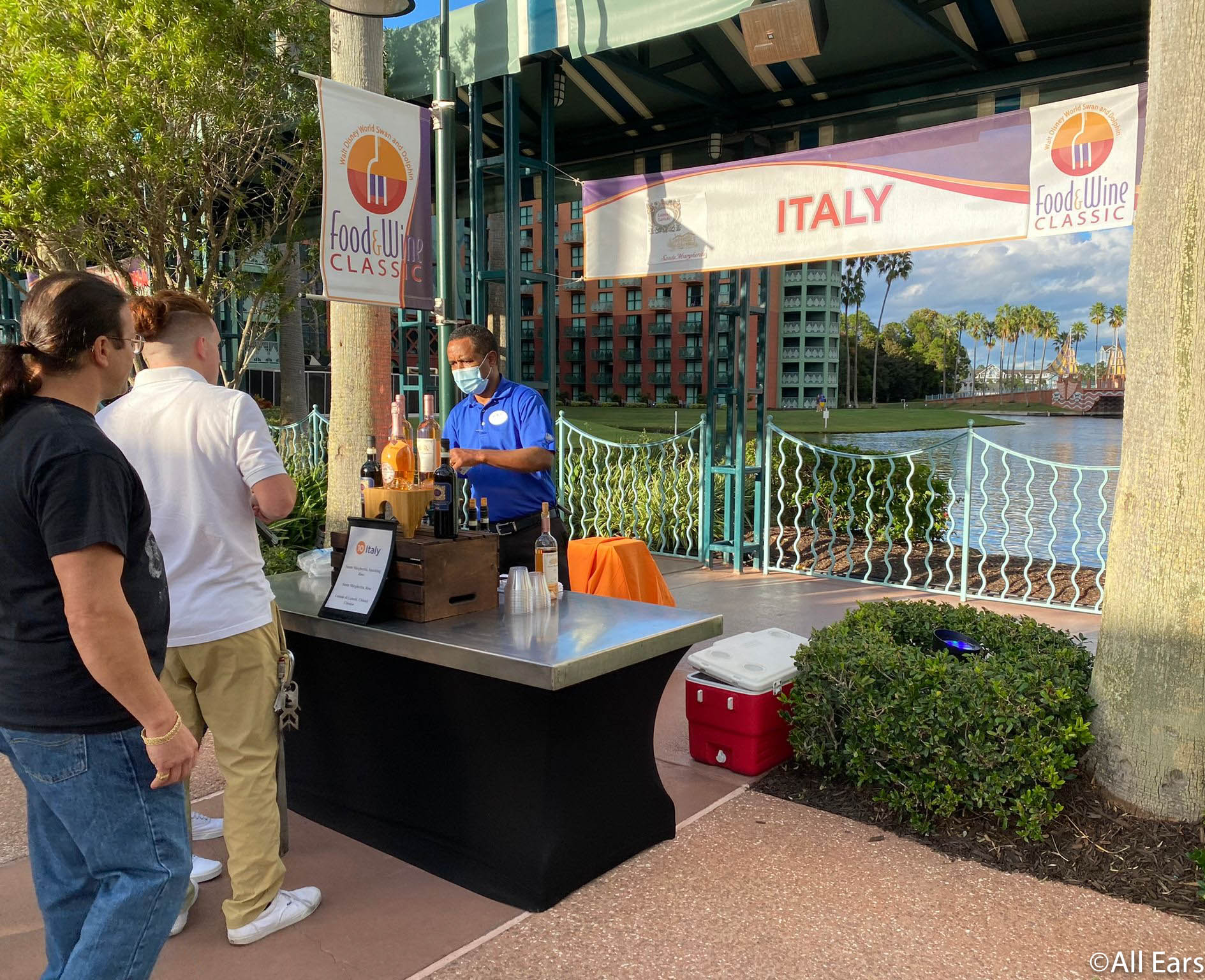 …and France Booth.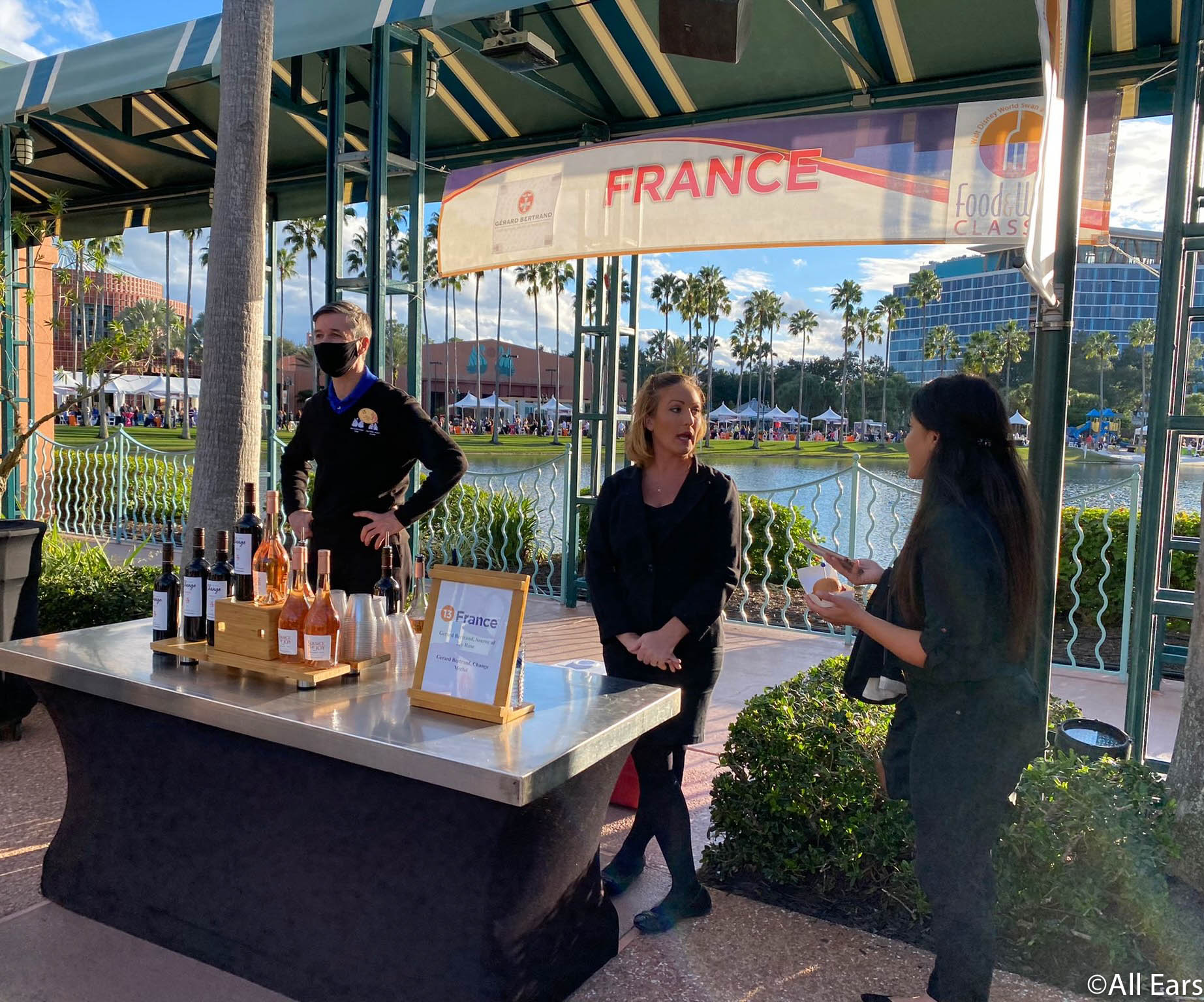 Plus, there are a few booths that combine flavors from different regions, like the Oregon and California Booth…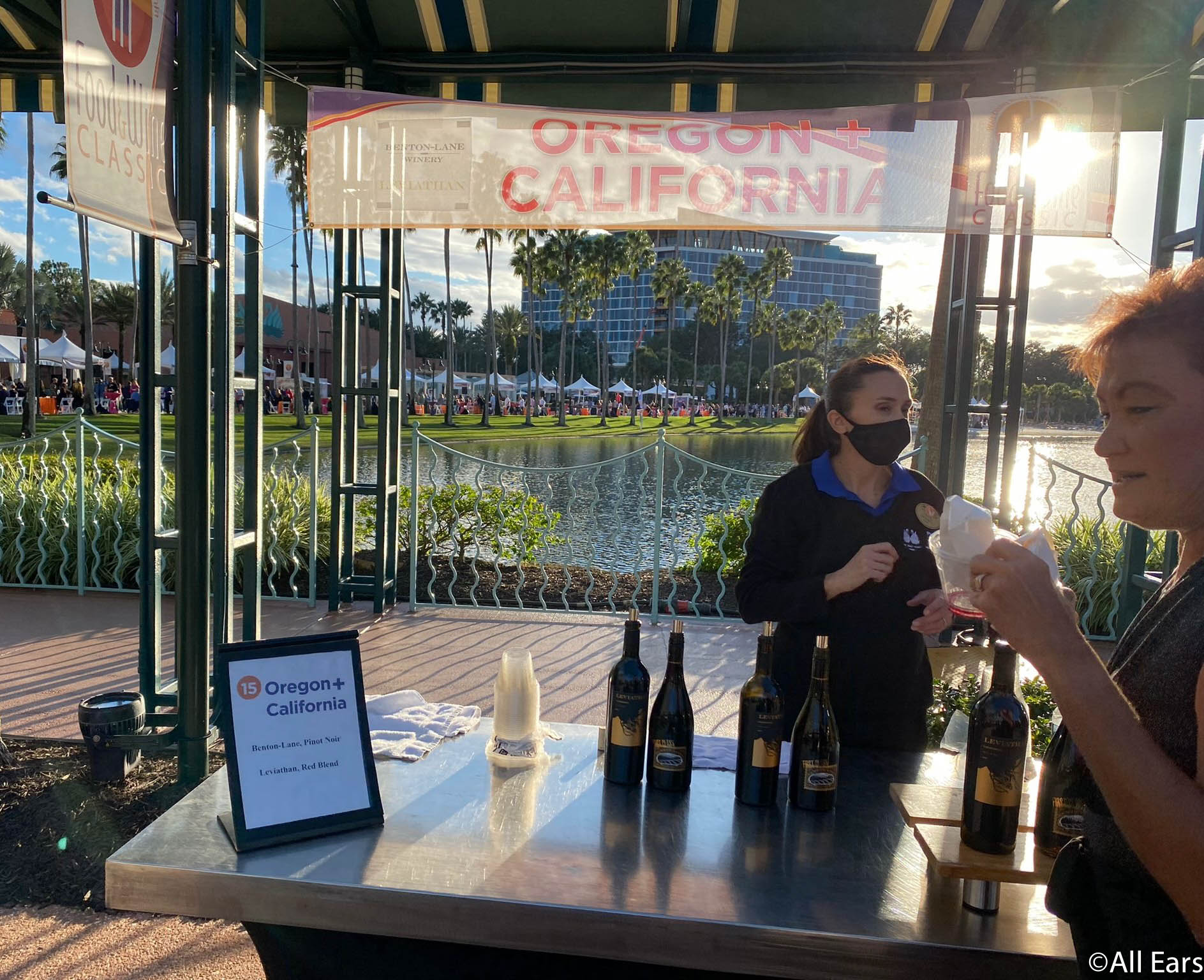 …Italy and California Booth….
…and France and Argentina Booth.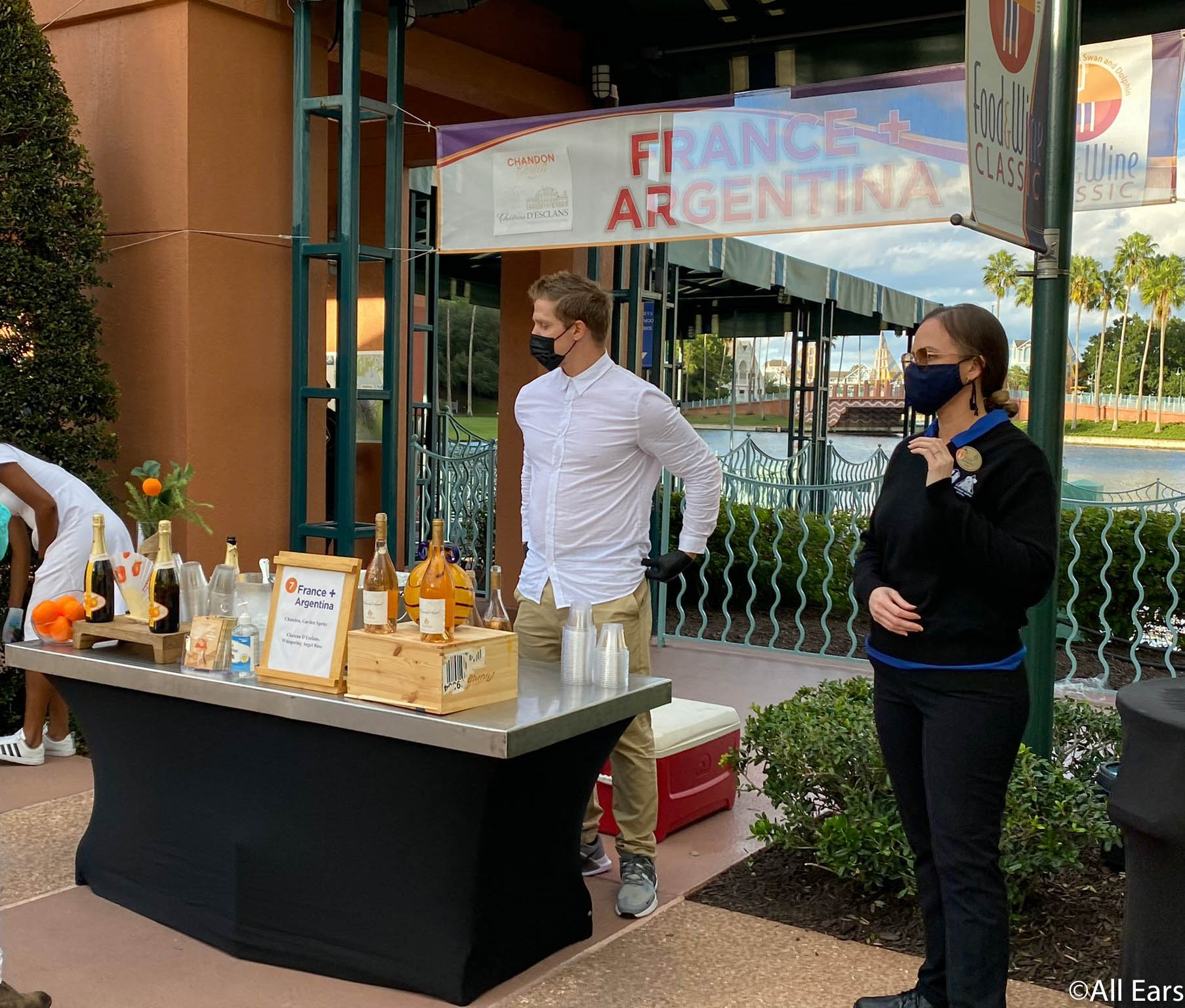 Various standing tables are located along the Beer Garden and main strip of the event, so guests can stop for a moment to eat or drink before exploring more.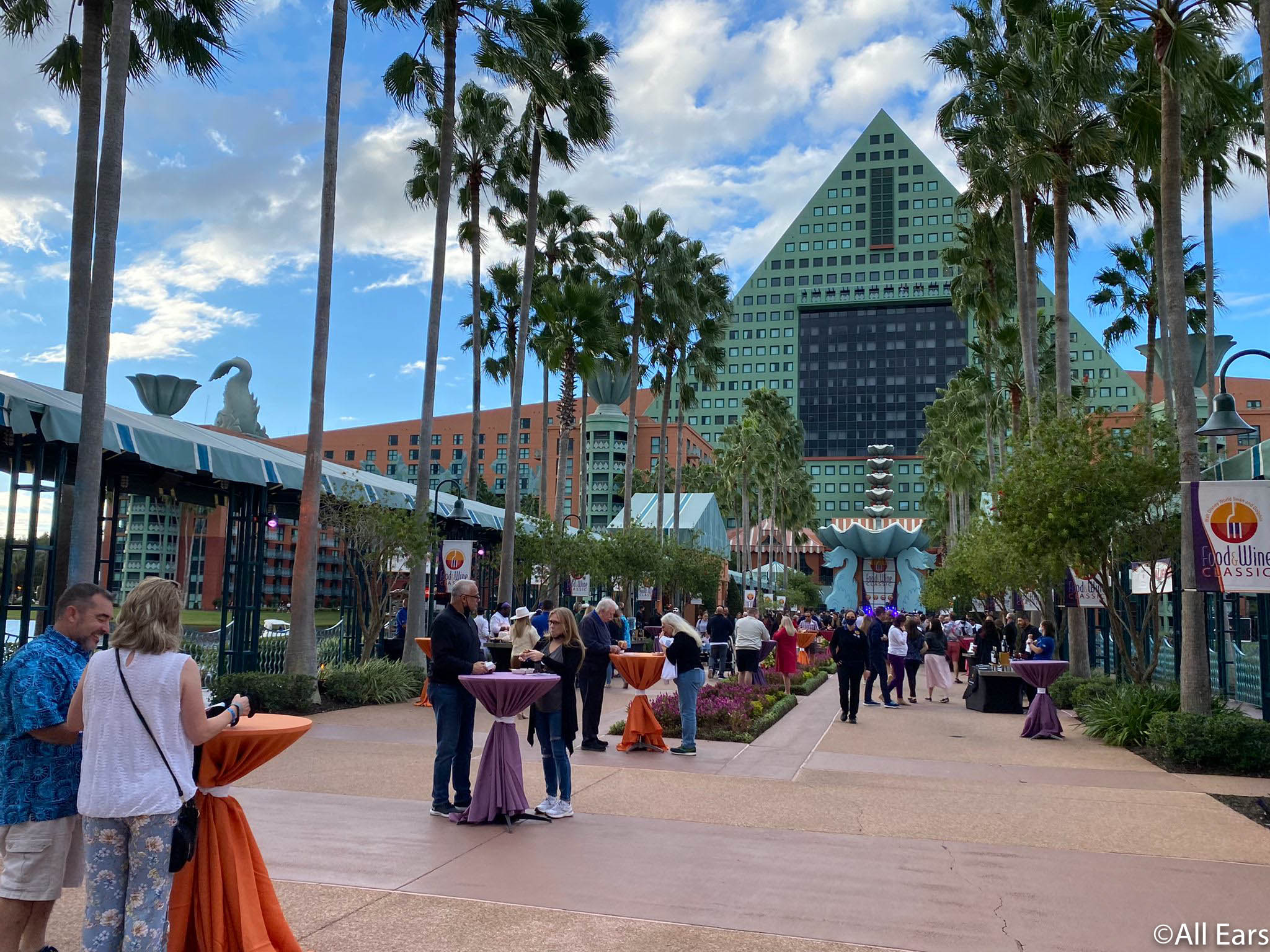 Live entertainment is also available to watch as you're enjoying your time at the Swan and Dolphin with Epic Live!, Rock the Yacht by Epic Live!, The American Sirens, and Adam Duss scheduled to perform.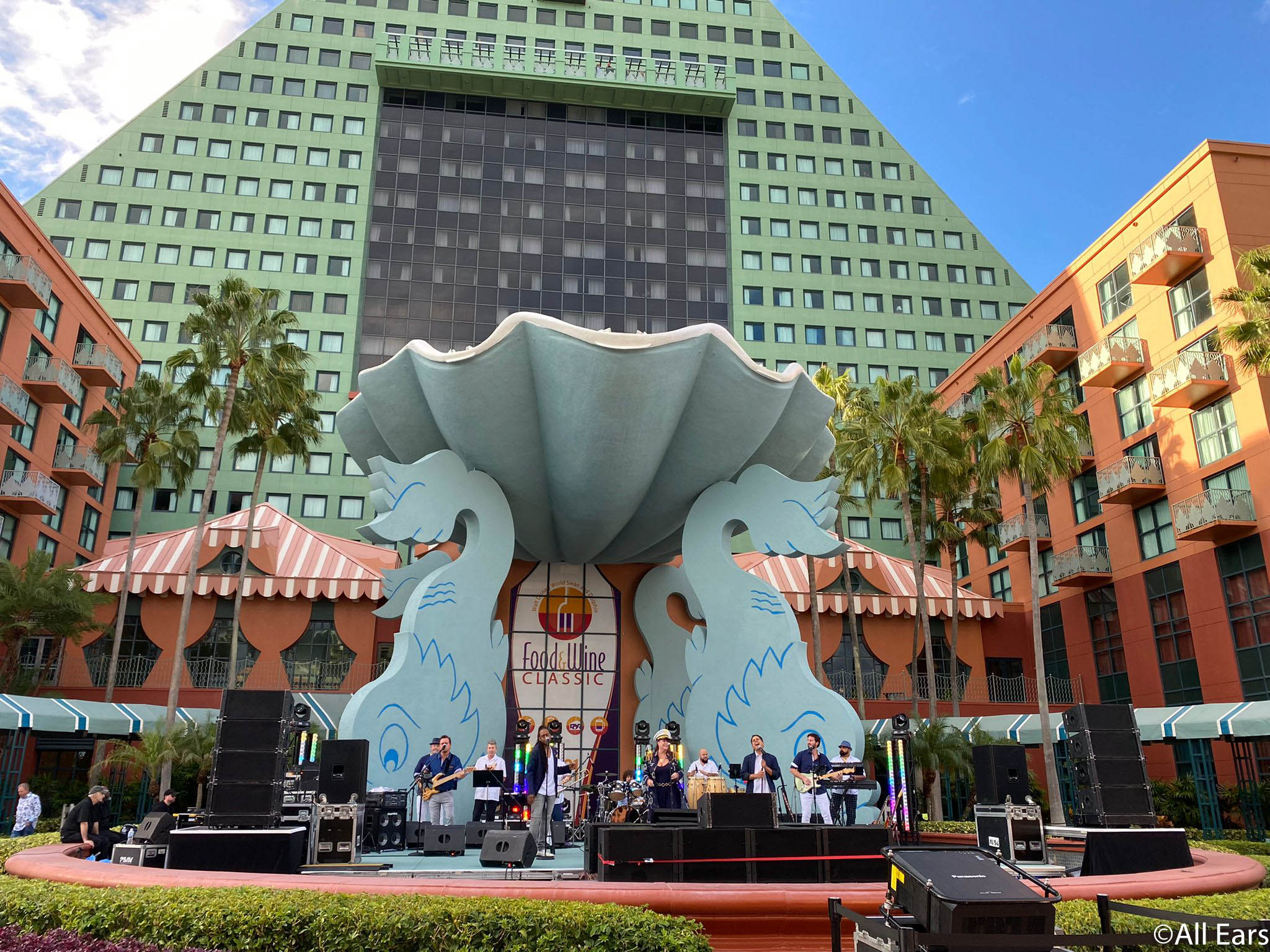 A little music while we wine and dine? Don't mind if we do!
Live music at the event tonight, you can catch us moving to the beat while we eat and drink 🎶 pic.twitter.com/x3MBiLAk0S

— AllEars.Net (@AllEarsNet) October 30, 2021
There were so many foods and drinks to try! Starting off strong, we went with the Arkansas BLT from the Cabana booth.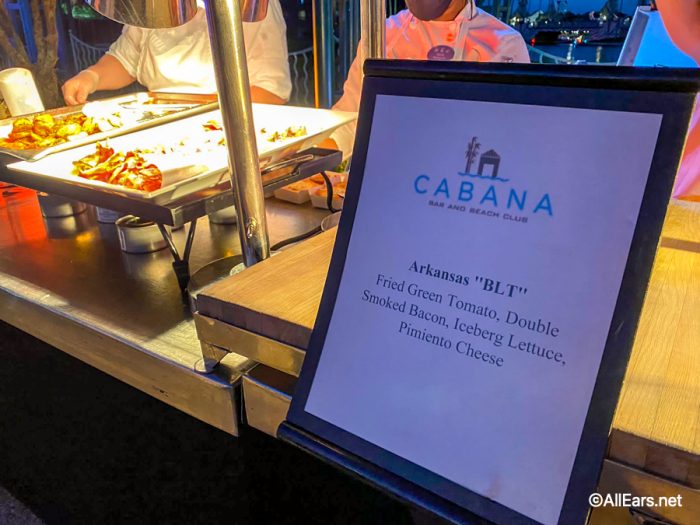 Our bite-sized BLT was so cute — and tasty!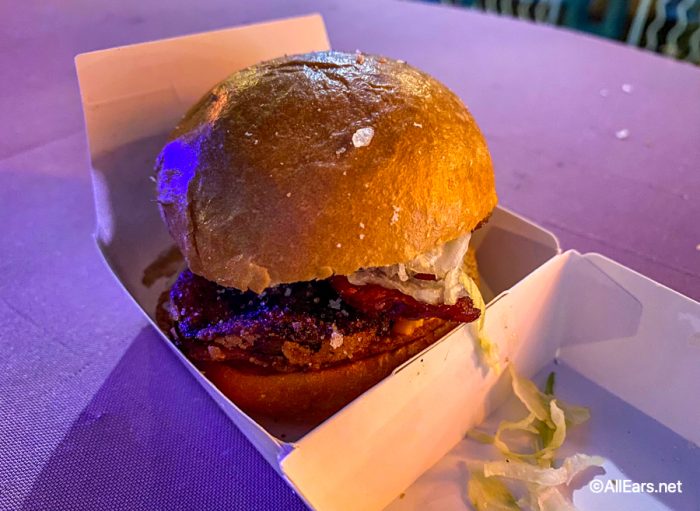 The Chinatown booth had some pork dumplings we had to try!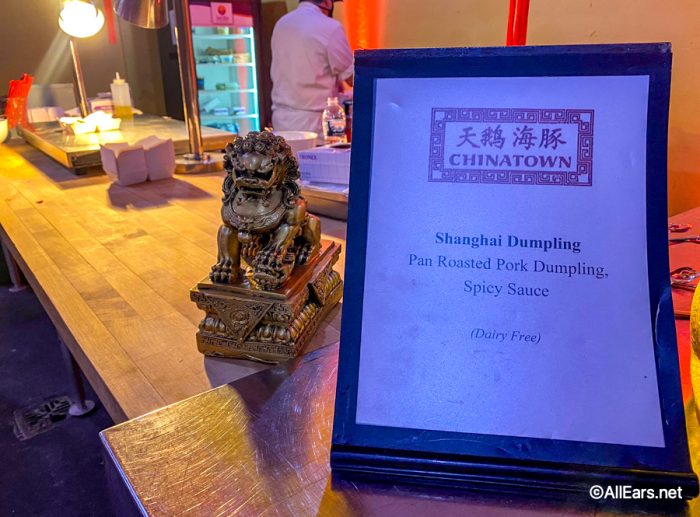 It was bigger than we expected!
Next up, we wanted a little Mexican food, so we headed to Frida's Kitchen! Art and cooking do go hand in hand, after all!
We ordered the Croquetas, which was a fried smoked ham and cheese dumpling with a cilantro crema.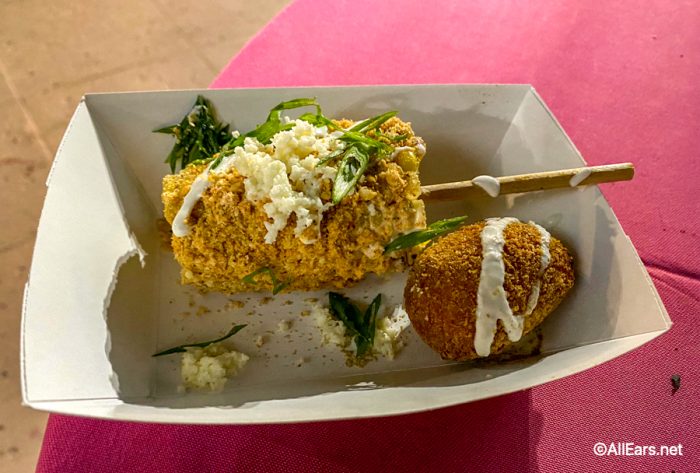 Moving on, we checked out Smokin' D's BBQ booth. Take a guess as to what kind of food they served? Beef, of course!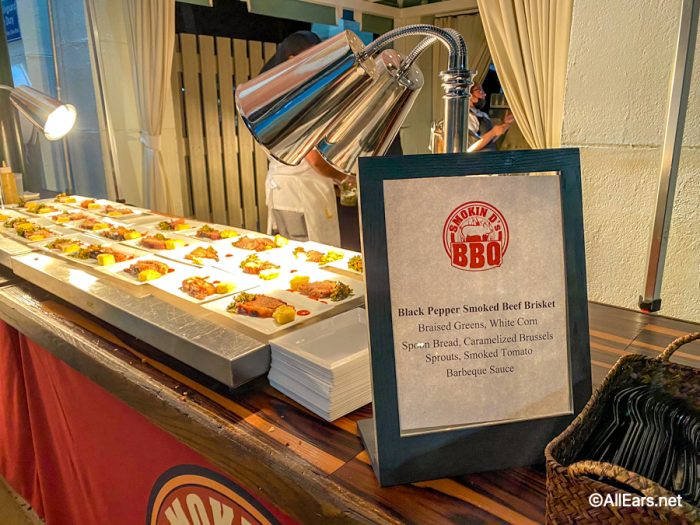 We tried the Black Pepper Smoked Beef Brisket with braised greens, white corn, spoon bread, caramelized brussels sprouts, and smoked tomato barbeque sauce.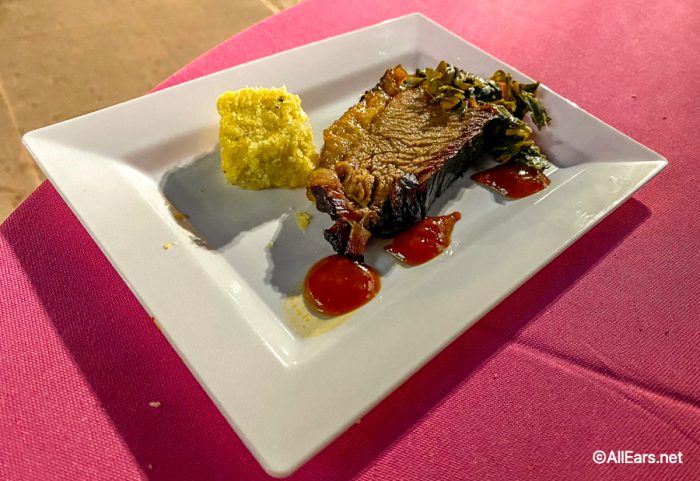 The Il Mulino booth offered House Made Ricotta Cheese & Herb Ravioli.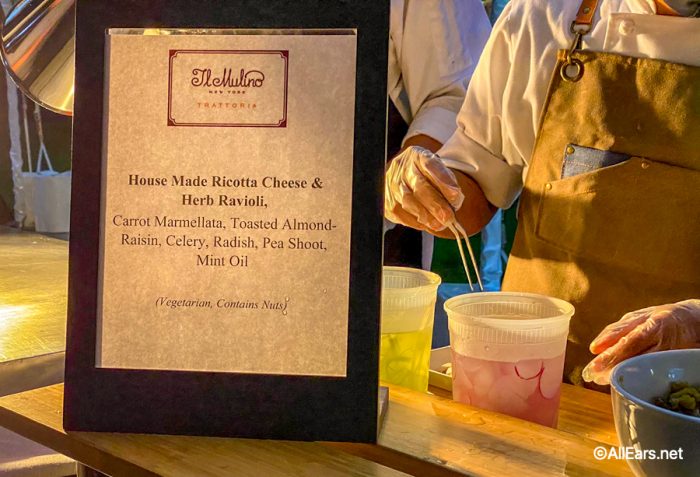 This one was a little disappointing, but we didn't let that slow us down!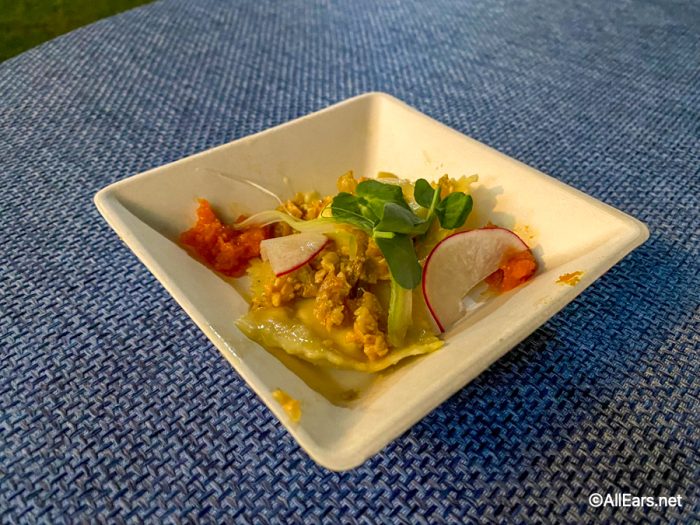 The Fountain booth was serving Beef Sliders, so you know we had to hop in line to try them!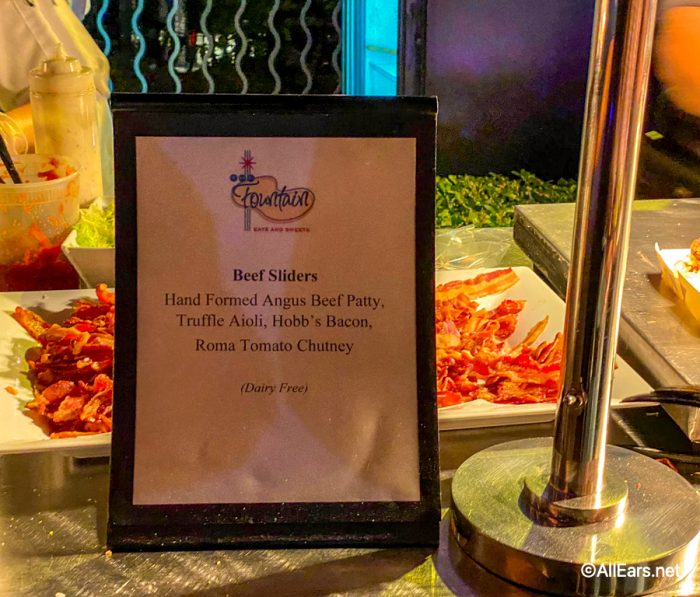 This little slider featured a truffle aioli, Hobb's bacon, and a Roma tomato chutney.
Don't worry, we still had room for more, so we visited the Hang 10 booth next.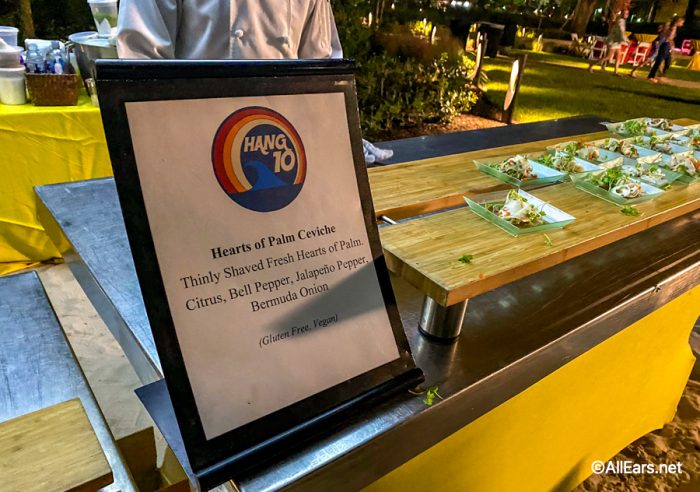 This booth served us Hearts of Palm Ceviche, made with fresh hearts of palm, citrus, bell pepper, jalapeño pepper, and Bermuda onion.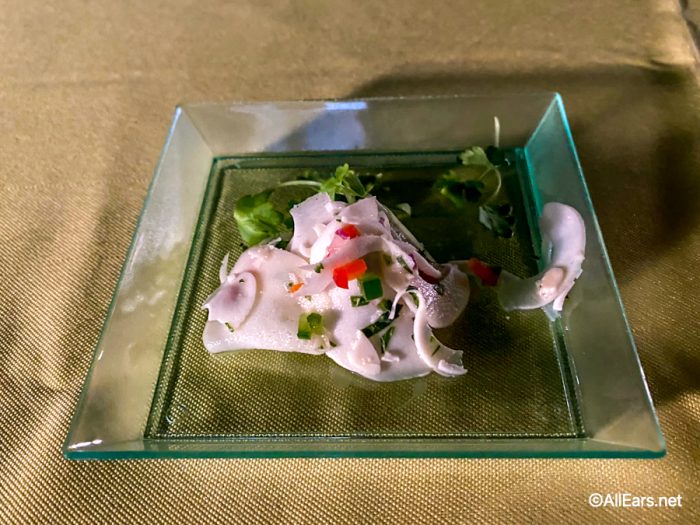 Sticking with the tropical feeling from the Hang 10 booth, we popped over to The Pig & The Poke booth.
The Tuna Poke was made with Hawaiian Yellowfin Tuna, Koho sushi rice, avocado relish, and crispy fried wontons.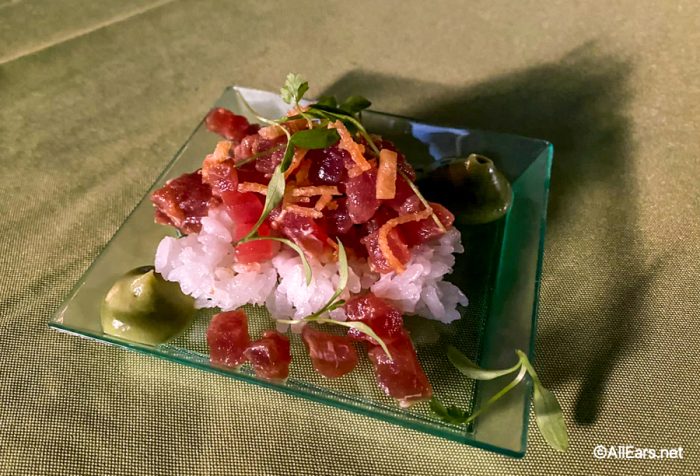 This booth also had something for more adventurous eaters: Traditional Earth Baked Kaula Pork.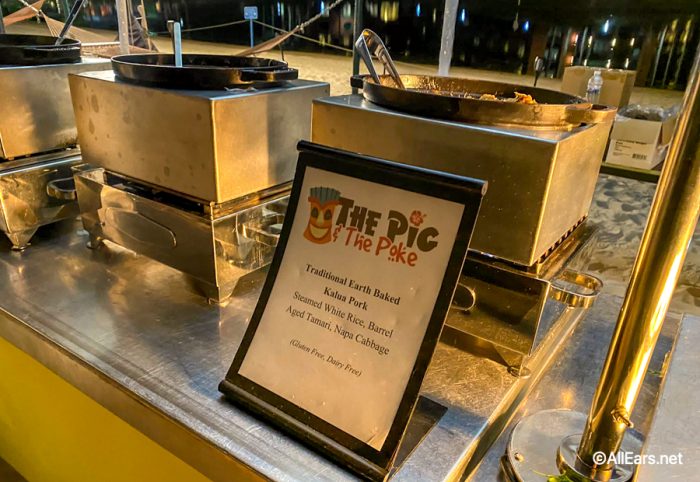 There's the pork!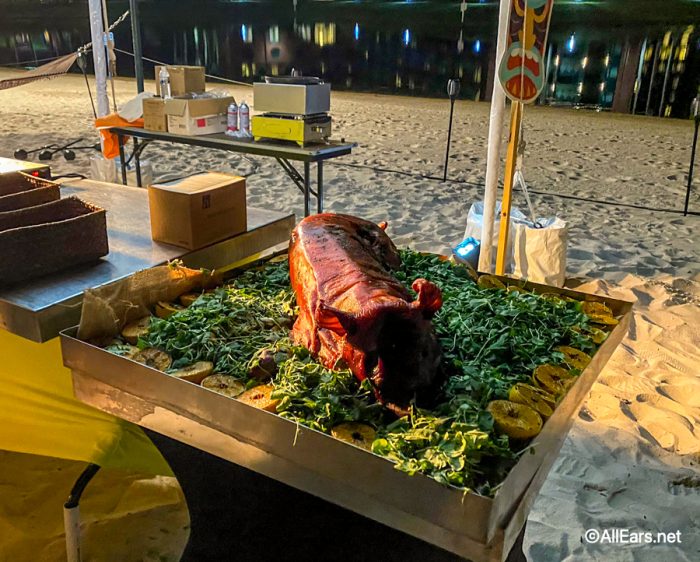 Next up, we took a look at the Muffuletta sandwich, which looked delicious!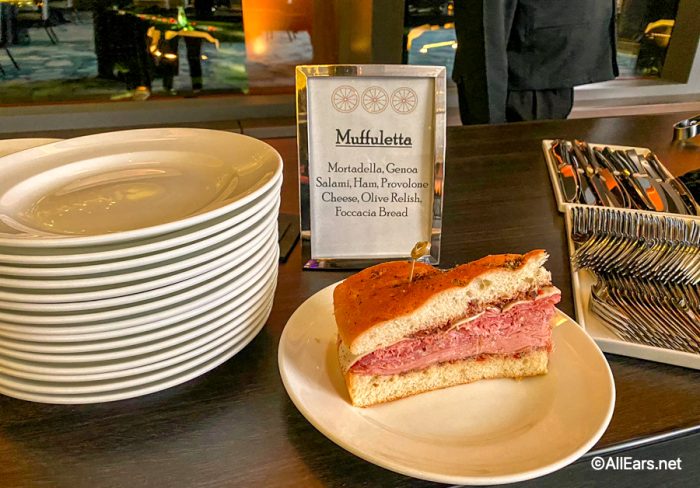 Now, how about some desserts? First up, let's admire these Bourbon Apples.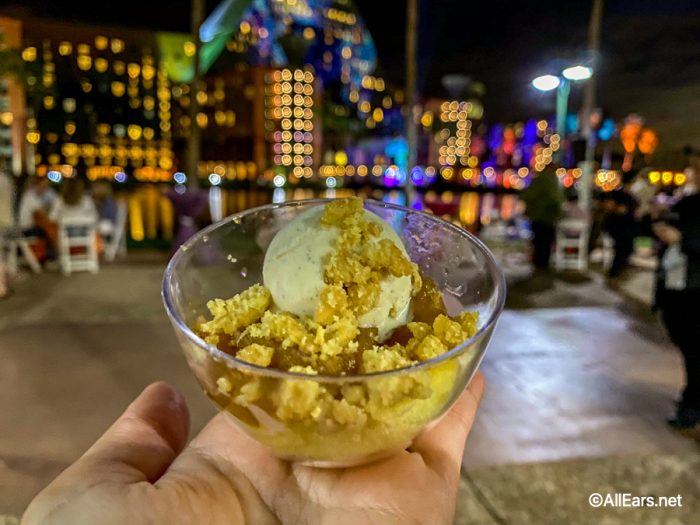 You can't have a dessert sampling without some kind of chocolate cake!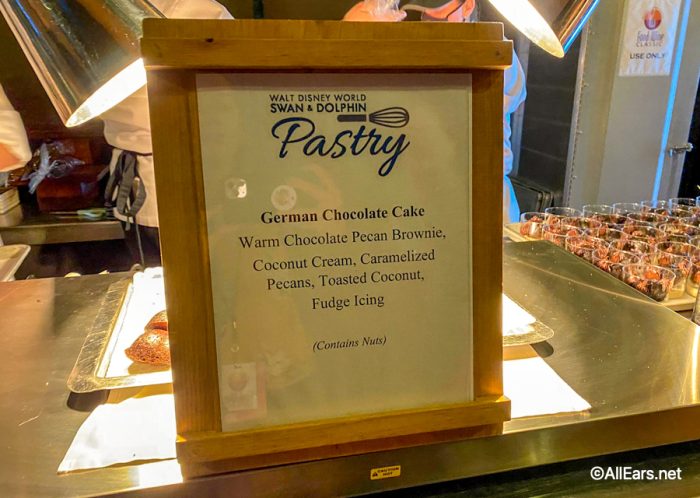 The German Chocolate contained a warm chocolate pecan brownie, coconut cream, caramelized pecans, toasted coconut, and fudge icing.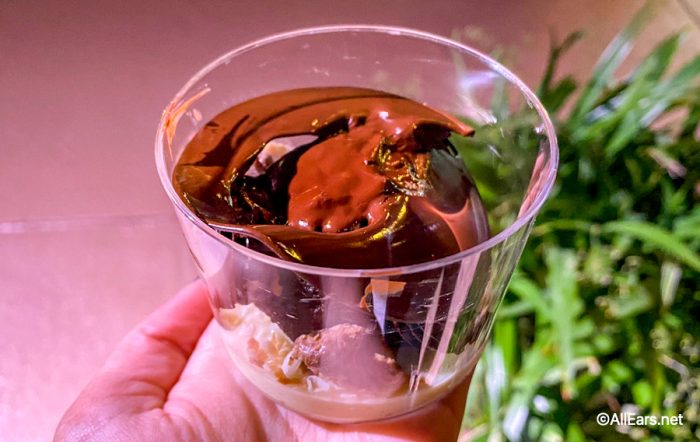 We also have to mention the wine selection. It is the Food & Wine Classic, after all! The selection was incredible, this booth alone offered a Chardonnay and Pinot Noir!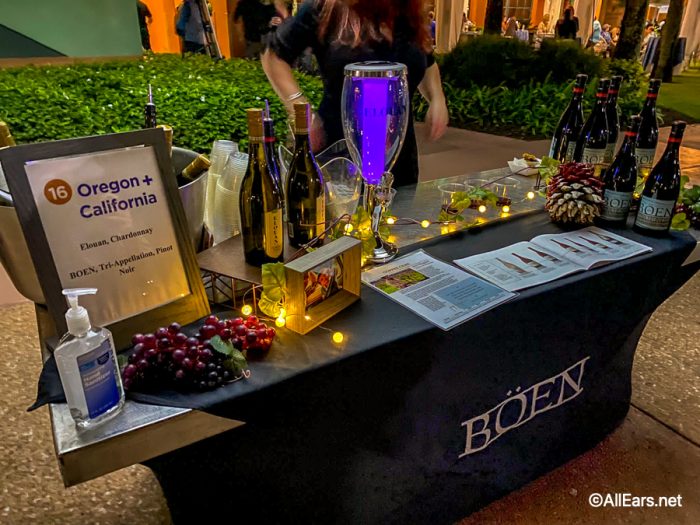 The California wine booth offered a Rose and Cabernet Sauvignon. We tried so many incredible foods, desserts, and drinks!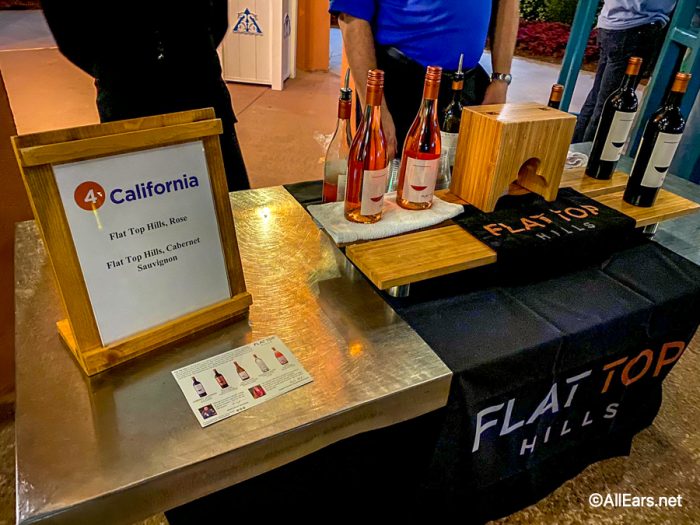 There's a look at the Swan and Dolphin Food & Wine Classic!  There are so many amazing options to choose from this year, and we're already looking forward to next year (it's never too soon!). In the meantime, stay tuned to AllEars for all the latest Disney news, reviews, and more.
Have you ever been to the Food & Wine Classic? Let us know in the comments!
Join the AllEars.net Newsletter to stay on top of ALL the breaking Disney News! You'll also get access to AllEars tips, reviews, trivia, and MORE! Click here to Subscribe!