Walt Disney World Swan and Dolphin Food & Wine Classic
The 2022 Walt Disney World Swan and Dolphin Food & Wine Classic will be held on
November 10th and 11th, 2023

! Tickets are on sale now.

The Walt Disney World Swan and Dolphin Food & Wine Classic is an annual event held on the Causeway (and adjacent spaces) at Walt Disney World's Swan and Dolphin hotels.
The event — returning for 2022 — brings together food and beverage from the hotels' 17+ eateries as well as local products to entertain the taste buds of foodies and fans.
Dates & Times
The 2022 Food & Wine Classic will be held November 11-12.
Each night's events begin at 5:30PM Eastern.
Location
The Food & Wine Classic is held along the Causeway between the two hotels. Food, beer, wine, and cocktail booths line the Causeway and make for a tasty stroll!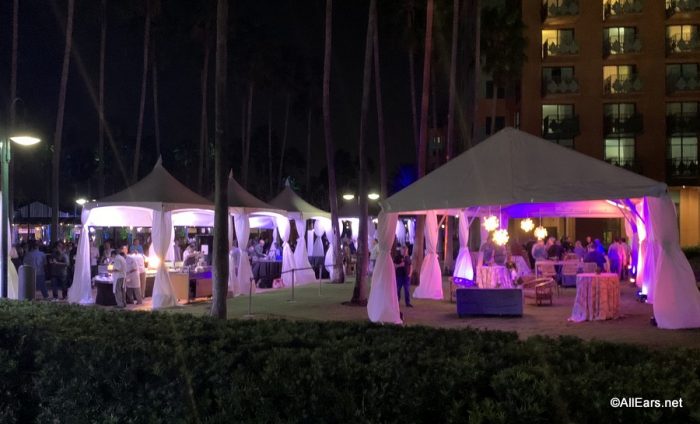 Additional adjacent areas include:
Beer Garden
Chinatown
The Pig & The Poke
Hang 10
These are included in the price of the Causeway ticket. (More on ticketing below!)
Tickets
Typically there are two ways to enjoy the offerings at the Food & Wine Classic: Causeway Tickets and A La Carte Tickets.
Causeway Ticket
The Causeway ticket costs $165 per person (includes a service fee and taxes) and includes unlimited samples from the Causeway offerings and the Beer Garden.
Click here to purchase Causeway Tickets.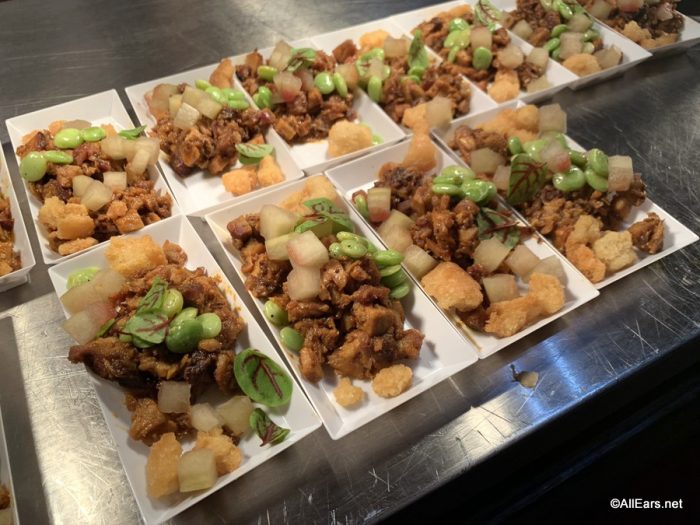 A la Carte Tickets
If you've got a smaller appetite (or if your kiddos are coming along), the A la Carte Tickets might make more sense for you. Twenty-five tickets cost $75, and you will use these tickets to try items as you wish. Items cost between 2-6 tickets each, so you'll need to plan carefully to get a taste of everything that appeals to you.
Click here to learn more about A la Carte Tickets.
Overnight Packages
Guests may also book an overnight package starting at $580 at the Swan, Dolphin, or Swan Reserve hotels. This includes a one-night stay for two and two Causeway Tickets to the Classic.
Click here to learn more about booking an overnight package.
Food & Wine Classic Menus for 2021 (menus for 2022 will be added when available)
Beef and More
Roasted Linz Heritage Black Angus Beef Tenderloin, Mashed Potatoes, Roasted Carrots, Hollandaise Sauce — Shula's Friday and Saturday
Handcrafted Smoked Duroc Pork Belly — Smoking D's, Friday
Black Pepper Smoked Beef Brisket, Braised Greens, White Corn Spoon Bread, Caramelized Brussels Sprouts, Smoked Tomato Barbecue Sauce — Smokin' D's, Saturday — NEW
Red Wine Braised Beef, New Potatoes, Field Mushrooms, Organic Vegetables, — Picabu, Saturday — NEW
Beef Slider: Hand Formed Angus Beef Patty, Truffle Aioli, Applewood Smoked Bacon, Roma Tomato Chutney — The Fountain, Saturday
Tacos al Pastor, Spit Roasted Marinated Pork Shoulder, Lettuce, Tomato, Onion, Toasted Flour Tortilla — Frieda's Kitchen, Friday —

NEW

Croquetas, Fried Smoked Ham & Cheese Dumpling, Cilantro Crema — Frieda's Kitchen, Saturday —

NEW

Seasonal Favorites –, Todd English's bluezoo, Friday and Saturday
Arkansas BLT, Fried Green Tomato, Double Smoked Bacon, Iceberg Lettuce, Pimento Cheese — Cabana Bar and Beach Club, Saturday
Pasta
Brandade Black Pepper Agnoiotti, Wilted Sweet Onion, Eggplant, Tomato Petals, Crispy Pancetta, Nduja Vinaigrette — Il Mulino, Friday — NEW
House Made Ricotta Cheese & Herb Ravioli, Carrot Marmellata, Toasted Almond-Raisin, Cherry, Radish, Pea Shoot, Mint Oil —Il Mulino, Saturday — NEW
Tonnarelli Alle Vongole, House Made Tonnarellia Pasta with Baby Clams, Roasted Tomato Sauce, Calabrian Chile, Guanciale — Walt Disney World Swan Reserve, Friday —

NEW
Fish and Seafood
Maryland Style Crab Cakes, Old Bay Remoulade, Avocado Puree, Vinegar Pepper and Mache Salad — The Fountain, Friday —

NEW

Lemon Pepper Seared Salmon, Charred Broccoli, Quinoa, Meyer Lemon Sauce — Picabu, Friday — NEW
Grilled Mahi Mahi, Tuscan Kale, Toasted Fregola Sarda, Spanish Caper Sauce — Walt Disney World Swan Reserve, Saturday —

NEW
Sushi and More
Kimonos Roll – Ahi Tuna, Yellowtail, Sustainable Salmon, Wasabi Mayonnaise — Kimonos, Friday
Dragon Roll – Crispy Shrimp, Yellowfin Tuna, Avocado, Kewpie Mayonnaise — Kimonos, Saturday
Vegetarian Rice Bowl with Roasted Vegetables, Seasoned Sushi Rice, and Tempura Crunch — Cabana Bar and Beach Club, Friday
Pastry and Desserts
Friday:
German Chocolate Cake: Warm Chocolate Pecan Brownie, Coconut Cream, Caramelized Pecans, Toasted Coconut, Fudge Icing — NEW
Saturday:
Bourbon Apples: Caramelize Apples, Bourbon Vanilla Ice Cream, Caramel Whipped Ganache, Almond Pound Cake, Honey Granola Crumble —

NEW
Chinatown
Shanghai Dumpling: Pan Roasted Pork Dumpling, Spicy Sauce
The Beer Garden – Friday & Saturday

Bavarian Warm Pretzel with German Mustard and Lager Beer Sauce
Wagyu Sloppy Joe, Pickle Chip
Poutine – Yukon Gold Fries, House Gravy, Cheddar Cheese Curds —

NEW

Crispy "Korean Style" BBQ Chicken Wings, Smokey Gochujang BBQ Sauce —

NEW
Beer selections subject to change.
Phins and Feathers
Brew Hub
Samuel Adams
Mia Brewing Company
Central 28 Beer Company
High Heel Brewing
JDub's Brewing Company
Highland Brewing Company
Swamp Head Brewing Company
Terrapin Beer Company
Bell's Brewery
Diver Down
Keybilly Island Ale
Original Sin Hard Cider
Maeloc Hard Cider
Hang Ten
Hearts of Palm Ceviche – thinly sliced fresh hearts of palm, lime juice, Bermuda onion, bell pepper, and chili peppers
The Pig & Poke
Traditional Earth Baked Kalua Pork, Steamed White Rice, Barrel Aged Tamari, Napa Cabbage
"Tuna Poke": Hawaiian Yellowfin Tuna, Koho Sushi Rice, Avocado Relish, Crispy Fried Wontons
Beer
Selections subject to change.
Diver Down
Funky Buddha
Crooked Can
Cigar City Brewing
New Belgium Brewing
Kentucky Bourbon Barrel Ale
Sixpoint Brewery
Uinta Brewing
Tsingtao Beer
Founders Brewing
Lucky Buddha
Wine
Wines selections subject to change.
Washington
Oregon
California
Chile
Argentina
France
Italy
New Zealand
Australia
Spain
Seminars
The Food & Wine Classic also offers hard-ticket seminars instructing participants on everything from wine to cheese to pasta. Some of these offerings also include food and beverage pairings (marked with *). Click each offering below for ticketing information.
Entertainment
The Food & Wine Classic also offers nightly entertainment. For details, click here!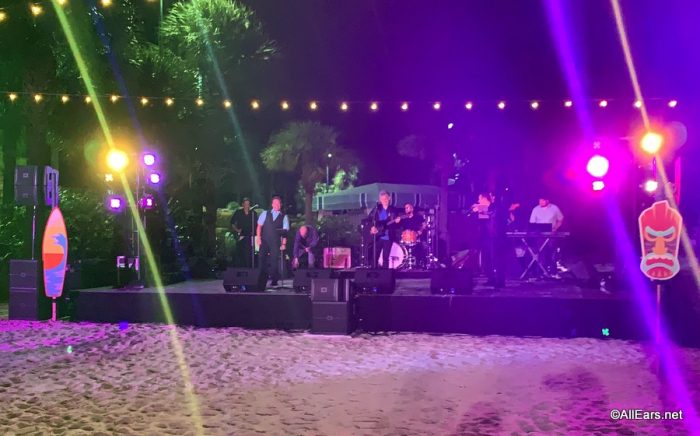 For everything you need to know about the Walt Disney World Swan and Dolphin Food & Wine Classic — including info about vacation packages — visit the official site here!