When you think of Disney, what's the first thing that comes to mind? Castles? Princesses? Magic? Fireworks? Waiting in extremely long lines for your favorite attraction?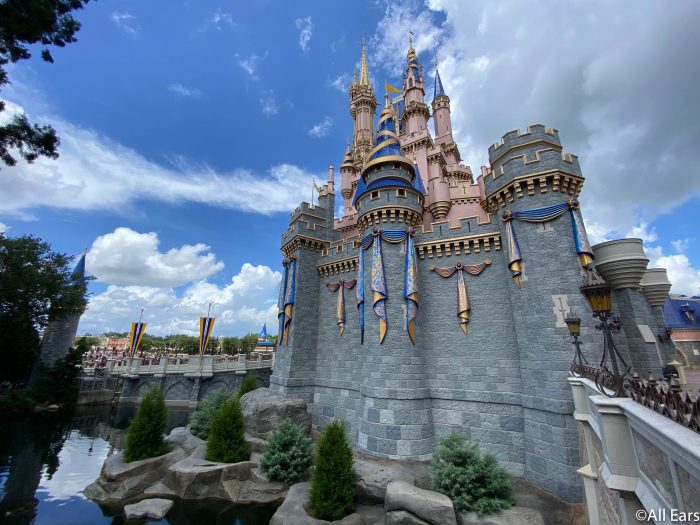 You probably don't think about what happens when you mash together Michael Jackson and Eeyore. Or that time that Disney made gas masks?! Or how about the time Disney hosted a Star Wars ballet? Yeah…there are some pretty BIZARRE parts of Disney history. And today we're uncovering a whole bunch of them!
Ready to hear about some really strange things that really took place in Disney history? Then read on!
1 — The Beatles Break Up
If you're a big fan of The Beatles, you can probably sing along to their songs and maybe you even know some details about the lives and stories of the band's famous members. But, did you know that a monumental part of Beatles history took place in Disney World?
At the end of 1974, The Beatles were finally set to formally dissolve as a group. At that time, John, John's son, and John's personal assistant went to spend Christmas in Florida. On December 29th, 1974, the documents for the split were brought to John in Florida. And then, at Disney's Polynesian Village Resort, John Lennon signed the paperwork and ended The Beatles.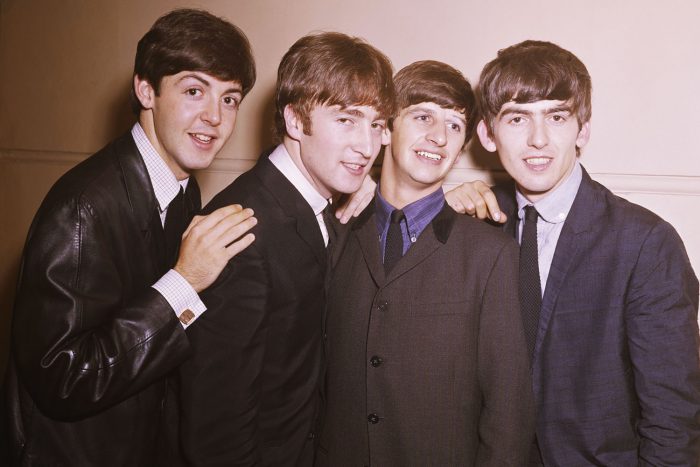 The room that John Lennon stayed in hasn't been confirmed but it was reportedly a ground floor corner room in the Samoa longhouse. So, the next time you stop by the Poly, grab a DOLE Whip, stand near the Samoa longhouse, looking out onto Seven Seas Lagoon, sing a little Let it Be, and make a toast to the Beatles!
2 — Nixon Speech
John Lennon wasn't the only one who chose Disney World as the backdrop for a monumental occasion, though. Many presidents have visited the Disney theme parks, but one in particular chose Disney World for a rather unique moment. In November of 1973, then-President Richard Nixon flew to Disney World for an hour-long, televised question and answer session that took place at…Disney's Contemporary Resort?!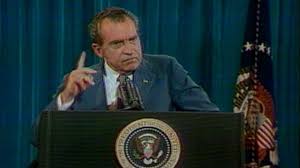 Yup, in the Ballroom of the Americas B, Nixon gave his famous "I'm not a crook" statement.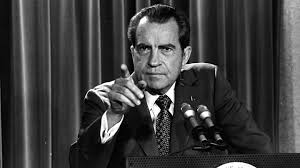 So while you might think of California Grill, fireworks, and great views when it comes to the Contemporary, it seems this hotel has been the backdrop of some more…unique…situations in the past!
3 — The Birth of Doritos
Ever open up a bag of your favorite snacks and think "I wonder where this snack was invented?" Well, if you wondered that about the ever popular Doritos, the answer would be…Disneyland!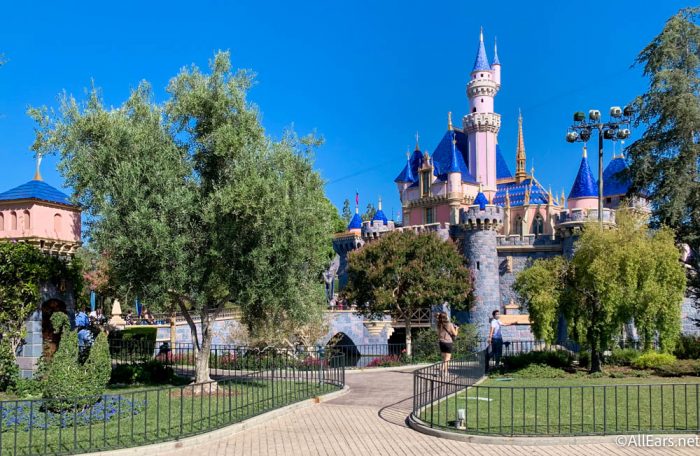 What?! It's true! Back in the 1960s, Frito-Lay operated Casa de Fritos, a restaurant in Disneyland's Frontierland. Instead of dumping their stale tortillas in the trash like usual, Cast Members started cutting them into smaller pieces, frying them, and adding some seasoning on top. And thus, the Dorito was born!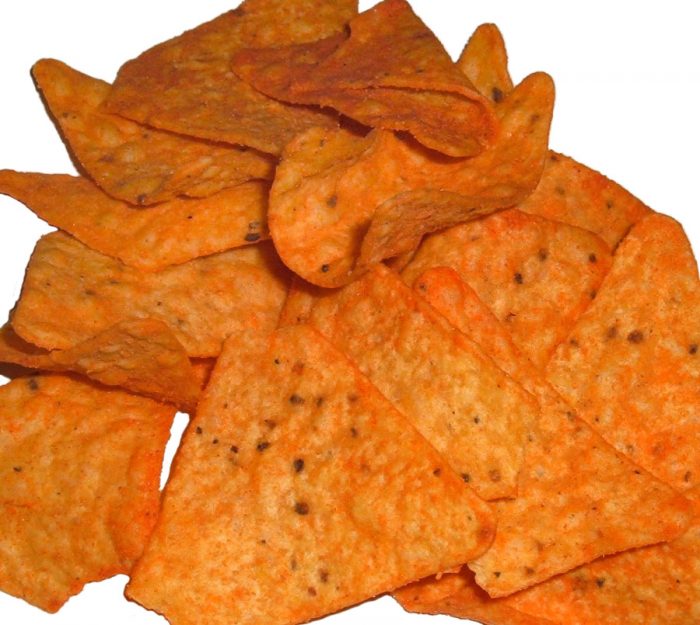 The Vice President of Marketing for Frito-Lay noticed that these were a hit and he then made a deal with the suppliers of Casa de Fritos to produce this snack regionally. Eventually, Frito-Lay began making Doritos as they became a big hit and staple product of theirs.
So, if you love Doritos, you have Disneyland Cast Members to thank!
4 — Ace Ventura: Live in Action
If you were a fan of Ace Ventura, the 1990s would have been a great time for you to visit Disney World! To promote the Ace Ventura: When Nature Calls movie, Disney actually created a stage show featuring Ace Ventura himself, which fans could see at Disney's Hollywood Studios (known then as MGM Studios). The show was called Ace Ventura Pet Detective: Live in Action!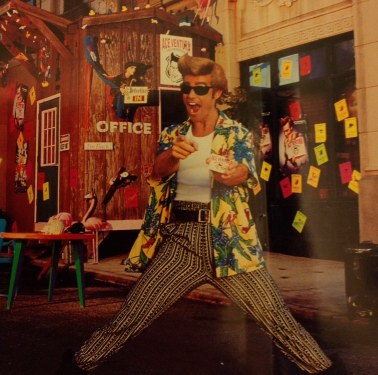 The show took place in the Streets of America. What could you see during this show? Oh, you know, perfectly normal, 100% typical things like Ace Ventura climbing up buildings to catch a large spider. The usual. 😂 And fans could even meet Ace Ventura afterwards and grab a photo. What a wild experience!
Check out the video above to see the AllEars team discussing the Ace Ventura show and some other
unique
things that Disney World has offered over the years!
5 — Mermaids in Disneyland
Mermaids — they're mystical creatures that have been featured in many Disney movies including The Little Mermaid (of course), Peter Pan, and others. But, did you know that you could see a REAL LIFE mermaid (kind of) in Disneyland at one point?
Back when the 20,000 Leagues Under the Sea attraction opened in 1959 at Disneyland, the ride actually featured LIVE performers dressed as mermaids swimming around the lagoon.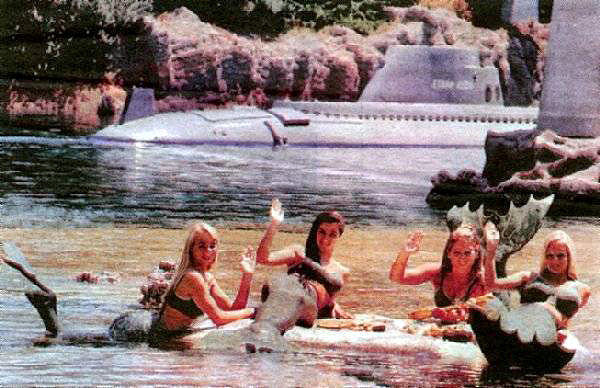 Back in 2015, the Huffington Post actually spoke to one woman — Suzanne Brewster — who was a former Disneyland mermaid. According to Brewster, the mermaids often spent time on a rock in the lagoon, as it was the only way to really warm up in the sun after swimming in the rather cold water of the lagoon.
Brewster noted that the submarine's propellers were large and the mermaids were warned to stay a safe distance away. The mermaids didn't last long though. Huffington Post shares that they only appeared for a few more seasons between 1965 and 1967.
Could you imagine being a young kid and seeing a real mermaid, not just sitting there, but actually swimming in the water?! What an incredible sight that must have been.
6 — So Many Unique Souvenirs
Nowadays, there are a lot of different souvenirs you can get from the Disney parks. Some are a bit more on the unique side. But, for the most part, many of the souvenirs you'll find are fairly "normal" — spirit jerseys, Crocs, shirts, plushes, and other similar things.
But, when Disneyland first opened, you could buy a whole lot of…unique items.
When Disneyland first opened, there was a store on Main Street, U.S.A. that sold bras and undergarments! That's right folks, on your way to the Tea Cups you could just make a quick stop to buy the latest…bras? The Intimate Apparel Shop even had a robotic mascot "The Wizard of Bras" that discussed the history of intimate apparel.
The store was open for less than a year, but was rather interesting. But, that's not the only weird thing you could buy at Disneyland. In the early days, you could also grab imitation flowers, antiques, and hand-carved pipes and tobacco.
Oh, and if you're feeling like you could use some vitamins (what with all of the corn dogs you've been eating in the park), you could also stop by Upjohn Pharmacy in the early days of Disneyland to get a free glass bottle of vitamins!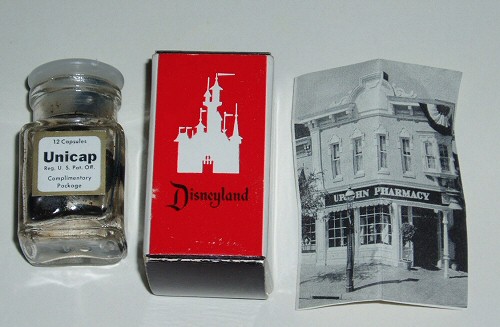 With all of those unique souvenirs to look at and purchase, we can only imagine how unique it would have been walk through the park at that time.
7 — Michael Jackson and Eeyore?!
If you thought a bra store in Disneyland was weird, just wait until you hear about this next one. Apparently, back in the 1980s Disneyland Cast Members made a video that serves as a parody of Captain EO. Okay, that in and of itself might be a little strange, but a fun parody video is something we can understand.
Things go just a bit stranger though when you realize the parody has been made with classic Disney characters. We're talking Winnie the Pooh, Tigger, and more! Oh, and who gets to play the main character? Eeyore of course!! And yes, he does pelvic thrusts. It's…well, it's something you've got to see to believe. Check out the video below from RetroWDW.
Eeyore dancing to Michael Jackson music is something we never knew we needed. Excuse us as we re-watch this video a million more times and revel in its awesomeness.
8 — Holidayland
When you go to Disneyland, you probably picture the castle, riding classic attractions, and eating lots of tasty food. But, what if there was a place just next to Disneyland where you could play softball, let the kids hang around a playground, and grab…a BEER?! That's where Holidayland comes in. Holidayland was located outside "the berm," essentially where the show buildings for Pirates of the Caribbean and Haunted Mansion are today.
Holidayland could hold as many as 7,000 guests. There was food available and beer, which was something you couldn't even get INSIDE of Disneyland at that time. Guests could visit Holidayland, have a picnic, and then by around 4PM, Holidayland guests could enter Disneyland. Holidayland opened in 1957 and was open through most of 1961. There was a separate admission for Holidayland, but again it allowed you to enter Disneyland after a certain time.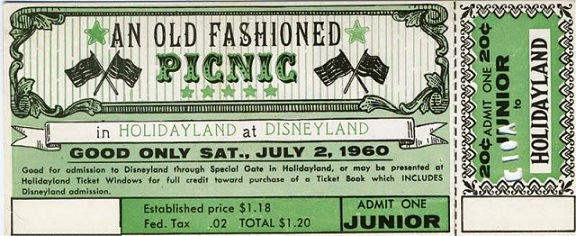 There were a few BIG problems with Holidayland though. There was a great lack of shade, no lighting when the sun went down, and just a small thing called NO BATHROOMS ON SITE. But, during some of the time when it was open, it was reportedly very popular with families who would go there to enjoy special events, have picnics, and more. It's interesting to see just how much has changed over the past several years at this park.
9 — Hyperspace Hoopla (THE BEST WEIRD THING EVER)
Next, we come to one of the BEST WEIRDEST THINGS EVER to be hosted at Disney World — the Hyperspace Hoopla Dance Off Show! This hilarious, phenomenal, incredibly strange but amazing show was held in Disney's Hollywood Studios during Star Wars Weekends.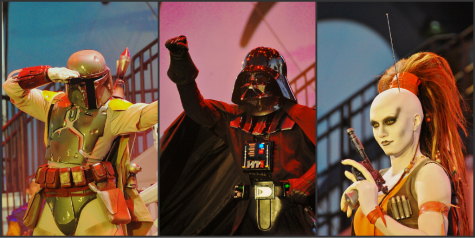 During the show, all kinds of amazing things happened. The Emperor would get challenged to a Dance Off, pitting the Dark Side against those who are on the light side. Yes. A dance off, featuring Star Wars characters. Depending on your visit, you could see characters like Boba Fett, Princess Leia, Chewbacca, and even Padme and Darth Vader all dancing against or with each other.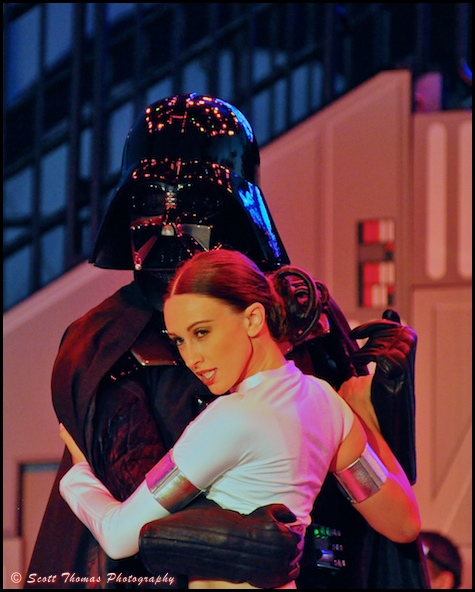 Most of these dances would also be set to modern pop music. We're talking Chewbacca dancing to Hey Ya! and Darth Vader dancing to Bad and doing some intense moves. Please, do yourself a giant favor and check out our video below of Star Wars Weekends from 2013. We have a feeling it'll be one of the most amazing things you'll see all day (but like also, how did this happen in Disney World for several years?).
It was a seriously wild time in the very best way possible.
10 — The Star Wars Ballet
In a similar but different fashion, for the ribbon cutting of Star Tours in Disneyland, Disney held what was essentially a Star Wars ballet. Yes, you read that right. More Star Wars characters dancing — apparently that's a theme here! You'll get to watch Princess Leia doing ballet moves as she dances with Luke and Han. It's that wonderful balance of unique and strange all at the same time. Check it out below thanks to ProgressCityPublicTV on Youtube.
We just gotta ask — why all the Star Wars dances? But also, why aren't all ride opening ceremonies like this? Can you imagine a Seven Dwarfs Mine Train ballet…c'mon!?!
11 — The Castle Saga
Right now, Cinderella Castle is getting all dolled up for the 50th Anniversary, but this isn't the first makeover it's had. We could NOT do this article without talking about the VERY contentious 25th Anniversary Birthday Cake Castle.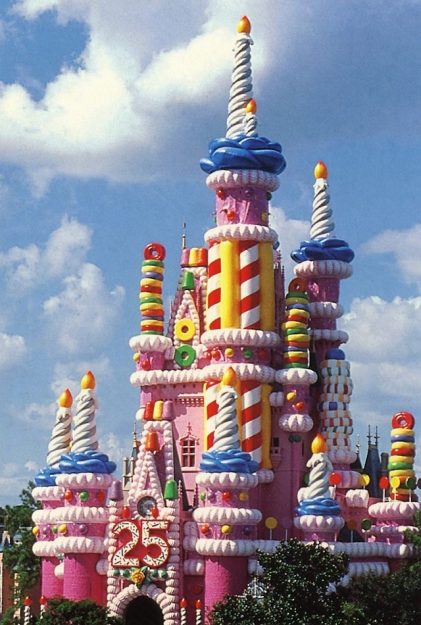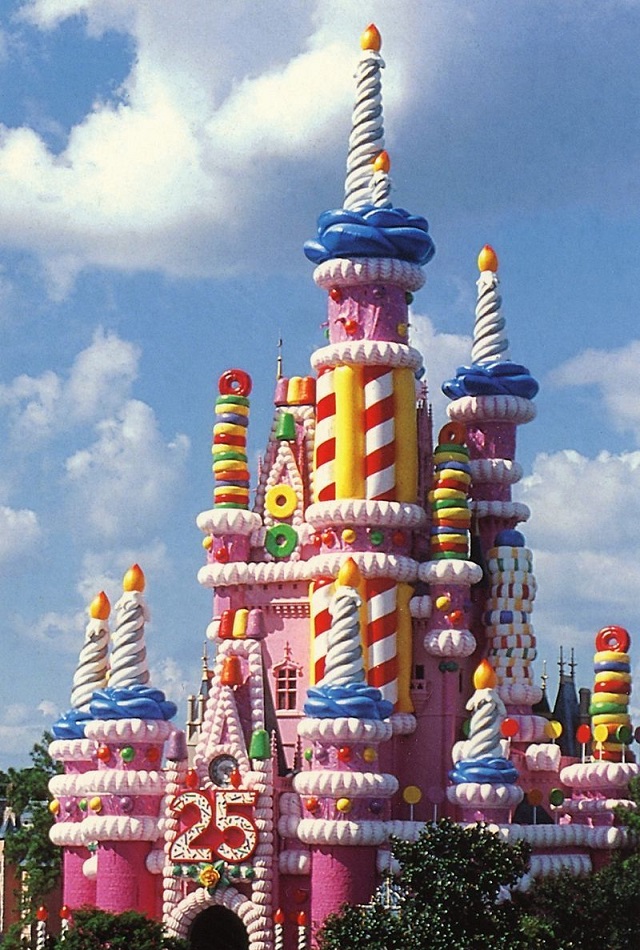 Love it? Hate it? No matter what your opinion is, you can't deny that it was…something! In 1996, the Castle transformed into a very colorful castle that SCREAMED "it's my birthday!" Let's just say, there was no way you could visit Magic Kingdom and NOT know something was going on. Also, how weird is it to see the grey brick mixed with the pink cake design?
But the castle transformation that was perhaps the most bizarre was the one done for the opening day of Stitch's Great Escape. Back in 2004, when the ride opened, guests were met with a Castle that had been covered in toilet paper and graffiti.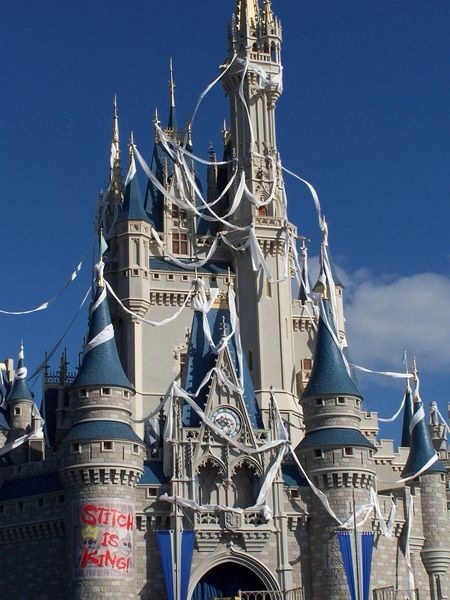 It was…well, bizarre. We totally get the idea and the concept behind it, especially considering Stitch's mischievous nature. But, it's certainly not the Castle's most regal look.
12 — When Disney Designed a Gas Mask
Disney has designed a lot of merchandise over the years — purses, glasses, kitchen items, and much more. But did you know Disney actually designed a gas mask as well? According to The Washington Post, in 1942, Walt Disney himself went to Washington to check on a gas mask he had designed. The mask was shaped like Mickey Mouse and it was designed to calm frightened children.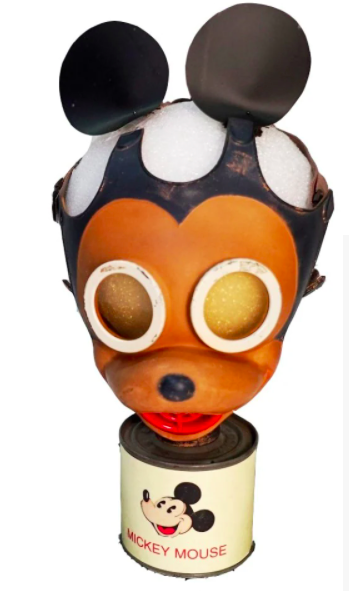 The Washington Post notes that only about 1,000 Mickey Mouse respirators were produced. We understand the idea of designing these to comfort children but even The Washington Post calls it "the world's weirdest gas mask" and we have to agree. This is the stuff of nightmares!
13 — The Magical World of Barbie
After reading about Ace Ventura, the birthday cake castle, and the Star Wars ballet, hearing that Barbie had her own stage show in EPCOT probably doesn't seem out of the ordinary at ALL. This was peak '90s. From 1993 to 1995, The Magical World of Barbie show was available for guests to enjoy in EPCOT. Barbie would even cruise around World Showcase in her glittery pink limo.
This was well before Barbie appeared in the Toy Story franchise, so her appearance in the parks then wasn't quite as "in-theme" as it would be now. But we'll fully admit that cruising around World Showcase in a pink limo sounds like a GREAT arrangement (as long as we can grab some snacks along the way).
14 — And So Much More
Truly, there are a number of bizarre things that have happened in Disney history. There were PRICEY cabanas you could rent near Space Mountain, a Splash Mountain rap (trust us, you're gonna want to watch that one), and other unique things that have happened over the years.
What strange, bizarre, and wonderful things will the next several years bring us? We haven't the slightest idea, but we can't wait to find out!
What do you think is the most bizarre part of Disney history? Tell us in the comments!
Join the AllEars.net Newsletter to stay on top of ALL the breaking Disney News! You'll also get access to AllEars tips, reviews, trivia, and MORE! Click here to Subscribe!