Walt Disney World Chronicles: Nixon and the Beatles
by Jim Korkis
Disney Historian
Feature Article
This article appeared in the March 7, 2017 Issue #911 of ALL EARS® (ISSN: 1533-0753)
Editor's Note: This story/information was accurate when it was published. Please be sure to confirm all current rates, information and other details before planning your trip.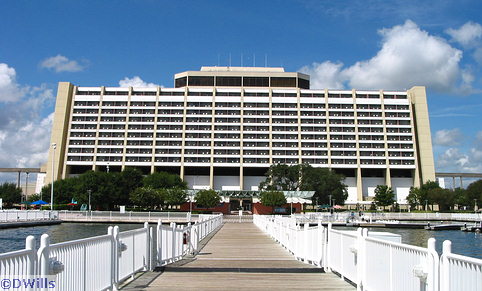 The Walt Disney World resort hotels have hosted countless celebrities over the decades since they first opened in 1971. Politicians, sports stars, television and movie performers and more have enjoyed the amenities offered. But within the first three years or so of WDW opening, two historic, and completely unrelated, events took place while celebrities were staying at the WDW resorts.
Every U.S. President from Harry Truman, with the notable exception of Lyndon Baines Johnson, has visited a Disney theme park, usually as a guest rather than at an official event. In fact, seven U.S. Presidents have spoken and attended official events at the Walt Disney World Resort. The most recent was Barack Obama, who discussed visa reform and making travel to the U.S. easier for foreign visitors in order to boost tourism and grow the economy. He spoke on Main Street U.S.A. on January 19, 2012, just at the entrance of the Hub with the Partners Statue and Cinderella Castle in the background.
But it's the 1973 visit of then-President Richard M. Nixon that is of interest relating to this article.
Richard Nixon was a California native who visited Disneyland Resort many times over the years with his family, especially when his daughters Julie and Tricia were young. He once declared the park "a paradise for children — and for grownups, too. I don't know when I've had so much fun." His wife told reporters that he had more fun than the kids.
Nixon became a personal friend of Walt Disney, who later in life had become a conservative Republican supporting many political candidates for various offices, especially Nixon, who served as both a Congressman and a Senator before being elected Vice President.
While Nixon had many memorable moments at Disneyland, one of his most unfortunate experiences happened at Walt Disney World. He flew to Orlando the evening of November 17, 1973, from his Key Biscayne, Florida, vacation home to hold an hour-long, televised question-and-answer session at the Contemporary Resort, in the Ballroom of the Americas B. There, in front of 400 Associated Press managing editors, Nixon defended his record in what became a defining moment of his presidency.
The Watergate political scandal involving a break-in of the Democratic National Committee headquarters at the Watergate complex in Washington, D.C. and subsequent attempted cover-up by the Nixon administration was very much on the minds of the U.S. people. Nixon asked for the resignation of two of his aides who were convicted and sent to prison. There were serious questions about Nixon's direct involvement and knowledge of the incident. During the conference at the Contemporary, Richard Smyser, from the "Oak Ridger" newspaper in Oak Ridge, Tennessee, asked about the pressures on a President and if that might explain how something like Watergate could happen.
Nixon famously and solemnly responded, "… I want to say this to the television audience. I've made my mistakes. And in all of my years of public life I have never obstructed justice. And I think, too, I can say that in my years of public life, I welcome this kind of examination. People have got to know whether or not their President is a crook. Well, I'm not a crook."
That last sentence, "I am not a crook", came back to haunt him many times over the years. It became part of Nixon's legacy and was parodied on television shows, in print, in cartoons and more and it was said on Walt Disney World property. Nixon was finally forced to resign in August 1974, the first and only President ever to do so.
But it isn't just presidential visits to Walt Disney World that have had historical impact.
In September 1969, John Lennon privately informed the other Beatles that he was leaving the group. There was no general acknowledgement of the break-up until Paul McCartney publicly announced in April 1970 that he was leaving the Beatles. There were many reasons for the break-up, including convoluted business problems that resulted in the delay of the official legal dissolution of the group for several years.
During a lengthy separation from Yoko Ono, Lennon entered into an 18-month relationship with his personal assistant May Pang. During that time, attorneys had finally put the final touches on the contractual paperwork necessary to legally dissolve the band.
In the February 9, 2008, Orlando Sentinel newspaper, Pang revealed what happened next:
"At the end of 1974, after three years of court battles and acrimony, the final dissolution of The Beatles was about to happen. The meeting was scheduled for December 19 at New York's Plaza Hotel — ironically, this was the first place the group stayed in America in 1964.
"George Harrison was in New York on his Dark Horse tour. Paul and Linda McCartney came in, and of course John and I were already in the city. Only Ringo was missing, but he had signed the documents in England.
"Julian (John's son who was 11 years old) was with us for the Christmas holiday and all was calm; all was bright. Gathered around a huge table were George, his lawyer and business manager; the McCartneys, with Paul's in-laws and lawyers; Ringo's lawyer and business manager; Neil Aspinall, of Apple, with two sets of company lawyers (one for America and one for Britain); and John's lawyer Harold Seider and his team.
"I was with John and it was up to me to tell Harold he had decided not to attend the meeting. Although John was concerned with shouldering a major tax burden because he lived in the United States, I could sense there was a bit more on his mind. His official reason for not showing was 'the stars aren't right'.
"John, Julian and I left New York the following day to spend Christmas in Florida. On December 29, 1974, the voluminous documents were brought down to John in Florida by one of Apple's lawyers.
"Take out your camera," he joked to me. He looked wistfully out the window. I could almost see him replaying the entire Beatles experience in his mind.
"He finally picked up his pen and, in the unlikely backdrop of the Polynesian Village Hotel at Disney World, ended the greatest rock 'n' roll band in history by simply scrawling 'John Lennon' at the bottom of the page."
Yes, Lennon had booked a room at the Polynesian Village Resort at Walt Disney World and gazed out at the Seven Seas Lagoon before he signed the document that broke up The Beatles.
Although Disney is unable to confirm which room Lennon was in, it is apparent that it was a ground floor corner room in the Samoa longhouse (formerly Hawaii) that looked out on the Seven Seas Lagoon with Cinderella Castle visible in the distance. Both John and Julian were excellent swimmers and enjoyed the pool.
Pang also wrote about that incident in her book "Instamatic Karma: Photographs of John Lennon" (St. Martins Press 2008). There is a photo of Lennon standing by Cinderella Castle and another in front of his room at the Polynesian, which is how it can be identified.
Of course, these two notable examples are only a small handful of the significant memories made on Walt Disney World property in the last 45 years.
= = = = = = = = = = = = =
RELATED LINKS
= = = = = = = = = = = = =
Other features from the Walt Disney World Chronicles series by Jim Korkis can be found in the AllEars® Archives.
ABOUT THE AUTHOR:
Disney Historian and regular AllEars® Columnist Jim Korkis has written hundreds of articles about all things Disney for more than three decades. As a former Walt Disney World cast member, Korkis has used his skills and historical knowledge with Disney Entertainment, Imagineering, Disney Design Group, Yellow Shoes Marketing, Disney Cruise Line, Disney Feature Animation Florida, Disney Institute, WDW Travel Company, Disney Vacation Club and many other departments.
He is the author of several books, available in both paperback and Kindle versions. You can purchase them via our AllEars.Net Amazon.com store HERE. His newest book is The Unofficial Disneyland 1955 Companion. It includes snippets of interviews with cast members who worked at Disneyland in 1955, along with additional explanatory material (including the first complete listing of every attraction, shop and restaurant that was there during the first six months) and much more.
-o-o-o-o-o-o-o-o-o-o-o-
Editor's Note: This story/information was accurate when it was published. Please be sure to confirm all current rates, information and other details before planning your trip.