If you love an opportunity to play dress up, then Mickey's Not-So-Scary Halloween Party is the Disney World event for YOU!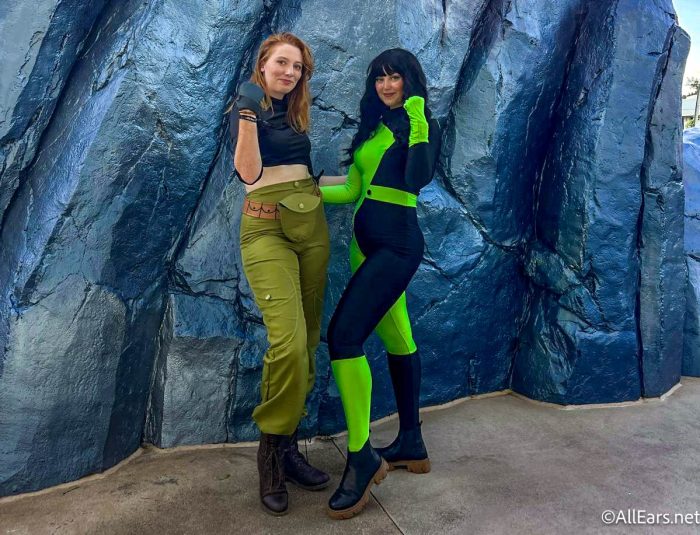 You see, on a regular park day, guests over the age of 14 can't wear costumes to the Parks. However, for the Halloween Parties, Disney World relaxes this rule, and folks of all ages can showcase their BEST Disney-themed costumes. We love helping our readers come up with costume ideas for these parties, and that brings us to this post…
THIS post will serve as your guide to couples' DisneyBound to wear to Disney World for Halloween and beyond! Each of these costume ideas focuses on affordable, lightweight pieces that won't break the bank and also won't leave you sweaty and uncomfortable in the parks. So, without further ado, grab your BOO, and let's plan some costumes!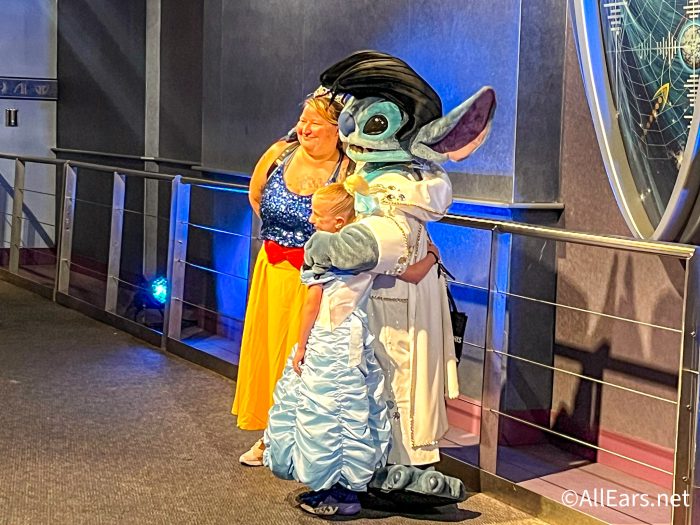 Belle and Prince Adam Costume
If you're hoping for a Belle and Prince Adam inspired costume that you can also wear during normal park hours, this is a great option!
Ladies, this one is pretty simple. Grab any yellow A-line dress and you're already on the right track. This can be a vintage dress or more modern — whatever you're feeling! Next, grab some shoes that resemble slippers, like these flats. Finally, accessorize with all the gold jewelry — and bonus points if it also has rubies or red gemstones! For the fellas, We recommend grabbing this Prince Adam/Beast-inspired T-Shirt and pairing it with some navy shorts. Add some Vans or other comfy, brown sneakers and you're good to go!
Robin Hood and Maid Marian Costume
Yep, you can wear this outfit during regular park hours, too!
For Maid Marian, we think starting with this lavender silk-like midi skirt is a great start! Next, add a puffy pink blouse to add a bit of a vintage element to te look. Pair it with some comfortable shoes, some jewelry, and you could even add this Maid Marian Loungefly bag! For Robin Hood, start with some khaki joggers and pair it with this green peasant-style shirt. Add a green hat, green sneakers, and some elements of archery here and there — like this gold bow and arrow necklace.
Mickey and Minnie Costume
This is another super simple one!
For Minnie, start with a red and white polka-dot dress, and pair it with some comfy yellow sneakers. Of course, you can't be Minnie without the classic ear headband! Accessorize with more Minnie-approved details, like a Loungefly bag and even some gold or silver jewelry. For Mickey, just pair red shorts with a black top, and then add either a cap or some ears. Don't forget the yellow sneakers!
Daisy and Donald Costume
Birds of a feather dress up together!
For Daisy, start with a lavender bodysuit and pair it with either a tulle skirt or one made of feathers. Add some crew socks and some yellow sneakers, and you're good to go — as soon as yo add a pink bow, of course! For Donald, you can opt for white joggers or white shorts, and pair them with this Donald Duck T-Shirt. Add some yellow sneakers and a blue hat and you're ready!
Jasmine Costume
Jasmine is one of those characters that you can create TONS of different outfits for.
Basically, the key here is to opt for something teal. A teal bodysuit, jumpsuit, or even teal pants. Next, pair it with ALL the gold accessories. Sneakers, jewelry, you name it! Add some Jasmine-inspired accessories like a Loungefly bag and you're good to go!
Aladdin Costume
Of course, you can't have Jasmine without Aladdin!
This Aladdin costume is relatively easy! Pair some white linen pants or joggers with a purple polo shirt. Add a red belt and some leather accessories like a watch or leather sneakers and you're all set.
Ariel Costume
This Ariel costume is based on how she appears in her iconic blue dress!
Start with a blue midi or maxi skirt and pair it with a black blouse, like this one with ribbon straps! Next, pair it with some comfy sandals — bonus points if they have some black on them to match the top.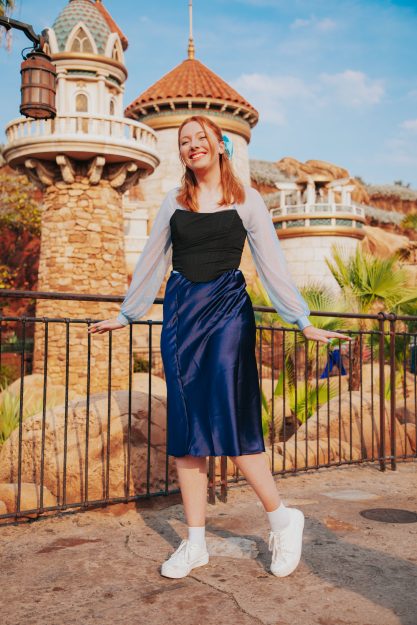 We love this shell purse as an accessory, as well as some shell jewelry. You could also reverse this outfit concept, and opt for a blue blouse like the one above and then pair it with a black skirt!
Prince Eric Costume
Last but most certainly not least is Prince Eric!
To start, pair a white dress shirt like this one with some navy dress pants or even some cuffed straight-leg jeans. Next, add a pair of black boots and a red belt. Add some more leather accessories like a watch and you're all done!
What do you think? Have you found some inspiration for this Halloween? We'll continue to keep you updated with more Disney news and advice, so make sure to follow along for more.
Which of these costume ideas is your favorite? Let us know in the comments!