Based on the Newbery Award-winning novel Flora & Ulysses: The Illuminated Adventures by Kate DiCamillo comes Disney's latest original film Flora & Ulysses premiering today on Disney+.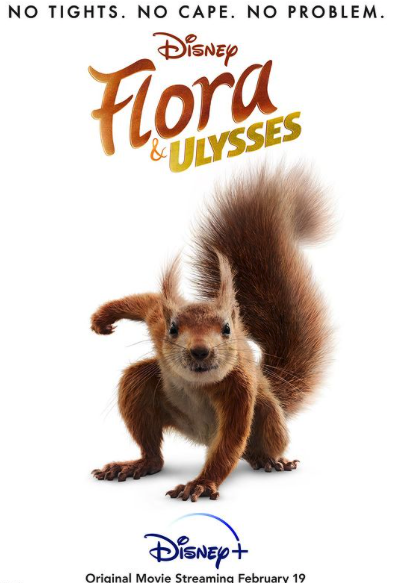 Flora & Ulysses introduces us to ten-year-old Flora who has become a self-proclaimed cynic after her parents separate, forsaking her beloved comics for practical if pessimistic guidebooks like Terrible Things Can Happen To You!   A chance encounter in which she saves the life of a squirrel attacked by a rogue vacuum cleaner serves as the squirrel's rebirth as a superhero and possibly the revitalization of Flora's sense of wonder and hope as well.
At a recent virtual press conference, Alyson Hannigan ("Phyllis Buckman,") Ben Schwartz ("George Buckman,")  Matilda Lawler ("Flora Buckman,") Danny Pudi ("Miller,") Lena Khan (Director,) and Kate DiCamillo (Author) joined us on Zoom to talk about the development of the original story, improv, and superhero squirrels IRL.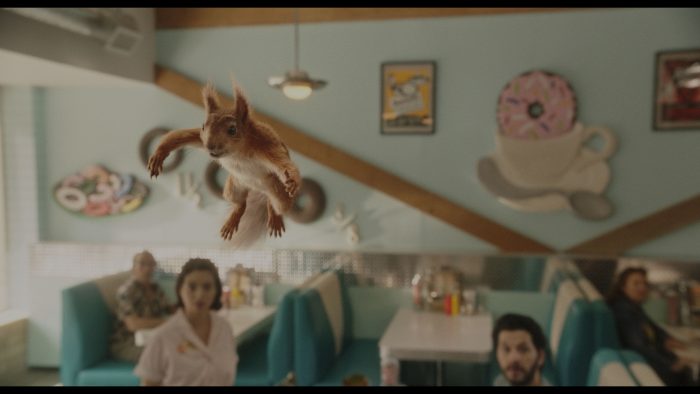 Press Conference highlights:
DiCamillo  on the origin story of Flora & Ulysses:  "So my mom had a vacuum cleaner that she loved and she passed away in 2009.  In the last year of her life, she kept on saying 'what's gonna happen to the vacuum cleaner when I'm gone?'  And I was like, 'why are we worried about the vacuum cleaner? There are bigger things to worry about,' but when she died I did as I promised her I would do, I took the vacuum cleaner so that it would have a good home, except that my mom had…the world's most evil cat named Mildew and I couldn't bring the vacuum cleaner into the house because of all the Mildew hair in it.
"So I had to leave it out in the garage.  Every time I pulled in the garage I would see the vacuum cleaner and it would make my heart hurt.  It would make me miss my mother…Then, the spring after my mother died, there was a squirrel on the front steps of my house, draped dramatically across the steps, clearly in distress.  And he wouldn't move when I got close to him and I didn't know what to do for him.  I called my best friend who lives a block away and said 'help me, there's a squirrel dying on my front steps,'
"She said, 'do you have a t-shirt and a shovel?' and I said I do and she said 'get the t-shirt, get the shovel, I will come over there and whack him over the head.'  And all of this made me think about EB White's essay, Death of a Pig, how he was going out to feed a pig, and thought about ways to save the pig's life.  I thought about ways to save the squirrel's life and I combined it with the vacuum cleaner in the garage, and that's the story."
Hannigan:  "You didn't say if the squirrel is OK!"
DiCamillo:  "Well, the squirrel left when he heard my friend saying 'whack him over the head with a shovel.'  You know the squirrel was like 'I'm no dummy' and I was out there on the cell phone."
Schwartz on adding improv moments:  "The script that Brad wrote was so good and Lena gives us room to play, but with the knowledge of like we're not gonna be like 'what's going on?  What's that DINOSAUR over there?'  You know what I mean–it's always within the boundaries of what that scene is, and only if it heightens either exactly the emotion or the comedy of the scene without bringing it somewhere elsewhere."
Khan on squirrel superhero landings:  "Squirrels do that.  If you look up 'squirrel superhero landing,' you will find these squirrels because our CGI people were very particular.  They're like, 'ah, we don't want to do things that don't feel like what a squirrel would do.'  I'm like 'oh no, no.  A squirrel does that.'  Google it and you will see."

Interested in hearing more?  Check out our other articles during an early set visit to Flora & Ulysses where we were able to speak with Ben Schwartz, Alyson Hannigan, Matilda Lawler, and Lena Khan.
In case you missed it, here's the new featurette for Flora & Ulysses:
Flora & Ulysses has its Disney+ premiere on today, February 19th, 2021.
Questions?  Comments?  Suggestions?  Drop us a line below.
Be sure to follow @allearsnet on Facebook, Instagram and Twitter!
Check out our YouTube Channel for reviews, news, information and more!
Click below to subscribe to the AllEars® newsletter so you don't miss any of the latest Disney news!