Splitsville Luxury Lanes West Side Disney Springs
LAKE BUENA VISTA, Fla. – The latest trend in boutique bowling is rolling into Disney Springs with the December 2012 opening of Splitsville Luxury Lanes. The upscale, retro-style bowling venue will be the largest in the bowling brand's fleet and joins other fun, family-friendly entertainment options at Disney Springs at Walt Disney World Resort.
Splitsville at Disney Springs is the bowling brand's only two-level location with 30 lanes and more than 50,000 square feet of entertainment space – twice the size of any other Splitsville – featuring billiards, live entertainment, a balcony bar with sweeping views and upscale dining options that cater to the entire family. This is not your father's bowling alley.
"Splitsville is a perfect fit for Downtown Disney," said Keith Bradford, vice president of Downtown Disney. "From a new twist on a beloved sport to an impressive menu you've never expect to find in a bowling facility, Splitsville offers a great experience that complements our other unique offerings at Downtown Disney. I'm sure it will quickly become a guest favorite."
The Splitsville concept is anchored by bowling – the largest participation sport in America – but with a modern take that brings together entertainment and upscale food in a non-traditional bowling setting. For instance, the décor is a blend of hip and nostalgic elements with the bowling lanes separated into clusters that create unexpected sight lines for guests. There are also lane concierges available nightly to help maximize the bowling experience for guests.
"Splitsville is about socialization and creating memories. In a world of smart phones, texts and social media, people need an outlet to connect in person again," said Mark Gibson, co-founder of Splitsville. "Bowling is an activity that appeals to almost everyone and the natural gaps of time between frames allows families, friends or work mates to engage in conversation, grab some sushi or encourage guests on the next lane."
The Splitsville menu is distinctly different than your typical bowling alley fare. Guided by award-winning chef Tim Cushman, the menu features a variety of higher-end offerings such as grilled Mahi Mahi with "Voodoo" shrimp, filet sliders and grilled chicken parmesan, plus a kids menu, in addition to traditional bowling alley food items. There are even two sushi bars where guests can get fresh-rolled sushi.
"We've created a collection of menu items that are perfect for sharing," said Guy Revelle, co-founder of Splitsville. "Whether it is sushi, sliders or pizza, customers can order combinations of food and then taste a little bit of everything. It creates a very interactive and social experience where the Splitsville concept helps 'break the ice' and allow guests of all ages to relax and enjoy their time at our luxury lanes!"
The addition of Splitsville builds on the expanding list of entertainment and retail options for guests at Disney Springs. Florida's first AMC Fork & Screen movie theatre, Characters in Flight operated by Aerophile, Sunglass Icon, and Something Silver are just a few of the other recent additions to Downtown Disney at Walt Disney World Resort.
Splitsville at Disney Springss the Orlando-based chain's fifth location joining venues in Tampa, FL, Miami, FL, Fairview, TX and Fredericksburg, VA. The expansion to Downtown Disney comes amid a growth era for the sport of bowling, which is the most popular participation sport in America with nearly 70 million people participating in the sport each year, according to the Bowling Proprietors' Association of America. More than 60 percent of bowlers in the United States are under age 34 and nearly half are women.
For more information, visit www.splitsvillelanes.com.
---
Splitsville Luxury Lanes at Disney Springs West Side
Puts Spin on Bowling Alley Cuisine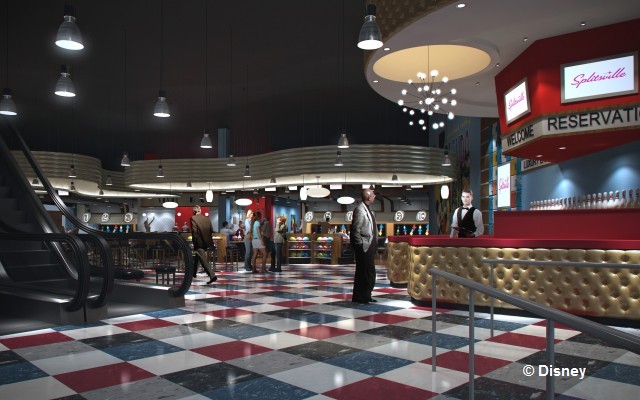 LAKE BUENA VISTA, Fla. – Featuring a full-scale restaurant with two sushi bars, dining shares the spotlight with 30 high-tech bowling lanes at Splitsville Luxury Lanes, the new premier two-level entertainment destination that joins other fun experiences at Disney Springs West Side.
With two kitchens, dramatic architecture, outdoor seating and live entertainment, guests can bowl and snack on pizza or filet mignon sliders, or skip the lanes and make a reservation for full-service dining – indoors or outdoors on the patio.
There's sushi constantly being rolled on display upstairs and downstairs. "Who would expect sushi with bowling," says Mark Gibson, co-founder of Splitsville. Experts are slicing and dicing everything from California rolls to spicy tuna and the JB Roll with salmon – a dozen rolls in all.
Booths and tables for diners have blue, silver and gold accents. "They're classic and refined, but with fun touches and retro finishes," says Gibson.
The sophisticated menu, which features items for the entire family, is the creation of Chef Tim Cushman, one of Food & Wine magazine's "Best New Chefs" in 2008. Starters include three-pepper calamari sauteed with cherry, jalapeno and banana peppers; seared ahi tuna; alley nachos with the works; mini-turkey clubs made with freshly roasted turkey and Loaded Fries "smothered with nacho cheese, bacon and love." Plus there are healthier options such as a variety of salads and edamame.
Burgers are a blend of Black Angus brisket, short ribs and ground beef, including a triple-decker Mad King burger, a full pound with double cheese and bacon, topped with a crispy onion ring. But it's not all sandwiches and salads. Standout entrées include slow-cooked pulled pork with fries and slaw; blackened mahi mahi with grilled shrimp and spicy, buttery voodoo sauce; an 8-ounce filet mignon; and steak chimichurri. There are seven kinds of pizzas, from cheese to barbecued chicken to the Fire House which comes with mozzarella, diced chicken tenders, spicy bleu cheese sauce and a drizzle of Ranch dressing.
Desserts to share with family and friends include sundaes, brownie a la mode and a Red Velvet Cake (also known as "Giant Cake").
The kids' menu includes burgers, chicken tenders, mac and cheese or grilled cheese, all for $7.
To go with Splitsville's appetizing cuisine is a wide selection of beverages. There are five bars throughout Splitsville, including two on the patios upstairs and downstairs, offering everything from old-fashioned slushies to an 18-ounce frozen schooner of draft beer. Signature cocktails include rum runners and piña coladas, snickertinis and key lime martinis. A wine list offers more than 25 labels, mostly Californian. And the new "freestyle" Coca-Cola machine, which is available with the purchase of a special commemorative cup, is a hit with all ages, with more than 100 flavor combinations.
Separate menus are available for private events for up to 750 guests and the venue is open from 10 a.m. until 2 a.m.
"It's all about having fun together," says Gibson. "And we think Splitsville is the perfect combination with a classic sport, good eats and high energy."
Ten frames about the new boutique bowling
Opening: Early December 2012 in Downtown Disney West Side at Walt Disney World Resort.
Square Footage: 50,000. Largest Splitsville ever built.
Number of lanes: 30. Nearly twice as many as any other Splitsville.
Lane configuration: 20 lanes second-level, 10 ground-level. First two-level Splitsville of its kind.
Number of bars: Five, featuring the famous Splitsville frozen schooner of beer, specialty cocktails and a wide selection of frozen specialty drinks.
Featured menu items: Hand-cut steaks, mahi mahi with Voodoo shrimp, fresh-rolled sushi, filet sliders, hand-tossed pizza and classic hamburgers made with Splitsville's special blend of certified angus brisket, short rib and ground chuck.
Number of sushi bars: Two – one on each level where customers can watch chefs roll their hand-made creations and belly-up for a Volcano Roll, Super Tuna or any of the fresh selections.
Other unique features: Lane concierge responsible for delivering shoes and bowling balls to your lanes prior to your arrival; outdoor patio dining on both floors; billiards tables; live music seven nights a week; more than 60 flat screen TVs.
First location: Tampa, Fla. (opened December 2003)
Other Splitsville locations: Tampa; Miami; Fairview, Texas and Fredericksburg, Va.