Releasing simultaneously in theaters and on Disney+ with Premier Access on March 5th, 2021 comes Walt Disney Animation Studios' newest offering, Raya and the Last Dragon.
Raya and the Last Dragon is set in the magical world of Kumandra, where the peace once enjoyed by coexisting humans and dragons was destroyed by an evil force called the Druun which turns everything it touches to stone.  The last dragon to succumb to the Druun was Sisu, who used all her magic and a Dragon Gem to blast it away.  The humans revived but the dragons did not, and the harmony they once enjoyed was replaced by distrust and tribalism.
500 years later, Raya joins her father, Chief Benja as caretakers and guardians of the Dragon Gem.  An unfortunate combination of Benja's determination to unify the combative lands and a fateful act of betrayal leads to the re-release of the Druun.  In consequence, Raya must embark on a journey to find Sisu and help her once again seal away the Druun if she is ever to regain her land and her father, and perhaps her sense of trust.
At a recent virtual press conference, Kelly Marie Tran (voice of "Raya,") Awkwafina (voice of "Sisu,") Gemma Chan (voice of "Namaari,") Daniel Dae Kim (voice of "Chief Benja,") Sandra Oh (voice of "Virana,") Benedict Wong (voice of "Tong,") Izaac Wang (voice of "Boun,") Thalia Tran (voice of "Little Noi,") Don Hall (Director,) Carlos Lopez Estrada (Director,) Osnat Shurer (Producer,) Qui Nguyen (Writer,) and Adele Lim (Writer) joined us on Zoom to talk about dragons, the colorful characters of Kumandra, and the necessity of trust for communities in both fantasy and real life.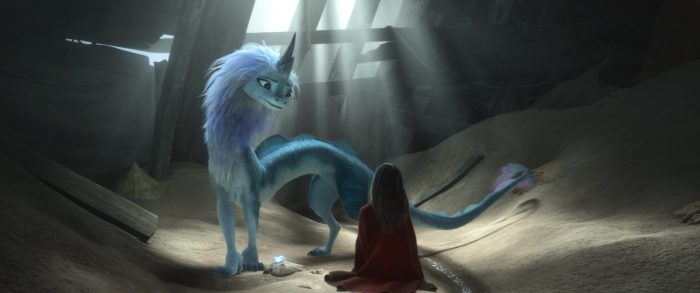 Press Conference highlights:
Lim on dragons:  "It was so exciting to be able to celebrate the Eastern dragon…something that most of the world was not familiar with.  In Southeast Asia, they're referred to as Nagas–they're water deities, and they bring such great auspiciousness.  So it's very different from the Western dragon that's, winged and fire breathing, and something you have to destroy and take down. We also love the symbology in our movie, because Raya thinks she's going to bring forth this water dragon who's going to snap her fingers and just solve all the problems in the world, and instead, what she finds is this zany, crazy creature voiced by Awkwafina…She's vulnerable and needs to be protected and also, she's quirky and always sees the good in people.  At the heart of our movie is this beautiful friendship between Raya and Sisu, and it's so rare that we get a major Hollywood movie with this special female friendship at the heart of it.
"…The last thing I would like to say about the dragon too, is that humor–it wasn't just for the sake of being funny (even though she is)–she's tremendously amazing and heartwarmingly funny, but there is a hidden wisdom underlying all of it, that Raya and hopefully the audience, ultimately comes to see.  That humor comes from a place of seeing the best in people, the best in Raya, the best in the people that Raya thought were her enemies, in all these people who you think have let you down and betrayed you.  The dragon is the one who can see that spark and that potential, and it inspires everybody to sort of come together and really get past it.  So, we got a lot of our inspiration from that auspiciousness and that feeling of the Eastern dragon, but truly, it was our amazing visual development team, the direction, and of course, Awkwafina bringing A-game into this that really brought Sisu to life."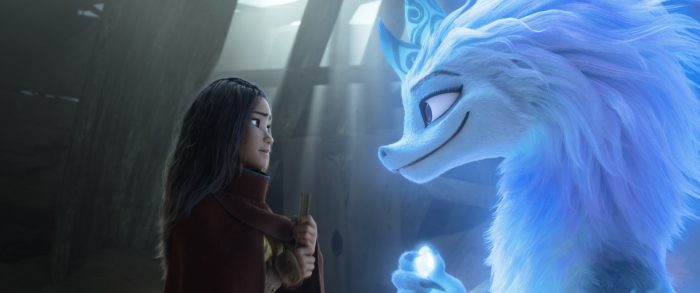 On the characters: 
Chan:  "I love the fact that Namaari has this real kind of quite aggressive exterior, but underneath it all, she's got this huge heart, and…this real love for dragons that's been there since childhood.  I love that first scene where she locks eyes with Sisu, and kind of everything just falls away.  It's as if she's become a child again.  I love that, and that was kind of my way into her, really.  We've all had those people in our lives that we have a love-hate relationship with, and I think it is such a fine line.  I love the fact that Namaari and Raya have had that connection since childhood, and they're rivals but they also have a lot in common."
Tran:  "It's really incredible because, just like Gemma was saying earlier, the idea that we have these two characters that could have switched places at one point.  When I really think about my life when things like that have happened to me, I think about just how difficult it is to get out of your own biases when you're looking at someone who you see as an enemy and then just how incredibly, by the end of the story, Raya and Namaari are then suddenly willing to step outside of themselves…It's really, really inspiring. It's something that I want to do in my own life.  But their relationship in this movie is probably one of my favorites, just because of how complicated it is."
Kim:  "I really give a lot of credit to Don and Carlos, and the producing team because the pitfall of this character could be, he could be just a stentorian orator.  Like, the kind of politician who is The King, who is going to dictate the way everything is.  But they kept pushing me to say, no, you have a really intimate, loving relationship with your daughter. Take it down, make it more intimate, and it really triggered something different in me.  It really led to finding that relationship."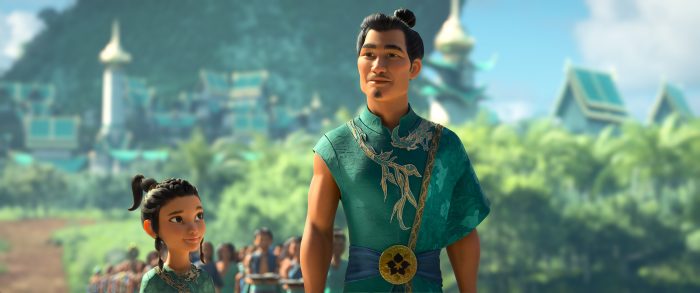 Wang:  "it was really fun doing him as a character because he relates to me a lot energy-wise…He's a really cool person to act too, because I like doing his voice.  It's really fun.  You don't want this high voice.  You don't want this low voice.  You kind of want to keep it in the middle and then you also want that business-y part of it, so you kind of got this and then you're like, hey, I sell used cars.  For only 1000 dollars you can come take it at my place.  He's a really good personality for me.  I really enjoy doing characters who have a fun, energetic, comedic energy to them.  And I'm really happy that I got to play Boun as myself."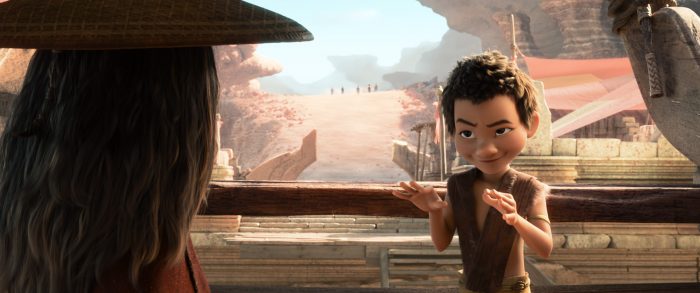 Tran:  "Playing Noi is definitely nothing like I've ever done before because she obviously doesn't use English words.  She speaks in her own language, but that connection she has with her gang of Ongis and even with the relationship she develops with Tong and Raya and Boun and the whole gang, that sense of comradery and that strength within, that group of people and that sense of family is definitely something that I related to personally.
"And for her to be so young and to have her family turned to stone by the Druun and her to have to kind of raise herself with the Ongis and that sense of strength that she has to develop–I think that's something that's also very common in Southeast Asian families."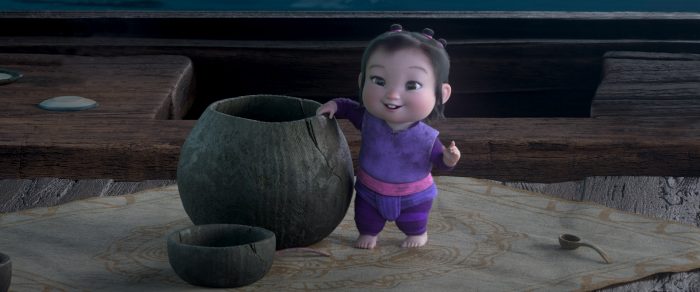 Awkwafina:  "I think the real beauty here is that when I was approached to play Sisu and heard what her vibe was, I was given a chance to add my own voice to it and just simultaneously build her up with the directors who were always just more than willing to explore and play. And so I think she was really born out of that process…The really cool thing about Sisu is that she was part my voice too."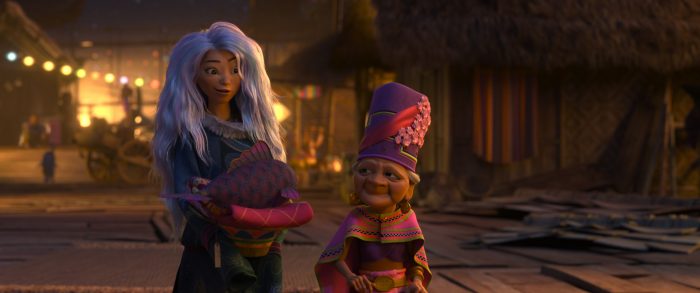 On violence directed towards Asian Americans:
Oh:  "Art is here to pose questions, and to potentially suggest possibility…I think, even if we start with that question to see in one's self, who do I trust?  How am I not trusting?  Can I trust?  Can I trust that other side?  Can I trust that other side when it seems to be very proof positive that this is what has been done to me?…the theme of the story, which is we cannot go on as a society, the world cannot continue, without this openheartedness.  And the truth Raya learns and also Namaari learns, is that you have to be willing to have your heart broken again and again and again just to keep it open. Because I think that we know hate is not finished by hate. It is only won over by love."
Nguyen:  "I don't think we had any idea of how the world would become by the time this movie came out, especially when it comes to the injustices to the Asian American community right now…I guess I'll just be frank.  There have been some times where in the last 365 days there's been a lot of negative imagery and words said about Asians.  So it's hard not to appreciate that this movie's coming out and kind of giving a counterpoint and just telling a positive story that just celebrates Asian American skin and Asian American lives and Asian American people.  Because with any group that's underrepresented,  when you only see stories where you're seen as the bad guy or a thug or what have you, it starts to paint a very negative picture of you for those who don't ever get to know you, who never get to be in the room with you.  And so, I think step one is representation and really being out there, both behind and in front of the camera, with the stories we tell and then just being out there, so we can acknowledge that this world is all of us, not just any one of us."
Kim:  "I think we can't undervalue the power of the fact that this is a Disney movie and the people that will be watching this movie by and large are families, parents with their children, seeing this kind of representation, and understanding what is possible.  Sandra so rightly pointed out that people like Izaac and Thalia have the space to perform in these kinds of projects for maybe the first time in history to this degree, but at the same time, I'm also thinking about all the children who will be seeing Raya for the first time and seeing an Asian strong female who kicks ass and becomes a queen.  She's on the path to becoming a ruler and she's being groomed by her father to do that in a loving relationship.  All of these things are such a positive portrayal.  And as Qui was saying, it's exposure that brings understanding and that understanding is what changes perception.  What this movie does on the scale of those things cannot be underestimated."
In case you missed it, here's the new trailer for Raya and the Last Dragon:
Raya and the Last Dragon has its premiere in theaters and on Disney+ Premier Access today, March 5, 2021.
Questions?  Comments?  Suggestions?  Drop us a line below.
Be sure to follow @allearsnet on Facebook, Instagram and Twitter!
Check out our YouTube Channel for reviews, news, information and more!
Click below to subscribe to the AllEars® newsletter so you don't miss any of the latest Disney news!