Streaming on Disney + starting on April 30, 2021, Disney-Pixar's new short 22 vs Earth gives us another look at the disaffected soul from the Academy Award-winning Soul.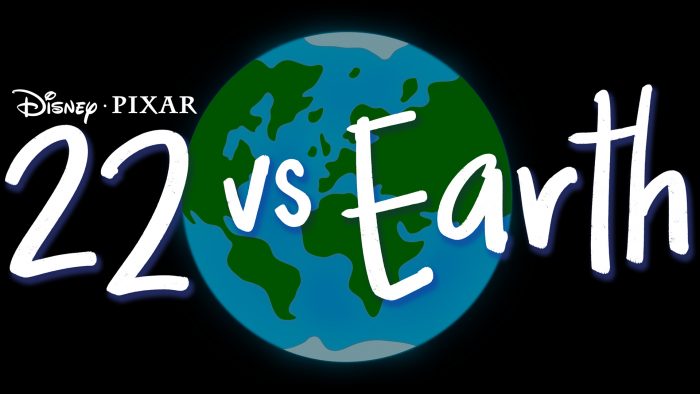 22 vs Earth gives us a short glimpse of 22 before the events of Soul and shows us a little of its determination and past attempts to stay in the comfort of the Great Before, away from the chaos and messiness of Earth.  Pixar editor and now director Kevin Nolting graciously gave AllEars a few minutes to talk about the short and his involvement with it.
On creating a Soul short:  "The project came about towards the end of Soul, and we've traditionally done these–they used to be on the DVD, these little shorts connected to the feature.  We don't always do one, but in this case, a story came up with a couple good ideas.  So from this, the 22 story was chosen. 
I came on in about February 2020.  I was still editing, finishing editing Soul and essentially we made the short as departments on the feature would finish,  would wrap.  We would try to grab people before they went on vacation and that way we could keep the sets alive and keep…people who worked on the movie, who knew the movie, could then step into it."
On telling 22's story:  "And so…while we were making Soul, we talked about this a lot:  That Joe Gardner was the main character and we delved into his character a lot in the movie.  We met his family and we had scenes with his family and his life and 22…we were talking about it but it really didn't belong in the feature:  How did 22 get to where she is?  And so that's how the mentors ended up in the movie.  Those quick little clips of her reacting to a mentor is sort of an extension of that.  Was there something that happened at any given time that turned 22 into the soul she is?…Most of the souls just go through their training and then they jump to earth and for some reason 22 didn't, so that was the seed of the idea."
On moving from film editing to directing:  "Yeah, for me it's sort of a natural evolution of involvement in the storytelling.  In animation, especially working with Pete [Docter], I've been deeply involved in the production for so long that it felt like directing was a natural next step, and especially to direct a short based on a movie you've already worked on with the world that's already there and in a short form it was just a great opportunity for me to try this out."
On what people can take away from 22 vs Earth:  "All I say is I hope there is something there, but I wouldn't want to put a name on it.  That's always the goal, is, if people walk out of the theater and they're talking, and it generates things for them to think about…it's really, really my only goal.  I just approach it as making something–making a good story–and hopefully, people take something from it and what they take from it is really up to them."
Directed by Kevin Nolting and produced by Lourdes Alba, 22 vs. Earth streams on Disney+ beginning April 30th, 2021.
Questions?  Comments?  Suggestions?  Drop us a line below.
Be sure to follow @allearsnet on Facebook, Instagram and Twitter!
Check out our YouTube Channel for reviews, news, information and more!
Click below to subscribe to the AllEars® newsletter so you don't miss any of the latest Disney news!