AllEars® Trading Cards

AllEars® produces Trading Cards to be given away at Meets and Special Events!
When you see us, be sure to say HELLO – I'd love some All Ears Trading Cards.
2013 Trading Cards — All New
Including Special Checklist!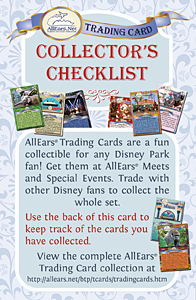 2013 Trading Cards
2012 Trading Cards
2011 Trading Cards
2010 Trading Cards

These two-sided high-gloss cards measure 2 3/4" by 3 1/4" and feature different aspects of our favorite vacation destinations.
More than 50 cards have currently been released and more cards will be released throughout the year in Disneyland and Walt Disney World.
Special Series trading cards include the Fan Meets, Photography, Transportation, Animals, Holidays and more to be announced.
Unique cards have been designed for:
Disney Dream Cruise Ship
Celebrating 15 years of AllEars.Net!
Holidays Around the World
AllEars® Team Members

Due to the over-whelming demand — all Trading Cards are now Open Edition!
These unique collectibles are not for sale and may only be obtained directly from an AllEars® Team Member or by trading with other Disney fans. Cards are not available through the mail except from time to time a limited number of cards may be offered as part of a charity auction.
2013 AllEars Trading Cards
AllEars® Trading Card #57

RELEASE DATE: May 12, 2013

Walt Disney World

Open Edition Size

AllEars® Trading Card #58

RELEASE DATE: August 1, 2013

Open Edition Size

AllEars® Trading Card #59

RELEASE DATE: April 23 , 2013

Animal Kingdom

Open Edition Size

AllEars® Trading Card #60

RELEASE DATE: May 12, 2013

Open Edition Size

AllEars® Trading Card #61

RELEASE DATE: June 2013

Open Edition Size

AllEars® Trading Card #62

RELEASE DATE: July 2013

Open Edition Size

AllEars® Trading Card #63

RELEASE DATE: August 2013

Open Edition Size

Celebrating the Food and Wine Festival

AllEars® Trading Card #64

RELEASE DATE: October 2013

Open Edition Size

AllEars® Trading Card #65

RELEASE DATE: 2013

Open Edition Size
2012 AllEars Trading Cards
AllEars® Trading Card #56

RELEASE DATE: October 1, 2012

Walt Disney World

Open Edition Size

AllEars® Trading Card #55

RELEASE DATE: October 1, 2012

Disneyland

Open Edition Size

AllEars® Trading Card #54

RELEASE DATE: May 2012

Disney Fantasy Cruise Ship

Open Edition Size

AllEars® Trading Card #53

RELEASE DATE: May 2012

Disney Fnatasy Cruise Ship

Open Edition Size

AllEars® Trading Card #52

RELEASE DATE: March 3, 2012

Walt Disney World

Open Edition Size

AllEars® Trading Card #51

RELEASE DATE: March 3, 2012

Walt Disney World

Open Edition Size
2011 AllEars Trading Cards
AllEars® Trading Card #50

RELEASE DATE: December 2011

Walt Disney World

Open Edition Size

AllEars® Trading Card #49

RELEASE DATE: December 2011

Walt Disney World

Open Edition Size

AllEars® Trading Card #48

RELEASE DATE: December 2011

Walt Disney World

Open Edition Size

AllEars® Trading Card #47

RELEASE DATE: December 2011

Walt Disney World

Open Edition Size

AllEars® Trading Card #46

RELEASE DATE: December 2011

Walt Disney World

Open Edition Size

AllEars® Trading Card #45

RELEASE DATE: December 2011

Walt Disney World

Open Edition Size

AllEars® Trading Card #44

RELEASE DATE: December 2011

Walt Disney World

Open Edition Size

AllEars® Trading Card #43

RELEASE DATE: December 2011

Walt Disney World

Open Edition Size

AllEars® Trading Card #42

RELEASE DATE: December 2011

Walt Disney World

Open Edition Size

AllEars® Trading Card #41

RELEASE DATE: September 28, 2011

Walt Disney World

Open Edition Size

AllEars® Trading Card #39

RELEASE DATE: September 28, 2011

Walt Disney World

Open Edition Size

AllEars® Trading Card #38

RELEASE DATE: August 2011

Disneyland
D23 Expo

Open Edition Size

AllEars® Trading Card #37

RELEASE DATE: August 2011

Disneyland
D23 Expo

Open Edition Size

AllEars® Trading Card #36

RELEASE DATE: August 2011

Disneyland
D23 Expo

Open Edition Size

AllEars® Trading Card #35

RELEASE DATE: December2012

Walt Disney World


Open Edition Size

AllEars® Trading Card #34

RELEASE DATE: 6/18/11

New York City
All Ears 15th Anniversary Weekend

Open Edition Size

AllEars® Trading Card #33

RELEASE DATE: July 2011

Walt Disney World

Open Edition Size

AllEars® Trading Card #32

RELEASE DATE: 6/25/11

Pacific Northwest MouseMeet

Open Edition Size

AllEars® Trading Card #31

RELEASE DATE: 6/25/11

Pacific Northwest MouseMeet

Open Edition Size

AllEars® Trading Card #30

RELEASE DATE: 5/21/11

Disney's Hollywood Studios

Open Edition Size

AllEars® Trading Card #29

RELEASE DATE: 5/3/11

Disney Wonder Alaska Cruise

Open Edition Size

AllEars® Trading Card #28

RELEASE DATE: 4/26/11

Disneyland California

Open Edition Size

AllEars® Trading Card #27

Released March 2, 2011

Open Edition Size

AllEars® Trading Card #26

RELEASE DATE: 5/7/11

Disney Wonder Alaska Cruise

Open Edition Size


AllEars® Trading Card #24

RELEASE DATE: 1/6/11
WDW Marathon Weekend

Open Edition Size

2010 AllEars Trading Cards
AllEars® Trading Card #23

RELEASE DATE: 12/9/10

Release Location:
AllEars Meet and Greet at
Electric Umbrella 9:30am

Open Edition Size


AllEars® Trading Card #22

RELEASE DATE: 12/5/10

Release Location:
Illuminations VIP Party
Epcot

Open Edition Size


AllEars® Trading Card #19

RELEASE DATE: 12/9/10

Release Location:
AllEars Meet and Greet at
Electric Umbrella 9:30am

Open Edition Size


AllEars® Trading Card #18

RELEASE DATE: 12/2/10

Release Location:
Magic Kingdom
Mickey's Very Merry Christmas Party
Reunion Fireworks Meet

Open Edition Size


AllEars® Trading Card #17

RELEASE DATE: 12/4/10

Release Location:
AllEars Meet and Greet at Disney's Hollywood Studios

Open Edition Size


AllEars® Trading Card #16

RELEASE DATE: 12/4/10

Release Location:
AllEars Meet and Greet at Disney's Hollywood Studios

Open Edition Size

AllEars® Trading Card #15

RELEASE DATE: 10/1/10


Limited Edition of 500

AllEars® Trading Card #14

Holidays Series

RELEASE DATE: 9/23/10

Open Edition Size

AllEars® Trading Card #13

Animal Series

RELEASE DATE: 10/7/10

Open Edition Size


AllEars® Trading Card #12

Disneyland Series

RELEASE DATE: 9/23/10

Open Edition Size


AllEars® Trading Card #11

Animal Series

RELEASE DATE: 10/1/10

Open Edition Size

AllEars® Trading Card #10

Transportation Series

Re-Issue Open Edition


Due to popular demand (and much pleading from those who did NOT get the LE200 card before we ran out) we are reissuing this card as Open Edition.

*****

Initial Release Date: 8/14/2010
Print Run With Limited Edition 200 noted on back of card (200)

AllEars® Trading Card #9

Fan Meets Series

Pacific Northwest Meet

Release Date: 8/14/2010

AllEars® Trading Card #8

Transportation Series

Re-Issue Open Edition


Due to popular demand (and much pleading from those who did NOT get the LE200 card before we ran out) we are reissuing this card as Open Edition.

*****

Initial Release Date: 7/22/2010
Print Run With Limited Edition 200 noted on back of card (200)

AllEars® Trading Card #7

Fan Meets Series

Magic Meets at Sea

Release Date: 7/22/2010

One Time Print Run

AllEars® Trading Card #6

Disneyland Series

Happy 55th Birthday Disneyland

Release Date: 6/11/2010

Open Edition for 2010 Only

Card was only printed during 2010.


AllEars® Trading Card #5

Disneyland Series

World of Color Debuts!

Release Date: 6/11/2010

Open Edition Size


AllEars® Trading Card #4

Photography Series

Flower and Garden TopiarieS

Release Date: 5/13/2010

Open Edition Size


AllEars® Trading Card #3

Photography Series

Flower and Garden Topiaries

Release Date: 5/13/2010

Open Edition Size


AllEars® Trading Card #2

Photography Series

Flower and Garden Topiaries

Release Date: 5/13/2010

Open Edition Size


AllEars® Trading Card #1

Photography Series

Flower and Garden Topiaries

Release Date: 5/13/2010

Open Edition Size