For nearly 30 years, Fantasmic has lit up the night sky over Disneyland's Rivers of America. The  epic show – which combines live actors, water projection technology, pyrotechnics, animatronics, and a cavalcade of Disney characters – has become a beloved attraction, and the best way to end a day at the Happiest Place on Earth. This success led to the show being duplicated at both Walt Disney World and (for nearly a decade) at Tokyo DisneySea. So how did Fantasmic come to be? Believe it or not, that story begins at EPCOT.
Fantasmic! Beginnings
In 1984, the nighttime show Laserphonic Fantasy debuted on EPCOT's World Showcase Lagoon. The show used a then-cutting edge technology that allowed images to be projected on sheets of moving water. The show was an instant hit, and Disney began investigating whether the technology could be used for a show on Disneyland's Rivers of America. This desire only grew stronger in 1988, when Laserphonic Fantasy was replaced by the first version of Illuminations, which used an even more advanced water projection technology. 
As the late 80s became the early 1990s, planning was in full swing for a nightly show over the Rivers of America. Several concepts emerged in the blue sky planning process, including a show based around characters from the nearby Haunted Mansion and Pirates of the Caribbean attractions, and one built around the film Fantasia including a live orchestra floating on a barge. Eventually, the concept of Mickey battling a cavalcade of Disney villains combined with moments from famous Disney animated features won out. Originally the show was called Imagination, before being retitled Fantasmic for merchandising and trademark purposes.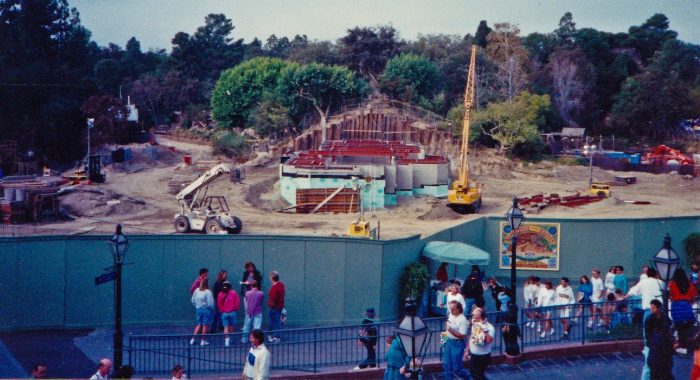 Construction began on Fantasmic in 1991. The Rivers of America was drained and Tom Sawyer Island was expanded to facilitate the installation of the show's infrastructure. This included  computer control rooms, backstage areas, larger than life Pinocchio marionettes… and oh yeah, a dragon. Well, in actuality it was a dragon's head on top of a cherry picker, but still this version of Maleficent, which served as the show's climax was a sight to behold. In the end, the show cost $30 million, which was much closer to the typical price of an attraction at the time than it was an entertainment offering.
Fantasmic was originally scheduled for a lavish press premiere and soft opening on April 29, 1992, heavily promoted with the slogan "Be Here When the Night Ignites." However, earlier that day Los Angeles had erupted in fiery riots over verdicts in the controversial Rodney King beating  case. The event was postponed, and the now darkly ironic slogan was quickly pulled from all advertising.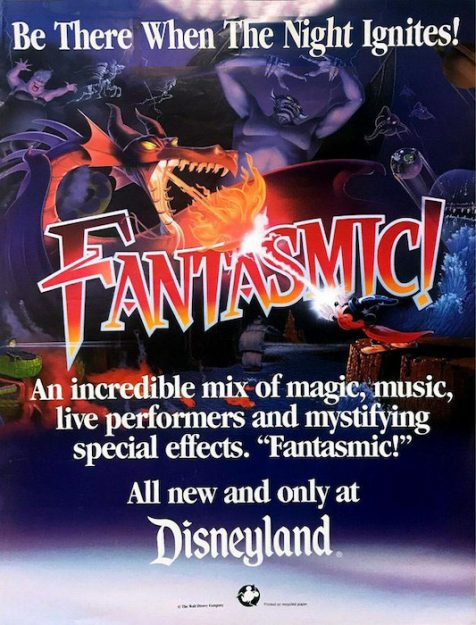 Despite that auspicious beginning, when Fantasmic did finally open on May 15, 1992 the show was a smashing success. Crowds flocked to the park in record numbers to see the cutting edge show, which featured a full-scale Peter Pan vs pirates battle, a large group of characters on the Mark Twain riverboat, a giant inflatable Ursula, and the aforementioned fire-breathing dragon Maleficent finale, among numerous show-stopping moments.
Despite this initial success, there were some hiccups during the shows early years. These included the Ursula inflatable continuously breaking down before being retired for good in 1997, issues with the reliability of the fire effects used to simulate Maleficent's fire breath, and perhaps most notably issues with crowd control. While Tom Sawyer Island and the Rivers of America made a spectacular backdrop for Fantasmic, the river banks were not initially designed to handle massive crowds waiting hours for a popular show, which led to fights, congestion, and bottlenecks most nights. 
Fantasmic! at Disney World
It was with these crowd control issues in mind that Disney designed the Hollywood Hills Amphitheater as a purpose-built venue to bring Fantasmic east to Walt Disney World's then-MGM Studios. The 10,000 venue features stadium-style seating and a large mountain range backdrop, making WDW's version of Fantasmic – for better or worse – feel much more like a large scale show than Disneyland's more "organic" version.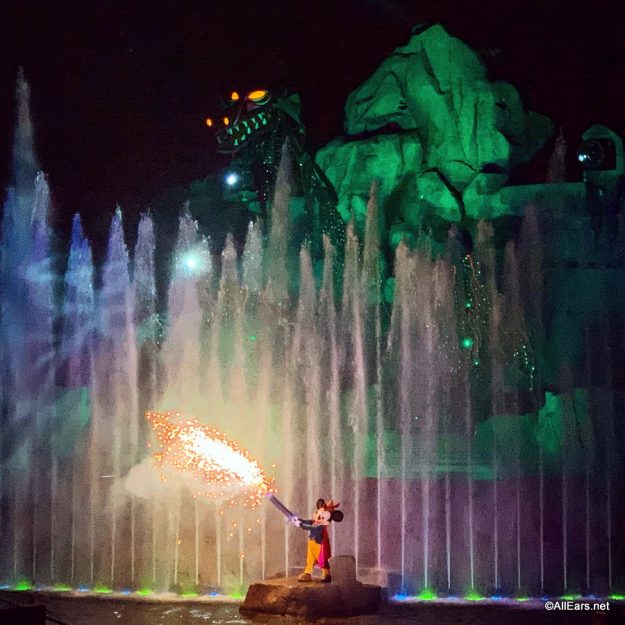 The venue isn't the only difference between coasts however, as the Orlando version featured a tweaked finale, scenes from then-newer-films like Aladdin and Hercules, and in the most notable change replaced the Peter Pan sequence with a Pocahontas one. Despite these changes, the Disney World version was just as popular with guests as its Disneyland counterpart and has remained largely unchanged to this day. 
Fantasmic! Update at Disneyland
The Hollywood Studios version is pretty much exactly as it was in 1998, but the same cannot be said for the California original. Initially, plans had called for the show to be refreshed every five years, While this didn't come to pass, Disneyland's version of Fantasmic has seen its fair share of major changes in recent years. The show received several technological upgrades in the late 2000s, culminating in a major 2009 refurbishment that is best remembered for the introduction of a new dragon for the show's finale.
Instead of the simple "head on a cherry picker" discussed earlier, the new version was a full-scale animatronic figure. However, the dragon had its fair share of technical issues. It was unveiled months late, and had a habit of breaking down to various degrees (including a notable 2010 incident when the figure failed in the middle of show, video of which was widely shared on social media). The dragon, not so affectionately dubbed Murphy by fans after the concept of Murphy's Law AKA "Anything that can go wrong will go wrong," returned to show several months later, and has worked relatively well since. 
Fantasmic! at Tokyo DisneySea
Roughly at the same time Disneyland was having issues with Murphy, Tokyo DisneySea debuted a new version of the show debuted in April of 2011. Tokyo's version of the show featured a heavily tweaked storyline, and no central island or stage, instead having all of its live action take place on barges in the park's Mediterranean Harbor. The show ran for just under a decade before ending in February 2020.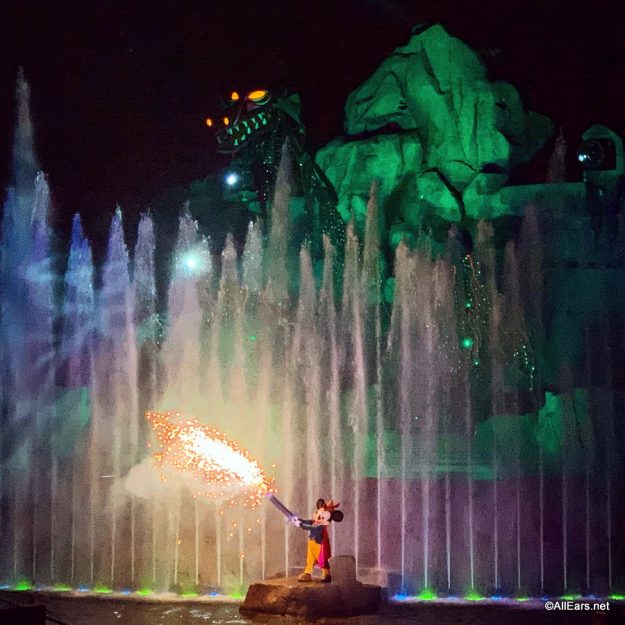 Overall
While Tokyo DisneySea's Fantasmic has wrapped and the Walt Disney World version has remained stagnant, the Disneyland version has continued evolving. The latest version of the show debuted in July of 2017, following a long refurbishment that coincided with the draining and rerouting of the Rivers of America as part of the construction of Star Wars: Galaxy's Edge. The latest Fantasmic features new scenes based on Aladdin, The Lion King, Tangled, and Pirates of the Caribbean, as well as a larger presence for Mickey Mouse throughout the show, and a new soundtrack. 
Over the last two and a half decades, Fantasmic has become an iconic part of the Disney Parks experience, Disneyland in particular.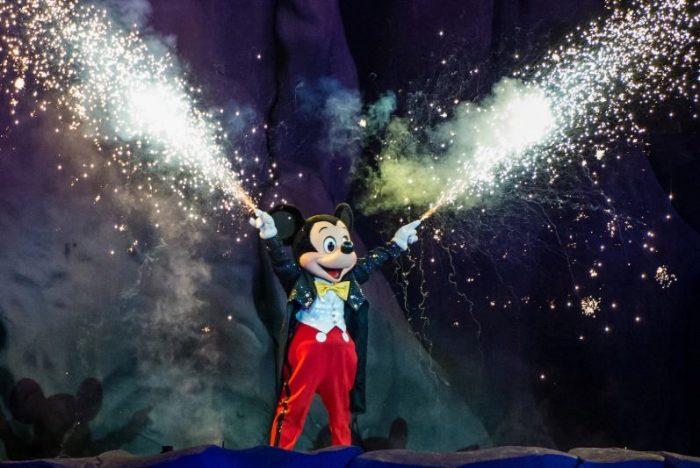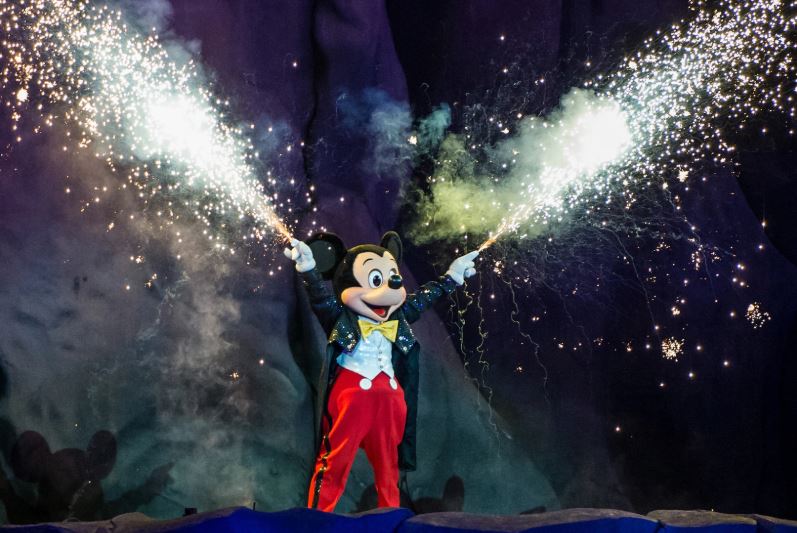 Do you have a favorite version of the show, or any fond Fantasmic memories? Let us know in the comments below.
Join the AllEars.net Newsletter to stay on top of ALL the breaking Disney News! You'll also get access to AllEars tips, reviews, trivia, and MORE! Click here to Subscribe!