Are you missing Disney Parks food? I am, too!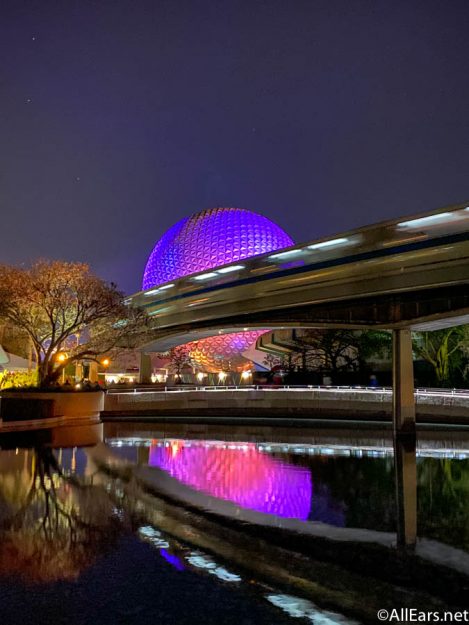 Well, for those of you who are really wishing you were chowing down on some of Disney's most iconic snacks, we have some good news for you!
We're sharing
13 iconic Disney Parks snack recipes

. So, grab your grocery list and a pen, and let's get started.

Makes 5 (8-inch) breads

Ingredients: 

3 2/3 cups all purpose flour
1 tablespoon sugar
1 tablespoon coarse salt
1/2 tablespoon baking soda
1/2 cup milk
2/3 cup warm water
1 tablespoon canola oil
4 tablespoons butter, melted
Instructions:
1. Combine flour, sugar, salt and, baking soda in the bowl of an electric mixer fitted with the paddle attachment. Stir to combine.
2. Combine milk, water, and oil in a medium bowl. Whisk to combine.
3. With the mixer running, pour wet ingredients into dry ingredients. As soon as the mixture comes together, switch attachment to a dough hook and mix until dough is smooth and no longer sticky. Do not over-mix.
4. Cover the bowl with plastic wrap and set aside at room temperature for one hour.
5. Place a pizza stone on the top rack of the oven, positioned approximately 6 inches below the broiler. Preheat oven to 500 degrees F for at least 30 minutes.
6. Divide dough evenly into 5 pieces. On a lightly floured surface, roll each piece into an 8-inch circle.
7. Turn over to broil. Carefully slide one circle of dough onto the preheated pizza stone and broil until bread is bubbled and golden brown, about 2-3 minutes. Watch carefully as the bread can burn very quickly. Repeat with remaining dough circles. Brush the warm bread with melted butter and serve immediately.
This recipe has been converted from a larger quantity in the restaurant kitchens. The flavor profile may vary from the restaurant version.
Makes 10 Lumpia
Ingredients: 
10 spring roll wrappers
1 (8 ounce) package cream cheese, room temperature
2 cups diced fresh pineapple
1/2 cup sugar, divided
Oil for frying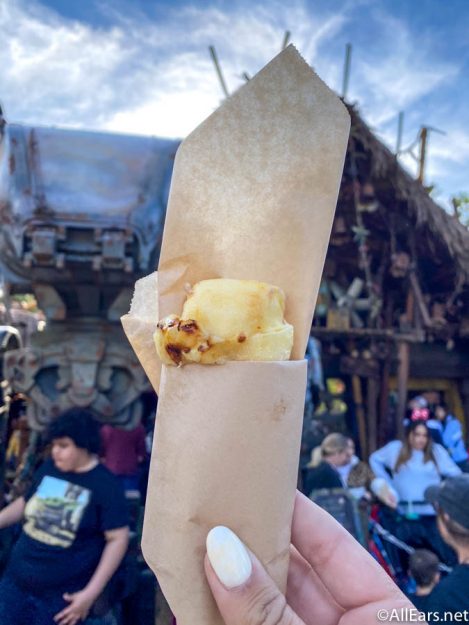 Instructions: 
1. Line a baking sheet with parchment paper or a silicone baking mat.
2. Carefully separate spring roll wrappers. Cover wrappers with a moist paper towel to prevent drying.
3. Cut softened cream cheese into 10 equal pieces.
4. Place one spring roll wrapper on a cutting board. Place one piece of cream cheese in the center of the spring roll and spread evenly on wrapper, leaving a 3/4-inch border around the edges. Add 3 tablespoons of diced pineapple and sprinkle with 1/2 teaspoon of sugar.
5. Roll one edge of the wrapper towards the center. Fold in both sides and continue rolling. Moisten the edge with water to seal the lumpia.
6. Repeat with remaining spring roll wrappers.
7. Place lumpia on the prepared baking sheet and freeze for 4 hours or overnight.
8. Preheat 1 inch of oil in a frying pan to 350°F. Fry lumpia for 3 minutes on each side, until golden brown. Drain on paper towels.
9. Roll in remaining sugar before serving.
Makes 16 servings
Ingredients:
1 pound milk chocolate
¼ cup espresso coffee
5 egg yolks
¼ cup + 1 tablespoon sugar
6 sheets gelatin
½ cup Kahlua Liqueur
4 cups heavy cream
¾ cup white chocolate ganache
¼ cup dark chocolate ganache
sponge cake (store-bought or your favorite recipe)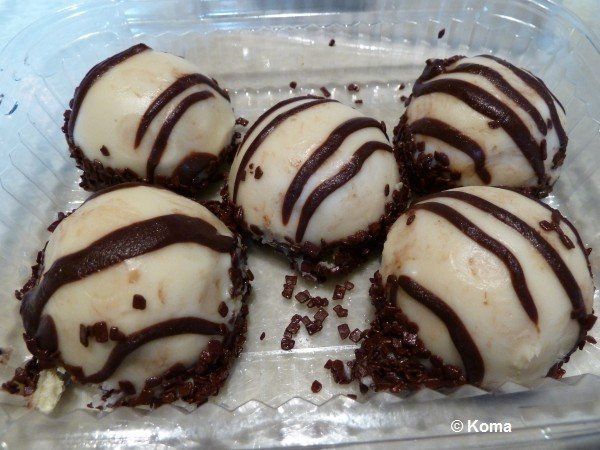 Instructions: 
1. Melt milk chocolate.
2. Whip heavy cream to soft peaks.
3. Mix yolks with sugar.
4. Soften gelatin leaves in cold water.
5. Mix gelatin with Kahlua and coffee. Set bowl over hot water bath to dissolve the gelatin.
6. Fold 1/3 of whipped cream into the chocolate.
7. Add the yolks, then the gelatin mixture.
8. Fold in the rest of the cream.
9. Pour mousse in flexipan domes almost to the top.
10. Place sponge circle (1/4″ thick yellow cake cut in a circle) on top. Leave in the freezer to set.
11. Once hard, unmold and place in glazing racks.
12. Make white chocolate ganache and chocolate ganache.
13. Put chocolate ganache in a pastry bag. Ladle white chocolate ganache to cover each dome. Simultaneously, pipe a stripe design of chocolate ganache over the dome.
14. Refrigerate to allow the glaze to set.
15. Decorate the bottom edge with the coffee crunch.
16. Place a chocolate-covered coffee bean in the center of each dome.
Ingredients: 
Bread
5 eggs
3 cups whole milk
1/2 tsp salt
1/2 tsp nutmeg
1 1/2 cup sugar
8 cups french or 'Ohana breakfast bread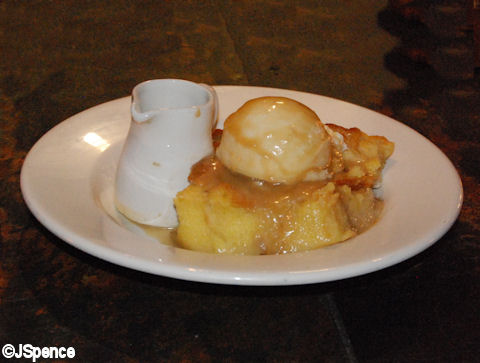 BANANA FOSTER SAUCE
4 oz sugar
4 oz brown sugar
4 oz corn syrup
4 oz unsalted butter
1cup heavy cream
1 tsp vanilla extract
1cup spiced rum
1cup banana slices
Bread Instructions:
1. In bowl mix eggs, milk , salt, sugar, and nutmeg. Set aside.
2. Cut bread in medium pieces, place on cookie sheet pan put in 350-degree oven.
3. Bake bread until lightly toasted, about 15 minutes. Remove bread and place in egg and milk mixture.
4. Place mixture in a greased 10-inch cake pan and bake at 325 degrees for 1 hour.
5. Let stand 5 minutes, serve hot with ice cream.
Banana Foster Sauce Instructions:
1. Combine sugar, brown sugar, corn syrup, butter, and half of the heavy cream in a large pan. Bring to a boil and slowly add remaining heavy cream keeping mixture at a steady boil.
2. Add spiced rum and flambe.
3. Candy will brown slightly; cook 3 minutes until candy forms into a firm ball in cold water. Remove from heat and add vanilla. Add sliced bananas. Serve warm.
Makes 1 serving
Ingredients: 
2 slices sourdough bread, cut 1½ inches thick
1 banana
1/3 cup of sugar
1 teaspoon of cinnamon
1 egg
¼ cup of milk
½ teaspoon of vanilla
Vegetable oil or shortening for frying
Whipped butter and/or syrup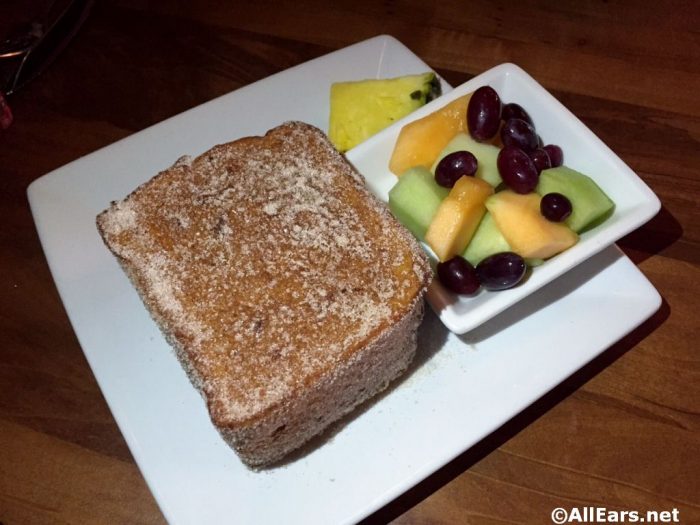 Instructions: 
1. Put about four inches of oil or shortening into a good-sized pot (such as a Dutch oven).
2. Heat the oil/shortening to 350ºF. While that is heating up, cut a small pocket (about 1 inch in length) in the side of each bread slice.
3. Cut your banana in half, then cut in half again lengthwise. Remove the peel from all four parts of the banana.
4. Now stuff two pieces of banana into the pocket you cut into each slice of bread. In a small bowl, mix the cinnamon and sugar, then set aside. In a bowl larger than your piece of bread, mix the egg, milk, and vanilla, then also set aside.
5. Place each piece of stuffed bread into the bowl with egg mixture and allow it to soak for a few seconds. Place soaked bread into the hot oil/shortening and fry on both sides until lightly browned. When done, remove from oil and place on a plate lined with paper towels or a wire rack. Sprinkle with cinnamon sugar before serving.
Tip: If you cannot find sourdough bread that is 1½ inches thick, you can use slices of 1-inch thick sourdough bread.
Ingredients: 
Red Velvet Cake
1/4 cup butter, softened
3/4 cups sugar
1 egg
1 tablespoons cocoa
1 ounce red food coloring
1/2 teaspoon vanilla
1/2 teaspoon salt
1/2 cup buttermilk
1 cups flour
1/2 tablespoon vinegar
1/2 teaspoon baking soda
Cheesecake Filling
1 1/2 lb. Cream Cheese
1 1/3 C. Sugar
5 Large Eggs
16 oz. Sour Cream
1/4 C. Flour
2 tsp. Vanilla
2 tsp. Lemon Juice
* All above ingredients should be at room temperature before you begin.
Red Velvet Cake Instructions: 
1. Preheat oven to 350 deg F. Grease the bottom and sides of a 9″ springform pan.
2. Cream together butter, sugar and eggs. Make a paste of cocoa and food coloring. Add the paste to the creamed mixture. Mix salt and vanilla in buttermilk and add alternately with the flour. Mix soda and vinegar separately, add last, folding in. Do not beat after adding soda mixture. Pour batter into prepared pan. Bake at 350 for 30 minutes or until tester comes out clean. Cool cake in pan.
3. Lower oven temperature to 325 deg F.
Cheesecake Instructions:
1. Start by beating the cream cheese until light and fluffy. Keep the mixer on a low setting throughout the beating and mixing process. Add the sugar a little at a time and continue beating until creamy. Add one egg at a time and beat after each egg. When eggs have been mixed into the cream cheese add flour, vanilla, and lemon juice, mix well. Add the sour cream last and beat well.
2. Divide the batter into 6 bowls and color each one:
purple
red
yellow
light blue
green
orange
3. Drop large spoonfuls of the colored batters randomly atop the red velvet cake in the springform pan. Swirl each layer slightly. Place on the top rack in the middle of a 325 degree preheated oven for one hour and 15 minutes.
4. When time is up, prop open the oven door and leave in oven for one hour. After one hour, remove from oven. Let cool enough before the cheesecake is put into the refrigerator for 24 hours.
Beignets
 from Port Orleans French Quarter 
Ingredients: 
2 dozen small beignets
1/2 teaspoon dry yeast
1/4 cup warm water (105º)
1/4 cup sugar
2 tablespoons vegetable shortening
1/2 teaspoon salt
1/2 cup heavy cream
1 egg
4 cups all-purpose flour
1/2 cup boiling water
Vegetable oil for frying
Powdered sugar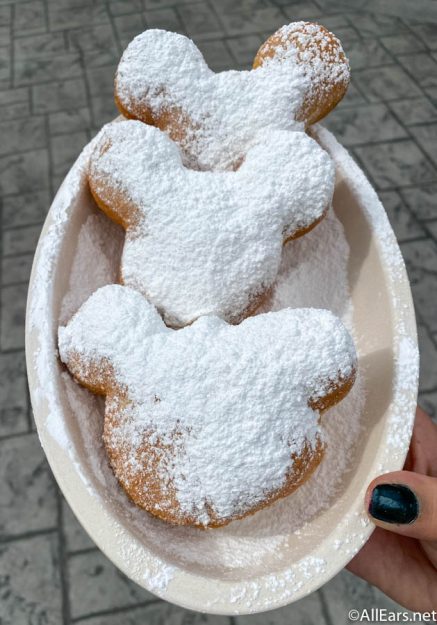 Instructions: 
1. Sprinkle yeast over warm water in a small bowl, stirring to dissolve. Let stand for 5 minutes.
2. Combine sugar, shortening, salt, heavy cream, egg, flour and boiling water in a large bowl; stir in yeast mixture. With the dough hook attachment of an electric mixer on medium speed, mix the dough just until combined and smooth. Let dough rest for 30 minutes.
3. Roll to 1/4-inch thickness and cut individual beignets into 2 x 3-inch pieces. Cover with a towel and let dough rise until doubled in size in a warm, draft-free area, about 1 to 1 1/2 hours.
4. Pour enough oil into a deep-sided pot until it reaches 2 inches up sides; heat oil over medium heat to 350ºF.
5. Lightly press beignets to flatten slightly.
6. Add a few beignets to oil; fry until golden brown on both sides, turning once.
7. Remove from hot oil with a slotted spoon and place on a baking sheet lined with paper towels.
8. Dust with a generous amount of confectioners' sugar before serving.
Ingredients: 
3 3/4 cups
1/4 cup creamy peanut butter
3 tablespoons grape jelly
1/4 cup milk
3 cups vanilla ice cream, softened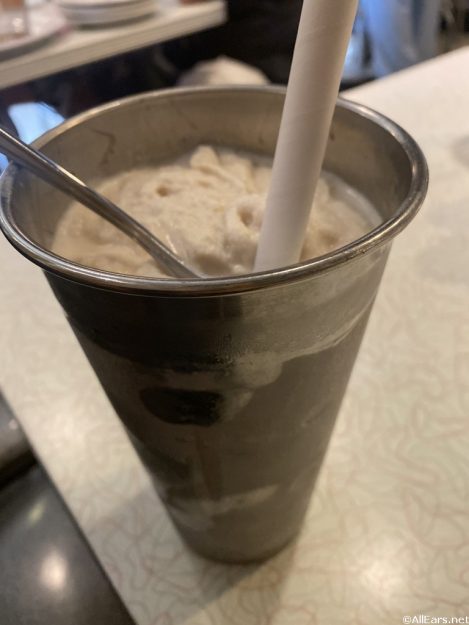 Instructions: 
1. Combine peanut butter and jelly in a small bowl, mixing well.
2. Combine milk, ice cream, and peanut butter mixture in container of an electric blender.
3. Process mixture until smooth, stopping once to scrape downsides.
Ingredients: 
TARTS
1 puff pastry sheet or pie crust rolled out
fruit jam (choose your favorite or mix a few together!)
1 egg
1-2 tablespoons of milk
2 cups powdered sugar
¼ cup low fat milk
½ teaspoon vanilla extract
food coloring, of choice
sprinkles, optional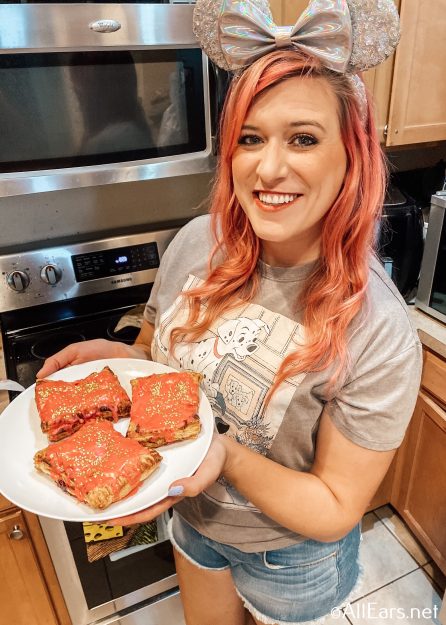 Instructions: 
1. Pre-heat oven to 375°F. If needed, set out puff pastry sheet to thaw.
2. Cut puff pastry or crust into 6 equal rectangles.
3. Make an egg wash by whisking 1 egg and 1-2 tablespoons of milk together.
4. Coat edges of half of the dough rectangles with egg wash.
5. Place a few tablespoons of fruit jam in the center and spread, leaving room on the edges.
6. Place the second piece of puff pastry on top of each. Use your fingers to push the edges together, and then seal with a fork.
7. Poke a few sets of holes with the fork in the top of each pasty.
8. Bake on wax paper or lightly greased cookie sheet for 20-30 minutes or until golden brown and puffy.
9. While pastries are baking, make your icing! Simply mix all ingredients together.
10. When the pastries are done, let them cool slightly and then top with icing and sprinkles. Let the icing harden a bit and then…
11. Enjoy!
Makes  8 servings
Ingredients:
5 cups milk, warmed
½ pound bacon
10 tablespoons butter
1 cup celery
2 each red onions, finely chopped
1 ½ cups flour
1 quart chicken stock
1 pound cheddar cheese, shredded
To taste – kosher salt
To taste – freshly ground black pepper
1 ½ teaspoons Tabasco sauce
3 teaspoons Worcestershire sauce
12 ounces slightly warm ale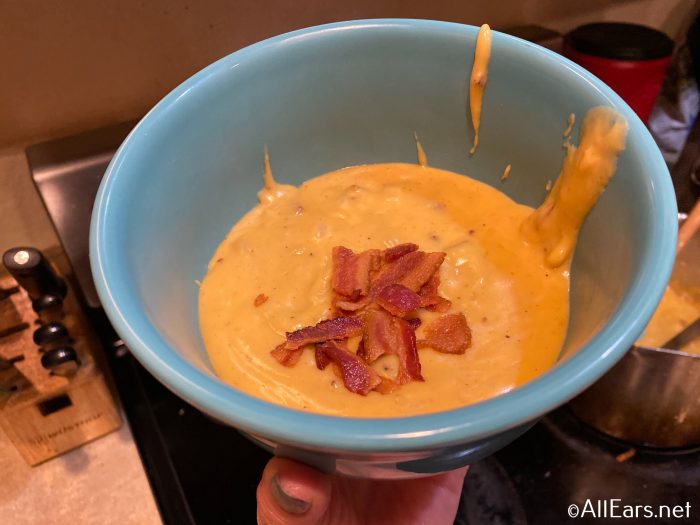 Instructions: 
1. Slowly heat milk.
2. Brown the bacon first, then render until crisp.
3. Add the butter and melt.
4. Add celery and onions, cook until translucent.
5. Add flour and mix thoroughly to form a roux.
6. Add chicken stock and simmer for three minutes.
7. Add warm milk and stir vigorously to thicken.
8. Cook out roux until thickened (it should not have a starchy taste).
9. Reduce heat to low, add cheese, and stir until melted.
10. Season with kosher salt, pepper, Tabasco, and Worcestershire sauce.
11. Just prior to serving, add warm ale.
12. Garnish with cooked bacon and fresh chives.
Cook's note: When reheating soup, do not bring to a boil, as it will break down.

Kringle
 from Kringla Bakeri og Cafe, Norway
Ingredients: 
1 pound 8 ounces bread flour
1 ounce malt
4 ounces granulated sugar
½ ounce dry yeast
3 ounces raisins
3 cups water
¼ teaspoon cardamom
Method of Preparation:
1. Place all dry ingredients into mixing bowl using dough hook.
2. Mix for one minute on low speed.
3. Add water and mix on medium speed until dough forms.
4. At the very end, just before dough is done, add raisins.
5. Remove dough from bowl and scale into four ounce pieces.
6. Roll long strands and form into pretzels.
7. Let rise until doubled in size, then bake at 400º F. until golden brown.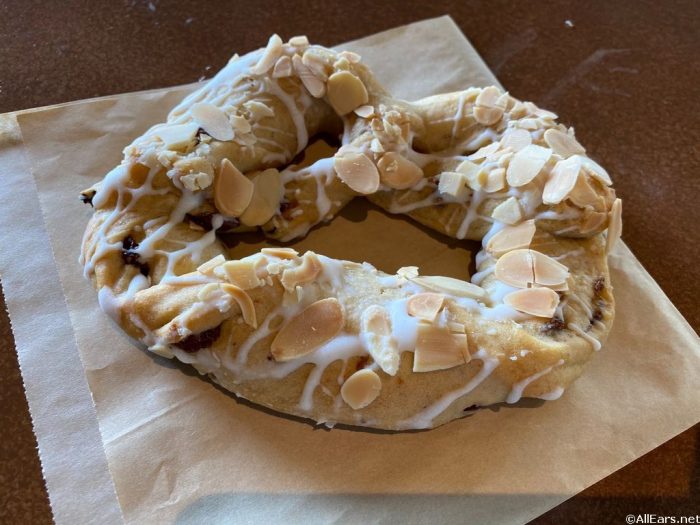 Icing:
½ cup sifted powdered sugar
2 teaspoons evaporated milk
¼ teaspoon vanilla extract
Sliced almonds
Icing Instructions: 
1. Mix powdered sugar, milk, and vanilla extract together. You can add a little more milk if to thick.
2. Pour icing in a plate.
3. Pour almonds in a plate.
4. Dip the pretzel into the icing and then into the almonds.

The Grey Stuff
 from Be Our Guest Restaurant
Ingredients: 
1 1/2 cups cold whole milk
1 (3.4 ounce) package instant vanilla pudding mix
15 chocolate sandwich cookies
1 (8 ounce) container whipped topping, thawed
3 tablespoons instant chocolate pudding mix
12 scalloped sugar cookies
Edible sugar pearls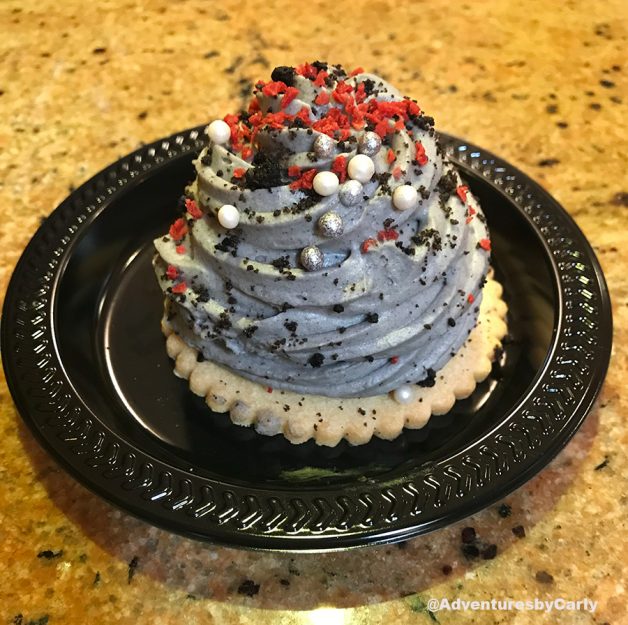 Instructions: 
1.  Pour milk into a large mixing bowl. Add instant vanilla pudding mix and whisk for 2 minutes until smooth and slightly thickened. Place in the refrigerator for 1-2 hours, until firm.
2. Place chocolate sandwich cookies in the food processor and pulse until puréed.
3. Fold puréed cookies into pudding mix. Stir until fully mixed.
4.  Add whipped topping and instant chocolate pudding.  Stir until fully mixed.
5. Place in refrigerator and chill for one hour.
6. Spoon grey stuff into a piping bag fitted with the desired tip. Pipe grey stuff onto cookies. Top with sugar pearls.
Ingredients: 
1 cup pineapple juice, frozen in an ice cube tray
1 DOLE® Banana, peeled and frozen
2-1/2 teaspoons powdered sugar
1/4 to 1/2 cup unsweetened coconut milk beverage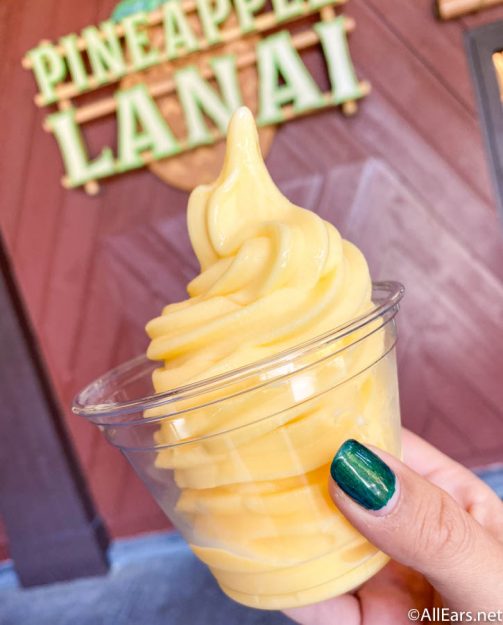 Instructions: 
1. Combine pineapple juice, banana, and powdered sugar in a blender.
2. Cover; blend until smooth, gradually adding coconut milk and scraping down sides if necessary.
3. Serve immediately.
Have you made these recipes? Let us know in the comments below. 
Join the AllEars.net Newsletter to stay on top of ALL the breaking Disney News! You'll also get access to AllEars tips, reviews, trivia, and MORE! Click here to Subscribe!