Just because the Disney Parks are closed, who says you can't bring a little bit of that Disney Magic home during this time?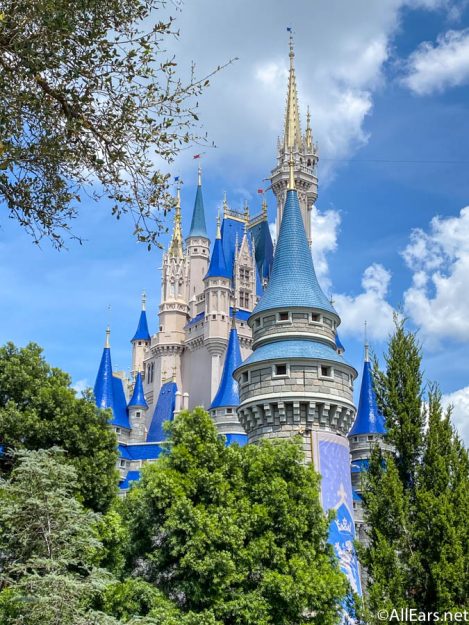 While we're all doing our part to help flatten the curve, there's many ways to add a little Disney Magic into your everyday lives at home.
Why not try out some new recipes? We're not talking about your old family's casserole. We have a full inventory of Walt Disney World Recipes for you to try out for yourself at home. That's right. Cook up dishes from your favorite Walt Disney World theme parks, resorts, and even Disney Springs right from the comfort and safety of your own home.
Walt Disney World Recipes to Try at Home: The Comfort Foods Edition
Cousin Megan's Traditional Meatloaf
We're kicking off this list with the epitome of classic comfort foods: Meatloaf! 50's Prime Time Cafe in Hollywood Studios serves up a version of the family favorite in the form of Cousin Megan's Traditional Meatloaf. When you whip up this one, we're sure you'll become a member of the clean plate club.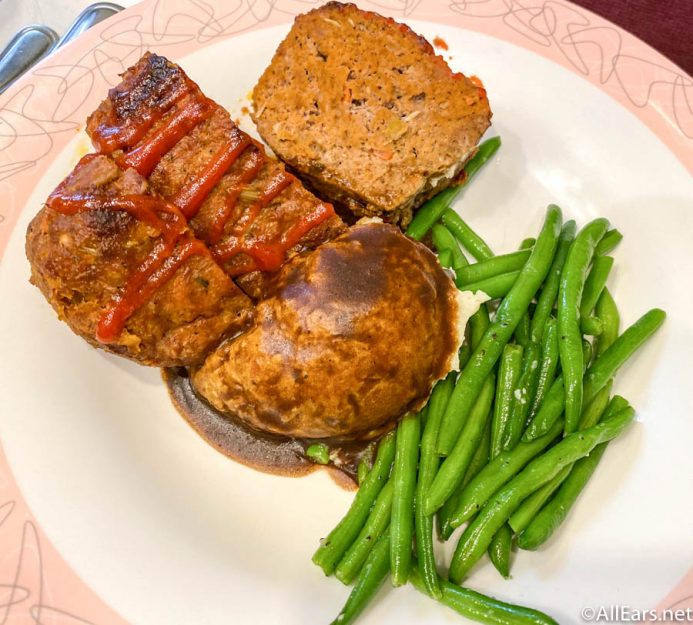 Cousin Megan's Traditional Meatloaf Recipe
INGREDIENTS:
2 lb ground beef
1 lb ground pork
4 eggs
1 cup seasoned bread crumbs
½ cup diced onions
1/4 cup diced green peppers
1/4 cup diced red peppers
2 Tbsp worcestershire sauce
Cracked black pepper to taste
Kosher salt to taste
½ cup Meatloaf Glaze (recipe below)
METHOD:
Dice peppers and onions and set aside for later use. Combine meats and seasonings. Add vegetables. Place meat mixture in oiled loaf pan. Bake at 350º F oven for 1 hour (internal temp 155º).
Brush meatloaf with meatloaf glaze. Bake another 10 minutes. Let meatloaf set 10 minutes, cut loaf and serve.
MEATLOAF GLAZE
INGREDIENTS:
½ cup ketchup
1 Tbsp brown sugar
1 Tsp Dijon mustard
½ Tsp worcestershire sauce
METHOD:
Combine all ingredients until mixture is smooth.
Chip's Sticky Bun Bake
You may be stuck at home, but breakfast is still the most important meal of the day.  Why not sweeten it up a bit with Chip's Sticky Bun Bake from Epcot's Garden Grill Chip n' Dale's Harvest Feast Breakfast.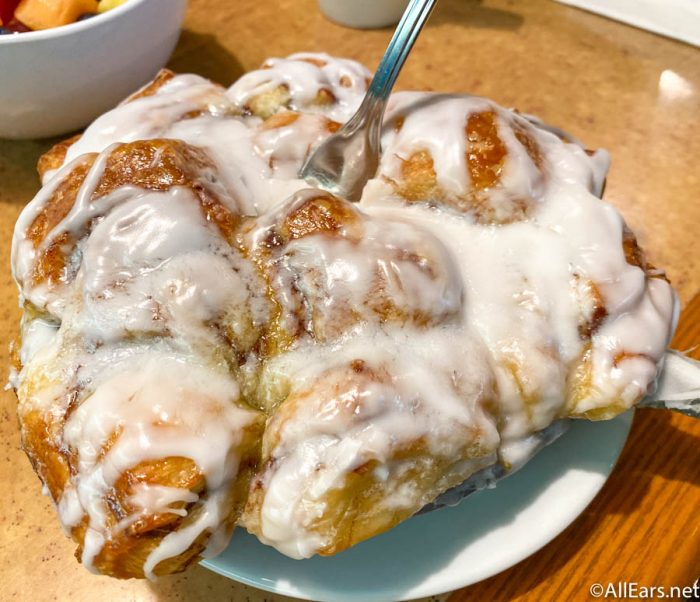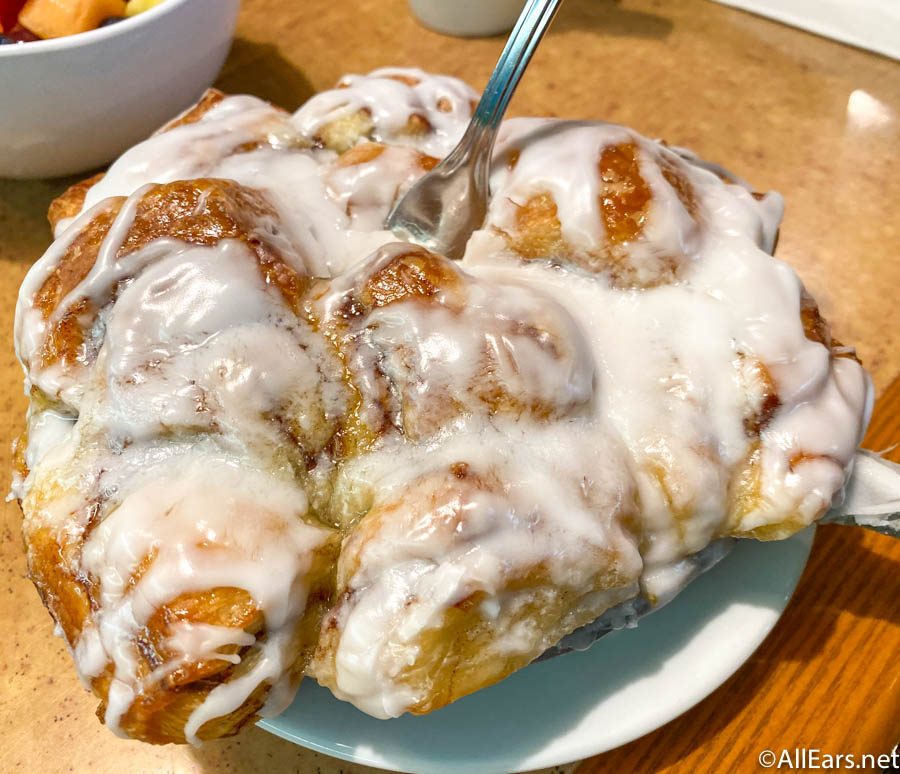 This seriously delicious (and addicting) recipe yield 6-8 servings but if you're anything like us, it will be devoured in no time!
Chip's Sticky Bun Bake Recipe
INGREDIENTS:
Cinnamon Smear
1 1/4 cup margarine, softened
2 teaspoon cinnamon
2 1/4 cup brown sugar
2 eggs
Sweet Cinnamon Dough
1 cup milk
2/3 ounce cake (fresh) yeast, crumbled (approximately 3 tablespoons loosely packed)
1/4 cup sugar
1/2 cup butter, softened
Pinch of salt
1 teaspoon cinnamon
3 cups bread flour
2 room temperature eggs
Icing
1 teaspoon milk
1 1/2 cups confectioners' sugar
4 tablespoons butter, softened
1 teaspoon vanilla extract
METHOD:
1.Cream together margarine, cinnamon and brown sugar.
2.Add eggs one at a time, scraping bowl after adding each egg. Mix well and place in refrigerator.
For sweet cinnamon dough:
1. Heat milk in small sauce pan to 90 – 95 degrees Fahrenheit. Remove from heat, add cake (fresh) yeast, whisk until dissolved, set aside.
2. Mix sugar, butter, salt, cinnamon, eggs and flour in large bowl, until smooth.
3. Add yeast mixture slowly, stirring until dough comes easily away from sides of bowl.
4. Knead dough on lightly floured surface for 5 to 10 minutes.
5. Place dough in large bowl, cover bowl with plastic wrap. Let dough rest 10 minutes or until doubled in size.
6. Coat bottom and sides of 12 inch cake pan or 9 x 13 inch pan with butter.
7. Punch down dough, knead it a few times, roll out on a floured surface into a 15 by 10-inch rectangle.
8. Spread cinnamon smear over dough. Roll up dough beginning at the 15-inch side and pinch edge together to seal.
9. Cut into 1 inch slices, quarter each slice, place pieces close together in pan.
10. Cover, let dough rise in a warm place until doubled in size, about 45 minutes.
11. Preheat oven to 350 degrees, bake about 30 minutes or until golden brown.
For icing:
1. Mix milk, confectioners' sugar, softened butter and vanilla extract together in a small bowl until smooth.
2. Drizzle over warm bun.
Cheddar Soup Soup
Sometimes, nothing is more comforting than a nice cup of piping hot soup. The Cheddar Cheese Soup from Le Cellier in Epcot's World Showcase is the stuff of legends, and rightfully so! A perfect combination of bacon and cheese, you'll understand why it's garnered such a loyal following over the years.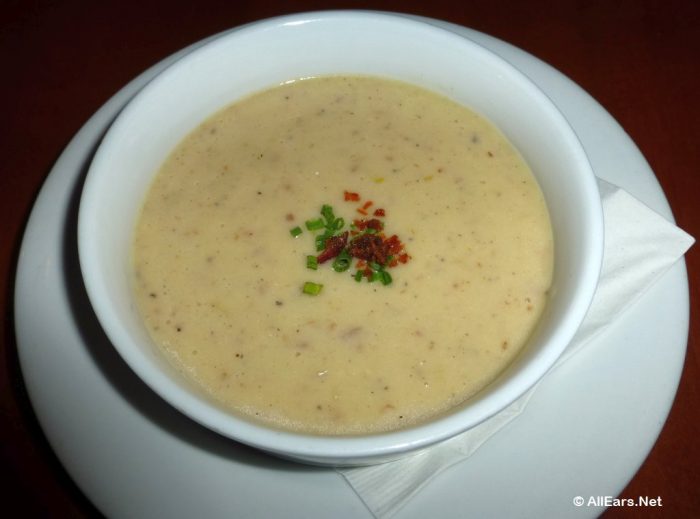 Cheddar Cheese Soup Recipe
INGREDIENTS:
1/4 lb. smoked bacon finely chopped
1 medium red onion cut into 1/4 in. pieces
1/2 cup finely sliced celery
1/2 cup finely chopped carrots
3 TB all-purpose flour
3 cups whole milk
2 cups chicken stock
12 oz. grated white cheddar, Canadian Black Diamond
3 dashes Tabasco
1/2 tsp. Worcestershire sauce
1/2 cup Moosehead Canadian Ale, room temperature
salt and pepper to taste
1 TB thinly sliced chives
METHOD:
1. Cook the bacon in a large heavy-bottomed, non-reactive soup pot over medium heat until wilted but not browned.
2. Add onions, celery and carrots and cook until the onion is translucent and bacon has crisped.
3. Sprinkle in flour and stir constantly for 2 minutes. Stir in milk and stock, a little at a time, blending well to ensure there are no lumps. Bring to a boil, then cover and simmer for 15 minutes.
4. Remove from heat and whisk in cheese, Tabasco, Worcestershire and ale. Season with salt and pepper to taste.
Serve with your favorite bread and top with chopped chives.
Ooey Gooey Toffee Cake
This dessert needs no introduction. The Ooey Gooey Toffee Cake has been delighting guests for years at the Liberty Tree Tavern  in Disney's Magic Kingdom. This sugary goodness is sure to please everyone in your family **Not having to fight the park crowds is an added bonus**.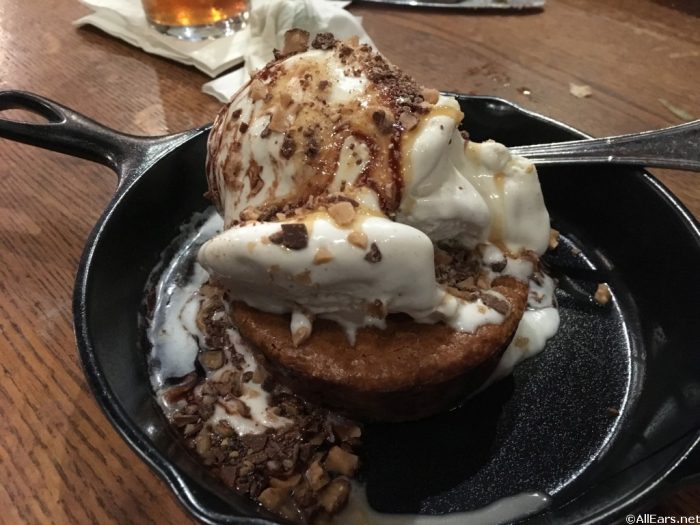 Ooey Gooey Toffee Cake Recipe
CAKE BOTTOM:
INGREDIENTS:
1 box yellow cake mix
1 each, egg
1/2 cup butter (1 stick)
METHOD:
Mix ingredients and put in a greased baking pan 13″ x 9″.
CAKE FILLING:
INGREDIENTS:
8 ounces cream cheese
3 each, eggs
1 teaspoon vanilla extract
1/4 cup butter
1 cup semi-sweet chocolate chips
1 cup Heath bar pieces
1 pound powdered sugar
METHOD:
1. Put cream cheese in mixer.
2. Slowly add eggs and vanilla.
3. Add butter and mix well.
4. Put in powdered sugar, then add chocolate chips and toffee pieces.
5. Just mix; do not over mix.
6. Put on top of Cake Bottom in pan.
7. Bake at 325 for 35 minutes, then check.
Top with a scoop of ice cream and enjoy!
MAC AND CHEESE
No yellow boxes here! The Macaroni and Cheese from Jiko is reason enough to visit the signature table service spot at Disney's Animal Kingdom Lodge. What's so different about this version of the classic dish? This beauty features a rich and velvety Mornay cheese sauce.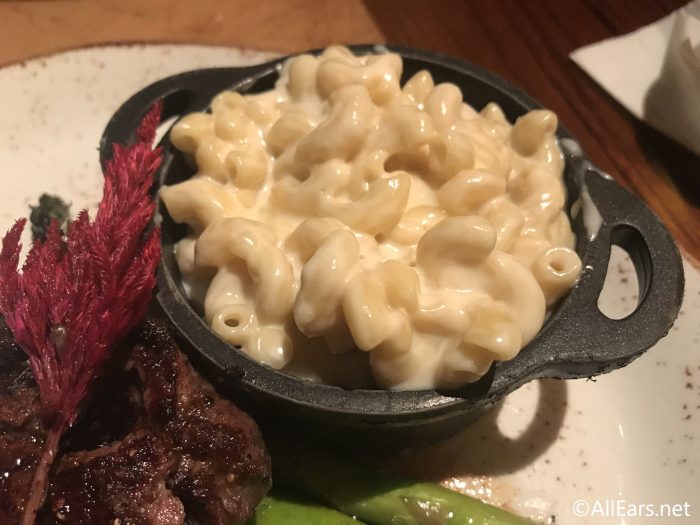 Jiko Macaroni and Cheese Recipe
INGREDIENTS:
MORNAY SAUCE:
1/4 cup butter
1/4 cup flour
1 quart whole milk
1 1/4 cups Quattro Fromage (4-cheese mixture of asiago, provolone, fontina, and gruyere cheeses)
2 pounds elbow macaroni
METHOD:
1. Prepare the macaroni according to the directions on the package.
2. Make a roux with the flour and butter over low heat. Bring the milk to a simmer and work in the roux.
3. Add cheese and salt to taste. Pour over the macaroni and heat through in a moderate oven.
FISH AND CHIPS
When visiting Disney Springs, we love to make a pit stop at Irish watering hole and restaurant Raglan Road. Of course, pints are always in order but when we're feeling a bit peekish, we can't resist their perfectly fried fish and chips. Impress your family with this show stopping dish (Irish jig not required but suggested!).

Fish and Chips Recipe
INGREDIENTS:
For the Battered Fish:
1 piece of cod (approx 5 ounces/150 grams)
Sunflower oil, for deep-frying
1 ounce/30 grams plain flour
3 ounces/90 grams cornflour
8 fl ounces/225ml lager or for non-alcoholics – sparkling water
Salt and black pepper to season
Grated rind of ½ a lemon
For the Chips:
2 Maris piper potatoes
METHOD:
For the Battered Fish:
To make the beer batter, sift the flour and cornflour into a bowl. Make a well in the centre and add the lager. Whisk the liquid ingredients together and then gradually whisk into the flour mixture until you have achieved a smooth batter and store in the fridge. Cut the fish into pieces if desired, or leave the fish in one large piece. Dust the strips of fish in a light coating of flour and then dredge in the batter, shaking off any excess.
Deep-fry for about 5 minutes, or until cooked through and golden brown. You may have to do this in batches depending on the size of your fryer. If you are cooking larger pieces of fish start cooking it in the fryer and then transfer to the oven to finish cooking.
For the Chips:
Wash and peel the potatoes. Cut the potatoes into thick cut chips and store in water until required. Pat the cut chips dry with a paper towel prior to cooking. Deep fry in hot oil until almost fully cooked. Lift the chips and allow the oil to heat back again and then drop them in for a final 30 seconds until they are crisp and golden brown.
'Ohana Noodles
During uncertain times, you may be reaching for ALL. THE. CARBS. We totally get it. How about surprising your family with this super simple recipe made from many ingredients you can find right in your pantry? Relive fun family memories with the beloved Stir Fried Noodles from 'Ohana at Disney's Polynesian Resort.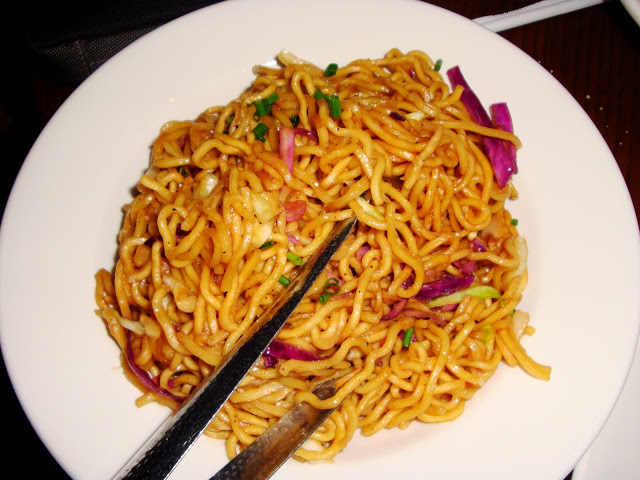 'Ohana Stir Fried Noodles Recipe
INGREDIENTS:
1 tablespoon canola oil
1 teaspoon each, puréed: garlic and ginger
1/4 cup each, julienned: red pepper and pineapple
2 cups cooked udon noodles
Salt and pepper to taste
1 teaspoon chopped roasted peanuts
Peanut sauce
2 cloves garlic, peeled
2-inch piece ginger, peeled
1/2 cup peanut butter
1/4 cup each: soy sauce, sugar and water
1/8 cup diced Spanish onion
1 tablespoon chopped peanuts
METHOD:
1. For sauce, put ingredients in pan. Bring to boil, stirring. Turn heat to simmer, stirring occasionally. Simmer 10 minutes. Remove from heat, pour in blender. Pulse until smooth.
2. For noodles, heat canola oil in wok. Add garlic, ginger, red pepper and pineapple. Stir-fry until red peppers are tender but still firm. Season with salt and pepper. Add noodles. Stir-fry until noodles are heated. Add 1/2 cup peanut sauce to glaze ingredients. Garnish with nuts.
Have you ever recreated your favorite Walt Disney World recipe at home? Let us know!
Join the AllEars.net Newsletter to stay on top of ALL the breaking Disney News! You'll also get access to AllEars tips, reviews, trivia, and MORE! Click here to Subscribe!