Ride queues at Walt Disney World have gotten very creative and, in some cases, interactive over the years. They serve not only to hold a long line of quests waiting to board rides but to build onto the story or prepare people for what is to come.
In Rock 'n' Roller Coaster Starring Aerosmith on Sunset Boulevard in Disney's Hollywood Studios, the queue leads you in and out of the pre-show area which is a mock up of Aerosmith's recording studio. Here you see the band getting ready to perform and offers all the fans backstage passes and a ride to the concert in a really fast car.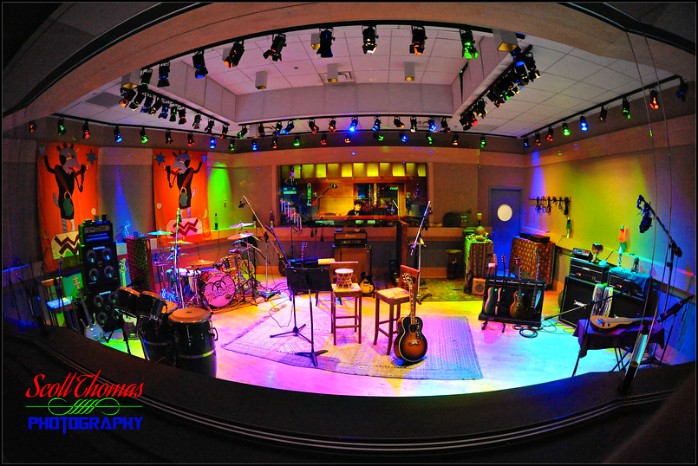 Before Aersosmith arrived, I worked my way up front and got as close to the glass as possible to eliminate reflections. Using a Sigma 15mm Fisheye lens I could capture the entire studio. I decided not to correct and crop the photo as it would have cut off too much from the sides.
Some queues look very utilitarian and bland like the corridors leading to the pre-show of Avatar Flight of Passage in Pandora – The World of Avatar at Disney's Animal Kingdom. While it looks boring, there are a lot of details if you look closely.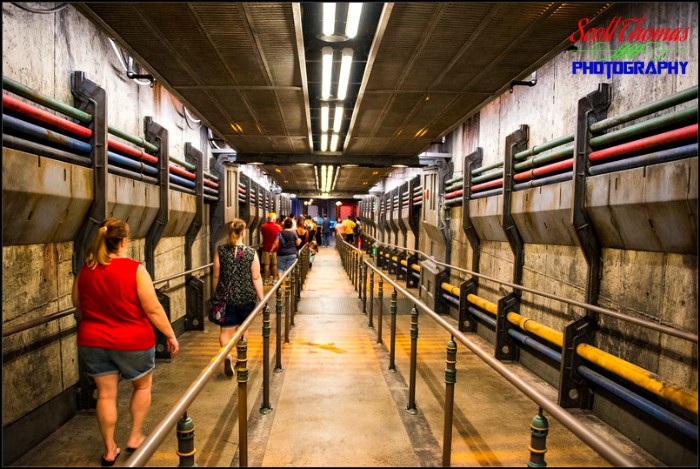 I must confess, I cheated here as I moved over to the middle line which was not being used at the time. I wanted to get in the center to show the leading lines of the queue.
As some of you know, the queue for Soarin' Around the World inside The Land at Epcot is very long. Imagineers added interactive games to help pass the time but as you get close to boarding the ride, you do get split up. When waiting to be allowed down, I took this photo.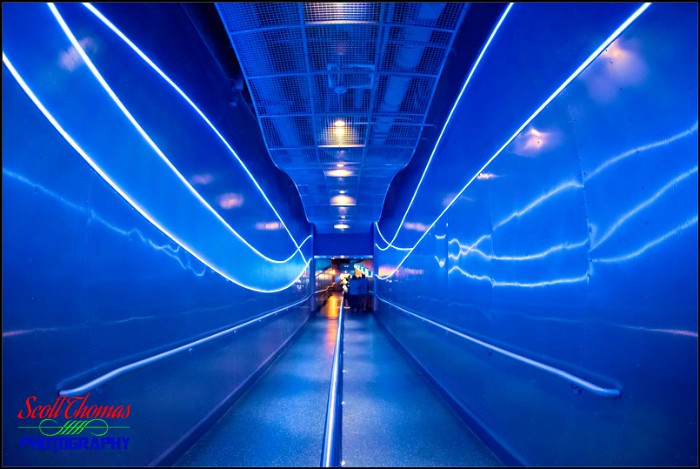 Yep, leading lines again but this time I had on the Fisheye lens which added more depth then what was really there and captured all the queue elements of neon lights, blue on blue color and the way they hid the lights and piping behind a wavy grid.
Then there are the classics. The queue for the Pirates of the Caribbean in Adventureland at the Magic Kingdom is gloomily lighted in yellow color with appropriate pirate props of cannons, cannon balls, armory and even a  dungeon. It is the dungeon which holds one of the most famous Imagineer inside jokes.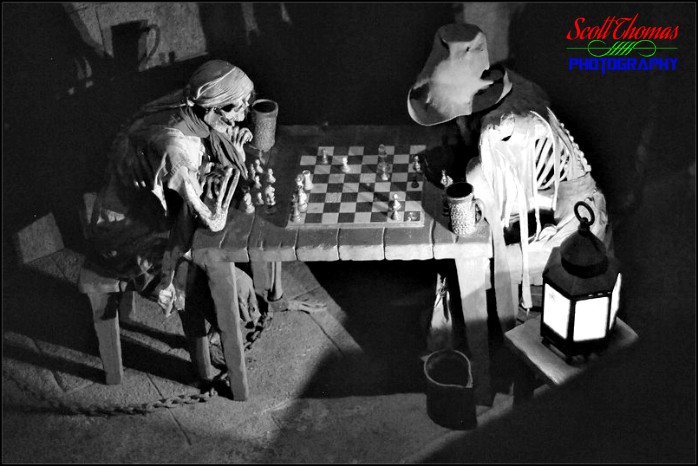 To capture this scene, I used the fastest lens I own, the Nikon 50mm f/1.8 (aka the Nifty-Fifty).
Remember I mentioned the yellow lighting? To better see the details of the scene, I converted it to Black and White.
What queues at a Disney Park do you find photographically interesting?
Be sure to follow @allearsnet on Facebook, Instagram and Twitter!
Click below to subscribe to the AllEars® newsletter so you don't miss any of the latest Disney news!