Touring Pandora – The World of Avatar in Disney's Animal Kingdom you certainly feel like you are in a different place. Sounds and sights are similar but different. There is a mix of real and imagined flora and fauna found throughout the "moon". Details are fun to find the first few times one gets to visit.
The photo below at first does not seem like a particular detail. The Grinch Tree stands out in the foreground with the Floating Mountain looming in the background from the Valley of Mo'ara overlook platform. (Note: this is a popular PhotoPass location) It is what you do not see which to me is an amazing detail. What is missing? I will let you wait for a bit before I unveil it. This photo was taken using the Hyperfocus Technique putting everything in focus from the front to the back of the frame.
Grinch tree and Floating Mountains in the Valley of Mo'ara.
Nikon D750/28-300VR, 1/250s, f/16, ISO 450, EV +0.3, 28mm Focal Length.
While the World of Avatar has a lot of natural beauty, the human element can be found in details like the piping seen above the Avatar Flight of Passage queue and on a clever sign on a service door found at the Satu'li Canteen.
Human details found in Pandora at Disney's Animal Kingdom.
Walking along the streams and pools of water in Pandora you can see these squirting water creatures which push out streams of water randomly. I am still researching information about these interesting fish or are they something else?
Squirting water creatures found in the Valley of Mo'ara at Pandora.
Nikon D750/24-120VR, 1/60s, f/16, ISO 4000, EV 0, 86mm Focal Length, Cropped.
There are some fascinating looking flowers and other flora found in Pandora. Below are two examples. For both photos I opened up the aperture as wide as the lens would go (f/4 in this case). This selected out the subjects from their busy backgrounds. Doing so created the soft out-of-focus or bokeh effect behind them.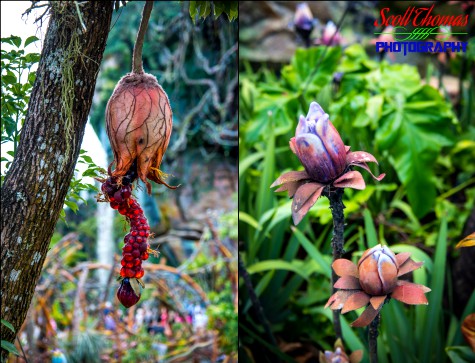 Flowers in the Valley of Mo'ara at Pandora in Disney's Animal Kingdom.
These are just a few examples of the details you can find when you visit Pandora yourself. Oh, speaking of details, the missing one in the first photo are people. As busy as the park was when I took the photo, from the overlook, you can not see them. I tip my cap to the Disney Imagineers.