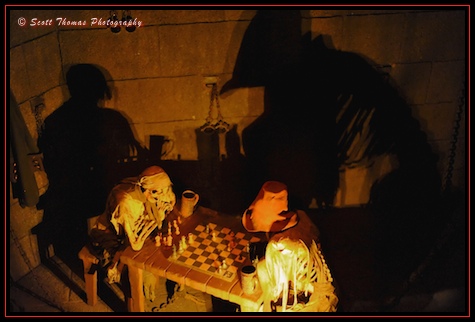 Skeletons playing chess in the Pirates of the Caribbean to an eternal stalemate.
Nikon D700/50mm, 1/20s, f/1.8, ISO 6400, EV +0.3.
When you enter the Pirates of the Caribbean attraction in Walt Disney World and take the right queue line, you will see two skeletons playing chess. Imagineer Marc Davis set up the chess pieces so that any move would create a checkmate thus resulting in an eternal stalemate. Did you know, Marc knew over time the pieces might be moved so he taped instructions on the bottom of the chess board so the play could be duplicated (source: Jack Spence).
How to Get the Shot:This is not an easy photo to get especially if the attraction is busy. I caught a slow time and was able to take several photos without being bumped into. The lighting is very low so I used my fastest lens, the Nikon 50mm f/1.8, and set my camera's ISO to 6400. Even with those settings, I had to use a shutter speed of 1/20th of a second. I braced myself against the bars of the window which overlooks the chess playing scene. In post, I used a noise reduction program called Noise Ninja to clean up the dark areas.