Attention Shoppers! The brand new AllEars.net Disney Saturday Shopper is here! This new, weekly feature will update you on all of the items we found in the parks this week. And boy, what a week to launch! We've got new Haunted Mansion diroamas, new Epcot country plushes, new Mexico pavilion merch, a new trading pin collection, and a bunch of retro and vintage inspired clothing! Check it all out here.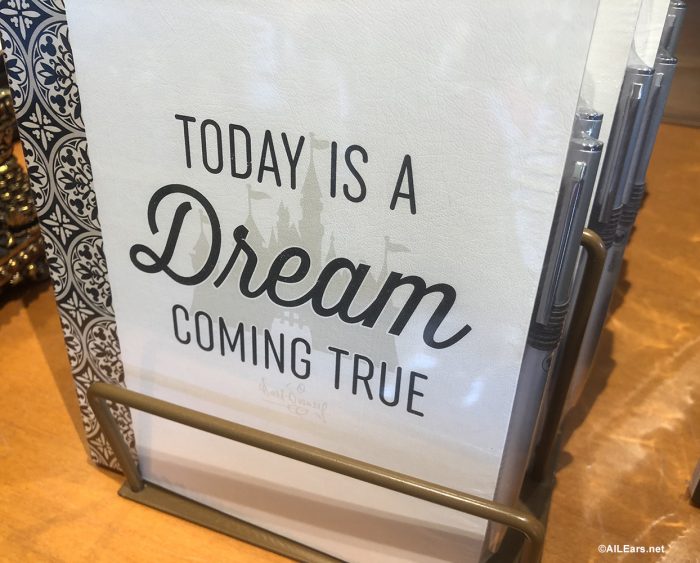 Let's go shopping in Disney!
Check out the latest items we found in
Disney World's Shops and Stores!
Shopping in the Magic Kingdom
Just in time for Halloween! Check out these dioramas of the Haunted Mansion! We spotted these in Memento Mori for $24.99 each. If these existed when we were in school we would get a A+ on our assignments!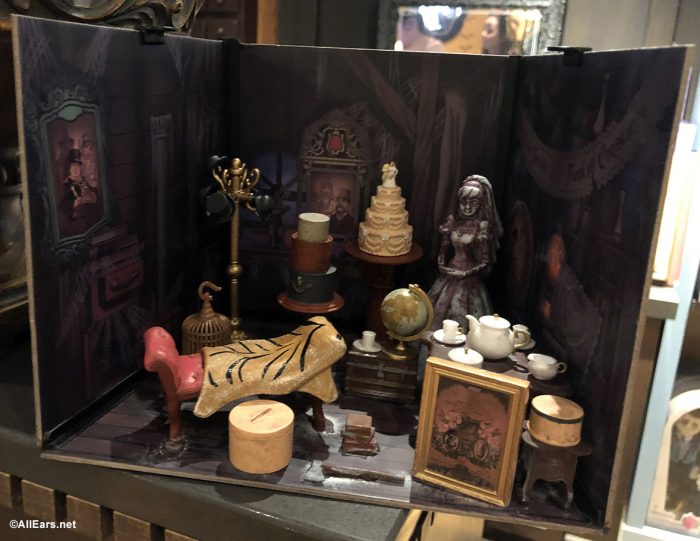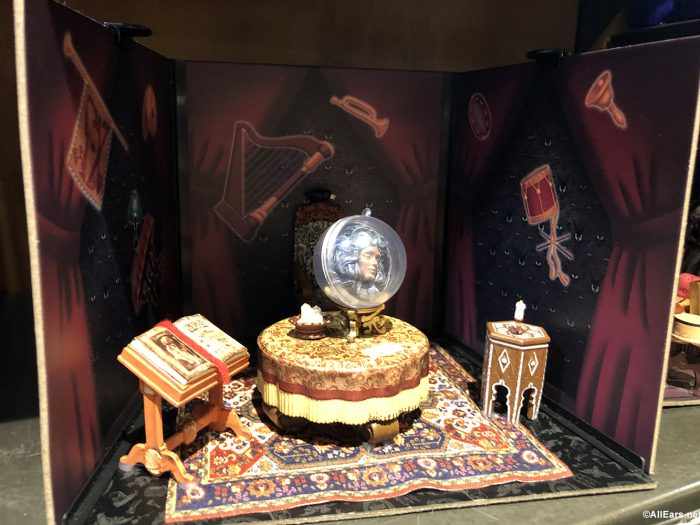 You have to check out the details on these!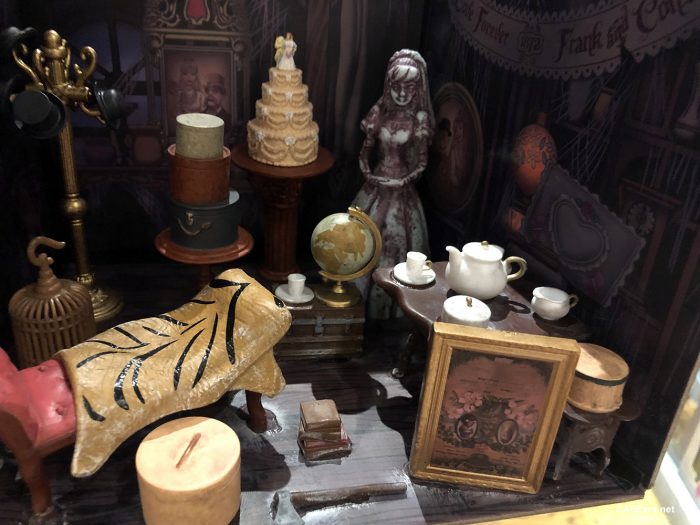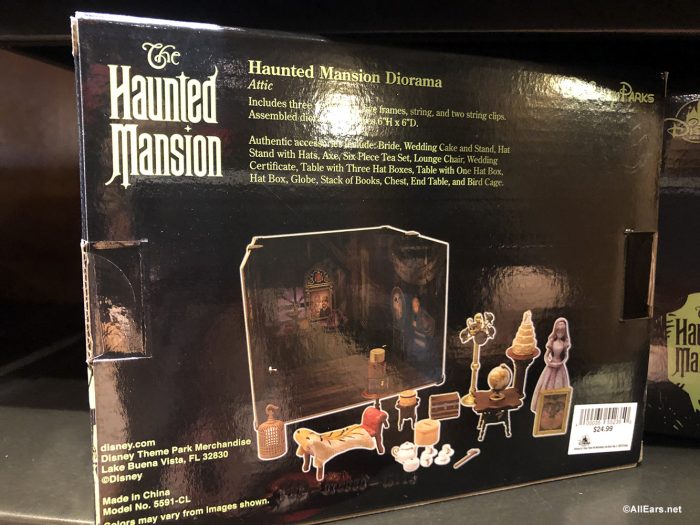 We spotted these desk plates around the Magic Kingdom and Hollywood Studios. This a great way to cure the Monday blues. Add these to your desk for $12.99 each.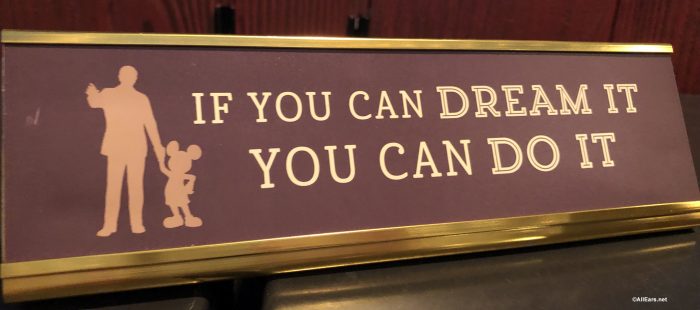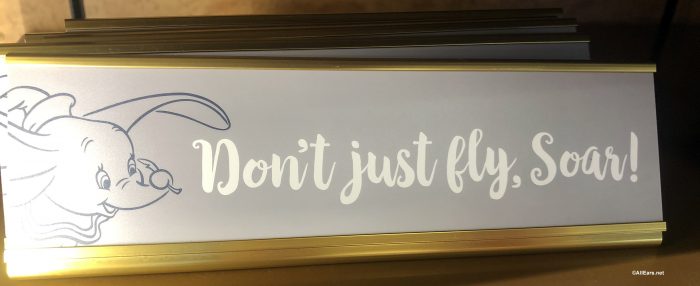 Which one will you add to your desk? We're thinking the Haunted Mansion one would be perfect now!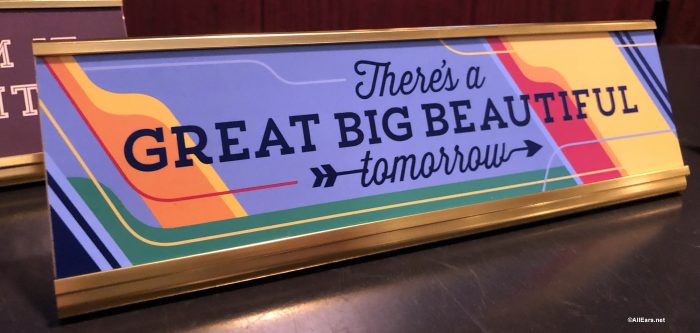 Calling all Rose Gold fans and addicts! Add some bling to your wardrobe with this new Rose Gold bracelet for $19.99.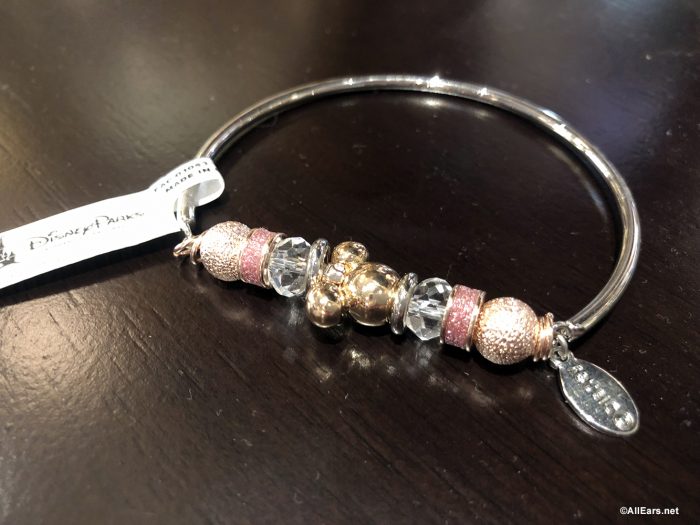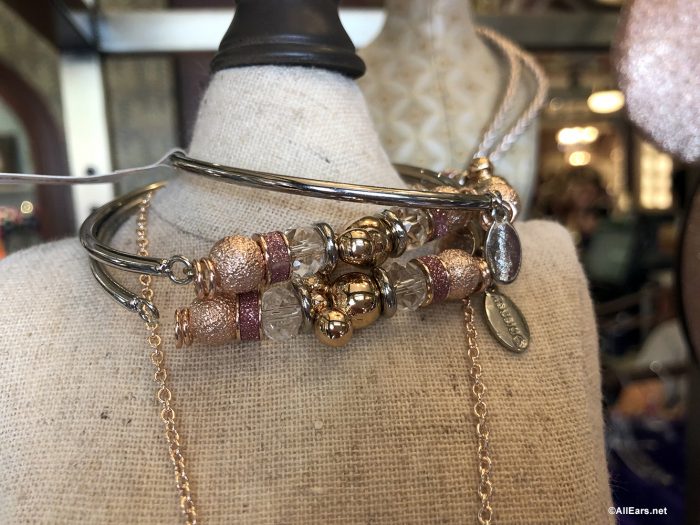 The art of writing a letter may be dying, but if you are a writer (that means all of us at AllEars love this!) check out this new line of stationary spotted in the park. The inspirational line includes a $17.99 clip board, $12.99 12-card note card set, and $19.99 journal.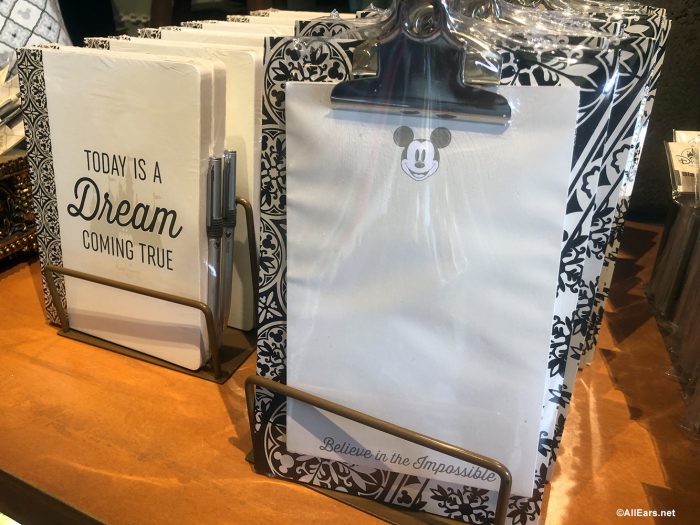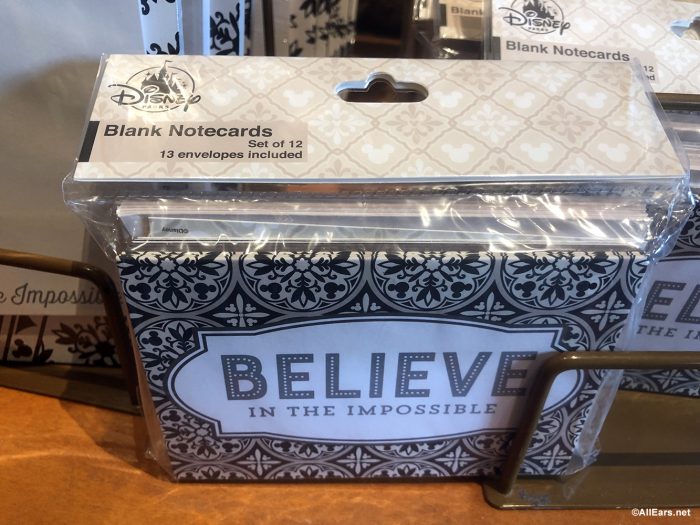 We can't wait to write notes to our friends on these blank note cards!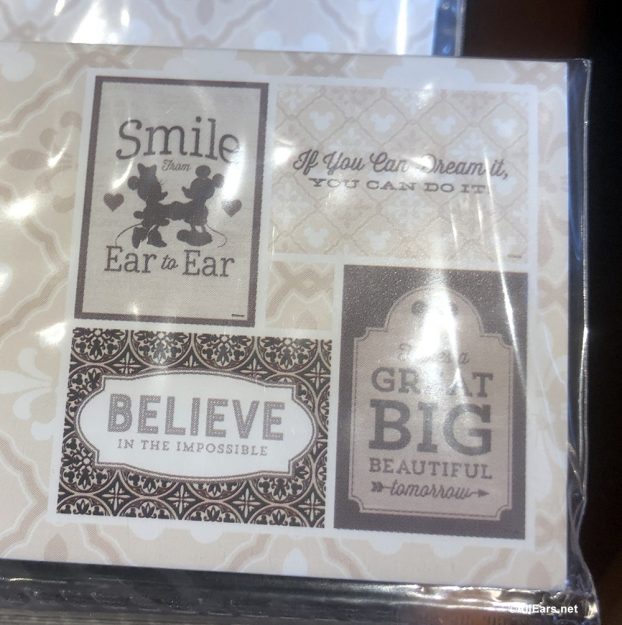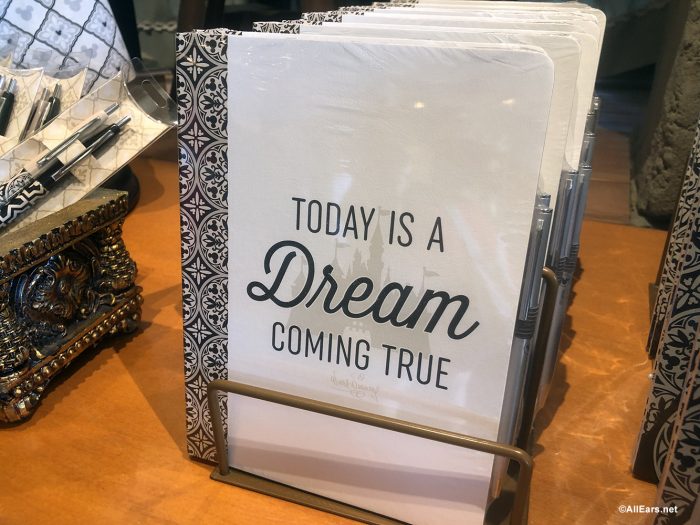 Shopping in Epcot
Make it a Disney Family Game Night with the updated Disney Parks Monopoly game! The update includes Star Wars: Galaxy's Edge, Rise of the Resistance, the Skyliner System, and Guardians of the Galaxy: Mission Breakout to name just a few. The board features a pop-up castle as the centerpiece as well as a model of the Partners statue. Pick this up for $49.99.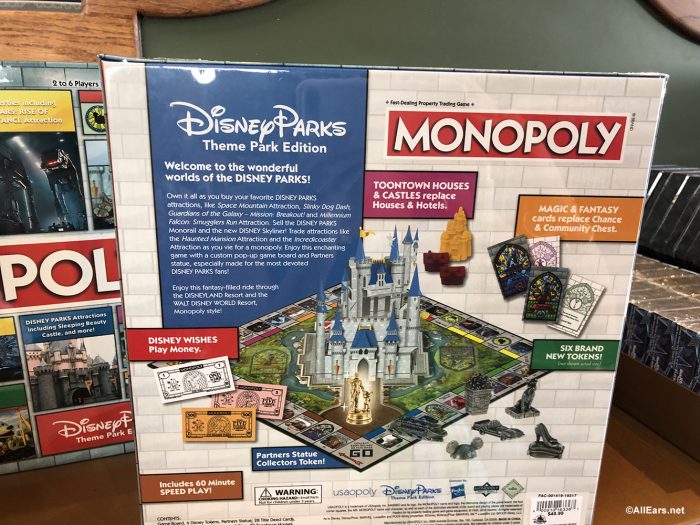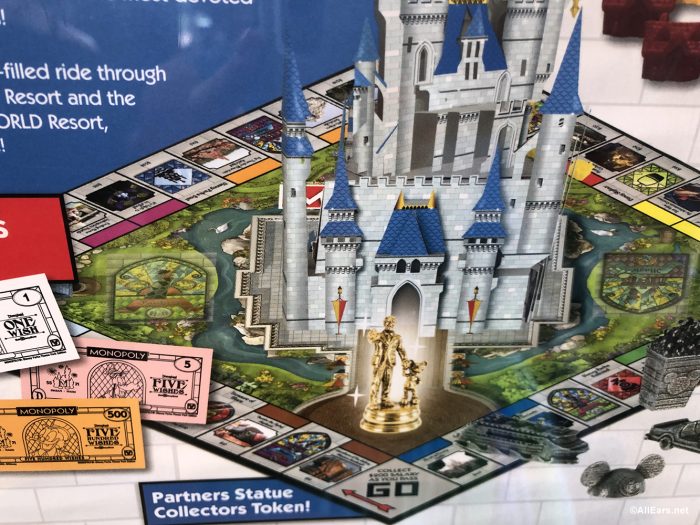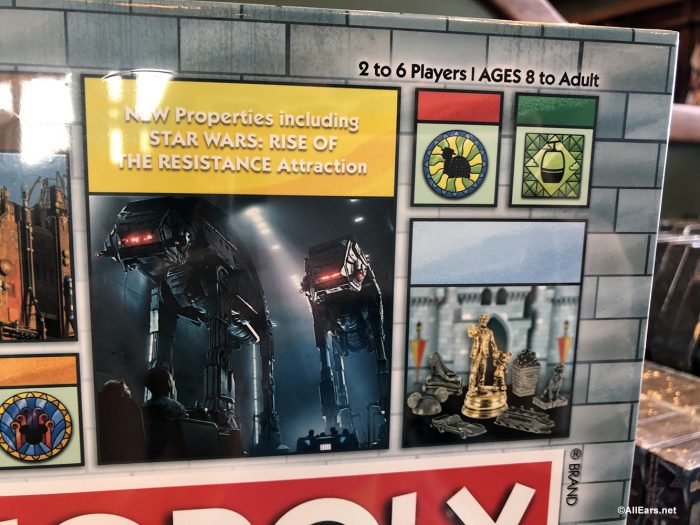 How about these groovy tie-die socks! Make sure you get them on the correct feet! These are $14.99 a pair, or $11.00 each.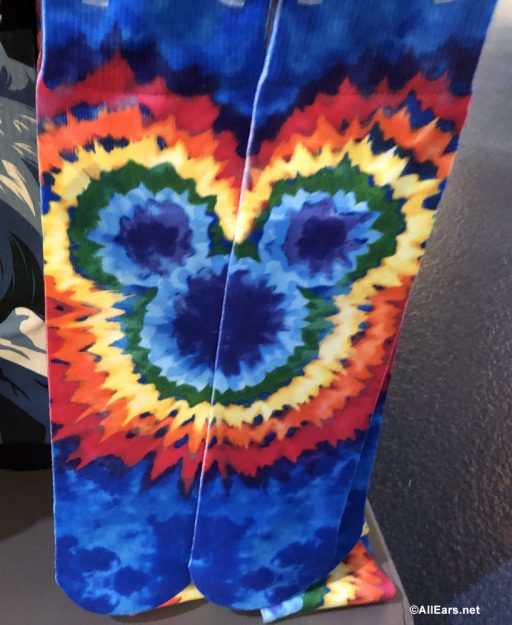 Make room in your heart for some more Disney plushes! Check out these patriotic plushes we spotted in Disney Traders. We found Mickey, Minnie, and Donald representing Mexico, Norway, and Canada.  Here's hoping all World Showcase countries will be represented. These plush are $29.99 each.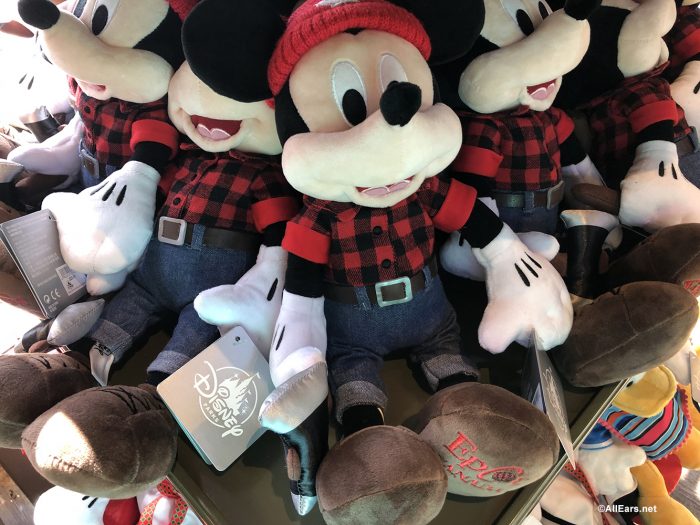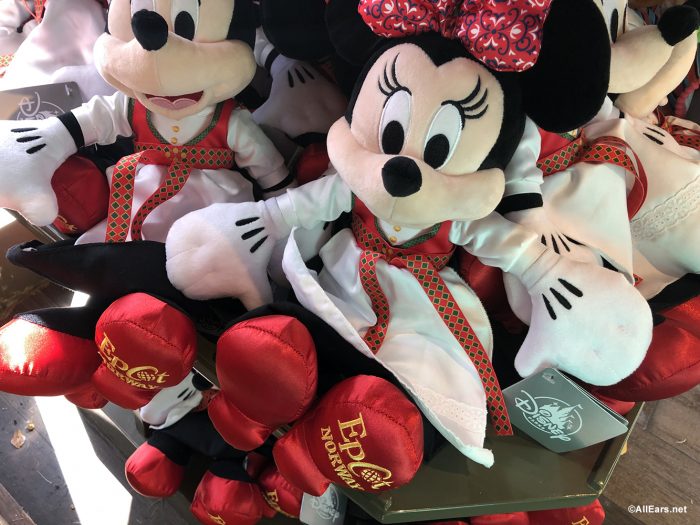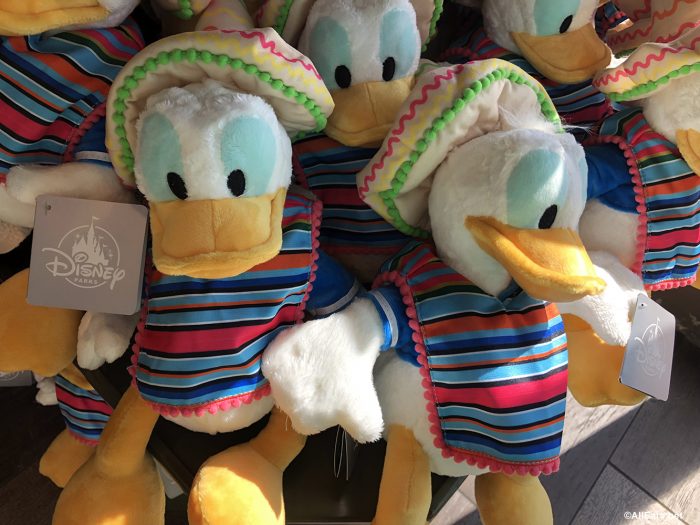 The Mexico pavilion has a bunch of new items to remember your journey! If it's time to upgrade your glassware be sure to check out the new line we spotted in the pavilion. The line includes Margarita glasses for $16.99 (regular size) or $49.99 (large size), or shot glass for $9.99.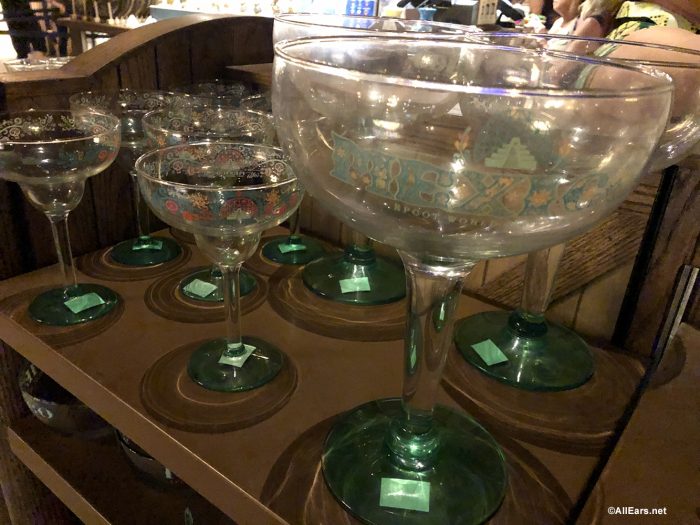 Serve up your salsa in a matching bow for $12.99.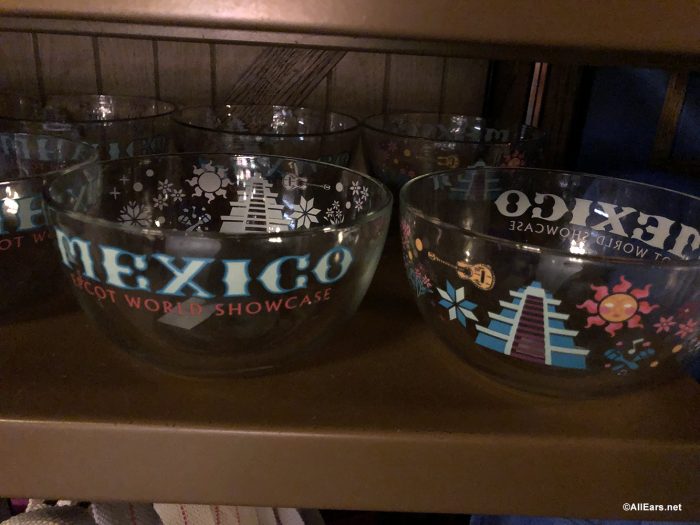 And, avoid watermarks with these fun coasters featuring our favorite Disney characters for $19.99 (set of four).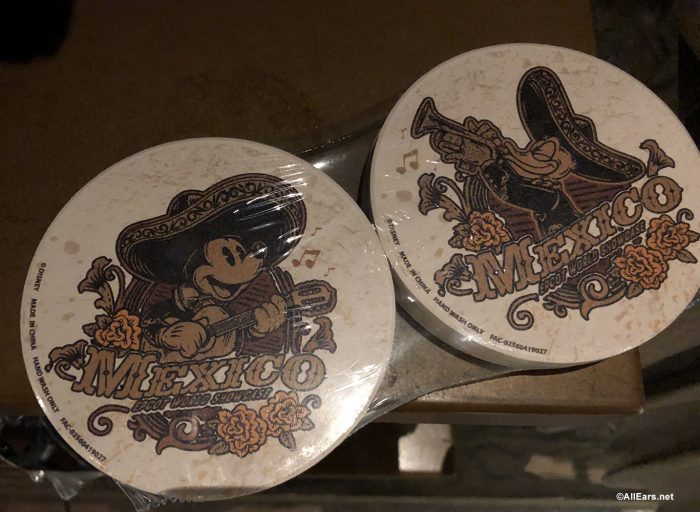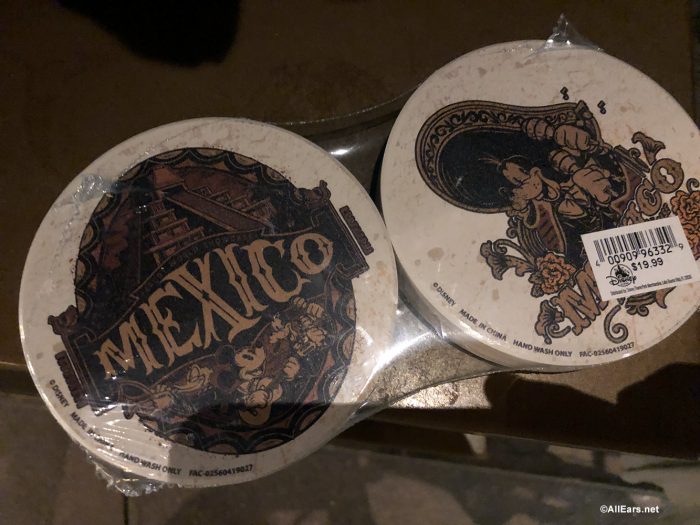 Expand your Disney shirt collection with these new shirts in the Mexico pavilion. These are $24.99 each.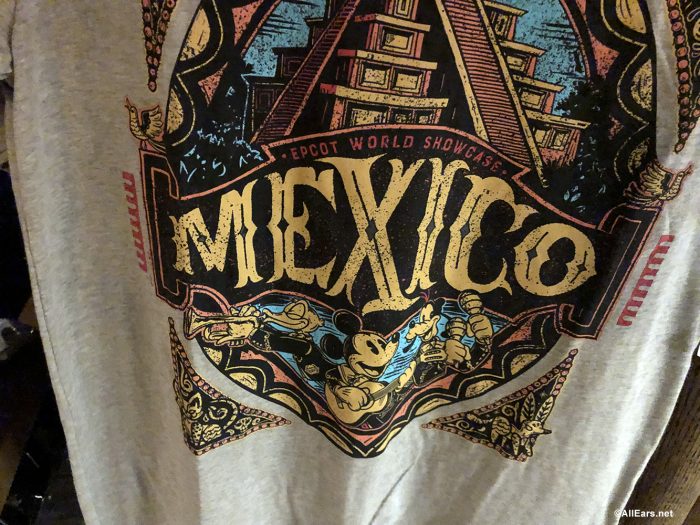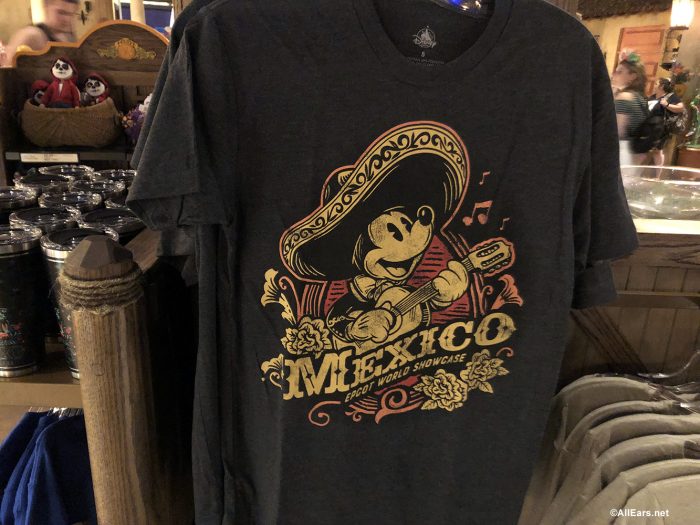 This shirt features Spaceship Earth behind the pyramid in Mexico. Add this to your closet for $29.99.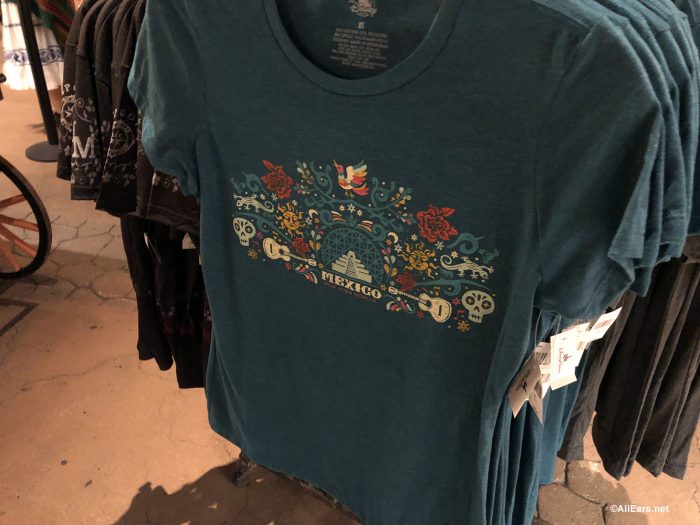 Kids can grab this shirt for $19.99.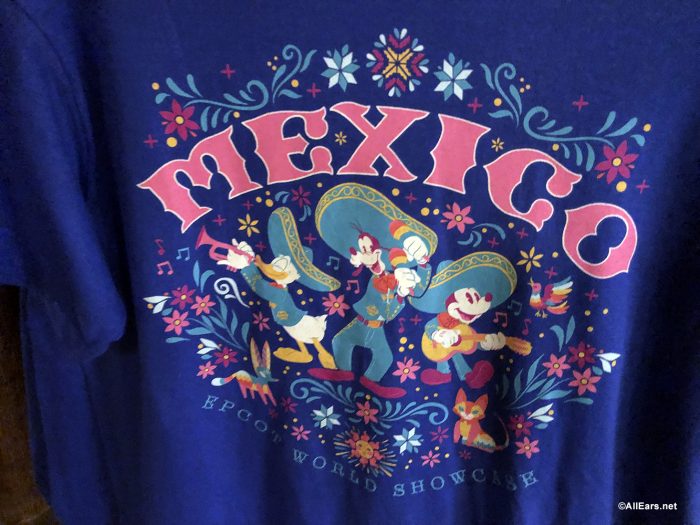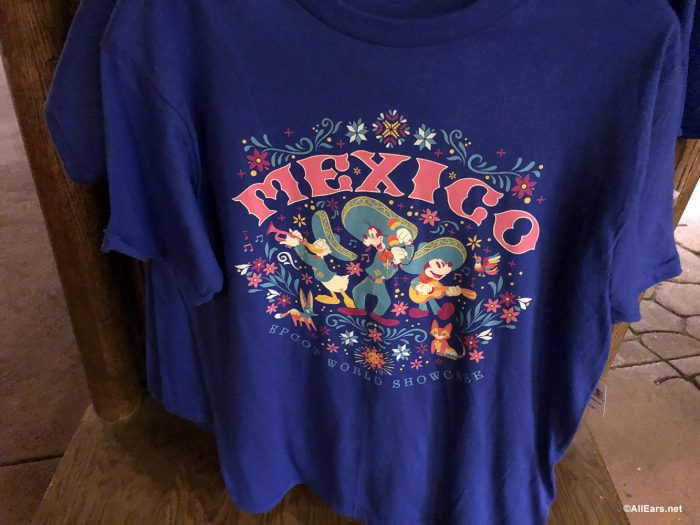 With chilly nights coming soon (well not in Florida!) you may want to snuggle up in this throw that is new to the pavilion for $54.99.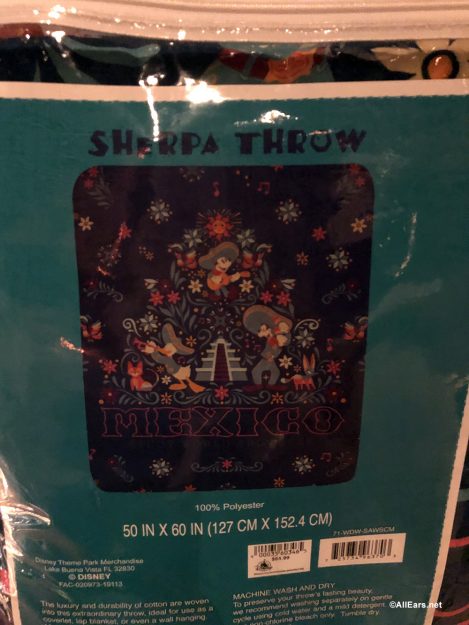 Lastly, add the perfect touch to your Dia de los Muertos decor with this banner for $16.99!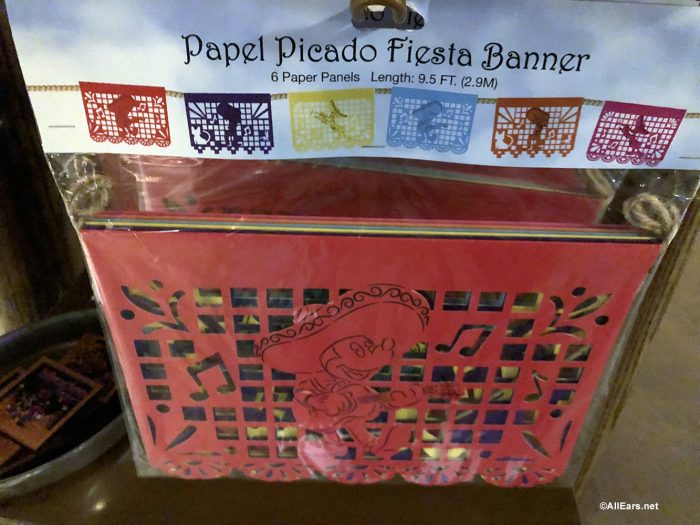 OK, even though we haven't even celebrated Halloween yet, we spotted some new Christmas items. Check out these new Christmas Buttons for $9.99 in Disney Traders.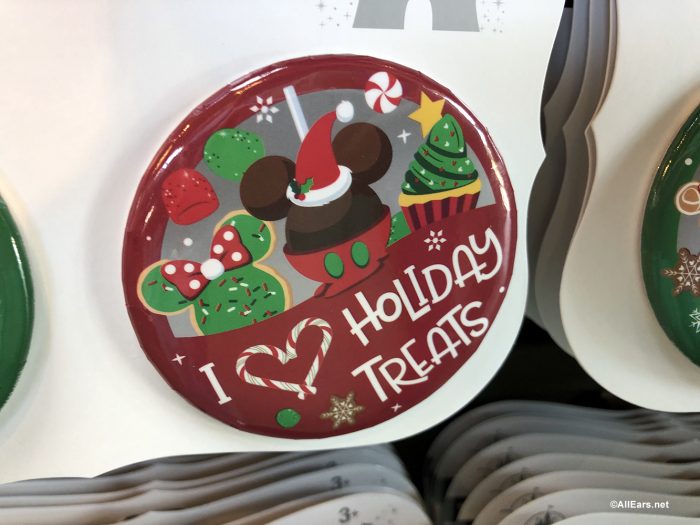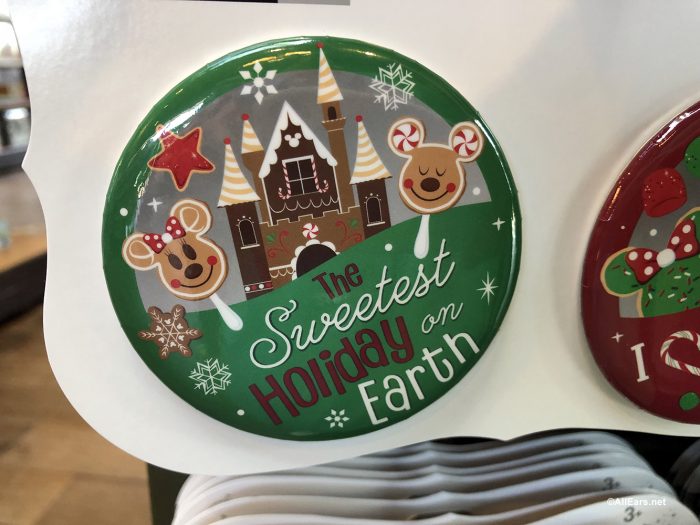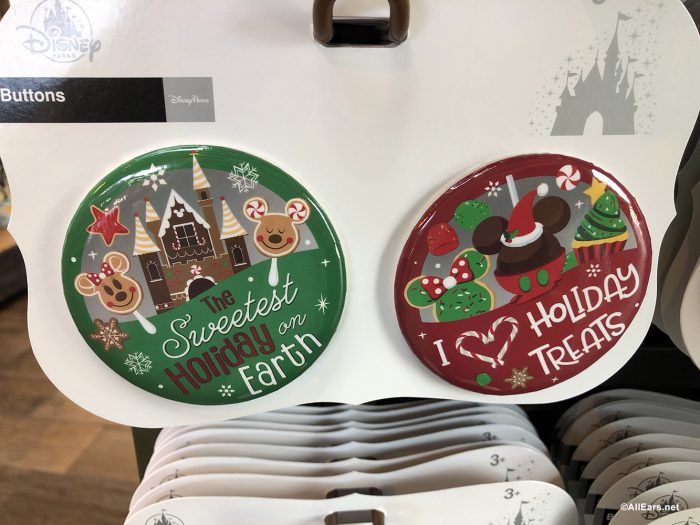 Shopping in Hollywood Studios
We are seeing these Park Pals pop up all over the parks! You can clip these fun little guys to your backpack, purse, or even put them on display with the display clip that's included. These are $11.99 each.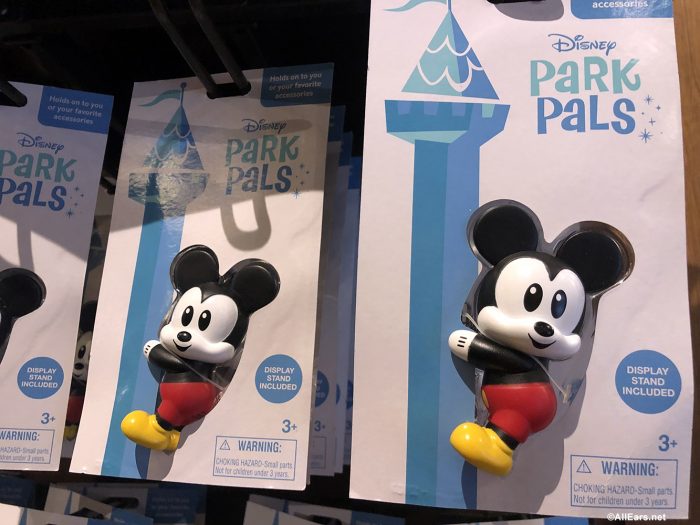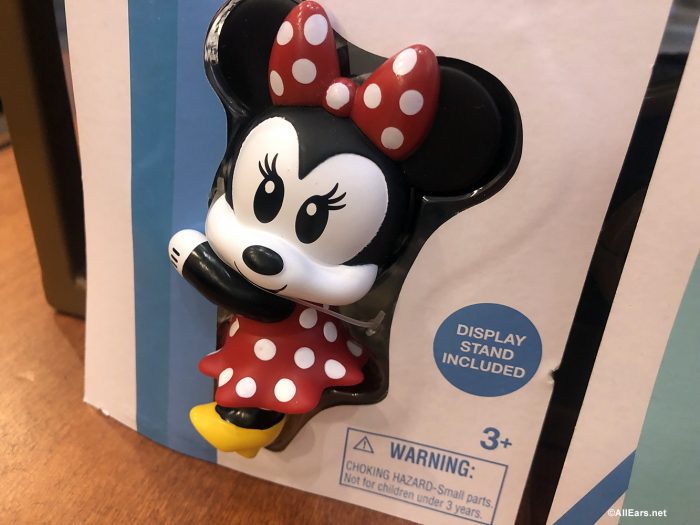 In addition to Mickey and Minnie, you can choose from Stitch, Simba (that's our favorite), Figment, Pascal, Br'er Rabbit, and Orange Bird.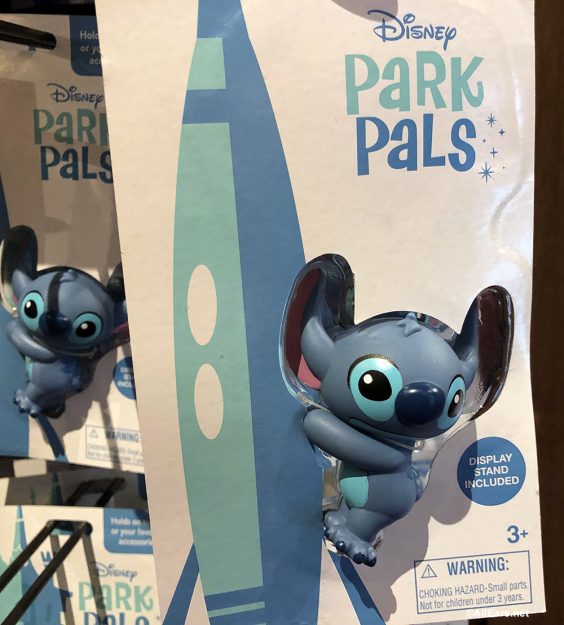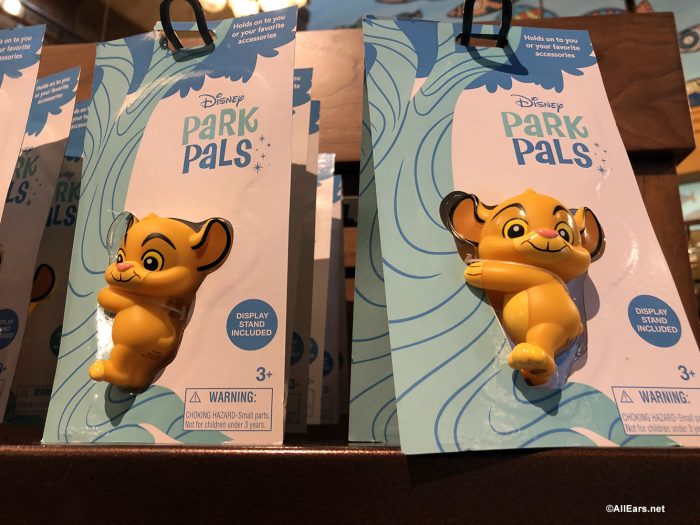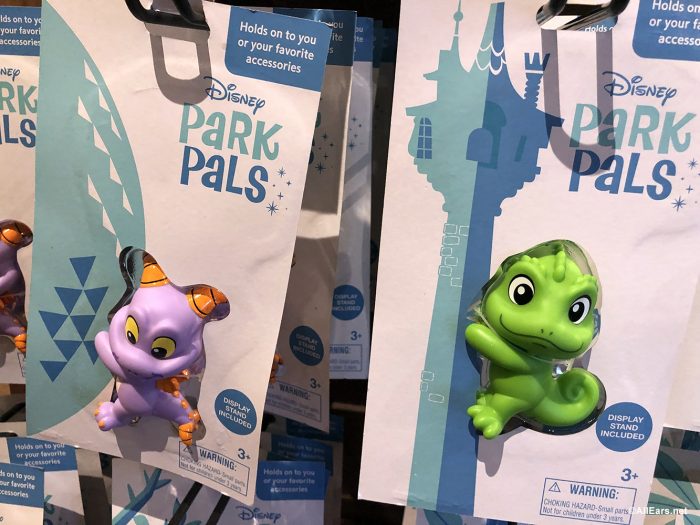 Which Park Pal will you (or your kids) pick out first?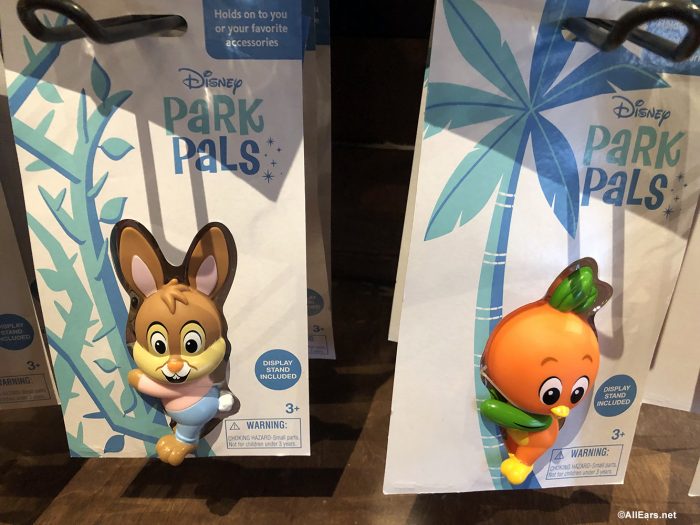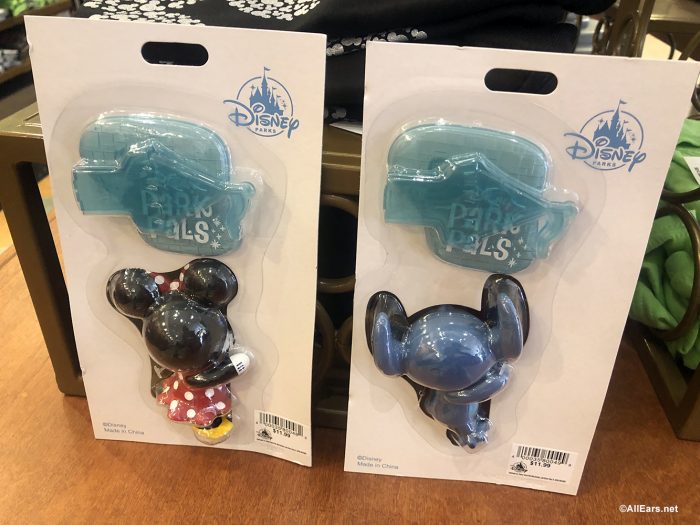 Well, look at what is back! Scrunchies! These throw us back to the 80s and 90s and the retro Mickey Mouse Club logo takes us there as well! Pass the mousse — time to crimp our hair and don our scrunchies!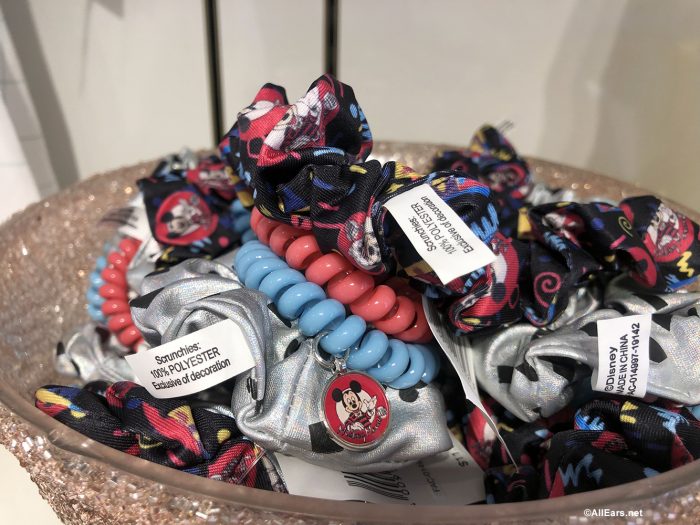 If you aren't into scrunchies how about that old phone cord style bracelet? The scrunchies and bracelet are $11.99 each.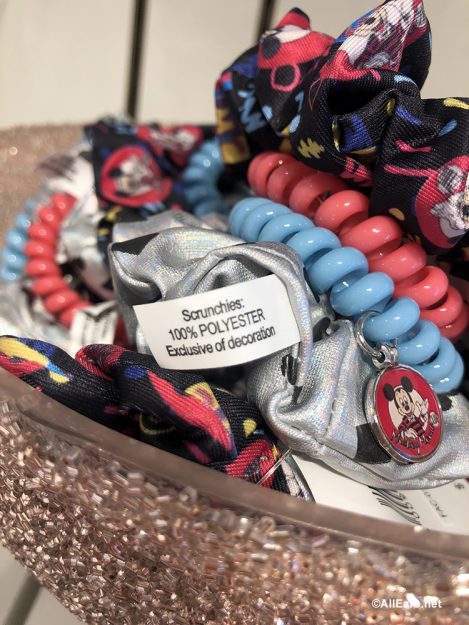 If you are like me and put off going to the grocery store until the pantry is bare Disney found a way to make going to the "market" a little more fun. I'll be adding this grocery list to my collection on my next Disney trip. Pick this up for 12.99.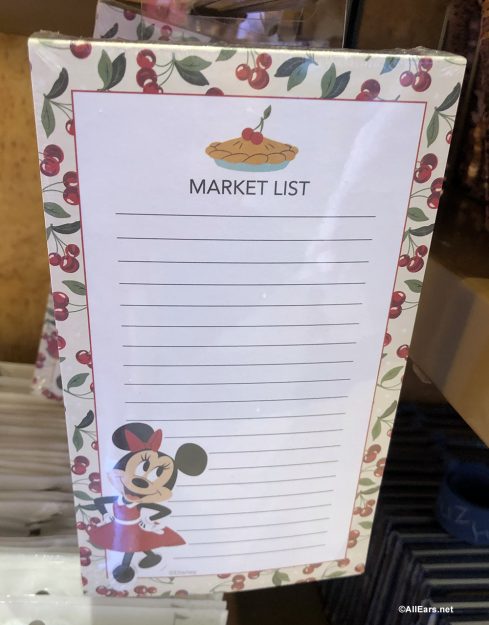 Shopping in Animal Kingdom
Picking up where we left off in Hollywood Studios, there's a new vintage-inspired recipe card and box that matches the market list. Have you spotted any of the hidden Mickeys on the list or recipe box?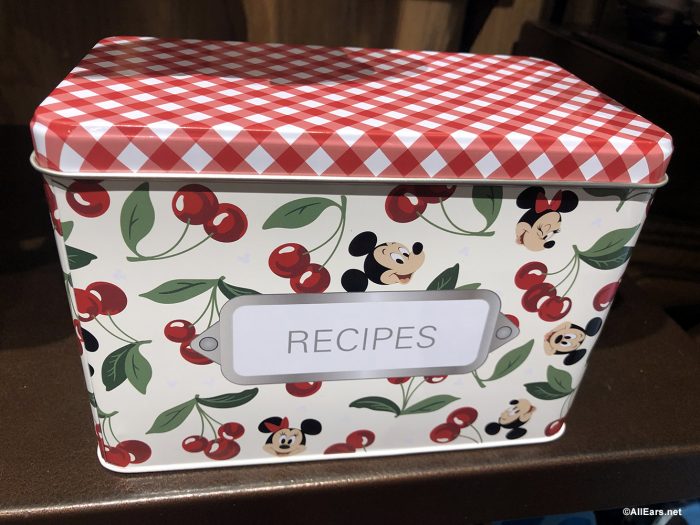 The recipe box is $12.99.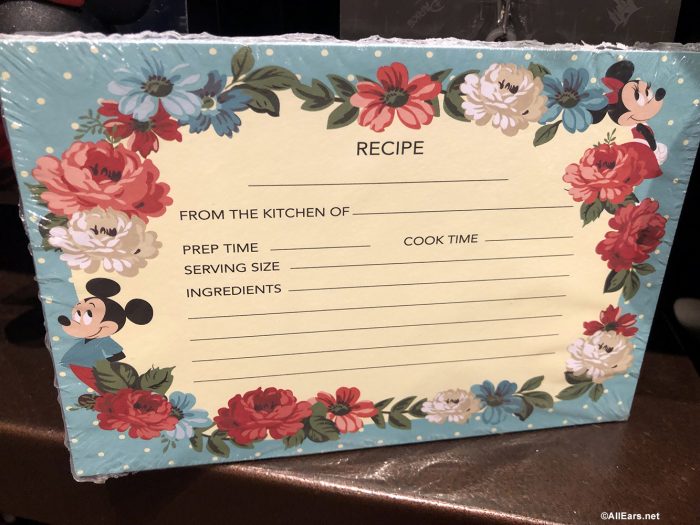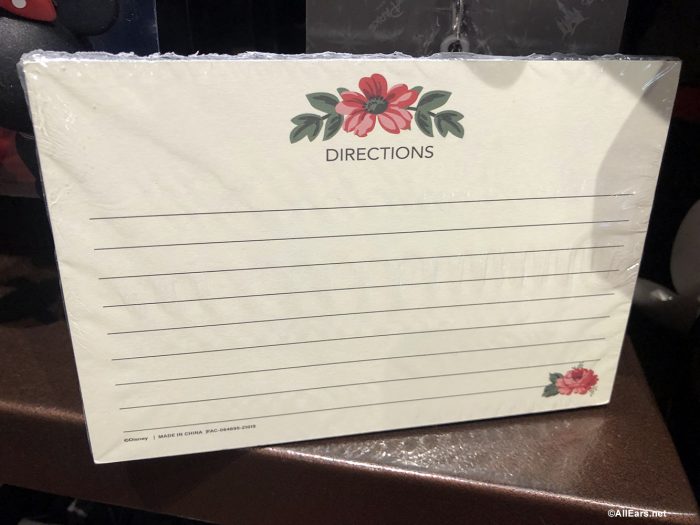 MagicBands are now presented in new packaging, you can see the entire band and the full design on them. That makes choosing just one a little harder now.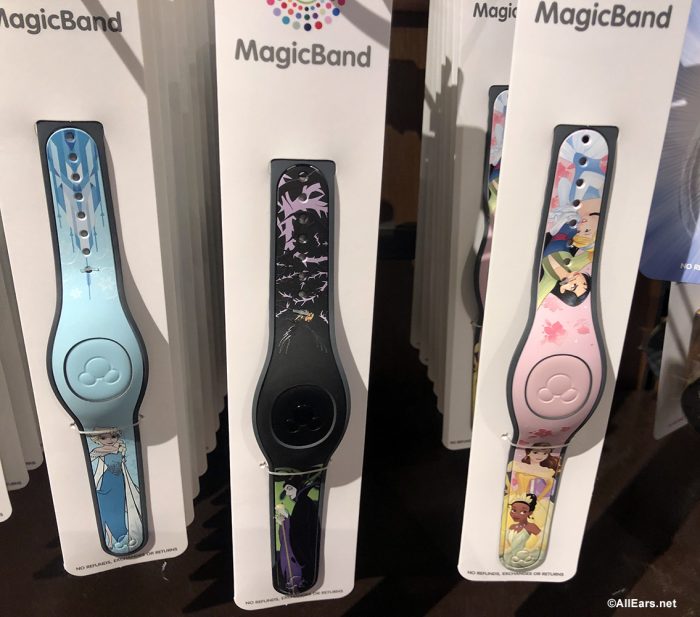 Those MagicBand fans out there might spot a new princess MagicBand. If you're a Maleficent or Elsa fan you'll find bands featuring them as well. The pink princess MagicBand is $24.99.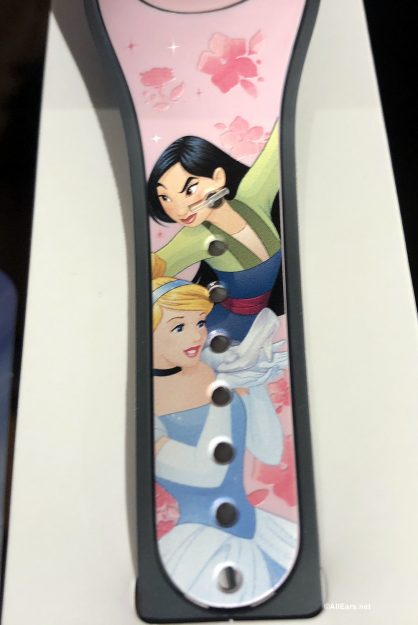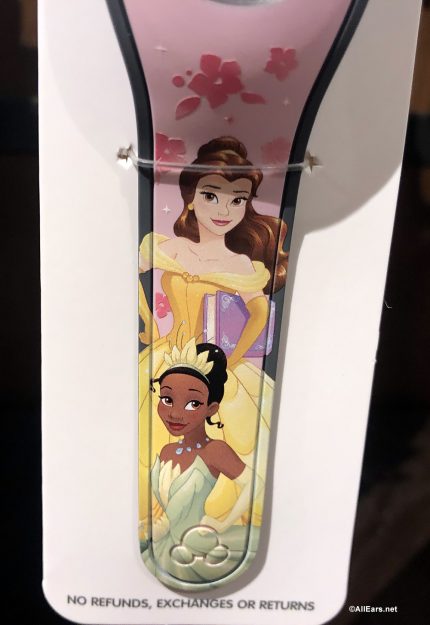 We spotted a new pin activity in Animal Kingdom called Tiny Kingdom.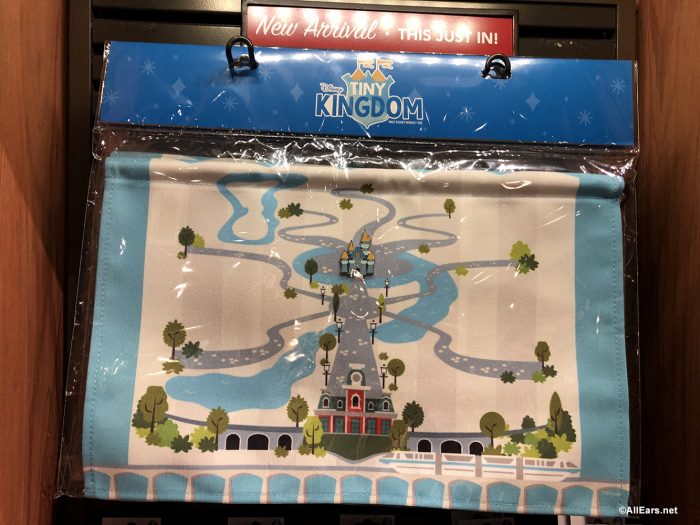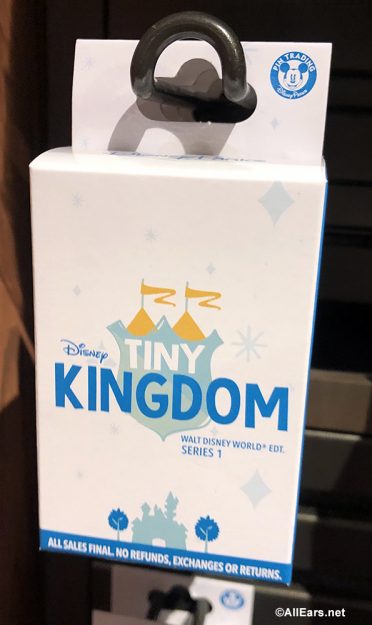 To work on this new activity you purchase a park map for $24.99, then the mystery pin boxes for $19.99 each. As your collection grows you can put them on the park map. In addition to buying more mystery pin boxes you can also trade for the pins you want.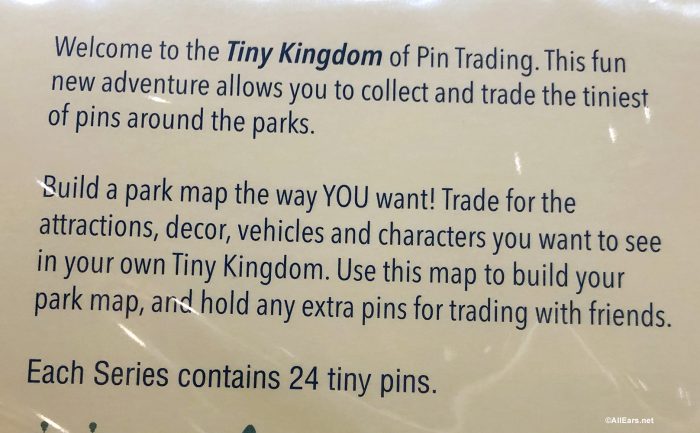 The series includes park icons, characters, seasonal favorites, classic Disney snacks, and more.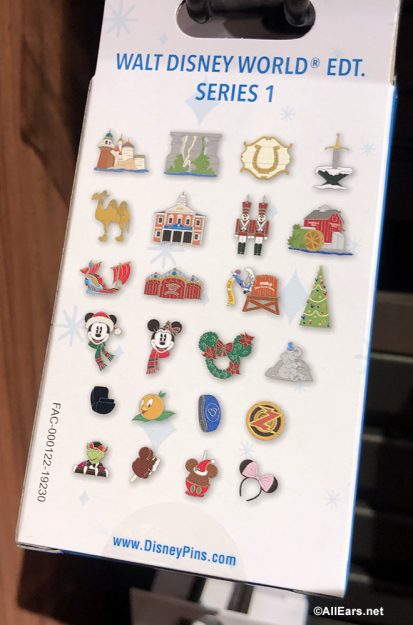 The map comes with a Cinderella Castle pin. When you turn the map around there is a pocket to store your duplicates if you get any.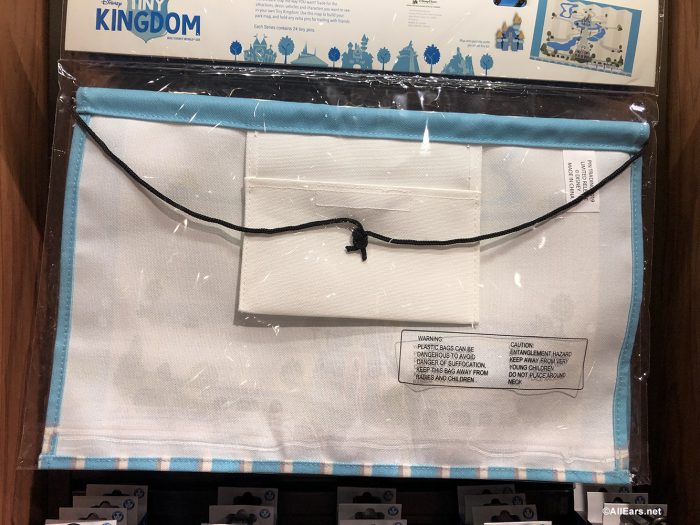 Shopping in Disney Springs
Remember the retro-inspired scrunchies, grocery list, and recipe box above. Well, Disney Springs is in on the whole retro/vintage trend as well!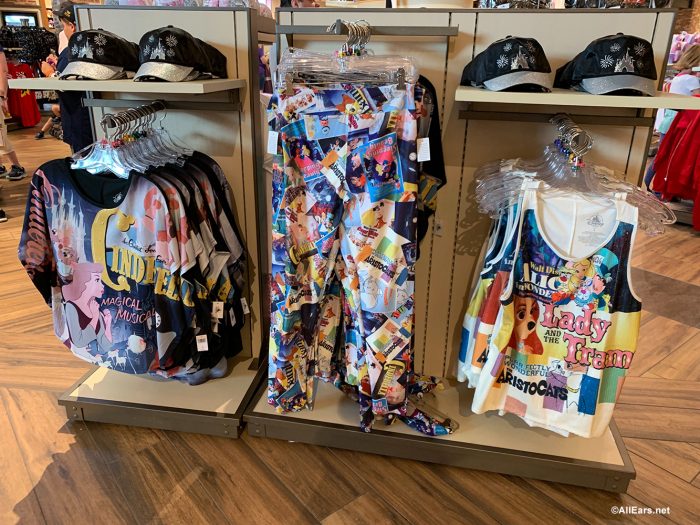 Let's take a closer look at what we have here. There are leggings covered with vintage Disney movie posters for $39.99, a sparkly sleeved-shirt for $39.99, and a sequin-covered jacket for $69.99.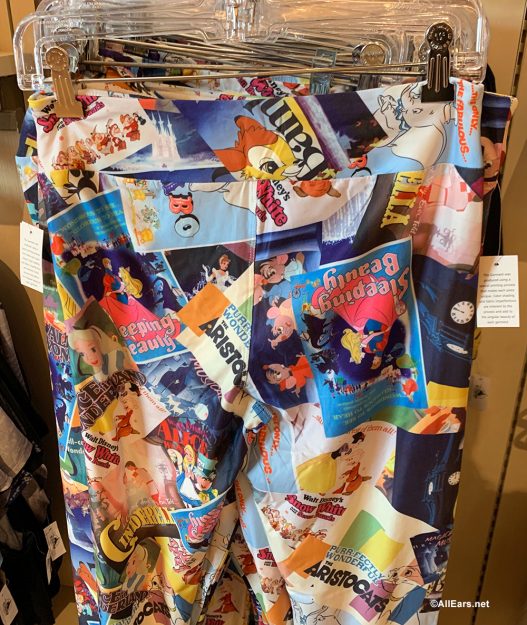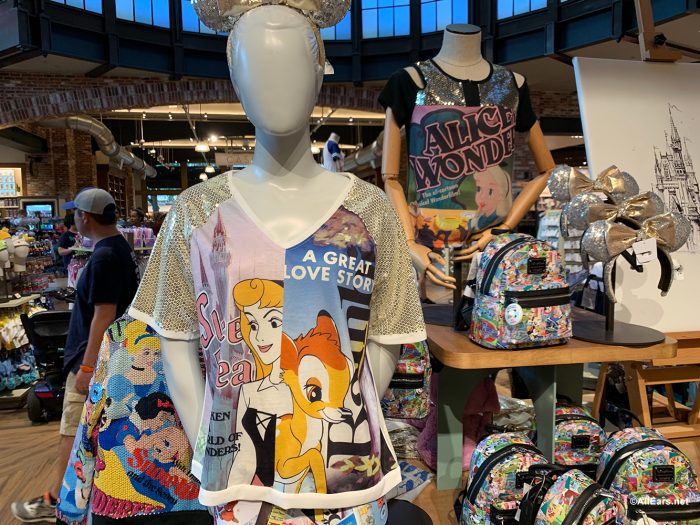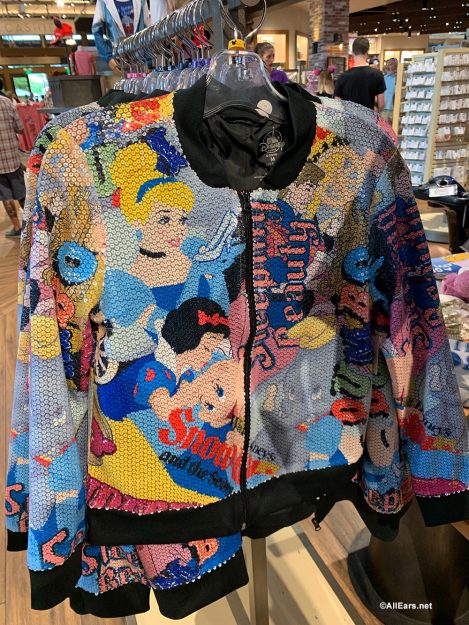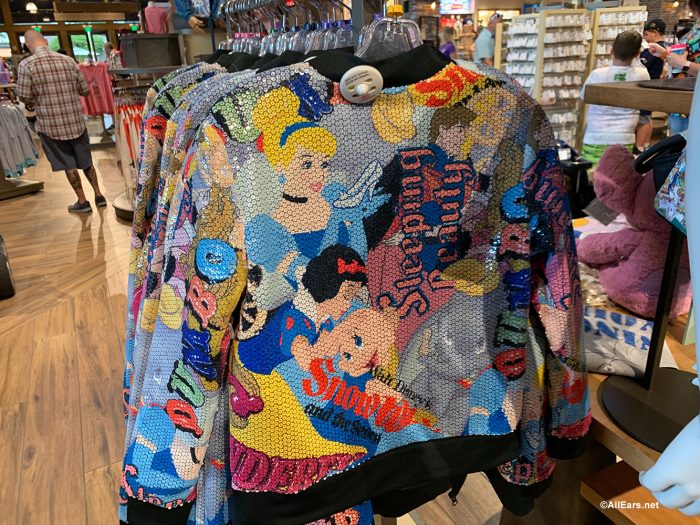 We're loving this 1971-inspired line. The tank and t-shirt featuring Cinderella Castle are $34.99 each.  For cooler days, or snuggle in bed days, the sweatpants are $39.99 and the hoodie is $49.99.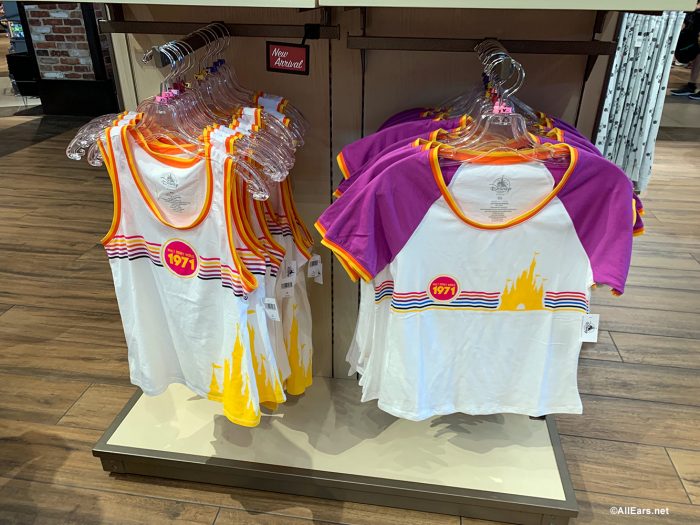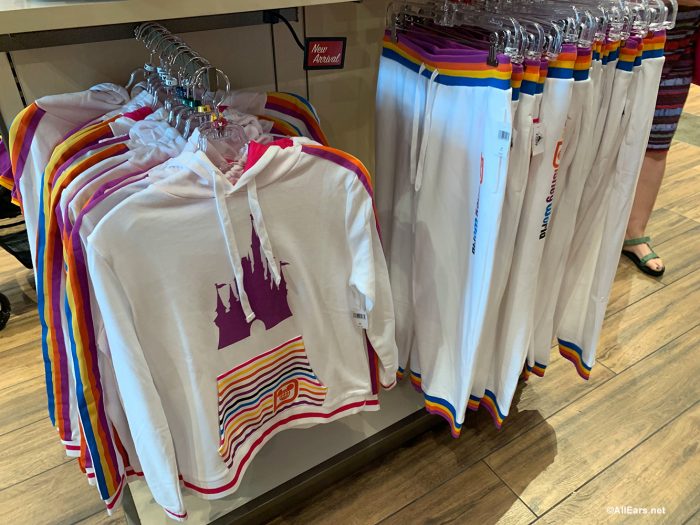 There's a set of Haunted Mansion line of plush collectibles featuring the Caretaker and Bride. You can take this odd couple home for $59.99.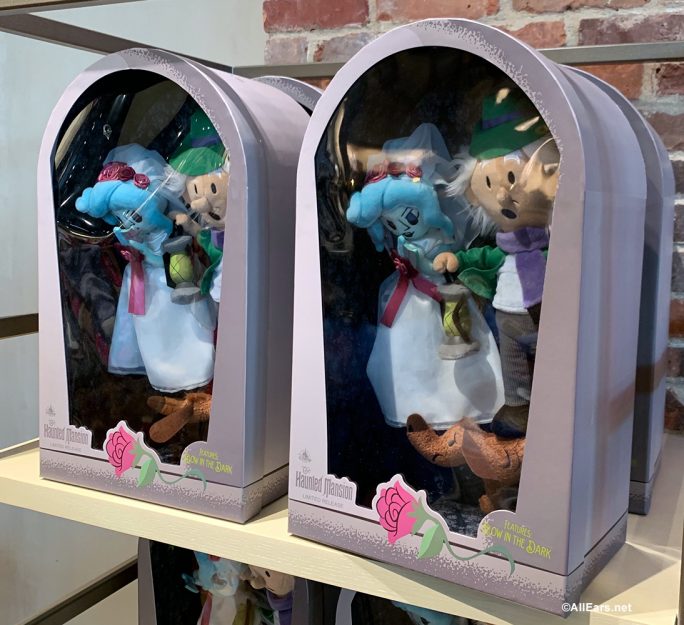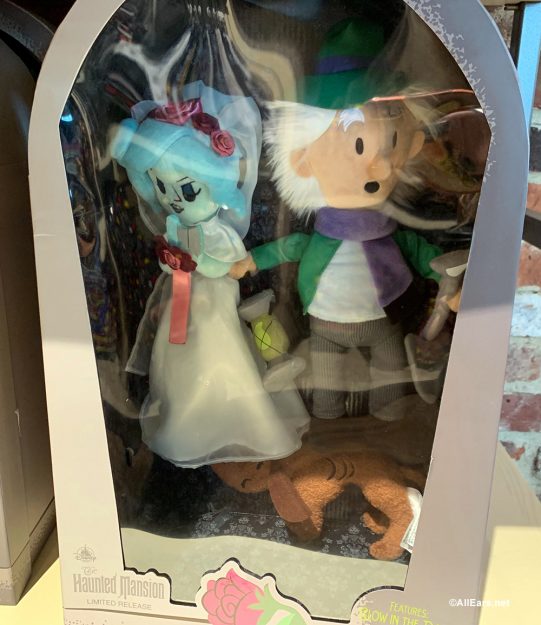 Pixar and Luxo fans can show off their love in this new halter dress for $128. The dress has a yellow top, with a skirt showing a playful Luxo and Luxo Jr. Don't worry if you can't make it to Disney Springs, you can order this dress online from home!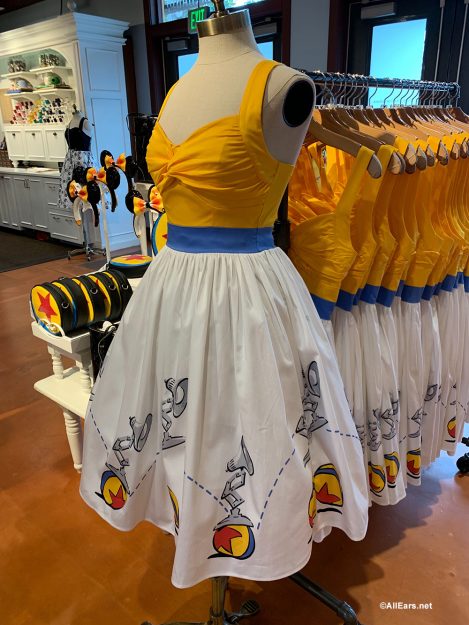 Be sure to check out the detailing on this dress, especially the back. There's a "hidden" detail embroidered on the back!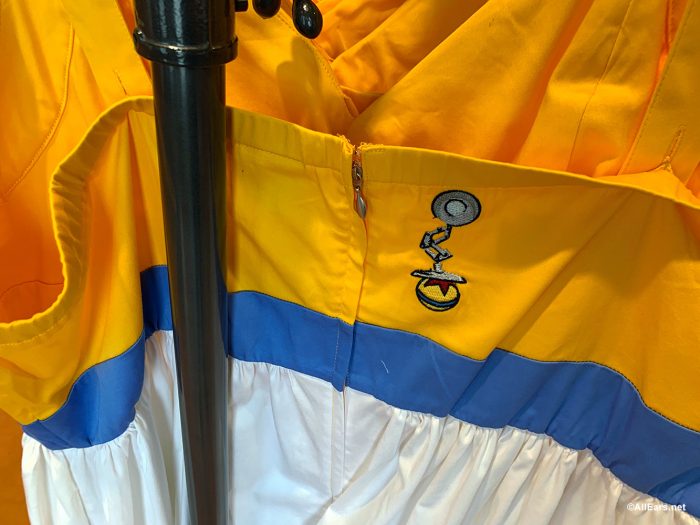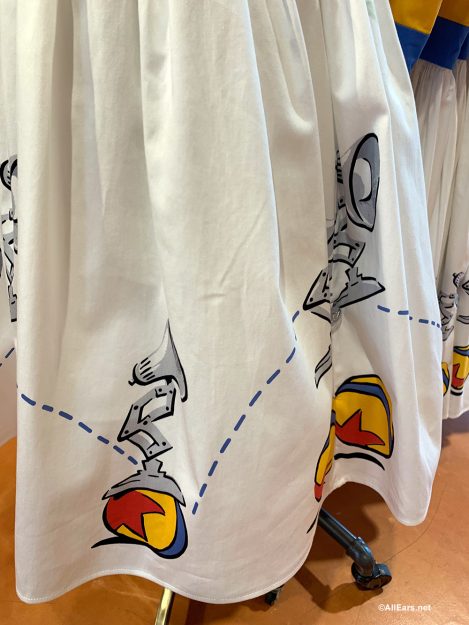 Well, we shopped until we dropped! Did you enjoy this new feature? What are you adding to your shopping list? Let us know in the comments!
Join the AllEars.net Newsletter to stay on top of ALL the breaking Disney News! You'll also get access to AllEars tips, reviews, trivia, and MORE! Click here to Subscribe!