D23 Expo 2019 has come and gone, leaving thousands of fans happy, tired, and richer in knowledge and merchandise — if poorer in actual money.  Most of the new information released during the weekend has already been reported here on AllEars.Net, but I'll be offering up my Expo experience as well.
One of the first presentations of the weekend was the traditional Disney Legends Ceremony.  We posted detailed bios of the first eleven honorees earlier, as well as the twelfth when Christina Aguilera was announced.  The show started off with Aguilera performing a great rendition of her single from Mulan, "Reflection."
Some highlights from the ceremony: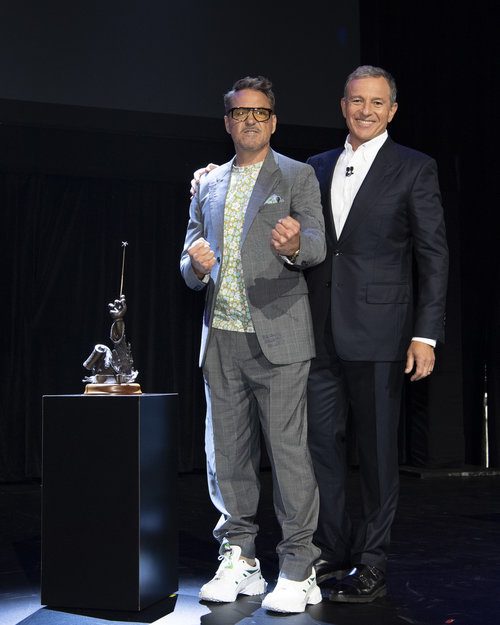 Downey:  "Here's a bit of trivia for you:  The very first time I went to Disneyland, I was transported to another place…within moments of being arrested.  I was brought to a surprisingly friendly processing center, given a stern warning, and returned to, if memory serves, one very disappointed group chaperone.  I've been sitting on that shame for a while, and I'm just going to release it tonight.  I would like to make amends to whomever had to detain me for smoking pot in the gondolas without a license."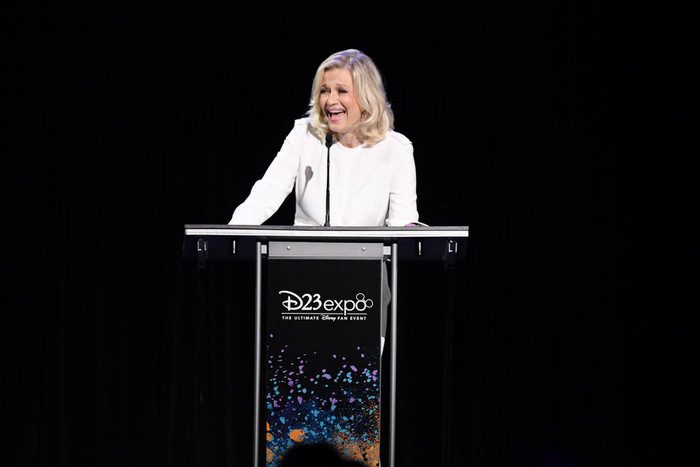 Sawyer:  "…I also just want to say:  Bob, I stole all the soap from the Disney hotel last night.  I hope that's okay.  I feel…I feel it's ungrateful, given everything you've done for me, but I also took the shampoo, I took the little dental kit, and because my wonderful team that is here gave me so many balloons in the middle of the night, I was staggering around and I knocked the chocolate Chewbacca off the top of the desk and I was trying to scrape it back together and remold it in my room to be worthy of this."
Favreau:  "I love this statue.  It represents…the scroll at the bottom, I think, represents ideas and inspiration.  The hand represents the craft, and of course, the star is the magic that comes from that.  I also love it because it comes from "The Sorcerer's Apprentice" from Fantasia, one of my favorite movies.  By the way, Mickey Mouse was rebooted for that in the 40s.  It was the first time he appeared with pupils.  And Twitter went berserk."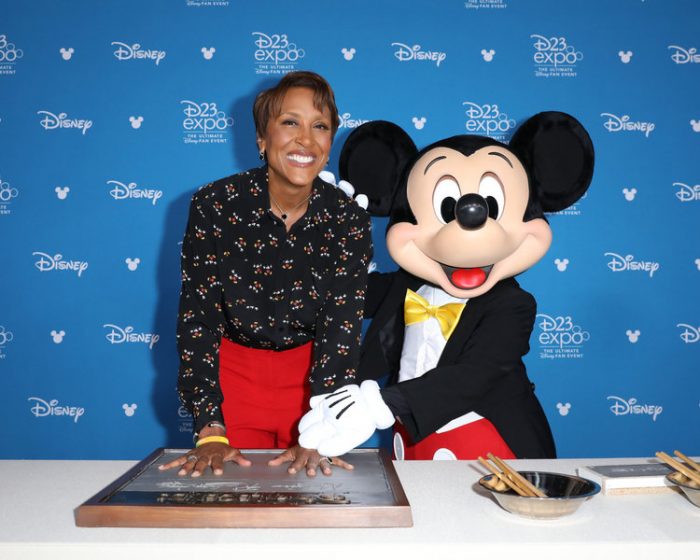 Roberts on her first visit to WDW:  "I remember, we stayed at the Contemporary, with the monorail, and all I remember is going 'golly Momma, what's that?!'  And the fireworks that night, and fireworks the next night, and I realize that every night was a reason for celebration."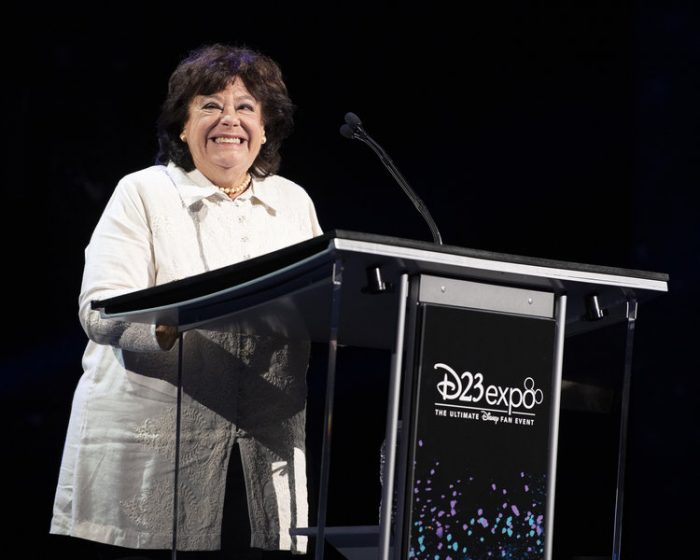 Ricci:  "Being able to create shows for a living and bring happiness and joy to people?  Gosh!  That is like the dream job of all dream jobs, and I was able to do that for so many years!"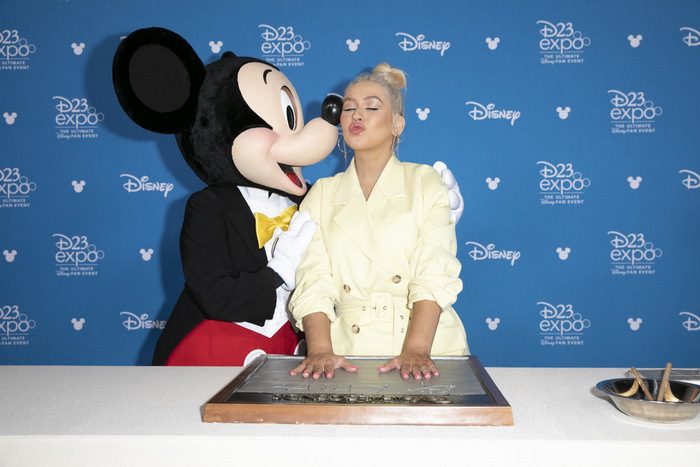 Aguilera:  "I lived in Tokyo when I was a little girl and so it's very nostalgic for me and a tradition to bring my kids back there around the ages of three to six…and Tokyo Disneyland is one of the places that we have to hit when we go there.  To experience that with my kids is very important for me because that was my first Disneyland experience, was in Tokyo.  And some people are like 'why would you go all the way to Japan and go to Disneyland?' I was like 'because they're ALL DIFFERENT, okay?  And you have to hit each and every one of them.  They're amazing and they all have their special signatures."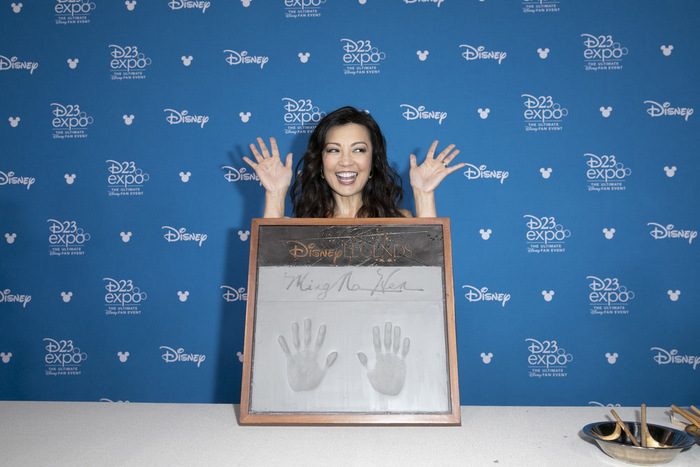 Wen (after the announcement that she will be appearing on the upcoming Star Wars Disney+ series The Mandalorian:  "I am such a geek girl, and please just keep acquiring all these different franchises because I just keep getting employed by them.  I have hit every bucket list thanks to Disney."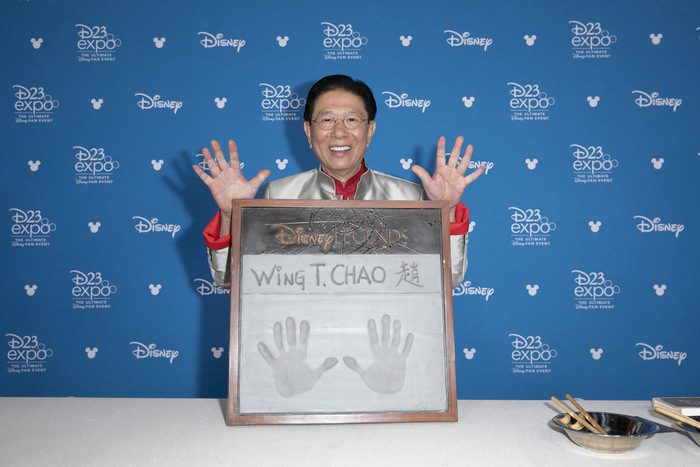 Chao:  "My name is Jackie Chan.  [laughs]  …My mother always wanted me to be a movie star.  Well, I thought that by joining Disney I would have a better chance of getting in the movie business.  For years I have been hoping Disney would make a kung fu architect movie.  Well, nothing has happened yet.  Bob, I'm wearing a black belt today.  Maybe audition later?  Because I'm ready for my second career and Oscar."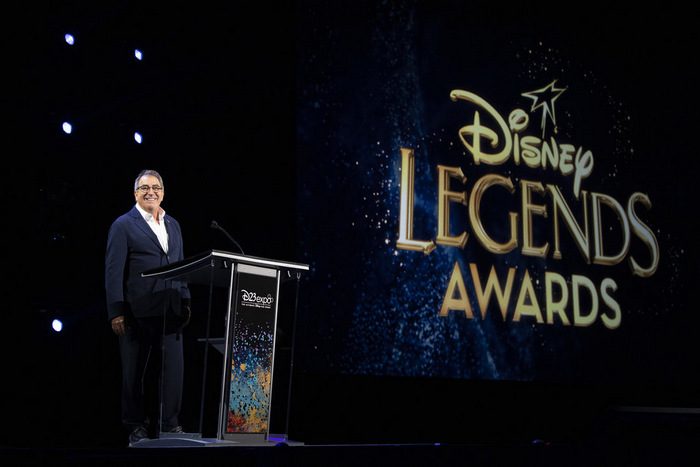 Ortega:  "I loved The Mickey Mouse Club so much, I wanted to be in that club so much that when I was five years old, I went into the kitchen and took a butter knife and I dismantled the back of our television set so I could climb inside the television so I could be in the Club.  My Mom saved me from electrocution.  And then I realized I had to use my imagination, and my imagination would get me into that club.  I would stand in front of the TV and would watch the roll call at the beginning of The Mickey Mouse Club.  Cubby was the first name, and I would wait there, sort of shivering in anticipation:  'Annette!'   "Bobby!'  'Roy!'  'Jimmy!' and I would scream 'KENNY!!'  And today is just extraordinary, I mean, I'm officially in the club, Bob.  I can't thank you enough."
If you would like to watch the entire ceremony, which was live-streamed, see below:
The ceremony was a little more sedate than in past years, where they featured big production numbers for virtually every honoree. The unfortunate absence of recipients Hans Zimmer, James Earl Jones, and Bette Midler robbed it of some of its star power.  Conversely, it also did not run overtime as much as previous ceremonies, which helps when the panel schedule is as tightly packed as D23 Expo always is.
Congratulations to all the new Disney Legends!
Questions?  Comments?  Suggestions?  Drop us a line below.
Be sure to follow @allearsnet on Facebook, Instagram and Twitter!
Check out our YouTube Channel for reviews, news, information and more!
Click below to subscribe to the AllEars® newsletter so you don't miss any of the latest Disney news!