Here is another chapter in how I photograph a location. In this one, the location was brand new to me so I had to feel my way along.
Maria and Enzo's Ristorante at Disney Springs has an intriguing backstory.  Set in a 1930's abandoned airline terminal in a Florida waterfront town, I kept thinking the period was right out of the live-action Disney movie, The Rocketeer, with its aeronautical theme and use of neon signage.
Notice the line in the sky behind the building? Any guesses as to what it is (no peeking!).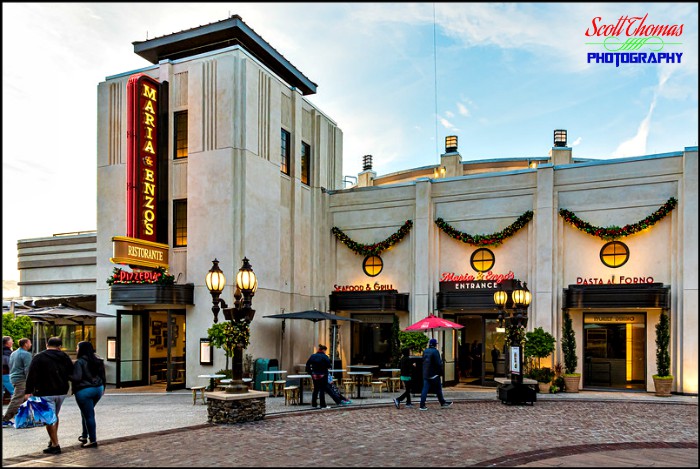 As I was waiting for the rest of my party to join me, I photographed the exterior of Maria & Enzo's Ristorante just as the lighting was becoming balanced with the late day sunlight.
Did you figure out what the line was yet?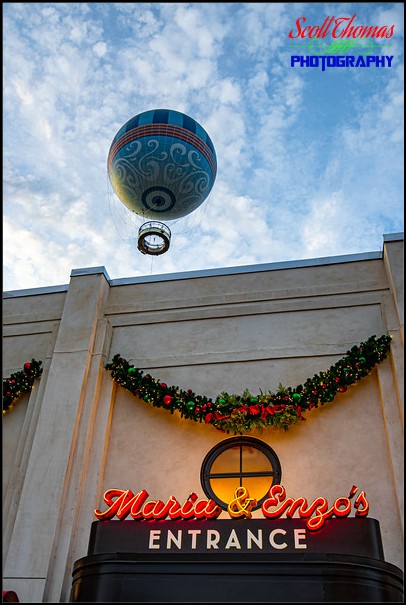 The Aerophile Balloon Flight experience launches behind Maria & Enzo's Ristorante. You can request seating where you can watch the tethered balloon take off and land.
In keeping with the air terminal theme, guests…excuse me, passengers check-in at the restaurant's entrance.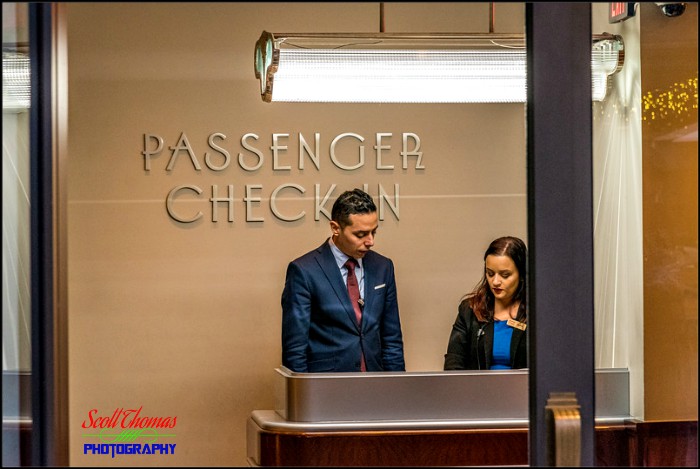 From there, passengers are escorted to the Terminal (aka dining room) of Maria & Enzo's Ristorante. It is an impressive sight when you come around the corner to this view.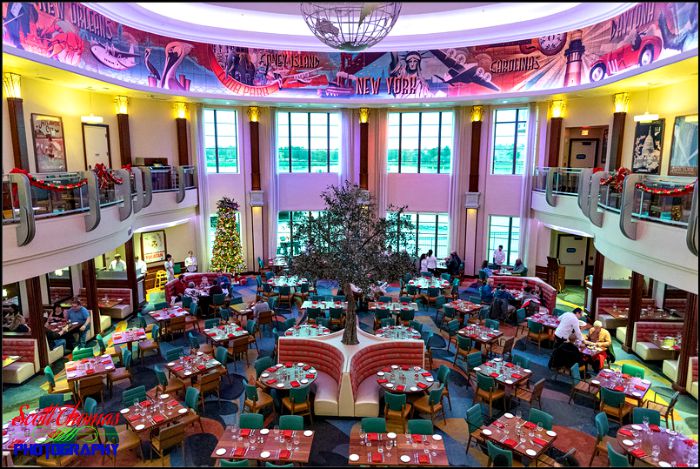 I did not bring a wide-angle lens with me but you can bet I will the next time I dine here. The travel motif continues with a globe hanging high above and destinations in the large banner ringing the room. There are lots of different options for seating from booths to open tables.
I know, I know…but what about the food?  Here you go!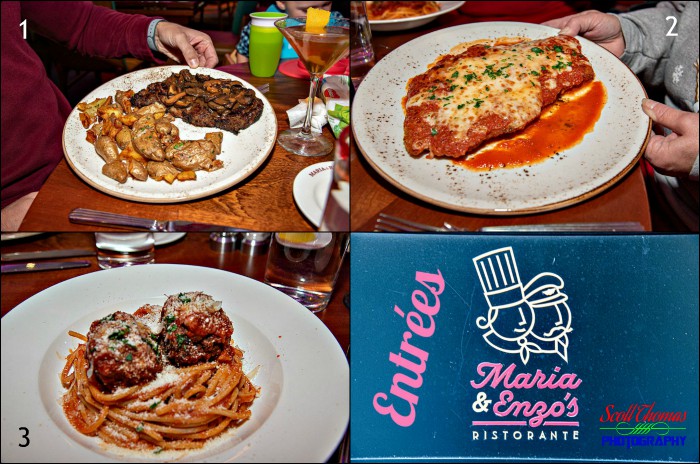 Here are a few of the entrées ordered by my party back in November of 2018:
16 oz. Rib Eye steak with roasted forest mushrooms, parmesan fingerling potatoes, and red wine reduction.
Chicken Parmigiana, a lightly breaded chicken breast, tomatoes, mozzarella, and parmesan cheese.
Spaghetti & Meatballs with traditional marinara sauce, parmesan cheese, and basil.
All were deemed delicious including these desserts: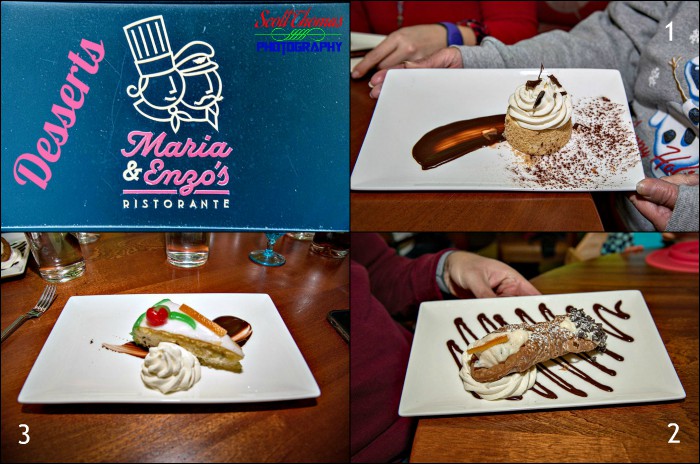 Enzo's Torta which is a chocolate and mascarpone cheesecake.
Cannoli featuring sheep's milk ricotta, chocolate chips and candied orange.
Cassata Siciliana which is a traditional sicilian ricotta layered sponge cake.
Hope you enjoyed this photo essay of Maria & Enzo's Ristorante in Disney Springs, which I highly recommend.
For more on the Aerophile Balloon flight, visit my article: Aerial Tour of Disney Springs at Walt Disney World.
What other locations at Walt Disney World would you like me to do a photo essay on? Let me know in the comments below, please.
Be sure to follow @allearsnet on Facebook, Instagram and Twitter!
Click below to subscribe to the AllEars® newsletter so you don't miss any of the latest Disney news!