There's been an awakening… have you felt it? Star Wars: The Path of Jedi has finally made its return to Tomorrowland in the Disneyland Resort!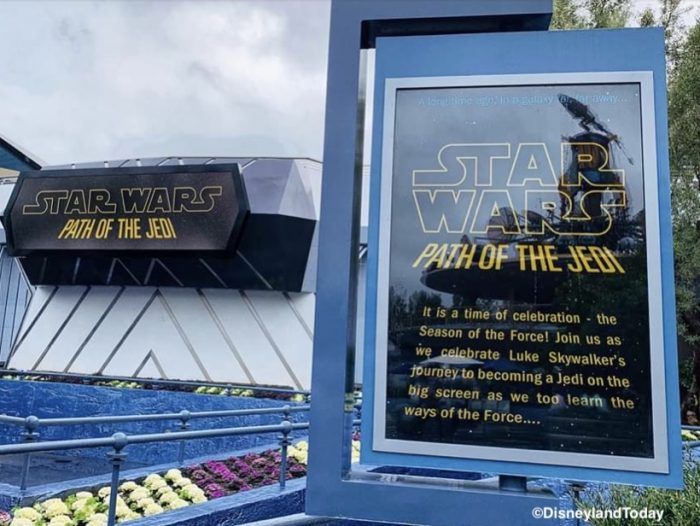 Star Wars: Path of the Jedi is so much more than a recap of the plot of the Star Wars films.  Instead Path of the Jedi takes you on a journey through the history of the Force and the Skywalker family. Iconic images, characters and dialogue from the saga are stitched together thematically instead of chronologically episode to episode.
When Tomorrowland Theatre was first home to the Star Wars: Path of the Jedi it gave park guests a 10-minute short film of memorable moments from all episodes of the Skywalker Saga. It even gave us a sneak peak at the film The Force Awakens! So we are hoping to get an update to it with moments from the newer Star Wars movies. The Tomorrowland Theatre in Disneyland recently had been used to give park guests sneak peeks at upcoming Disney movies.
Shows usually begin on the hour and continue approximately every 15 minutes throughout the day. Path of the Jedi is not presented in 3D so don't worry when you find yourself without 3D glasses. But who needs 3D when you have in-theater special effect lighting, wind effects, and moving seats to bring park guests directly into the action of a story in a galaxy far, far away?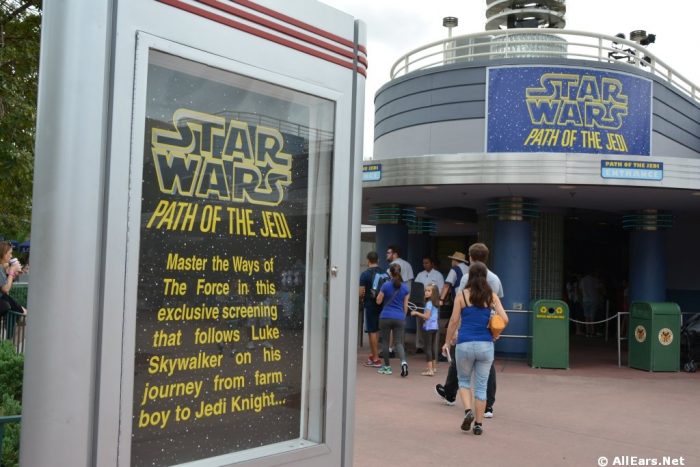 Disneyland is not the only home to Star Wars: Path of the Jedi. Over the years it has popped up in Disney's Hollywood Studios, Shanghai Disneyland, and Disneyland Paris.  We are very glad to have it back in Disneyland at Tomorrowland's own Tomorrowland Theatre, leading up to the opening of Star Wars Episode IX, the highly anticipated end of the Skywalker Saga!
As a huge Star Wars fan I am trilled to have this cinematic reel celebrating the Star Wars saga back in Tomorrowland. If you have not already seen all the Star Wars movies, Path of the Jedi will give you a very spoiler-filled overview of the ways of the Force. For Star Wars fans it's a way for us to relive our favorite moments in the happiest place on earth.
If you are a Star Wars Fan be sure to catch up on the rest of our coverage of all things Star Wars: Galaxy's Edge:
Are you going to check out the return of Star Wars: Path of the Jedi? Let us know down below with a comment! 
Subscribe to the AllEars® newsletter so you don't miss any exciting Disney news!