To all who come to this photo trivia game, Welcome! Along the way, the photos can make us relive memories and see details Walt's Imagineers put into everything we love in Walt Disney World!
Chris Kelly, I'm so very sorry about you losing your friend. That's a horrible loss.
Andy Hickey, have a great trip! I choke up just thinking about the last IllumiNations.
Now for Challenge #566
And here's the answer: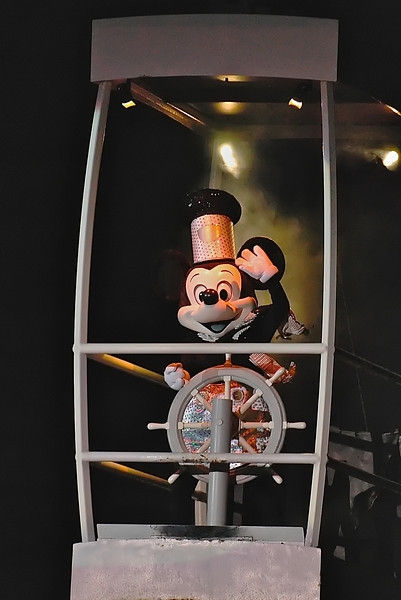 It is Mickey Mouse as Steamboat Willie in the Fantasmic finale! Happy Belated 90th Birthday, Mickey!
Adolph and Kimberly Timm were the first to send in the correct answer! Congratulations to Adolph and Kimberly and to all our winners this week!  Fred Terluin, Margaret Convery, Laura Sponaugle, Laurie Walker, Jenn, Gloria Martin, linda hoffman, Tammy Warmouth, Chris Kelly, Ed Suscreba, Claire Gregory, Larissa Huda, Emily Hudson, Axel Beer, The Gunnels Gang, Andreas Beer, Ken Savage, Beth McMeekin, Andrew Carrieri, Team Hill, SANDS FAMILY, Grumpys Groupies, Deb Ragno, Josh Weiss, Robert Wescovich, Mike & Jackie McLucas, Julia and Carol Wickware, Luis Rodriguez, Gina Shaw, Hillary Waldroop, Maureen and Warren Handy, Sue and Ed Adams, Jose Caballero, The Kertes Family, Kenneth Jackson, Joseph M. Zafia, steve Knapp, Jeremy A Hardy, Cathy Fleming, Mylene Seward, Jim Finley, Martha & Justin Collins, Ken Maikowski, Patricia Morin, The T isdale Family, Wendy T Faler, Russ Morgan, Kris Nixon, Theresa Maradei, Robert Migliaccio, Jess Gilroy, Kristin James, Jackie marshall, Jennifer DuPrey, Libby Werkley, Kelly Osterman, Jeff Horne, Debra Hirsh, Anita Goodcase, Kristen Hamilton, Natalie Fultz, Elaine Tomko-DeLuca, Kathy Raneri, Cindy Cox, John Eiler, Jeanmarie Simpson, Lisa Lawcock, Rebecca Smith, Caroline wilbert, Justin Hooper, Dee Halsey, Missy Narkiewicz, Margaret West, Kala Miller, Kim, Denise McLain, Angela, Laurie, Cindy Peck, Lyn Johnson, Tere Sizemore, Pamela Anderson, Alex Schiffer, Arlene Vicek, Dawn Turkovich, Karrie Rodriguez, Patricia C Sullivan, Maureen Collins, leach family, Bert Ledder, Annie Middelberg, Vera and Izzy Williams, Mary Pauley, David Sloan, Susan Basista, Christina Cummings, Tami M, Melissa Haeberle, Nicol Michalski, Pamela Hanke, Jenny Crook, Toni OBrien, Joyce Eimer, Toni Hahn, Erin Gomes, Phillip Martinez, Peter Lau, Andrea, Phyllis, Mary Virsila, Eric Enli, Erin Hammer, Jeff Blank, Jillian clark, Megan McKenzie, Tom Welliver, Dawn, Sara mcdermott, Blake Sdhmidt, Bob Patterson, Michelle Price, David Kachmarik, Andy Hickey, Jeff Buller, Herb Miller, Jeremy Reichelt, Shelly Borella, glenn meyer, Cindy Hardin, Mark Hardy, John Baker, Michael OBrien, Michaela OBrien, Karen O Brien, Jamie Poynton, George Calnan, Janet T Thorn, Karen Spreitzer, Becky Himsworth, Patrick Broaddus, The Patterson Family, Michelle Geoffrion, Dee Dee Kenney, Karen Punch, Timothy Johansen, Kristi Jack, Kyla Ruwet, Tony Jack, Rebecca Keenan, George Mundy Jr, John G, Sharon Leitgeb, Jackie Graebel, Donald Purney, Jodie S., Vincent DeGasperis, Jodi Cook, eresa rucando, Sherri Pell, Teri Michalski, Meredith Anzur, Michael Thomas, Carri Marotto, Megan Przychodzien, Richard McKillop, Stephen DiBona, Eileen Zander, mis jamie marie, Jeanne hess, JoAnn Albrecht, Jessica Polizzotto, Christine M Tyrrell, Jamie Steiner, Chris, Brian McWithey, and The Gallagher Family!
_______________________________________________________
Challenge #567 Where in the world is this?
Let's head to another park.
Do you know? Do you have a guess? Please send in your answer before the end of the day on Thursday, December 20th, by clicking on the blue box below.
Please do not post your answers on this blog post.
See you soon, Players!

_____________________________________________________________________
Everyone who sends in a correct answer to a Where in the World Challenge this month will be entered in a drawing at the end of the month for some special AllEars® goodies!
Remember! When you're in Disney tag us @allearsnet in your photos!
Click on the graphic below to subscribe to the AllEars® newsletter — don't miss any exciting Disney news!