While we still have a wee bit of the weekend left, I thought it would be a good time to write about my recent visit to Raglan Road Irish Pub over at The Landing neighborhood at Disney Springs.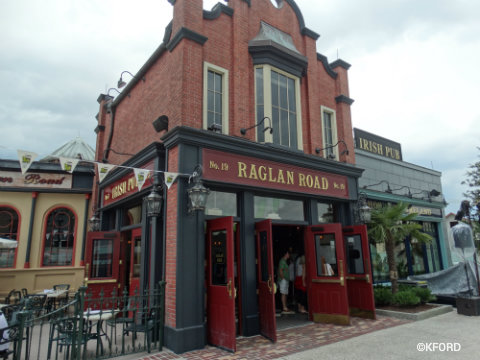 Raglan Road has long been a favorite of mine — it speaks to my Celtic roots — but it had been a while since I had stopped in for more than a quick drink. This visit, I was invited to try a few new items just added to the menu, including a few brand-new cocktails.
And why not start with the cocktails? It's always 5 o'clock somewhere!
This ginormous new cocktail is called The Pride of the Peninsula and if you're a gin-lover like I am you won't dispute that name for one second. The drink capitalizes on the current popularity of gin-based beverages, specifically, in this case, the exclusive Dingle Gin, straight from County Kerry in Ireland. I'm no stranger to cucumber with my gin, and quite enjoyed the chunks mixed with sprigs of mint — the elderflower tonic water enhanced the botanicals in the gin and made for quite a refreshing drink. If you think a wedge of lime is the only way to dress a gin and tonic, be sure to give this a try!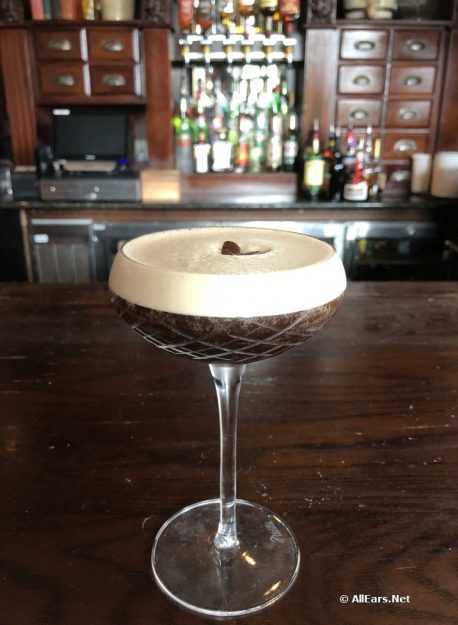 The new Espresso Martini mixes together Dingle Vodka, equal parts of banana liqueur and creme de cacao, and a shot of espresso — garnish that with a few coffee beans and you have a smooth drink with a jolt of caffeine that goes down all too easy. I didn't taste the banana, but as a coffee lover, it was the rich espresso flavor that sold me on this.
The menu items I tried tantalized my taste buds just as much. I started with one of the newer appetizers on the menu, the Chunky Monk ($13). This collection of beer-battered monkfish coupled with deep-fried zucchini strips was practically a meal in itself. Accompanied with tasty house-made tartar sauce, I could have stopped right there. But did I? Of course not!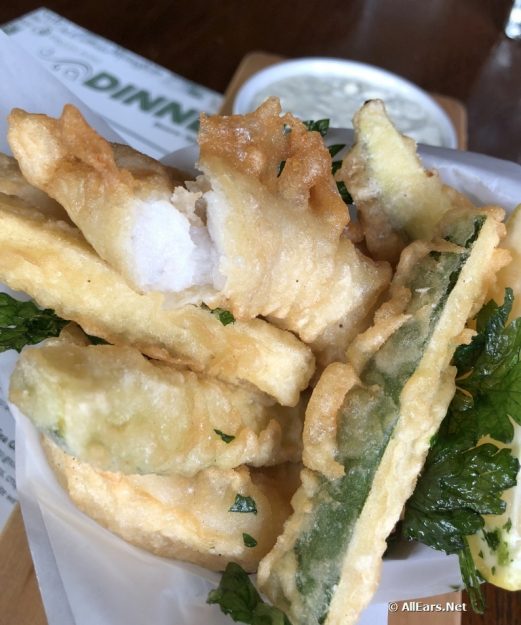 There was creamy Raglan Risotto ($20) on the menu, which had me at the first mention of butternut squash.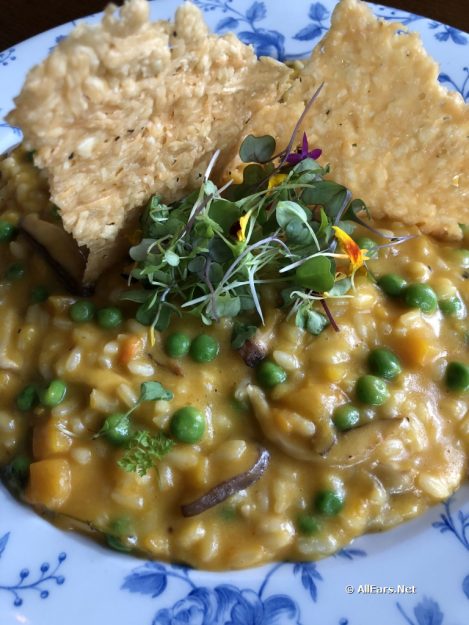 The super-rich dish also has shiitake mushrooms, peas and yes, those are edible flowers mixed in with the micro-greens. If you're feeling like you need a little more protein than the parmesan will give you, you can even add chicken or shrimp to this scrumptious dish for an additional charge.
Then there was Raglan Road's updated version of the old standby, Bangers and Mash ($22). This sausage and mashed potato combo has been made even better with the addition of a flavorful onion gravy that is both more traditional and more savory than the dish's previous version. Bangin' Bangers and Mighty Mash, indeed.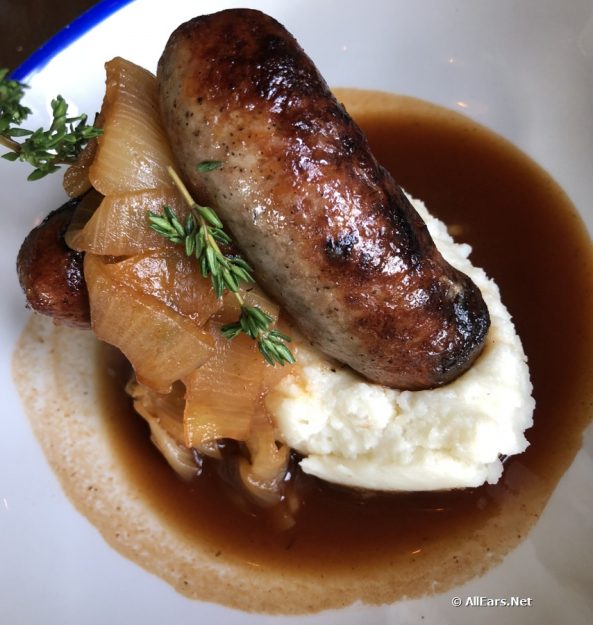 Finally, I tried two new specialty sandwiches that were definitely Instagram-ready! However, *I* was not quite ready for them — they were so huge I would need to a jaw-jack to take a bite out of them! Instead I had to deconstruct them a bit to get daintier mouthfuls without making a mess.
The first behemoth was the Pork Blah Blaa, so called because of the flour-dusted white "blanc" bun. It was a slab of porchetta — pork loin rolled with a savory seasoned stuffing — dressed with caramelized onions and a Celtic chutney. The porchetta was surrounded by a crispy ring of pork crackling.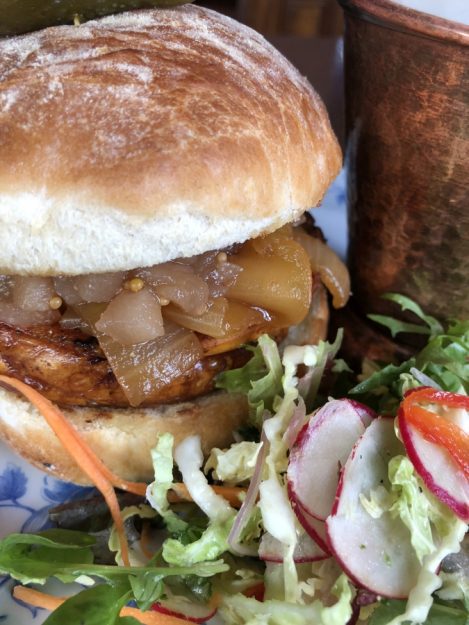 I found this a little hard to cut through, which made me wonder how you would bite or chew through it if you were eating this as a sandwich, not with a knife and fork as I was. Still, the sandwich was undeniably tasty and came with a generous serving of "skinny chips" (that's French fries to us Americans!) , which, for $17, seemed like a great meal deal for a hearty lunch.
Finally, there was a delicious, enormous club sandwich, called the Joycean Club ($18) — a play on both the name of Joyce Farms, which the chicken is from, and Irish author James Joyce.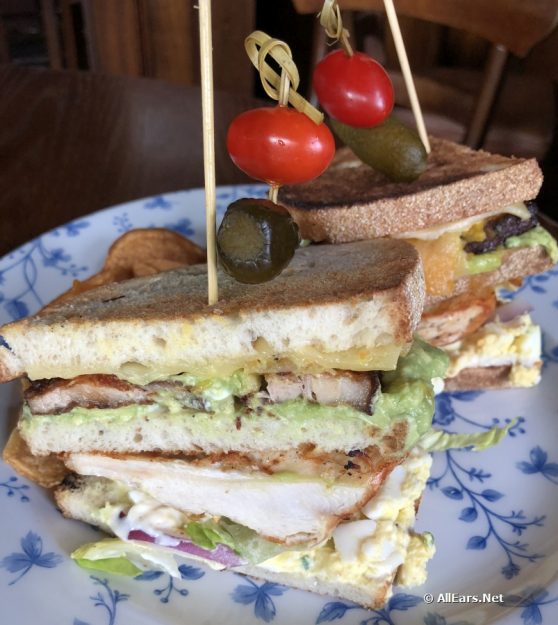 This sandwich had it all, and I mean all! Again, too tall for me to squeeze into my mouth without disastrous effects, I took to my utensils again. But honestly, I loved every layer of this club. Juicy white chicken breast, fried tomato, pork belly, avocado, egg salad, along with lettuce, melted cheese and onion, all between slices of toasted sourdough — it left you wanting nothing else. I would definitely order this again, but would plan to skip dinner that night.
I was so happy to have the opportunity to try these new offerings at one of my favorite Disney restaurants, while soaking in the authentic Irish atmosphere — what a pleasant way to spend the afternoon. I promised myself that I won't wait too long to get back there again for another Pride of the Peninsula and more.
Check out the full menus for Raglan Road here:
Raglan Road Lunch
Raglan Road Dinner
Raglan Road Kids' Menu
Raglan Road Brunch
DISCLAIMER: I was a guest of Raglan Road at this tasting, but that did not influence my report; my opinions are my own.
If this has whet your appetite for more about Raglan Road Irish Pub & Restaurant, be sure to check out these links.
You can see what others thought of Raglan Road in our Reviews section — or leave your own rating.
Thinking about making some authentic Irish dishes at home? We have a number recipes from Raglan Road in our extensive recipe database.
If you're curious about the live entertainment you might find at Raglan Road, take a look at our video from the venue's annual Great Irish Hooley.
Heard about our FREE weekly newsletter? It's full of tips, news, features and fun! Subscribe by clicking the link below, and you'll get our FREE download of 109 Tips for the Perfect Disney World Vacation!