One of the major aspects of Pixar Fest at the Disneyland Resort is all of the special limited time food offerings…there are so many! And I'm sure you've all been waiting for me to review some of them, right? 🙂 OK, maybe not, but I'm going to do it anyway now that I've made my second trip and have had a chance to try a few more items.
Alien Pizza Planet has a number of new items on the menu. I tried the Edamame Noodle Salad. Grilled chicken breast, cabbage, green beans, edamame, shredded carrots, mint, and cilantro over cold soba noodles in a ginger-lime vinaigrette for $10.49. It might be the tastiest salad I've ever had in a theme park. Really a nice combination of flavors – not too much mint or cilantro. But there was way too much dressing – at least it was a vinaigrette and not an oily dressing. Still, next time I would ask for one made to order (I took one off the counter that was already prepared) with either half the dressing or the dressing on the side. The chicken was also a little bit mushy. But overall I really liked it.
Paradise Garden Grill also has a new menu for Pixar Fest, though a few of the offerings were on the menu during the Viva Navidad celebration over the holidays. One of the new items is Mole Verde con Pollo, $11.99. Herb-braised chicken with golden rice, black beans, and tortillas. I always thought "mole" was brown, so I was surprised to see green mole. The edible marigold petals gave it a nice splash of color. Underneath the sauce was a smallish chicken leg and thigh, still on the bone, so there wasn't a lot of meat. The flavor was good, but I don't think I'd get this again – there's another item on the menu that I REALLY like, which I will get to later.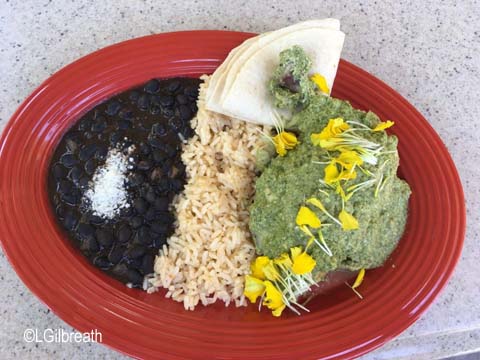 Award Weiners has a Pulled Pork Dog. A hot dog topped with pulled pork, spicy teriyaki sauce and fresh pineapple salsa for $9.79. Served with filmstrip fries. They weren't kidding about "spicy teriyaki". Whew. I noticed that starting with some of this year's Food and Wine Festival items the culinary team has turned up the heat, and that's continued with some of the Pixar Fest items, too. I didn't taste teriyaki at all, and thought the spicy heat came from the pineapple salsa. The salsa itself was ok – it had way too much raw red onion. Not sure I would get this one again.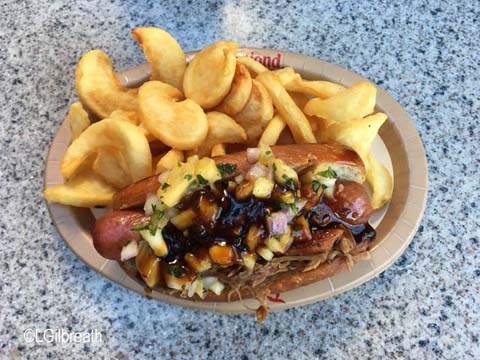 At Lucky Fortune Cookery there's a Chilled Noodle Salad for $10.49. At the media event I was told this was inspired by Harryhausen's in Monsters, Inc. It's chilled glass noodles with mint, Thai basil, cucumbers, shredded carrots and daikon, and tofu, with peanuts on top. It comes with a Ponzu dressing and a lime: squeeze the lime over the noodles and then pour the dressing over them, stir, and the blue noodles will start to turn pink. It was very citrus-y and acidic. I enjoyed the flavors but I thought the noodles weren't cooked enough, and were chewier than they should be.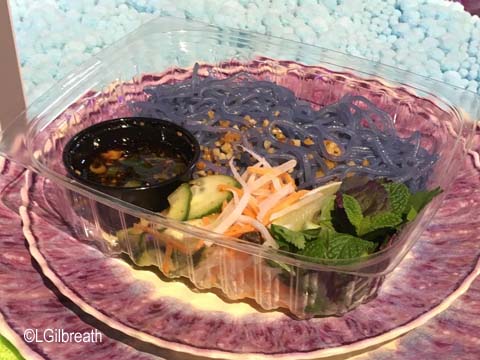 During the reception at the Pixar Fest Media event there were samples of a number of items for us to try – most of the items were correspondingly sample sized, so take that into consideration in some of the photos. What you see is not what you will get if you buy it.
The Habañero Meatball Cone is available at the Cozy Cones for $8.99. It's turkey meatballs in a habañero derby sauce with spiral pasta and cheese crisp. Pretty tasty, but also spicy – see comment on the hot dog above.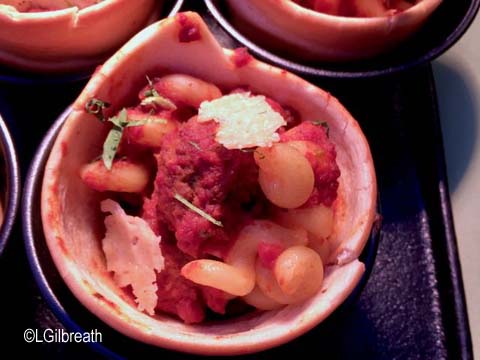 Paradise Garden Grill has Tortitas de Papa con Queso – crispy potato cakes with cheese – for $11.99. This is one of the items returning from Viva Navidad. It's topped with ranchero salsa and pickled onion salad, served with golden rice. I really liked this. Not too spicy, but nice flavors and textures. It'll definitely be on my list if I get to Paradise Garden Grill again during Pixar Fest.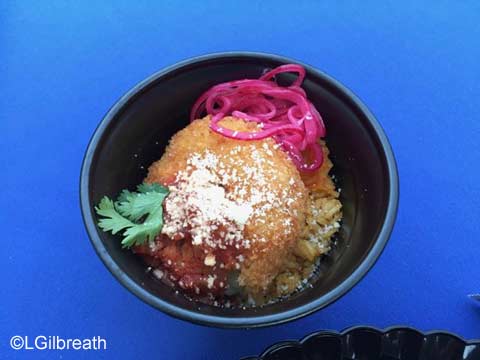 There are a LOT of sweet treats that are part of Pixar Fest.
Jolly Holiday Bakery has the Chocolate-Hazelnut Pastry with a picture of Carl Fredricksen on it. Think $5.99 Pop-Tart. I thought the filling was good, but overall it was mostly pastry, which was on the dry side.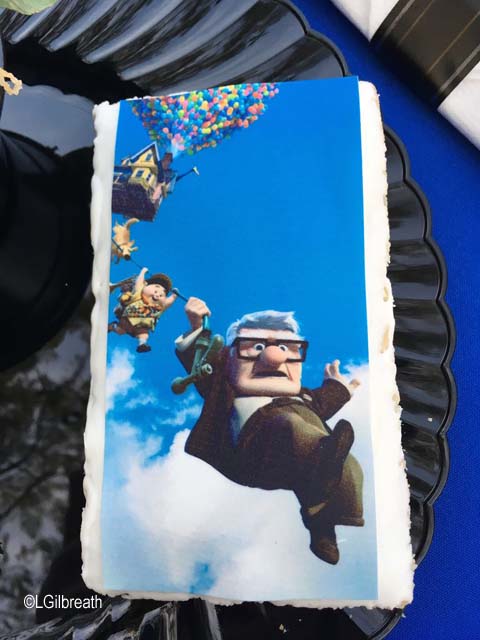 Alien Pizza Planet has the Alien Macaron for $5.99. It has a lime and blackberry filling. It seemed like an odd combination to me, but neither flavor was particularly strong. Mostly the macaron was just really, really sweet. Too sweet for me.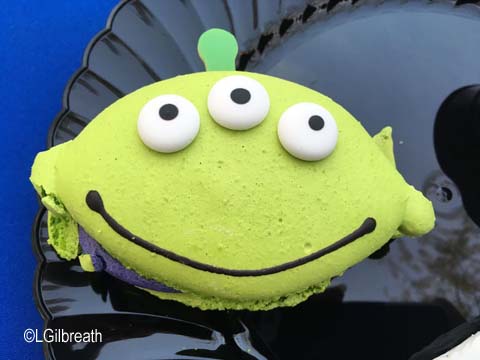 The churro cart in Flik's Fun Faire offers a Bugs Land Churro for $5.25. A regular cinnamon sugar churro drizzled with donut icing and dusted with cocoa cereal. This was really good. With all of the sugar you wouldn't think it needed more sweet, but the icing was sort of a different sweet, and the cereal gave it a crunchy element. The icing and cereal was only on about half of it, though – the bottom was wrapped in paper so there was something to hold onto.
Adorable Snowman Frosted Treats just opened, and its most popular item is the new Pixar Pier Frosty Parfait for $5.99. It's quite colorful, with layers of lemon soft serve (non-dairy – think lemon Dole Whip) and blue raspberry slush, topped with a cherry. I was concerned that it would be really strongly lemon-flavored but it isn't – just enough to be refreshing. Be aware that the slush melts MUCH faster than the soft serve, and on a warm day that top swirl of soft serve can become very unstable. Plus the slush melts and can overflow the top of the cup – and it's sticky. It was served to me with a long spoon, but I'd recommend that you grab a straw, too. I must admit that I didn't think I'd enjoy this very much but I was wrong. I'd get it again – though I hope I don't have to wait 20 minutes for it next time!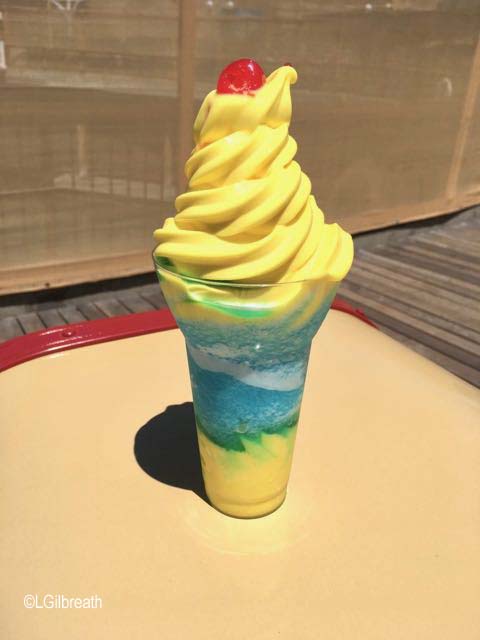 Yellow and blue still make green. 🙂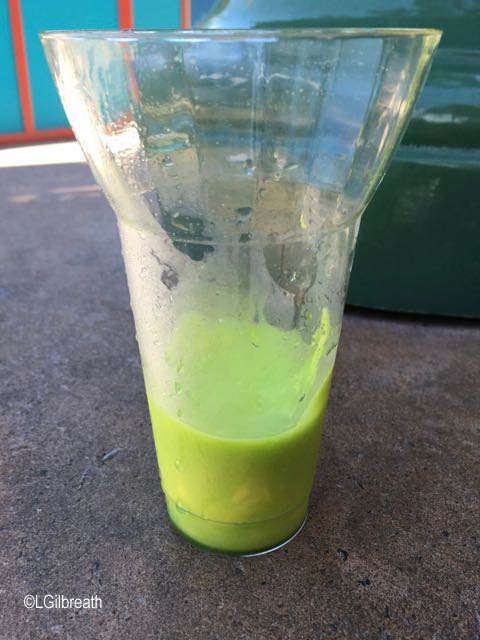 That's everything that I've tried so far…there's still a number of items on my list, though. Good thing I have until September 3!
What Pixar Fest food items have you tried? Any recommendations? Leave a comment and tell us what you liked or didn't like!