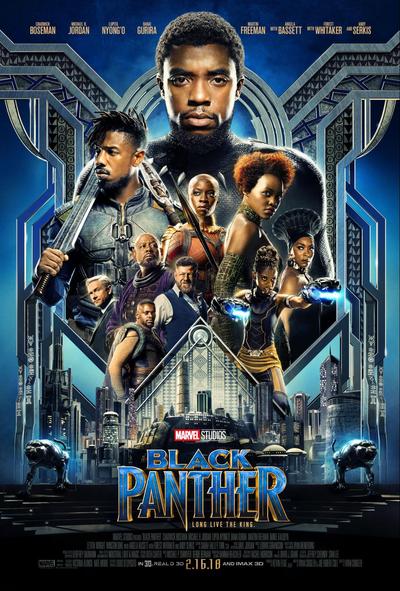 This week the latest installment of the Marvel Cinematic Universe comes to theaters: "Black Panther."
[All non-attributed photos and video courtesy of Disney.]
At a recent press conference the cast and creatives for "Black Panther" met to help introduce the world to Wakanda. In attendance: Chadwick Boseman "T'Challa / Black Panther," Michael B. Jordan "Killmonger," Letitia Wright "Shuri," Lupita Nyong'o "Nakia," Danai Gurira "Okoye," Martin Freeman "Everett K Ross," Daniel Kaluuya "W'Kabi," Winston Duke "M'Baku," Angela Bassett "Ramonda," Forest Whitaker "Zuri," Andy Serkis "Ulysses Klaue," Director Ryan Coogler, and Producer Kevin Feige.
Select moments from the press conference video above: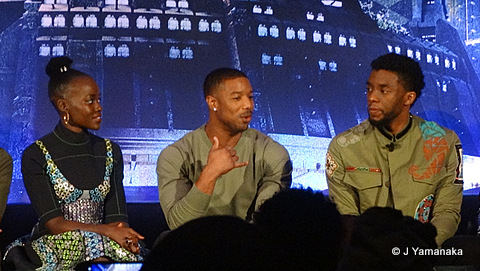 Jordan on the film's effectiveness: "I call Ryan…the night before, or the day before, or the day of, and I was like, 'Man, I'm anxious; I'm nervous, man. I don't know…what to expect.' And he says, 'Look, man, just look at it and try to be a fan. Just watch it, you know what I'm saying, and try to enjoy it.' And in the back of my head I'm like, yeah, that's never gonna happen, but I'm gonna try. And when I sat down with my family and the audience…I had that same type of reaction. It was like, man, this is what it feels like. There's nothing that I could have–I couldn't describe that feeling before actually sitting down and watching that film…people who looked like you…empowered, and having those…socially relevant themes, but in a movie that you want to sit down and watch, and you can enjoy, that Marvel does so well. So I think it was a really good balance, and everybody won; everybody did amazing, amazing jobs in performances.."

Bassett on portraying a powerful woman on screen: "In African culture, you know, they feel as if there is no king without a queen…and I think in this story, it highlights the queen…the warrior…the general…the young sister, you know. So I was so proud to have my daughter, and my son there last night, because in their faces, and in their spirit, they were feeling themselves. And they stood taller after last night."

Gurira on having her head shaved for her character: "This pride around it, and this sort of embracing of this–this sort of symbol of power in these women. And then the beauty of how he wrote that moment; I loved that moment where she like, doesn't want a wig. She doesn't want to cover up. This is her joy, and her pride, is in walking in with that…with that bald head with that tattoo on it. And I was like…it was so subversive, you know, and it's so subversive in the right way, to say what's not necessarily beauty. You don't have to have hair to be beautiful."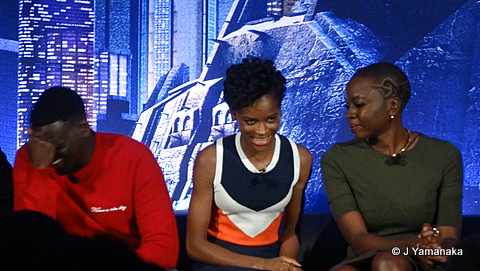 Wright on whether Shuri is smarter than T'Challa: "I think what I love about it…with how it was written, is that the men are always behind the women, as well. So no one's like undermined–the men are not, you know, 'you shouldn't be in technology, and you shouldn't be in math,' they're like, 'no, go ahead.' So T'Challa is like, 'go ahead, Sis. This is your department. This is your domain. Like–kill it.'
"But she's cooler than him, but not smarter than him."


Coogler on making a blockbuster film that also has meaning: "…I grew up loving comic books. I love not just comic books, but I love pop culture. I love toys, actions figures, you know, video games, all of that stuff. When I got older and…realized that I wanted to make movies, that's how I fell in love with internationalism, and, you know, cinema that…left you with something to chew on, with something to think about. But I never fell out of love with those types of films, you know, and those types of stories. And I think the best versions of those stories, you know, do both things."

Feige on having the courage to address societal issues: "Well I think it's happened for the comics, so it's happened with the movie. Ryan wrote this for the most part, you know, a year and a half ago, two years ago, so things have happened in the world which makes the film seem more relevant. There are other things in the film that have been relevant for centuries, but the truth of the matter is Stan Lee and Jack Kirby and the whole Marvel bullpen created Wakanda and created T'Challa and created Black Panther and made him a smarter, more accomplished character than any of the other white characters in the mid 1960s. So they had the guts to do that in the mid 1960s. The least we can do is live up to that and allow this story to be told the way it needed to be told and not shy away from things that the Marvel founders didn't shy away from in the height of the civil rights era."

Serkis and Freeman on being in a movie with a predominantly Black cast:
Serkis: "Actually we were just talking about that earlier on and it was very funny 'cause you reminded me of a story of Ryan saying to us before we were about to do our scene. Ryan came up to us and said, you know, I've never actually directed two white actors before.
"No, it was just an incredible experience, you know, and to be part of it was…I just think this film is so important and to be able to be part of something that is so groundbreaking and yes, should have been made many years ago, you know…But now is the time and now is a brilliant time because things are changing rapidly in every single aspect of filmmaking and so it should and the needle should swing right the other way because we need to really change things."
Freeman: "…That was lovely and I have spoken to Ryan a bit about that sort of in the process before filming. And we both agreed that we didn't want (Agent Ross) just to be a schmuck, you know, and we didn't want him just to be a comic foil; that it needs to be a little bit more 3D than that and I was very pleased when I was reading…bits of the script and then new bits of the script that were coming in. They were making it more emphatic, more sympathetic, and a bit more can do…because clearly it's not Agent Ross's film by a long way, but he plays his part. There is sort of an ambivalence about Ross I think…'cause you're not quite sure if he's gonna be down with T'Challa or not, but he ends up having his eyes opened by this country that he knew nothing about and a civilization that he knew nothing about and realizing that it had something to offer and he went away learning a bit from it, you know. So I was very pleased that Ross had his kind of moment of heroism at the end…He gets in his plane and he gets to help out. He has his little Hans Solo moment. So I was really pleased and I thought that was generous on the film's part…'cause like Andy says, you know, we're not short of white heroes in movies, so I thought to make one of the two white characters…a bit of a hero, I thought spoke very well of them actually."

Boseman on having T'Challa speak with an African accent: "You know I think as actors this is separate from the movie, but…when you're trained you're trained very often from a European perspective. What is considered great or classical is very often British and its certain writers and I happen to come from a background that does not believe that, you know. I went to Oxford to study, but I went to Howard and we were taught to respect our writers and our classics just as much and believe that it takes the same skill level and same technique and sometimes techniques that are a little bit different to pull that off. And so I think you have to be, you have to tell the stories and be true to yourself as an artist. And, you know…there was a time period where people were asking me questions about whether or not an audience could sit through a movie with a lead character who spoke with that accent. (And it was not Kevin by the way, so just making sure you know that.) And so I became adamant about the fact that that is not true. That the intonations and melodies inside an African accent are just as classical as a British one or a European one and that all of the emotions and aspects of a character can be shown and expressions can be shown through that accent and we have to take this opportunity to show that and he just wouldn't, if he had never been conquered, if his ancestors had never been conquered and he's never been conquered and Wakanda is what it is, he doesn't have to go to Oxford to study. He doesn't have to go to Cambridge or Yale or any place to study. He actually got his education at home and he would not then assimilate a language that is the colonizer's language in order to speak to his people. So he had to speak with an African accent."

Kaluuya on how a country balances self-preservation vs. altruism.: "I don't think there is a right and wrong. I just think is the cause just and if the cause is just you just do what you need to do…and then sometimes there's sacrifices, but there's also sacrifices if you don't do it, and that's the battle that we're in. We're putting it out there and everyone makes their own decisions."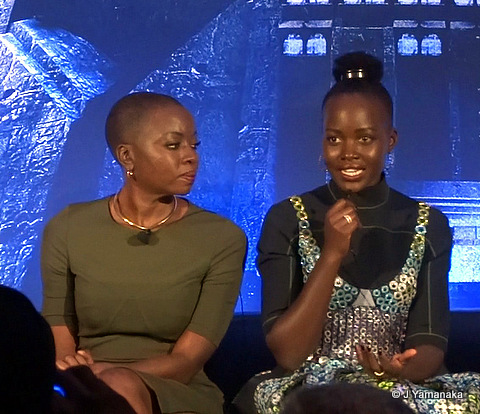 Nyong'o on the film's takeaway message: "Well I would say what I love about the way this film represents women is that each and every one of us is an individual, unique and we all have our own sense of power and our own agency and we hold our own space without being pitted against each other. And I think that's a very, very powerful message to send to children, both male and female this idea. I think often times in movies we fall into that trap where women, there's very few of us and then we are against each other. There's a competitive spirit and stuff like that and this film freezes all that. And we see women going about their business and supporting each other, even arguing with each other, you know; having different points of view, but still not being against each other. And I think that's extremely important and…the fact that in this film there's so many of us, we really get a sense of the fabric of Wakanda as a nation and we see women alongside men and we see how much more effective a society can be if they allow women to explore their full potential, yeah."
A variety of merchandise for all ages is available in conjunction with the movie's release:
Pounce in for the Black Panther collection at shopDisney!
"Black Panther" will open in theaters February 16, 2018.