Disney themeparks worldwide are home to beautiful and unique architectural structures. For the next three weeks, I am going to explore how best to photograph some of them.
To photograph architecture specific types of gear and techniques are needed. Whether you are using a digital SLR, compact or even a phone camera, a wide angle lens or setting will help you gather in large structures and landscapes. Using a Nikon D750 full-frame camera and a Nikon 16-35mm f/4 lens, I photographed Sprinkles in Disney Springs. The wide angle allowed me to take in the springs flowing past Sprinkles, the building and outside seating area and the clouds in the sky.
Wide Angle view of Sprinkles Cupcake Bakery at Disney Springs.
Nikon D750/16-35VR,1/500s, f/8, ISO 100, EV 0, 23mm Focal Length, Circular Polarizing Filter.
Another useful piece of equipment to have is a Circular Polarizing Filter which removes reflections and deepens colors in the scene.
Even if you do not have a wide angle lens, you can simulate one by creating panoramic images using software to stitch together multiple images to make one. This is what I did during Epcot's Flower and Garden Festival.

Panoramic image of Epcot's Flower and Garden Festival.
Nikon D750/16-35VR, 1/125s, f/16, ISO 160, EV 0, 35mm Focal Length, Panorama.
Today you can create panoramic images using Adobe's Lightroom or Photoshop as well as many other editors and stand alone programs. Smartphone photos apps often have a Panoramic setting.
Zoom and telephoto lens are used to pull in architectural details. A zoomed in photo of the giant Stitch above one of the World of Disney store entrances in Disney Springs is an example.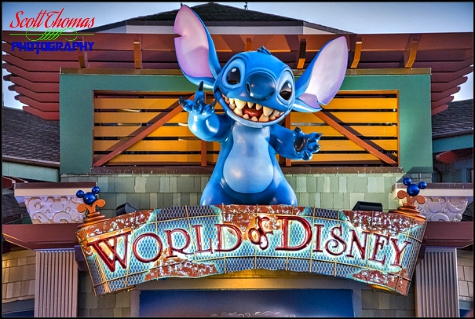 Stitch above one of the entrances to the World of Disney store.
Nikon D750/28-300VR, 1/60s, f/5.6, ISO 6400, EV 0, 160mm Focal Length.
Disney themeparks are an architectural photography paradise full of unique and interesting buildings, attractions and iconic places.