SeaWorld Orlando has brought back its Preschool Card for 2018, which allows young children in Florida to experience the theme park for free this year.
Here's what you need to know:
** The child must be 5 years or younger at the time the card is redeemed. The child is still eligible if he or she turns 6 during the 2018 calendar year after the pass is in hand.
** This offer is only open to Florida residents.
** The pass must be ordered online because it is not available at the gates.
** To redeem the Preschool Card, take your registration confirmation, your child's birth certificate or travel passport, and your Florida resident ID to any ticket window. It does not have to be the child's parent who picks up the pass, but that adult still must present all the documentation.
** The PreSchool Card does not include taxes, service fees, parking, separately ticketed events or other discounts.
** Visitors can add an Aquatica water park pass to the PreSchool Card for $59.99.
To take advantage of this offer — a Preschool Card or a Preschool Card plus Aquatica — you must register by May 13, 2018.
** The Preschool Card is valid through Dec. 31, 2018, and there are no blockout dates. That means the Halloween Spooktacular with trick-or-treating and the Christmas Celebration are included.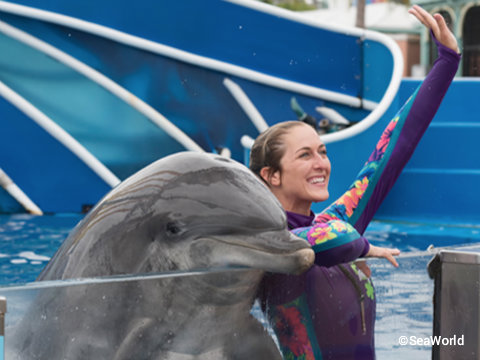 Looking for the best deal for parents to accompany their little ones to SeaWorld Orlando? You have two options for a year's worth of fun:
Annual passes: These can be SeaWorld only or you can add admission to Aquatica, Busch Garden or all SeaWorld parks in the United States. Annual passes are good for a year from the date purchased. Florida residents have the option to pay in monthly installments. Annual passes include complimentary parking; discounts on food, beverages and merchandise in the parks; and special offers, including 50-percent off tickets for guests. A SeaWorld-only annual pass is $175 plus taxes and fees. Add Aquatica for $25 or Busch Gardens for $45. A annual pass with admission to all three Florida parks is $252 plus taxes and fees. For all U.S. parks operated by SeaWorld Entertainment, it's $336 plus taxes and fees.
Fun Cards: These cards are good for unlimited visits during the calendar year in which they are purchased. So, whether you buy a Fun Card in January or October, it still expires on December 31 of that year. Unlike annual passes, Fun Cards do not include parking, which is $20 per day for most vehicles.
There are no blackout dates for either Fun Cards or annual passes, and both include the Halloween Spooktacular and Christmas Celebration events.