During Hurricane Irma, the world's longest-lasting powerful hurricane, AllEars.Net provided frequent updates about changes occurring at Walt Disney World as well as details from Founder Deb Wills about her preparations from Davenport, Fla. We hope you found those informative and helpful.
But did you wonder what it's really like to stay at a Walt Disney World hotel during the storm? As a local living in Orlando, I hadn't really considered evacuating to the hotel, but plenty of Florida residents did. AllEars.Net reader Sarah Rodenbeck was kind enough to share her family's experience at the Art of Animation hotel.
Sarah has lived in the Tampa area for a decade with her husband, and now, two young children and dog Charlie (who you might have seen pictured on the AllEars.Net Instagram account over the weekend). She had this to say about her family's decision to take shelter at Walt Disney World:
"We were originally planning to ride out the storm at home — sandbags filled, supplies procured, cars filled up with gas, etc. But as the models changed and Irma kept shifting west, Tampa Bay was in her sights and Saturday morning it was announced we were now in a mandatory evacuation zone.
"The thought of driving north with two kids and a dog, stuck in traffic, with no guarantees of finding gas or lodging when we might need it was almost painful, and local shelters that took pets were rapidly filling up. So as my husband and I packed, the thought of finding a room at WDW came up and would be the answer to our dilemma – safe space, further inland, not too far from home. We knew their resort buildings were built to the highest code, they had backup power sources (generators and solar), and would continue to offer their usual level of service. What made it ideal was when it was announced the resorts were welcoming evacuees AND their pets!
"Checking online showed zero availability, but I was determined. Every time I passed the iPad I would hit refresh, hoping that someone would cancel so we could snag a room. Still no luck. So I started calling in between refreshing with the first two calls yielding no availability, but the third time was a charm — a room just opened up in the Little Mermaid section at Art of Animation! I was so thankful; the stress of prepping, keeping calm for the kids, being under a mandatory evacuation order, and not knowing what would await us upon our return was taking its toll on me. As cliche as it sounds, I really needed that win."
Once they checked into the hotel on Sunday, Sarah said everything was very well-run, as guests expect at Walt Disney World.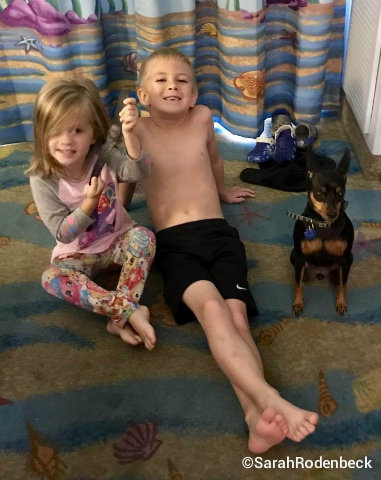 "Disney was great at keeping its guests informed (both on TV and with voicemails). Because the parks were closed, they brought the magic to us — characters, dance parties, bingo, coloring. There was never not an activity happening. And all the arcade games were free!" (In-room movies were free, too.)
Some might wonder how everyone staying at a hotel with almost 2,000 rooms is fed during a hurricane — especially because supplies can be in short order when the storm is projected to affect residents throughout most of the state. When Sarah and her family arrived at the hotel on Sunday, they were able to purchase boxed lunches in the food court for $6 apiece. Each lunch included a choice of turkey or Italian sandwich, chips, a protein bar, a chocolate chip cookie, an apple and a bottle of water.
For dinner, the food court had only one entrance to minimize cutting and confusion, and switchbacks stretching back to the arcade were set up to accommodate guests. Sarah reported that boxed meals were still available as well as hot foods such as hamburgers, chicken tenders and pizzas. You can imagine how long the pizza line was! Still, Sarah said everything was handled efficiently. Guests also were able to make selections of sides and desserts from the coolers.
Guests had to observe a resort curfew of 7 p.m., which matched Orange County's mandatory hurricane curfew. They were asked to stay in resort buildings after 7 p.m. but were not confined to their guest rooms. Once the hurricane threat was imminent that night, guests did stay in their rooms and were not cleared to come out until mid-morning Monday, when it was deemed safe.
"I never felt unsafe, and our room felt very secure," Sarah said. "Even as the eye wall was overhead, we never lost power. Our windows never rattled, the door never shook, and save for some gusts of wind, we didn't hear a thing. If it wasn't for our building's alarm going off at one point, I have no doubt the kids would've slept through it all.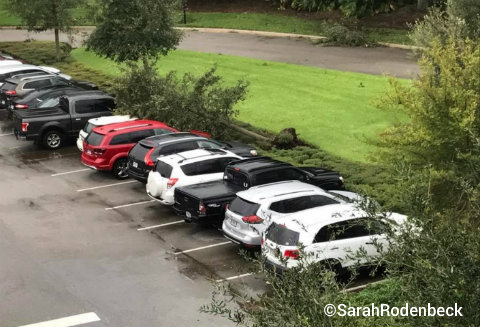 "The next morning we awoke to upended trees and landscape debris scattered about, but by mid-morning it was well on its way to being cleaned up. We were instructed to stay in our rooms, but nature called for the pets and many of us were out walking our dogs before curfew was officially lifted.
"We were asked to stay in our rooms until it was safe, so no breakfast. But late morning (11 to 11:30) they opened the food court to serve burgers and at noon offered even more hot food selections. They were well-stocked and the lines moved well.
"As far as experiencing a hurricane while staying at Disney … I wouldn't recommend having to go through it, but if you must, Disney is the way to go."