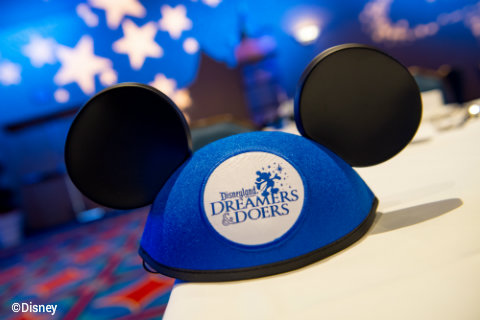 Disneyland's Dreamers and Doers program, which recognizes local high school students who are making a difference, has returned for a third year. The application process is now open and continues through Oct. 13.
Students at all Orange County (California) high schools are eligible to apply by sharing their stories of how they are taking action for a brighter tomorrow in four focus areas: Live Healthier (make healthier living fun and accessible); Strengthen Community (bring hope, happiness and comfort to children and families); Conserve Nature (connect children and families with nature to build lifelong conservation values); and Think Creatively (nurture creative thinking skills to inspire children and families to create the future they imagine).
Applications can be downloaded now, and they must be turned in at each school's main office by Oct. 13, and then the school will select up to two Dreamer & Doers. Here is what students can win:
** Each student nominated by their school will be recognized as a Dreamer & Doer and receive two Disneyland Resort 1-Day Park-Hopper tickets and a certificate of recognition. (Students can only be nominated once during their high school career.)
** From the nominated group of Dreamers & Doers, up to 35 students will be identified as Shining Stars and invited to attend a celebration luncheon with two family members and a representative from each of their schools.
** To inspire fellow students to make their school a better place, each of the students selected as a Shining Star will receive a $1,000 pay-it-forward grant for his or her school, as well as a Dreamers & Doers branded medal of recognition.
** Five Luminaries will be selected, and in recognition will receive a Disneyland Resort weekend prize package to enjoy with their families. They will also have the opportunity to select an Orange County non-profit organization of their choice to be awarded a $3,000 grant on their behalf.
** Shining Stars and Luminaries will have the opportunity to attend an educational symposium in spring 2018.
Ready to apply? Click here for the application, which asks each student:
** Please answer the following questions as they relate to your chosen focus area: Describe something you have done, created or innovated to solve a problem in your community or school and the quantitative impact your efforts have made.
** Describe how you engaged community partners and/or pulled together resources to help achieve the objectives stated in your answer above.
** Tell us how you could sustain and grow your community outreach efforts to make a lasting impact.
** Describe an influential moment in your life that led you to begin your community outreach efforts, or encouraged you to "keep moving forward". Please answer as it relates to your chosen focus area.
** If given the opportunity to support a local charitable cause or organization in Orange County that directly relates to your community outreach efforts, which organization would you choose and why? Please be specific.
To be eligible to apply, students must:
** Be a current resident of Orange County, California.
** Currently attend an Orange County public, private or charter high school.
** Be in good academic and character standing, as verified by the high school.
** Submit a completed application to school administration by the specified deadline.
** Submit a signed form of authorization to use likeness, voice and/or written correspondence.
Disneyland's Dreamers & Doers will be announced at the beginning of November, the Shining Stars in December, and Luminaries in January 2018s.
Questions can be directed to Disneyland Resort Corporate Citizenship at [email protected]