Typhoon Lagoon's newest water attraction, Miss Adventure Falls, tells the story of the fictitious Captain Mary Oceaneer, a treasure-hunting heroine who got stranded at the Disney water park years ago by a rogue storm. The attraction opened in mid-March of this year, but my family and I just had the opportunity to experience it this week.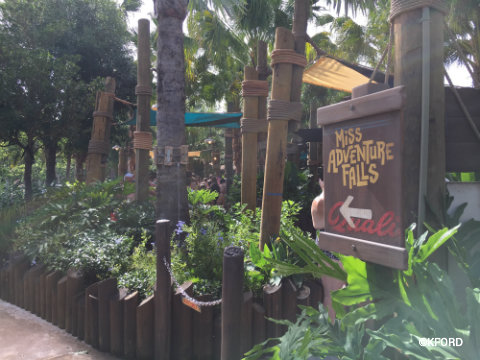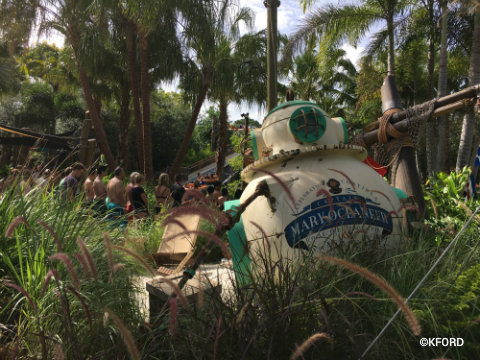 Miss Adventure Falls is essentially a family raft ride — meaning each float can hold an average-size family rather than just a single rider. In this case, that means two to four people. Honestly, three adults can fit comfortably, but I think if your fourth person isn't a child, you will be tight on space.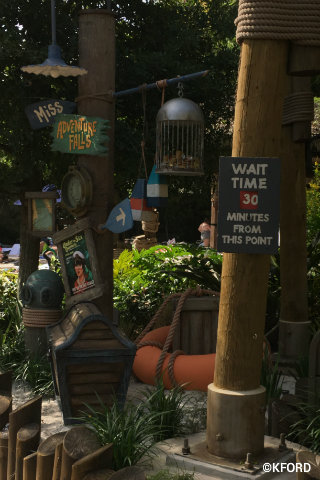 When the attraction first opened, Disney officials said two things set this ride apart: It's the longest water ride at either Typhoon Lagoon or Blizzard Beach, and guests will be able to ride in the rafts up a conveyor belt rather than meet their raft at the top of the ride or even have to carry their own large tubes up the stairs. No climbing for those tired legs!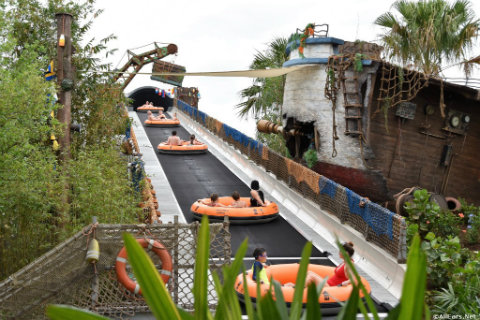 Another first is that Miss Adventure Falls features an Audio Animatronics figure, a talking and moving parrot named Duncan who is stationed inside Captain Mary's shipwrecked vessel off the side of the ride's conveyor belt. Duncan chats and sings, all while continuing to search for treasure.
Once your raft reaches the top of the hill, gravity and running water pull you into a very gentle ride. It's so gentle that I feel comfortable saying that Miss Adventure Falls is appropriate for all ages; and Walt Disney World says the same thing. There are no age or height restrictions; however, no infants can ride because each guest must be able to grasp the handles.
This ride takes guests into two tunnels, which are not pitch black. Colored lights keep the tunnels from being too scary. Plus, the curve of the track allows natural light to quickly flood in, as well. In addition to the tunnels, the raft may slide up the embankments just a little and you may be splashed by a few curtains of water.
Overall, Miss Adventure Falls is a great ride for families with little ones or guests who do not enjoy anything with serious dips and drops. The thrill-seekers in your group are not going to find their next adrenaline surge on this attraction. My family members all agree that this was the tamest of the family raft rides we have experienced in Orlando, and that includes the other one at Typhoon Lagoon (Gangplank Falls), Teamboat Springs at Blizzard Beach, and WalHalla Wave SeaWorld's Aquatica water park.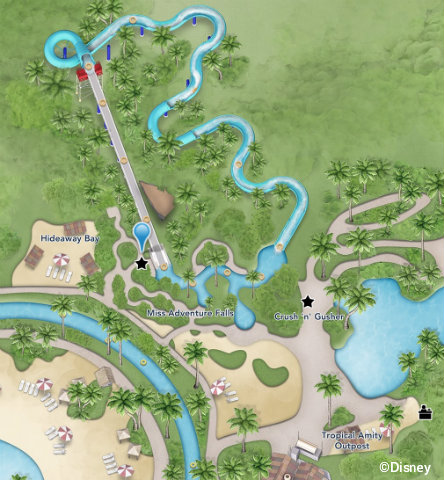 Miss Adventure Falls is located near Crush 'n Gusher at the front of the water park. Admission for Typhoon Lagoon is $57 or $62 plus tax for adults, depending on date, and $51 or $56 plus tax for children ages 3 to 9. (The cheaper pricing goes into effect August 28.) Guests also can purchase an annual pass with admission to both water parks and no blockout dates for $125 plus tax per person, regardless of age. Florida residents can purchase an After-2 p.m. annual pass for $75 plus tax per person, regardless of age.