"Frozen" fans: Make tracks to Blizzard Beach if you want to experience some unique wintry summer fun before it melts away. The water park is hosting the Frozen Summer Games and the last day is Sunday. That means you have just today and tomorrow to get in on the action!
Guests can meet the team captains, Kristoff and Olaf, near the Beach Haus merchandise shop. (Walk to the end of the shop and you'll see the queue ropes in front of you. The backdrop is set up to the left behind the store.) Blizzard Beach currently is the only location on Walt Disney World property where guests can meet Kristoff, so don't miss this opportunity!
When we arrived this past week, it was mid-afternoon and there was no line to meet Kristoff. The ice harvester walked right out to approach my 12-year-old daughter and engaged her in conversation about Anna, Elsa and Olaf. A Disney PhotoPass photographer is stationed at this meet-and-greet, and, of course, you can take your own photos, as well.
Kristoff poses for photos and signs autographs at 10:05 a.m., 11:05 a.m. and 12:05 p.m. for 40-minute sets. After a lunch break, he reappears at 1:55 p.m. and 2:50 p.m. for 35-minute sets. Kristoff alternates meet-and-greets at the same location with Olaf. Everyone's favorite snowman appears at 9:45 a.m., 10:45 a.m. and 11:45 a.m. for 20-minute sets filled with plenty of warm hugs. After lunch, he returns at 1:30 p.m., 2:30 and 3:30 p.m., again for 20-minute periods. With Florida temperatures in the 90s, Olaf can't risk staying outside any longer or he might melt! (Set times are unpublished and could change.)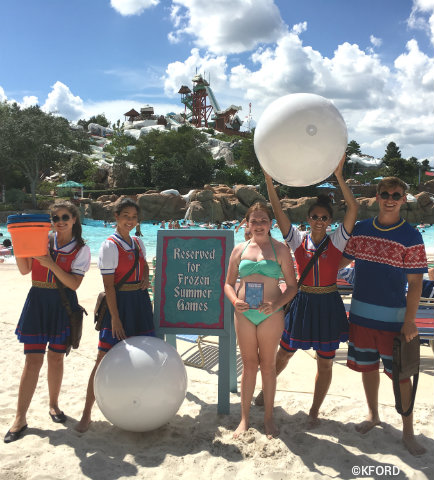 Near Melt-Away Bay, guests of all ages can take part in the Frozen Summer Games four times each day: 11 a.m. and 12:30, 2 and 3:30 p.m. A stage is located at sand's edge not too far from the biggest restaurant, Lottawatta Lodge. A DJ who is set up there plays the coolest hits and also directs the games.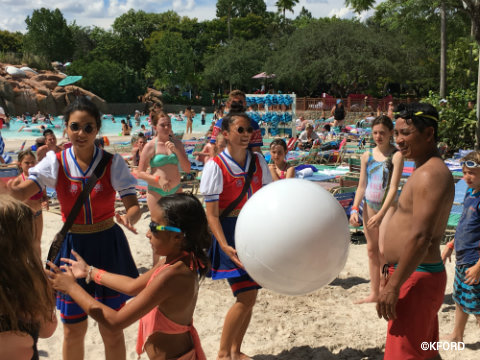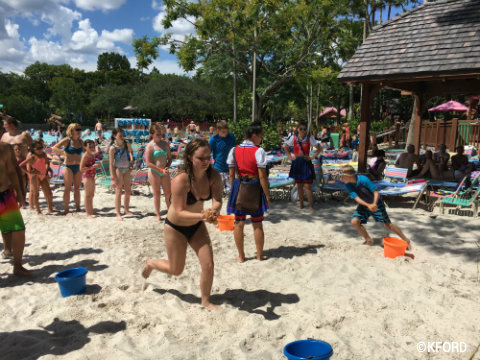 Guests at Blizzard Beach can join Team Kristoff or Team Olaf to participate in a variety of friendly competitions, including Ice Pail Relays, Ski Pole Limbo and Slide Races. On the day that my daughter competed, there were four games: a water balloon toss, two versions of passing or throwing giant snowballs (white beachballs) and the Ice Pail Relays. They all take place in the soft sand in front of the stage, and no advance signup is necessary. Each person who participates is given a wristband to indicate Team Kristoff or Team Olaf. Winning teams receive a commemorative card stock photo frame.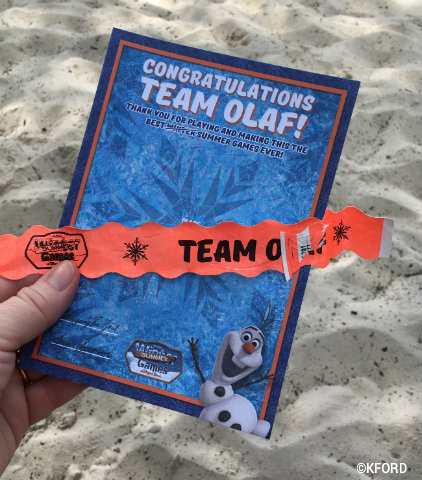 This is the second year for the Frozen Summer Games at Blizzard Beach. Admission to the water park is $57 or $62 plus tax for adults, depending on date, and $51 or $56 plus tax for children ages 3 to 9. (The cheaper pricing goes into effect August 28.) Guests also can purchase an annual pass with admission to both Disney water parks and no blockout dates for $125 plus tax per person, regardless of age. Florida residents can purchase an After-2 p.m. annual pass for $75 plus tax per person, regardless of age.