Do you remember when Mickey's Birthdayland first opened at Walt Disney World? It was June 18th 1988 and Mickey Mouse's 60th birthday celebrations were in full swing!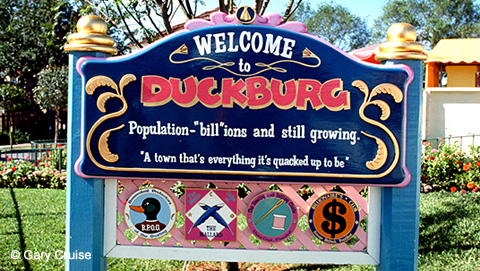 Mickey's Birthdayland was set in the mythical town of Duckburg, in the equally mythical State of Calisota. Duckburg boasted that it was "A town that's everything it's quacked up to be?"
Duckburg and Calisota both sprang from the vivid imagination of Carl Barks who drew and wrote Donald Duck comic books for Western Publishing from 1943 until he retired from drawing in 1966.
Years after Mr. Bark retired Don Rosa drew and wrote more comics based on the Duckburg characters for Gladstone Publishing who were licensed to use Disney characters in those later years. Over the years both Barks and Rosa created a host of new characters for the comics and a rich history and backstory of Duckburg developed.
Have you ever wondered how Donald Duck and Scrooge McDuck were related? What about Huey, Dewey and Louie? How are they connected in the family tree?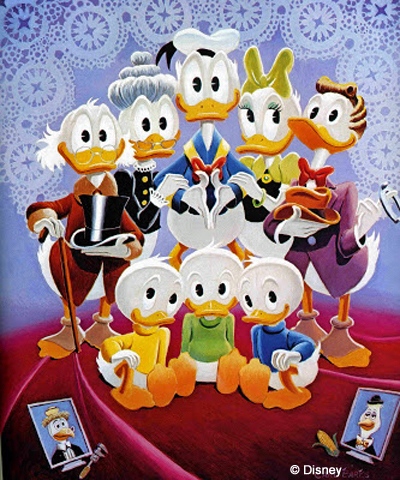 Let's take a look back to the origins of Duckburg. It was originally founded in the 16th century by British explorer Sir Francis Drake who named it Fort Drake Borough. In the 19th century Cornelius Coot purchased the Fort from the departing British, he changed Drake to Duck and Borough to Burg and Duckburg was created. The rest, as they say, is history!
One of the central features in Mickey's Birthdayland was a statue of Cornelius Coot, located in front of the Cornelius Coot's County Bounty shop!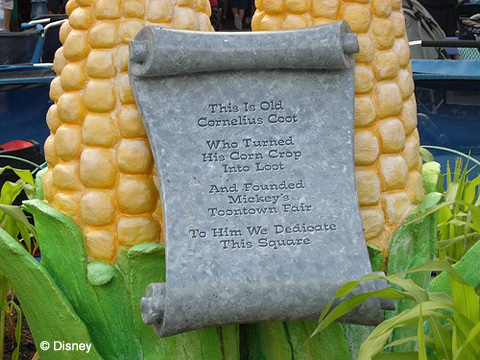 Duckburg is rumored to be the largest city in Calisota and its skyline is dominated by Scrooge McDuck's Money Bin which sits high on a hill at the edge of the city!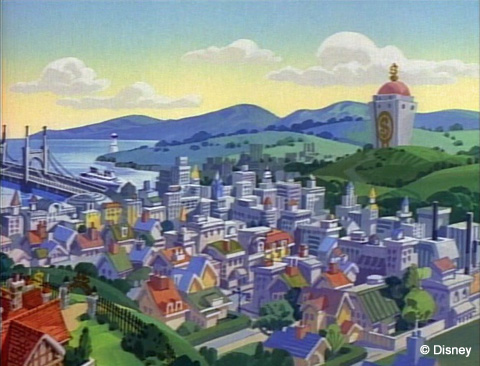 There were three principal families in Duckburg, the Coots, the Ducks and the McDucks. Donald Duck is the son of Quackmore Duck and Hortense McDuck.
Donald's mother Hortense is the sister of Scrooge McDuck, making Scrooge Donald's uncle.
Donald has a sister Della (sometimes called Dumbella) who married an unnamed Duck and had three sons, Donald's identical triplet nephews Huey, Dewey and Louie.
A family tree, drawn by Don Rosa lays out many of the characters who appeared in the comics over the years and places them in an understandable order.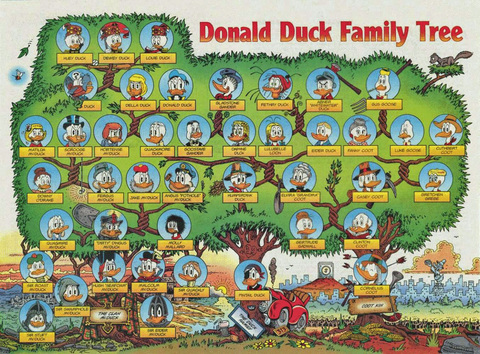 Click on the family tree to see a larger image.
If you follow that tree you can see how Donald traces his lineage back to Duckburg founder Cornelius Coot. Donald's father was Quackmore Duck, the son of Humperdink Duck and Elvira Coot (often referred to as Grandma Duck). Elvira was the daughter of Clinton Coot and Gertrude Gadwall. Clinton Coot was the son of Cornelius Coot. That means that Cornelius was Donald's paternal great-great-grandfather.
On his mother's side Donald can trace his family back to the McDuck clan from Glasgow Scotland. His mother Hortense McDuck was the daughter of Fergus McDuck and Downy O'Drake. Grandfather Fergus was the son of Dirty Dingus McDuck and Molly Mallard.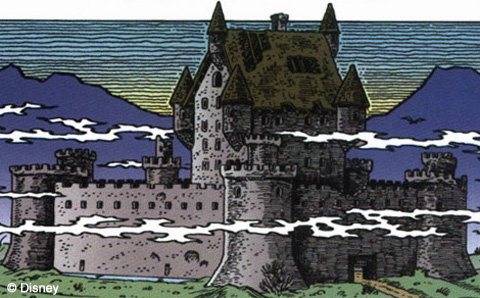 McDuck Castle near Glasgow
If you follow the chart carefully you can see how Donald is related to his cousin Gladstone Gander, his second-cousin Gus Goose and his great-great-uncle Quagmire McDuck.
There are a few salty characters from the past, like Sir Roast McDuck, Hugh "Seafoam" McDuck, Pintail Duck and Sir Eider McDuck included on the chart drawn by Mr. Rosa.
Sir Roast McDuck (1159-1205) succeeded his father Stuft McDuck, as clan chief. Clan McDuck was one of the richest clans in Scotland, but in 1189 Roast offered much of the clan's wealth to the king of Scotland, William the Lion, after William asked for his help in paying tribute to Richard I, King of England. This act of patriotism led to financial ruin for the clan.
Hugh "Seafoam" McDuck made a fortune sailing his "Golden Goose" on the trade route to the West Indies. Unfortunately, in 1753, Swindle McSue tricked Seafoam with a contract to deliver horseradish to Jamaica, and then scuttled the Goose.
Pintail Duck was a British sailor in the Caribbean. Once Pintail and officer Malcolm "Matey" McDuck buried a treasure of potatoes. Their ship the Falcon Rover sunk with its crew on December 9th 1564 in conflict with the Spanish.
Sir Eider McDuck (880-946) was the chief of Clan McDuck during an Anglo-Saxon invasion in 946. Eider was killed during the Anglo-Saxons' siege of McDuck Castle after his serfs abandoned him. He had refused to buy them arrows because they were too expensive.
Alas, the comics have never provided enough biographical detail to fit all of these colourful characters into the proper spot in the tree.
A number of characters, like Gyro Gearloose and Kildeer Coot, are not included at all, but according to the comic book series they are related to Donald in one way or another.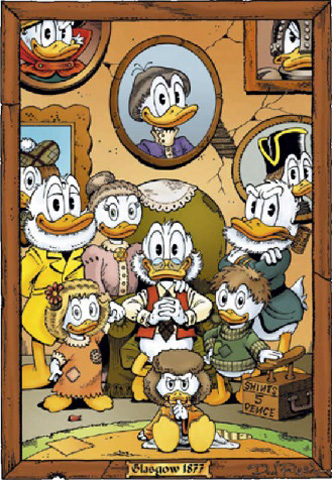 Fergus McDuck seated, surrounded by his family.
Naturally Donald's long time girlfriend Daisy is missing from the tree and that means that her family history is somewhat of a mystery. All is not lost though; the Duckburg rumour mill can help us out a little bit with Daisy's family. According to Duckburg lore and legend Daisy had an unnamed sister who may have married a brother of that unknown Duck who married Donald's sister Della. Those two anonymous ducks were the parents of Daisy's triplet nieces April, May and June. That makes Daisy's nieces the first cousins of Donald's nephews.
Sometimes family trees can be very complex!
Isn't it interesting how something as simple as a series of children's comic books can weave such an interesting and complicated history?