For the last two weeks I have urged you to look around and enjoy the details found at Walt Disney World. Today I want to just share of few of my favorites from my last visit to Disney's Hollywood Studios.
As you walk into MuppetVision 3-D, you will see a series of fictitious movie posters starring the Muppet characters. In this one, Dr. Teeth and the Electric Mayhem will be starring in a remake of Disney's High School Musical.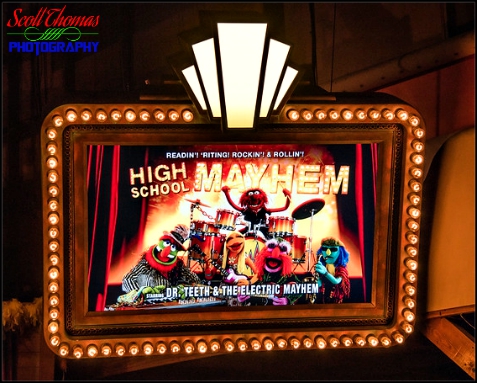 Poster for High School Mayhem in the queue for MuppetVision 3-D.
Nikon D750/24-120VR, 1/125s, f/4, ISO 1000, EV +0.3, 66mm Focal Length.
After taking in the Muppets, I popped over to enjoy a pizza in PizzeRizzo. If you go there, make sure to walk upstairs and check out the Deluxe Supreme Banquet Hall. When I was there they were getting ready for a wedding reception.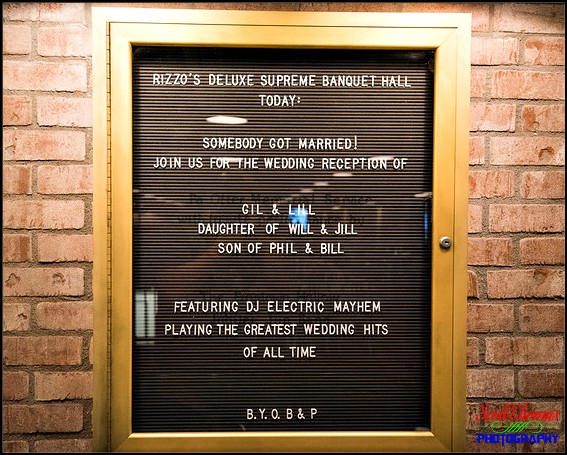 Schedule for Rizzo's Deluxe Supreme Banquet Hall upstairs at Pizzerizzo restaurant.
Nikon D750/16-35VR, 1/125s, f/4, ISO 6400, EV 0, 30mm Focal Length.
Lastly, as I was strolling down Hollywood Blvd., I spotted a fellow guest wearing a very interesting and amusing t-shirt. Nice to know our princesses are safe.
Father of daughter(s) walking around Disney's Hollywood Studios.
Nikon D750/24-120VR, 1/160s, f/4, ISO 100, EV 0, 120mm Focal Length.
I do love to find fun details at Walt Disney World. I find new ones on every trip.