In honor of Shark Week, here's some news out of Discovery Cove, SeaWorld's dolphin park in Orlando. Guests to the park now will be able to have hands-on encounters with sharks during a new program.
The Shark Swim program is divided into two unique interactions and begins as guests meet with the park's shark team and head into the water. Through hands-on interactions, guests learn about shark anatomy and the threats the animals face in the wild. Then, visitors can join the sharks in the deeper part of their habitat and embark on an exhilarating snorkel experience. This session allows them to swim freely among five species of sharks: Pacific blacktip, reef whitetip, nurse shark, zebra shark and a spotted wobbegong.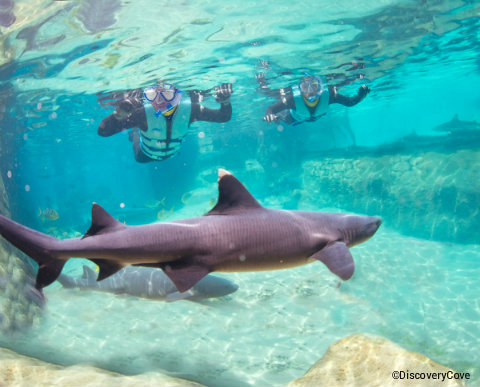 The Shark Swim experience is available to Discovery Cove guests ages 10 and older. The cost is $85 per person. For every shark swim package purchased, SeaWorld will donate 5 percent of the proceeds to the Guy Harvey Ocean Foundation (GHOF) in support of shark conservation and research.
Discovery Cove says guests who take part in the new Shark Swim program will walk away with a deeper understanding and appreciation for these fascinating ocean ambassadors. "Discovery Cove works to dispel myths about sharks and to inspire guests to learn more about these mysterious creatures. As top predators, sharks play an essential role in maintaining the balance of ocean ecosystems worldwide by monitoring fish populations. Sadly, shark finning and overfishing threaten many shark species and disrupt that natural balance."
The new interaction program requires a Dolphin Swim or Day Resort reservation at Discovery Cove to participate. Space for each program is limited and guests are encouraged to book in advance. For additional program and booking details, guests can visit www.discoverycove.com
All guests to Discovery Cove have always been able to view park's sharks, who are housed in area of the Grand Reef. Visitors can view their pen from bridges above or swim up to the glassed-in underwater viewing areas.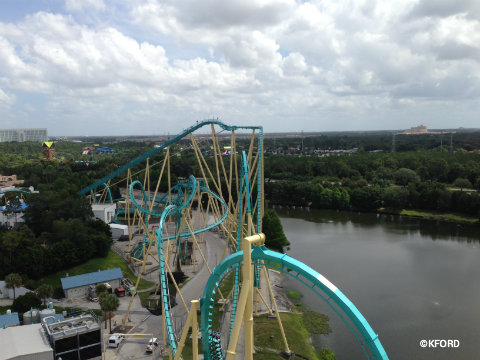 Beginning August 1, Florida residents who book a day at Discovery Cove will also receive unlimited admission to SeaWorld and Aquatica, SeaWorld's water park, through January 2018. And SeaWorld Orlando has its own area dedicated to sharks that was revamped last summer when the new Mako roller coaster opened.
Mako is the centerpiece of Shark Wreck Reef, a two-acre realm that also includes Shark Encounter, Sharks Underwater Grill, shops, shark and shipwreck theming and educational experiences featuring sharks. Shark Wreck Reef is designed to make guests feel like they're underwater and part of the group of sharks that have taken over a shipwrecked reef. Renowned artist and conservationist Guy Harvey has painted a large mural of a mako shark swimming with fish in the Shark Wreck Reef and also has exclusive special merchandise for sale at SeaWorld Orlando.