Expo time has arrived! That once-every-two-year weekend where D23 throws a huge celebration of all things Disney for just you and around 65,000 of your closest friends. I attended all Expo weekend and will be reporting back on the highlights.
One of the major events of the second day was the Walt Disney Studios panel "Disney, Marvel Studios & Lucasfilm–Live action at The Walt Disney Studios," in which Walt Disney Studios Chairman Alan Horn and his special guests presented some of the many live-action projects currently in the works for all the affiliated Disney studios.
Back from the Animation panel the day before, Alan Horn introduced the Disney studio trifecta of Walt Disney Studios, Marvel Studios, and Lucasfilm, and noted that as diverse as they all are, they are bound together by common qualities of integrity and decency. They are apparently also bound together by phenomenal popularity, as five of the top grossing films of 2016 were all Disney: "Finding Dory," "Captain America: Civil War," "Zootopia," "Rogue One," and "Jungle Book."
[All photos and video provided by Disney.]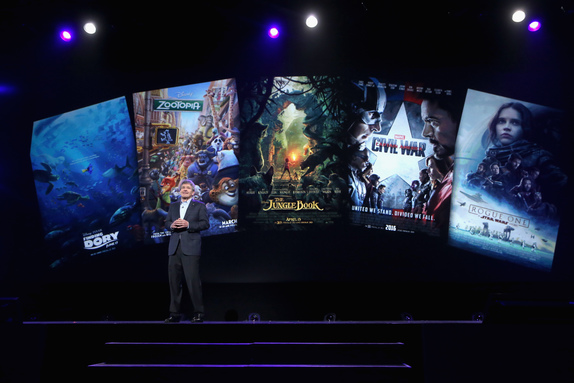 Starting off with the Walt Disney Studios, Horn introduced Sean Bailey, President of Walt Disney Studios Motion Picture Production, to talk about their upcoming slate of movies.
First up was "Wrinkle in Time," an adaptation of the classic Madeleine L'Engle book. Director Ava DuVernay, as well as stars Oprah Winfrey, Reese Witherspoon, Mindy Kaling, Chris Pine, and Storm Reid took the stage to introduce the teaser trailer.
Meg Murray, a young daughter of two renowned physicists, must embark on a fabulous journey aided by three celestial guides, her classmate, and her younger brother to locate and rescue her missing father and battle a powerful evil. "A Wrinkle in Time" opens nationwide March 9, 2018.
Next was "The Nutcracker and the Four Realms." Directed by Lasse Hallström and starring Keira Knightley as the Sugar Plum Fairy, Mackenzie Foy as Clara, Helen Mirren as Mother Ginger, Morgan Freeman as godfather Drosselmeyer, and famed ballet dancer Misty Copeland, it is a fanciful retelling of the E.T.A. Hoffmann tale. With an as-yet-unreleased trailer that seemed reminiscent of Tim Burton's hugely popular "Alice in Wonderland," "Nutcracker" sees protagonist Clara venturing through the lands of Snowflakes, Flowers, Sweets, and the less-benign-sounding Fourth Realm, where she must face the tyrannical Mother Ginger and a gang of mice. The CGI Mouse King movements are based on that of dancer Lil Buck, who gave a live performance of "jooking," his style of street dancing.
"Nutcracker" will open in U.S. theaters on November 2, 2018.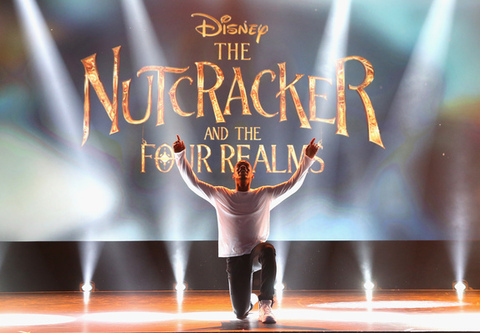 Director Rob Marshall and star Emily Blunt then took the stage to talk about "Mary Poppins Returns."
A musical sequel to the original movie, "Returns" sees Blunt's Poppins revisit a grown Jane and Michael Banks with her friend Jack, a street lamplighter played by Lin-Manuel Miranda, in order to restore childhood joy and wonder to their lives. Also joining her is Ben Whishaw as Michael Banks, Emily Mortimer as Jane Banks, Julie Walters as the Banks' housekeeper Ellen, Colin Firth as Fidelity Fiduciary's William Weatherall Wilkins, Meryl Streep as Mary's eccentric cousin Topsy, Angela Lansbury as the Balloon Lady, and Dick Van Dyke as Mr. Dawes Jr., the retired chairman of the bank now run by Firth's character.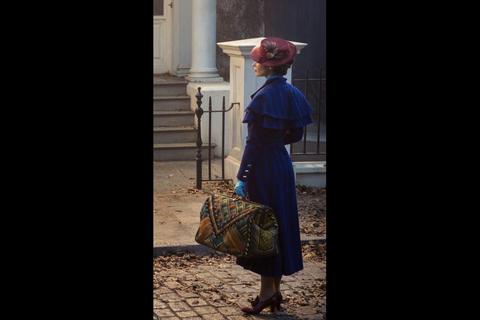 –Blunt noted that her take on Mary Poppins is a little closer to the character from the book than Julie Andrews' and is more "acerbic and weird."
–Julie Andrews is not in the film, in part because she felt she would detract too much from what should be Blunt's movie.
–One of the tables from the original movie was lent to the production from Club 33, where it is usually in residence.
–Marshall stated that Dick Van Dyke felt the production and the set had the same sense of joy as the original.
The audience was treated to a first look at the film, accompanied by a live orchestra performing original new music from the score conducted by composer Marc Shaiman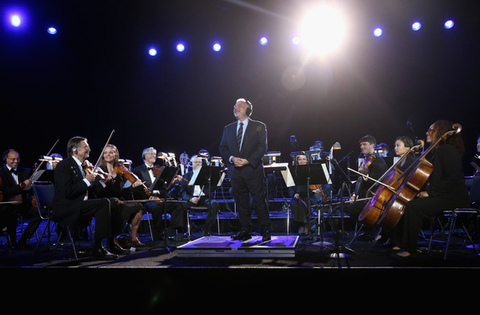 The clips we saw looked very good–I have been a little wary of how the remake of such a classic will turn out, but the iconic Mary Poppins imagery/shots were done well and continue to be markedly evocative. The fact that we were watching it with live orchestration didn't hurt it any, either.
"Mary Poppins Returns" will be released in U.S. theaters on Dec. 25, 2018.
Afterwards, Bailey confirmed three more live-action remakes: "Aladdin," directed by Guy Ritchie with Mena Massoud as Aladdin, Naomi Scott as Jasmine and Will Smith as the Genie; "Mulan," directed by Niki Caro; and "Jungle Cruise," starring Dwayne Johnson.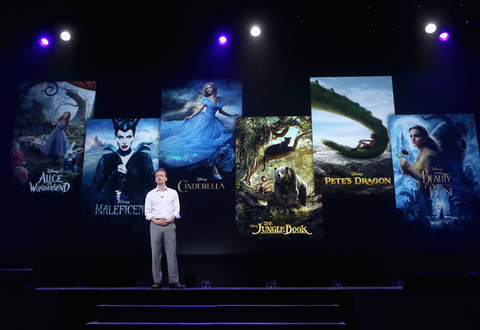 Tim Burton, still in London working on the live-action "Dumbo," sent a video greeting.
The film stars Colin Farrell, Nico Parker, Finley Hobbins, Danny DeVito, Michael Keaton, and Colette Marchant. "Dumbo" is slated for release on March 29, 2019.
Finally, Jon Favreau gave the audience a first glimpse at the opening Pride Rock sequence in his live-action/CGI remake of "The Lion King."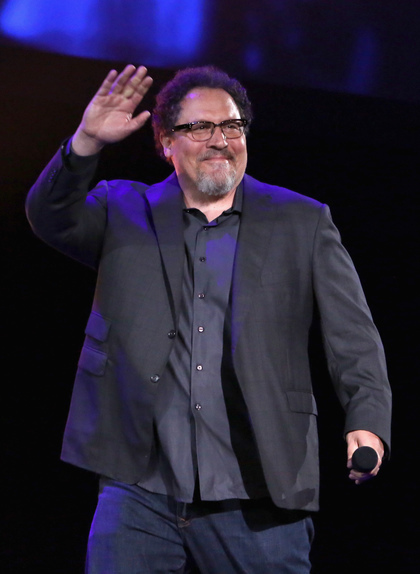 With Donald Glover as Simba, and James Earl Jones as Mufasa, "The Lion King" is slated for theaters on July 19, 2019.
Horn then came back on to introduce the Lucasfilm segment by introducing "Star Wars: The Last Jedi" writer/director Rian Johnson, and giving spoilers for anyone who hadn't seen the end of "Rogue One" yet.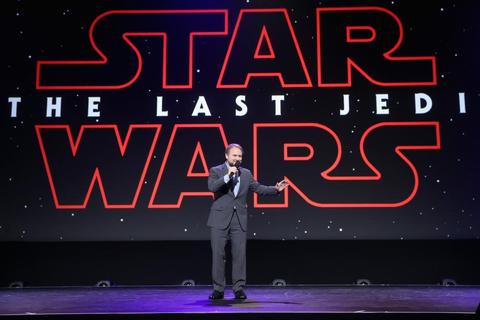 Johnson started off proving his Disney cred by reminding everyone he used to direct the "You're Watching Disney Channel" commercials.
"This wasn't 'High School Musical' Disney Channel–this was 'Halloweentown' Disney Channel. But we're not here to talk about Halloweentown…"
[Huge audience reaction]
"This might be the only crowd where it's a let down to not talk about Halloweentown."
Subsequently, cast members Daisy Ridley, John Boyega, Gwendoline Christie, Kelly Marie Tran, Laura Dern and Benicio Del Toro joined Johnson on stage to talk about "Last Jedi."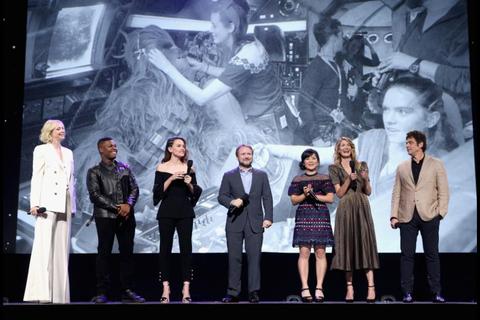 [Main takeaway here was that Christie is an Amazon. The next tallest person there came up to about her chin.]
The final member of the cast then entered, which was of course, Mark Hamill.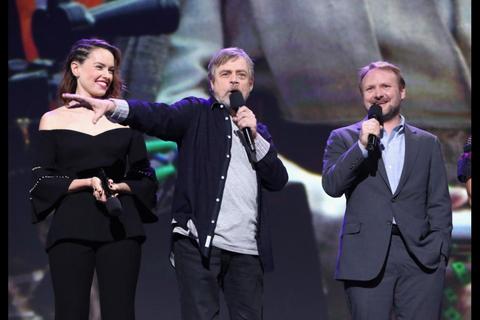 "Thank you for not making me stand next to Gwendolyn. You think I'm already a little short for a stormtrooper?"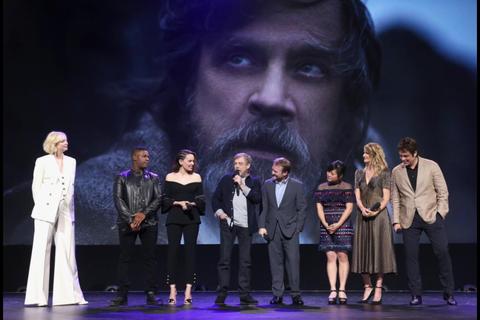 Lucasfilm finished off their segment with a behind-the-scenes video in which the late Carrie Fisher figured prominently. "Star Wars: The Last Jedi" picks up where "Force Awakens" ends, and will open in U.S. theaters on Dec. 15, 2017.
Finally, Marvel Studios was up at bat, with President/producer Kevin Feige announcing their first ten year anniversary celebration.
The cornerstone of the celebration will be "Avengers: Infinity War," which will have virtually every Marvel Cinematic Universe character in it. At this point, Josh Brolin (Thanos) appeared to help usher in an enormous amount of cast members on stage, including Robert Downey Jr., Chris Hemsworth, Mark Ruffalo, Anthony Mackie, Elizabeth Olsen, Paul Bettany, Benedict Cumberbatch, Tom Holland, Chadwick Boseman, Josh Brolin, Don Cheadle, Sebastian Stan, Dave Bautista, Karen Gillan and Pom Klementieff.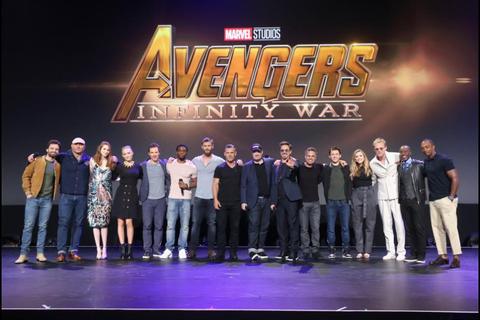 Co-director Joe Russo closed out the presentation by introducing a video with appearances by every character in "Infinity War." While largely old footage, there were some new clips towards the end, mostly depicting the entry of the Guardians of the Galaxy into the larger MCU story-line. It was a LOT of characters.

[This is not that video, which has yet to be released, but an earlier one talking about the start of production on "Infinity War."
Clearly, it is going to be quite a showdown. "Avengers: Infinity War" releases in U.S. theaters on May 4, 2018.