Time to trade in that T-shirt and flip flops for your finest clothes and head to Walt Disney World this weekend! That's because Dapper Day will be celebrated on Saturday, April 29, at the Magic Kingdom and on Sunday, April 30, at Epcot.
Dapper Day — a day designated for guests to dress up and visit the Disney Parks in California, Florida and Paris — has become more and more popular each year. And although the celebration is not officially sponsored by Disney Parks, one report says that about 30,000 people participate in this event, which is held twice a year at each park.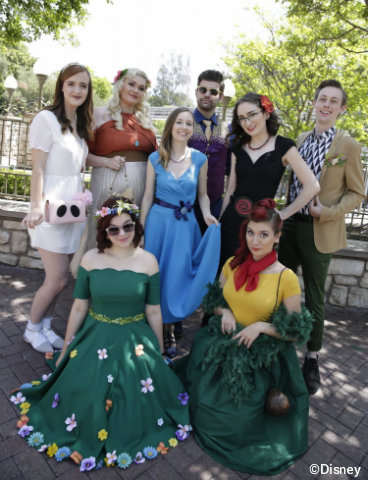 This year, Walt Disney World is contributing several fun experiences to the celebration. On Saturday, there will be a pop-up branch of The Dress Shop inside the Emporium on Main Street, U.S.A. The Dress Shop opened this month at Disney Springs with vintage styles of dress inspired by Disney attractions and characters. The merchandise was so popular that it sold out within the first couple days of being released. From 10 a.m to 11 a.m. on April 29, guests can meet Dapper Day creator Justin J. at the pop-up store. I would expect the store to be crowded, so plan to arrive early if this is a must-do for you.
Disney Floral & Gifts will be selling a variety of corsages and rose wands near Uptown Jewelers on Main Street, U.S.A.
Guests also can take part in a picnic in the East Plaza Garden by either bringing their own spread or by purchasing boxed lunches from 11 a.m. to 2:30 p.m. at Tomorrowland Terrace. Guests can choose from fried chicken, a chicken caesar salad, a Greek salad wrap or a BBQ pulled pork sandwich. Each meal also includes house-made chips, a fruit cup, Dapper Rose cupcake and a fountain beverage for $14.99. Lunches for children ages 9 and younger consist of either chicken strips or an Uncrustables peanut butter and jelly sandwich, plus house-made chips, a Go-Go SqueeZ applesauce pack, a mini Dapper Rose cupcake and a kids' fountain beverage for $9.99.
Have a sweet tooth? Try some of the specialty treats being offered on Saturday just for Dapper Day. The "Hats off to Spring" cupcakes come in vanilla or chocolate and the buttercream frosting and white-chocolate-covered cookies make the most adorable hat toppings. The "Dapper Quartet" consists of four mini cupcakes (two vanilla and two chocolate) that have fondant bowties and colors to mimic the Dapper Dans.
On Sunday, the celebration moves to Epcot, where guests are invited to again dress up. There also is a private party hosted by DapperDay.com at The Living Seas Lounge from noon to 2 p.m. Tickets are $50 per person and include:
** Private Undersea Viewing Lounge
** Pop-Up Boutique with Pinup Girl Clothing and Orlando Vintage, and Retromended.
** DAPPER DAY Mini-Shop and Photo Op
** DJ, Cash Bar, Complimentary Hors d'Oeuvres
** Free Limited Edition Pin Designed by Jerrod Maruyama
Tickets were still available at the time this blog post was published. Purchase them at DapperDay.com. Valid park admission is required to attend this event and is not included in the $50 party ticket.
Guests check in at the welcome desk outside The Seas pavilion (near the Coral Reef Restaurant) starting at 11:45 a.m. Note that a dress code will be enforced for this event: No T-shirts, tank tops, athletic wear or flip flops are permitted.
For those planning ahead, the dates of for Dapper Day in the fall at Walt Disney World are Nov. 18 and 19.