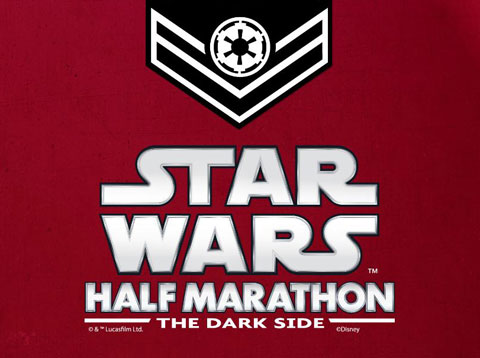 Lee and I did not attend any of the events of this year's Star Wars Half Marathon – The Dark Side weekend, so I prevailed upon friends to blog about the race weekend instead. Kim Scharoff and Molly and Tom Troost collaborated on notes and photos, and Kim wrote Part 1. A big thank you to all of them!
Thursday, April 20 – Expo
Tom, Molly and I are veteran runDisney runners and know that the Expo can be crazy at opening, so we decided to wait until later in the day. We drove over to the Expo around 3:30pm. We had no problem getting parking and walked right in.
The set up was the standard for WDW events – bibs in one building and Expo in another. While all of us printed out waivers prior, we forgot them at home and needed to print them on site. This was extremely easy to do. We were able to quickly get our bibs – all of us for the 5k and Tom and me for the Challenge.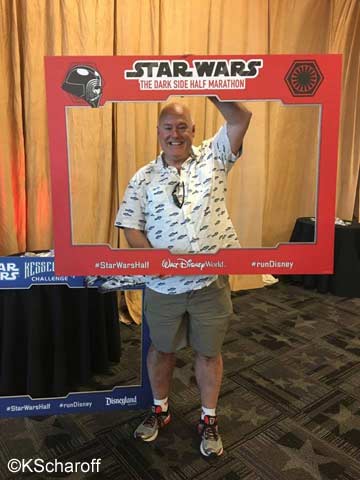 In the same area where we picked up our bibs, the race shirts were available. The shirts were gray, maroon, and red, with black writing to keep with the Dark Side theme.
(Laura's comment: Of course there was a gray shirt. There's ALWAYS a gray shirt.)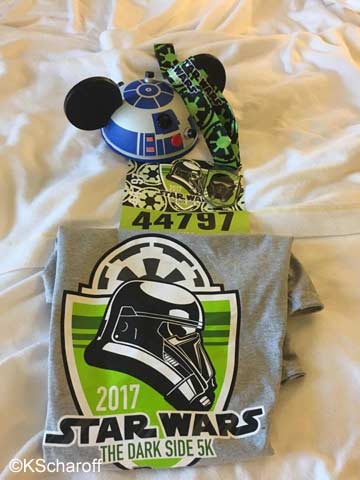 Upstairs there was a merchandise area. Tom went to pick up some commemorative items that he had pre-ordered while Molly and I went to check out the merchandise.
The merchandise was well stocked. It had race specific items as well as Star Wars generic items. We did not see pins in this area or the "I did it!" shirts.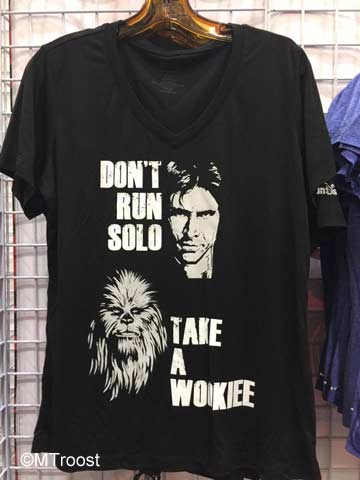 We went back outside and across to the main Expo. We first went to the runDisney merchandise area. Again, there appeared to be no shortage of anything. In addition, this area had the pins and shirts. Molly and I both purchased capri sweatpants that were Star Wars themed. Going through checkout was simple as well, requiring a less than 5 minute wait.
We walked around the remainder of the Expo, checked out some of the exhibitors and picked up a couple of items that we needed. New Balance sneakers were readily available and easy to purchase with no wait. I was able to basically walk right up and speak with Jeff and Barb Galloway and get my usual picture with Jeff.
We were done within 2 hours and headed off for dinner prior to calling it any early night since we knew the morning would be an early one.
Friday, April 21 – Dark Side 5K
Since the 5k was the usual EPCOT 5k that everyone knows from Marathon and Princess weekend, we drove over early so we could explore the pre-race area, and arrived at 4:00. Going through security to get in was easy. They continued with the bag vs. no bag lines and considered someone with a water belt as no bag.
DJ Elliot was spinning the tunes to get everyone pumped up. There were 7 picture back drops/characters that you could take photos with – Rogue One, Boba Fett with a carbonite Han Solo, Jabba the Hutt, Darth Vader, Kylo Ren, Captain Phasma, and BB-8. We were able to quickly get Darth Vader, Kylo Ren and BB-8, never waiting more than 15 minutes.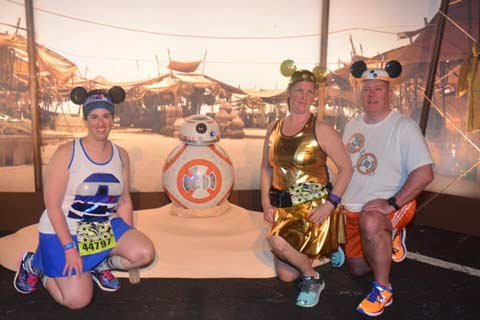 By that time, the lines had gotten long and for the first time, runDisney had signs with estimated wait times for each character. The ground was also nicely marked for moving the lines.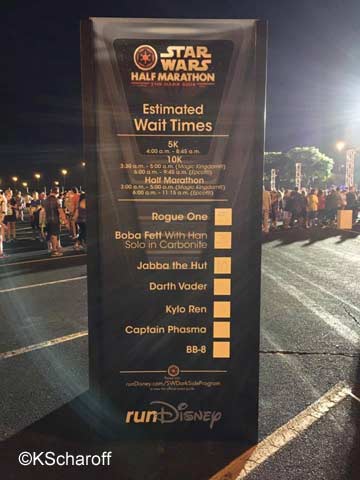 We made sure to make our way to the corrals with time to spare before the 6:00 race start. We were starting from corral C so that we could all stay together as we walked this race. There were the usual 5 corrals. Prior to the start we were reminded of proper course etiquette. It was relatively cool for Florida in April – about 61 degrees at the start, but quite humid.
Storm Troopers came out and told us this was Level One of our training. This was the same script that was used last year.
Rather than release an entire corral at once, they subdivided the corrals into 2 or 3 waves and released them at 2 minute intervals. This definitely helped to reduce some of the crowding on course.
Once on course, we felt they had a nice selection of characters. Less than a mile into the race, there were two Ewoks. The line was long when we got there and we decided not to stop, which is something we regretted later. We kept going and right before entering EPCOT near Test Track, the Emperor's Chair was available for runners to sit and take photos.
R2D2 and Star Wars Rebels were available in World Showcase for photos. Chewie was also in his usual spot for the runDisney events on the path near the International Gateway which allows for plenty of space for a long line. As you came near the Fountain in Future Wold, there were Storm Troopers on the ledge to take pictures with but without a PhotoPass photographer which we thought a bit strange.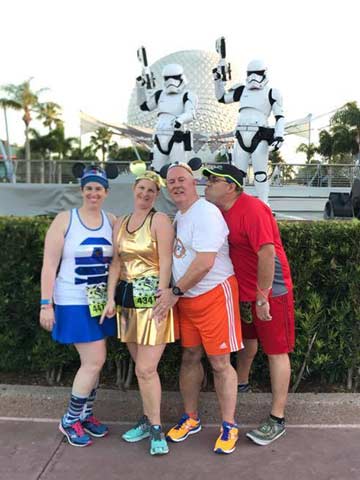 We saw lots of cool costumes, especially mash-up type costumes and we even dressed as droids. We got lots of great photos from the PhotoPass Photographers stationed throughout the course.
Of course, right before we crossed the finish line, we had to stop and talk with race announcers Rudy Novotny and John Pelky and take a selfie.
We all enjoyed the 5k race. Molly was now done racing for the weekend but Tom and I had two more races to go….