Photographs taken by Linda Eckwerth.
A new tour offering at Disney's Animal Kingdom is "Caring for Giants," which offers guests the opportunity to get a closer look (80-100ft) at the African elephant herd otherwise seen on the Kilimanjaro Safari attraction.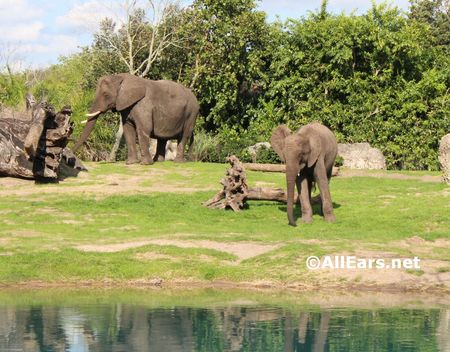 Guests check in at the tour desk near the entrance to the Kilimanjaro Safari attraction and are given a brief run-down of the upcoming activities, as well as admonishments not to take photos while backstage. We were also reminded that the elephants roam on their own and their closeness to the viewing area is not guaranteed.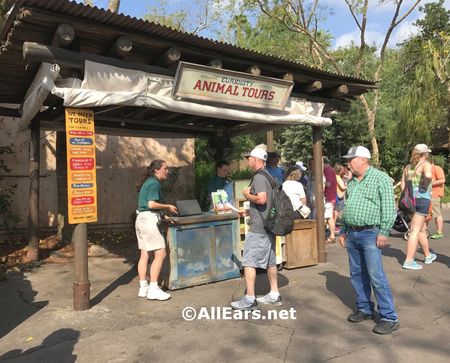 Afterwards, you're taken on a short jaunt through some backstage areas to an awaiting van that takes the tour group through the savanna to your vantage point.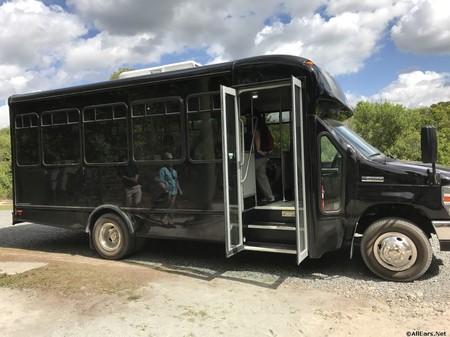 Once you reach your observation spot——
—– elephants!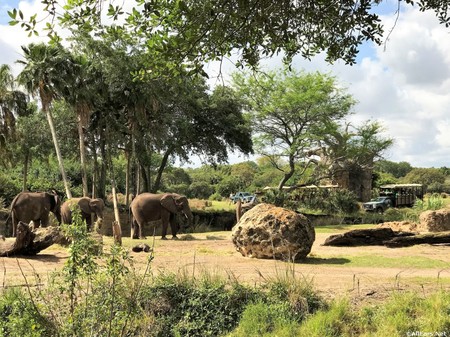 During the 30 minutes you have to spend in the observation area, two cast members talk briefly about the elephants and aspects of their lives, both in Animal Kingdom, and in their native home of Botswana.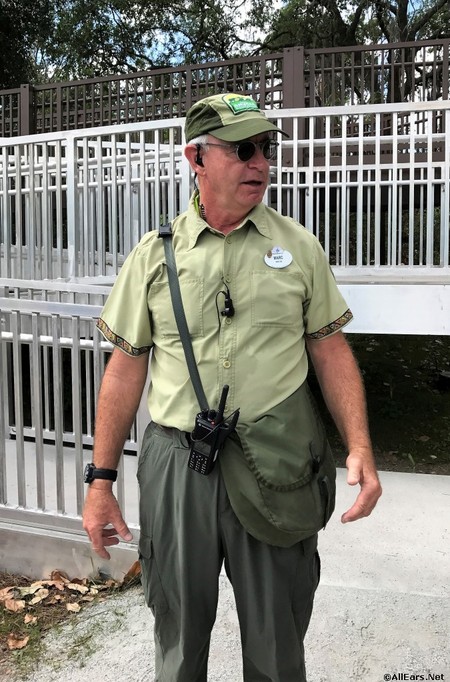 Some of the information shared:
–African elephants are a keystone species of the savanna and help to maintain the entire ecosystem.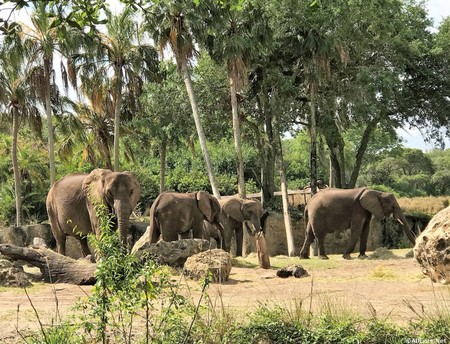 –The elephant herd is a matriarchal system in which females form a large bonded family and males are kicked out in their teens to lead largely solitary lives.
–The country of Botswana is underpopulated and home to the largest number of elephants in Africa.
–In order to preserve their crops from the elephants, farmers there utilize "bee boxes." These swinging boxes of bees emit bee sounds (and some bees) when disturbed by elephants. The elephants in turn leave and emit elephant vocalizations — low-pitched sounds virtually inaudible to humans — that can warn off other elephants from five miles away.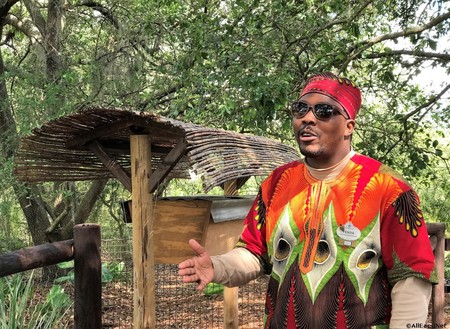 –The baby is named "Stella."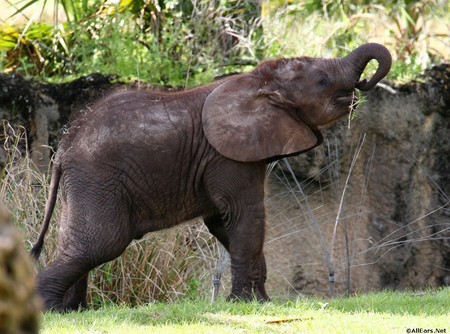 While the tour is pretty brief, it affords a nice look at animals that are not always sufficiently cooperative to display themselves to the Kilimanjaro Safari. Additionally, for people trying to pack a lot into their WDW vacation days, it represents a relatively small investment of time and money.
Tours cost $30 and can be reserved by calling (407) WDW-PLAY or (407) 939-7529. At this time, reservation can not be made online. Disney Vacation Club members and Annual Passholders qualify for discounts.
We all felt it was well worth the money to experience the elephants in such a unique way.
All proceeds from the tour go toward conservation efforts.
If you've taken the tour, why not write a short review to help other visitors!