As you read this, my family and I are (finally) sailing on the Disney Dream somewhere in the Bahamas. As you can imagine, we have been counting the days and anticipating the fun for months!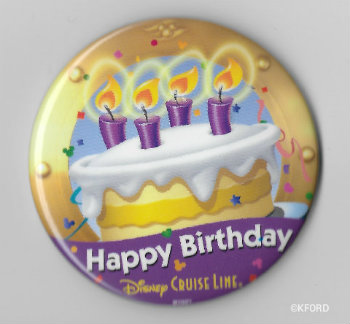 The impetus for booking a three-night trip on the Disney Dream was mostly to celebrate the kids' birthdays. My son turned 14 on Thursday, and my daughter is 12 as of yesterday, our departure date. So, how are we celebrating their birthdays onboard?
** First, soon after making our reservations, I requested that Disney Cruise Line note in our reservation that we are celebrating the kids' birthdays. I was asked which night we would like to celebrate at dinner because our servers will bring each child a complimentary dessert that is not on the regular menu, and the presentation usually includes the traditional singing. It's a fun way to make birthdays special. (Actual birthday cakes can be ordered ahead of time through Disney Cruise Line for an additional charge.)
** At Port Canaveral, we asked for complimentary Disney Cruise Line buttons when we checked in. (You can also go to Guest Relations on the ship.) Don't underestimate these buttons: My kids love wearing them because cast members and even guests will say "Happy Birthday" all day long. Plus, you never know when some extra pixie dust may be sprinkled for special occasions!
** Once we got into our stateroom, I decorated the door with our family magnets. I have updated our collection to include birthday greetings for each child. Plus, I made a personalized birthday sign to hang from the Fish Extender hook next to the door.
** For the first time, I also ordered one of the room-decorating packages from Disney Cruise Line. There is a birthday package, but I opted for the Halloween package because it has more components, including some things that will make nice souvenirs for the kids. And, after all, we are sailing on a Halloween on the High Seas cruise. The package consists of five dangling signs, a window cling, a large magnet, a pillow and a small black tree that lights up. On the card, I wrote, "Happy Spooky Birthday!" Originally, I had planned to bring items to decorate the stateroom myself, but then I learned that adhering items has to be done with magnets (just like stateroom doors) to prevent damage or you risk a $100 fine. While that still was possible if I wanted to attach magnets to everything, I opted to go with the easier route. Plus, the room is decorated upon arrival, which is a great surprise.
** We allowed each child to choose one extra activity during the cruise. My daughter wanted to go to the Bibbidi Bobbidi Boutique for the Celebration Package, which comes with a tutu and T-shirt and is a little more grown-up than a princess dress for a 12-year-old. My chose riding on a jet ski with his dad at Castaway Cay. Both kids picked something they have never done on a Disney cruise, so I know they are excited.
** Finally, we gave each child a small bag of cruise-themed goodies the day before we sailed. I ordered reusable Disney Cruise Line tote bags and picture frames from the Shop Disney Parks app. (Cruise merchandise also is available through DisneyStore.com.) I made Halloween on the High Seas journals by printing pages at home and having them bound at an office-supply store. I also ordered a personalized design through an Etsy shop to create magnets for the Castaway Cay 5K, which we plan to run for the first time. (I haven't heard of official 5K magnets being sold on the island.) Because we are Walt Disney World annual passholders and I am in the parks frequently, I purchased some mystery pin packs to give the kids starter pins to trade on the ship. And each child received a certificate for money they can spend on souvenirs.
Do you have a favorite way to celebrate birthdays when traveling with Disney Cruise Line? Tell us about it in the comments, please.