Although we are not new to Disney Cruise Line, having sailed on the Wonder, Dream and Fantasy, it had been almost four years since our last voyage. In that time, our children have grown up a bit and some things have changed on the ships. So, in our planning for our three-night-sailing on the Disney Dream over the weekend, we re-imagined what a Disney cruise means for our family. Here are some of the changes.
Disney Cruise Line Navigator app
Since the last time we sailed, Disney Cruise Line has launched its Disney Cruise Line Navigator app, which can be run through the ship's Wi-Fi on each passenger's personal mobile devices at no cost. The app allows passengers to view cruise activities, menus, deck plans, shopping opportunities and more.
But the best feature in my opinion is Onboard Chat, which allows passengers to text each other onboard. This was a game-changer for my family because each of my children has a cell phone, and we were able to easily communicate with each other. I felt a lot more comfortable allowing my children, ages 12 and 14, to separate from us knowing we weren't relying on a dry erase board posted on our stateroom door to communicate with each other. Unlike the expensive Wave phones in each stateroom, we found the app simple to use and convenient because we all were toting our phones around to take photos anyway.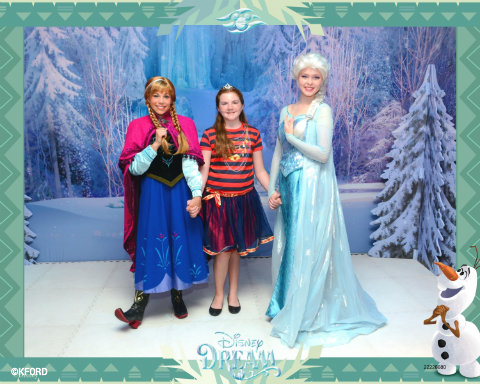 Character meet-and-greets
As with any Disney vacation, character meet-and-greets are a hallmark of the cruise experience. Locations for the various characters are listed in the navigator (paper and app), but two gatherings are unannounced and require passengers to sign up ahead of time. In the past, that meant making a beeline to the Port Adventures desk to obtain the coveted tickets, which are complimentary, to meet the Disney Princesses and Frozen's Anna and Elsa.
Since June, however, passengers have been able to reserve tickets to these character meet-and-greets online at the same time they are eligible to book port adventures and other onboard experiences. If either event is a must-do for your child, be sure to reserve a time online as soon as you are eligible to do so. Anna and Elsa are only out during the special Frozen set. The Disney Princesses will appear individually throughout each cruise, but meeting them as a group is fun and so efficient. On our cruise, my daughter met Cinderella, Snow White, Rapunzel and Belle.
If you are unable to secure a meet-and-greet reservation online, there usually are a limited number of tickets available at the Port Adventures desk onboard. The Frozen event is in such demand that it is held in Animator's Palate so that those who were unable to get tickets are not disappointed by seeing characters they cannot meet.
Castaway Cay 5K
When Disney Cruise Line ships stop at Castaway Cay, passengers have the opportunity to run (or walk!) a 5K on the private island in the Bahamas. The Castaway Cay 5K is much less formal than runDisney events — more on that in another blog post — but participants do receive bibs and finisher medals. Best of all, the cost of the race is included in the price of your cruise.
My husband and children have been bitten by the runDisney bug and have been running events at Walt Disney World for a few years now, so this opportunity really appealed to them. On our last cruise, my daughter was not old enough because the minimum age is 10 years. And I was determined to join them and make this my first Disney 5K. (After a knee replacement surgery this summer, being able to walk the 5K was a recovery goal for me.) We each succeeded in completing the 5K and came home with our new race bling. If you want to participate, sign up at Guest Relations once onboard and follow instructions for the group meeting place on the ship. There is no limit on the number of participants, and you do not have to worry about being swept if you are at the back of the pack!
Photos
Professional photos taken on a cruise are expensive, and even when I take my own photos, I'm still tempted to buy the professional ones, too. On past cruises, I spent a lot of time poring over the prints to narrow my choices down to a reasonable number of photos and stick with some sort of budget. On this cruise, however, we were offered the relatively new option to pre-purchase a photo package at a 15 percent discount through the third-party photographers at MyCruisePhotos.com. The purchase comes with a guarantee that if you are unhappy with the photos or do not take enough to justify the cost, you can get a refund — as long as you do so before you leave the ship.
My husband and I opted to pre-purchase the package that included all our photo prints and all the photos taken saved in a digital format. To get our money's worth, we made sure to stop for a lot of photos. Honestly, though, most of the photos were taken at events and activities we had planned to attend anyway. We came home with almost 100 prints and the ability to print the images in any quantity or size. Considering each 8 x 10 costs about $20 individually, we were pleased with our purchase.
What not to bring onboard
In September 2015, Disney Cruise Line changed its alcohol policy, much to the disappointment of many passengers. The once-lenient policy was often viewed as a perk that helped balance out the high prices of Disney cruises. But the company placed tighter restrictions on what can be brought onboard: Now, each adult age 21 and older can bring a six-pack of beer or two unopened bottles of wine onto the ship at the start of the cruise. Adults can purchase and bring onboard the same amount at each port. Disney Cruise Line will confiscate any alcohol above the allowable amount and return it to passengers at the end of their cruises.
Disney Cruise Line also has placed restrictions on some items for staterooms. You no longer are allowed to bring:
** Irons. This is because of the risk of a fire. They are available in the laundry room, however.
** Over-the-door shoe organizers. These were popular with passengers who used them to organize small items, but the metal hooks were damaging the paint on the stateroom doors.
** Power strips. Apparently, they are causing circuit problems in stateroom. This is a pain for those of use who have a lot of devices to charge each night — and who doesn't? Multi-USB chargers are allowed, however, which could be a solution for charging many cell phones simultaneously.
** Extension cords. There are a limited number available at Guest Relations, and they can be checked out with a $50 deposit. I was able secure an extension cord for my heating pad without a problem, and Disney Cruise Line will make the cords available for medical devices, such as CPAP machines.
Disney Cruise Line has made many changes in the last four years, most of which made our cruise experience even better. In coming blog posts, I'll tell you more about what we experienced on our recent cruise.