SeaWorld Orlando has announced eight new ways it plans to take visitors under the sea and inspire them with marine life in 2017.
Perhaps the most-talked-about addition is the Virtual Reality experience that will be added to Kraken in time for the summer season. Kraken will be the first roller coaster in Central Florida to have a Virtual Reality overlay.
The story of the coaster is that "There is a crack in time in a sea bed and you're going to dive into that crack and you're going to discover a world of times gone past — animals that used to live in our oceans and animals that might have lived in our oceans and you're going to have a close-up encounter with the Kraken herself," said Brian Morrow, vice president of theme park experience design for SeaWorld Parks and Entertainment.
SeaWorld has developed its own custom Virtual Reality system that it plans to integrate into the current ride. Passengers will have the option to place the headset on themselves to experience the overlay or to ride the coaster without the addition.
"[The Virtual Reality system is] fully 3D with audio. Fully immersive. Fully tethered, fully synchronized so we won't have any motion sickness issues," Morrow said.
Kraken opened in 2000 and remains one of SeaWorld Orlando's most popular coasters with its floorless seats and seven inversions. Morrow said the attraction only will be taken down for two months to add the Virtual Reality experience.
The current minimum height requirement to ride Kraken is 54 inches, but Morrow said he didn't know if it would be same for the Virtual Reality overlay.
SeaWorld Orlando also is adding more of what of what guests love in another area — its themed festivals and parties. In February, the theme park will launch its Seven Seas Food Festival, which will take place for 14 weekends in the spring.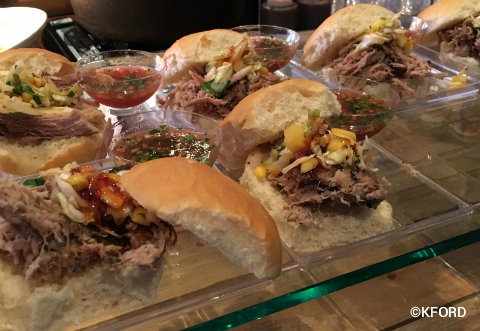 Hawaiian Pulled Pork Slider served with Pineapple Pepper Cole Slaw and Asian BBQ sauce
Watermelon Gazpacho topped with Tecate Beer Jalapeño Foam
Vermont Pound Cake Grilled Cheese topped with a freshly made Raspberry Sauce
"You're going to get a chance to travel around the world right here at SeaWorld and taste cuisine from the shores and the coasts and little stands and roadside kitchens that you can find all over the globe. You'll get to taste food from Hawaii, North America, South America, Mediterranean, all over the world," Morrow said.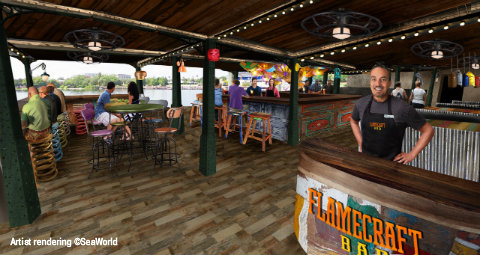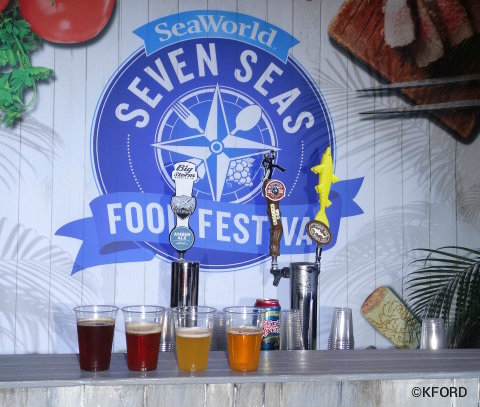 At about the same time the food festival begins, a new bar featuring microbrews, will open at the Waterfront. FlameCraft Bar with its expansive lagoon views will be designed to look like lantern repair shop, and patrons will be able to sample 15 draft craft beers that are sourced locally. Many of the beers also will be available during the food festival.
A second party, Electric Ocean, will debut for the summer season and become a daily nighttime event that includes lighting, music and pathway entertainment.
"[We asked ourselves] what would happen if we dove deep in the water and the bioluminescent animals all started talking to us with light and it transformed the park as it transitioned from daytime to dusk to nighttime," said Morrow.
"And it wouldn't be a great night festival if it didn't have a great finale. You're going to get to participate in an electric dance party on our lake, surrounded by fountains with a finale of fireworks like you've never seen come from this organization."
Also for Summer 2017, SeaWorld Orlando's Dolphin Nursery will become more interactive. Large-scale acrylic windows will offer up-close viewing, including multiple levels to give kids a face-to-face perspective with dolphin calves. New slide out areas and lifting floor will also allow for easier access to mom and baby for the veterinary and animal care teams.
The next generation of multi-purpose digital displays will allow SeaWorld educators to share information about dolphin behavior, biology and conservation with our guests by interacting with video from the team's educational and animal care content.
Morrow said that beginning Memorial Day weekend, the Nautilus Theatre, which has been dark, will house a dedicated summer show. Details are not being announced yet.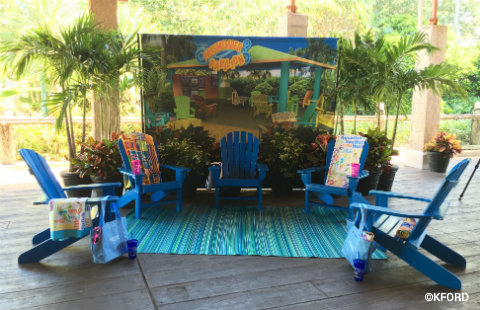 Aquatica pass members can look forward to a new pavilion designed for their exclusive use, much like the one at SeaWorld Orlando, just in time for spring break. The Aquatica space will feature concierge service, complimentary sunscreen and fountain beverages, a separate entrance to Banana Beach and private animal encounters.
SeaWorld Orlando pass members now can purchase new, innovative passes that allow them to bring different guests for each visit. The "host" purchases an annual pass for $168 and also a transferrable pass at the same time for $208. The host then can use the second pass to bring anyone he or she chooses with the second pass, but it is limited to one visit per day and the host must accompany the guest. This pass offer also is available for a SeaWorld and Aquatica combination at $192 for the host pass and $232 for the transferrable pass. Also, a special offer right now adds three months free to a regular annual pass.
Finally, beloved Christmas character Rudolph the Red-Nosed Reindeer and friends — including Clarice, Bumble, the Abominable Snow Monster and Yukon Cornelius — and Rudolph-themed attractions will be making their debut as part of the 2016 Christmas Celebration at SeaWorld Orlando. They will return for 2017 with additional experiences.
"Our company is going through a fantastic moment in time where we're creating our future," Morrow said. "We're developing experiences that not only matter but experiences that can create a lifestyle with purpose within our guests to explore, protect and help this environment that we all live within."