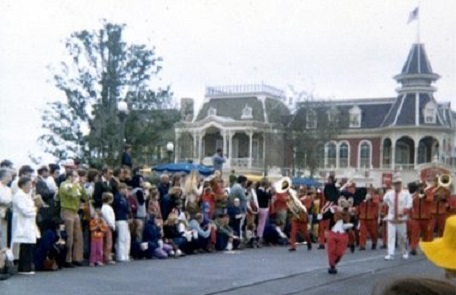 Mickey Mouse leads the parade along Main Street U.S.A. during the author's first visit to Walt Disney World in 1972. Photo by Chuck Schmidt

by Chuck Schmidt
AllEars.Net Guest Blogger
When the Walt Disney Company updates an attraction, adding new pizzazz to a ride that's well past its prime, they often tell us the ride has been "re-imagined."
Star Tours in Hollywood Studios was re-imagined a few years back to become Star Tours: The Adventures Continue, with new scenes from Episodes 1, 2 and 3. So, too, was Test Track in Epcot, where you can now design your own car before taking it for a hair-raising spin around the banked speedway.
After seven years writing a blog on all things Disney on SILive.com, we've decided to re-imagine it. Much like the Festival of the Lion King show in Animal Kingdom, which was moved to another location, we'll now be blogging on AllEars.net, the preeminent website for all-things-Disney. In keeping with the re-imagining theme, my contributions to AllEars will be titled Still Goofy about Disney.
The focus of Still Goofy about Disney will be a subject near and dear to my heart: Disney of old. I have always been fascinated with the history of the most successful entertainment company in the world. During my 30-plus years of covering Disney either as the Sunday Editor of the Staten Island Advance or as a Disney blogger, I have been fortunate to have gotten to know many of the most prominent cast members in Disney history, folks like Marty Sklar, Jack Lindquist, Tony Baxter, Bob Gurr, Tom Nabbe, Bill Sullivan, Ron Dominguez, Charlie Ridgway and, of course, Deevy See [just kidding].
Through personal contact or phone interviews, they have shared many, many intriguing stories about their lives and their careers .. stories that I have, in turn, enjoyed sharing with my readers.
My wife Janet and I first visited Walt Disney World in 1972, a few months after we were married. I have still-strong memories of a place that we've returned to dozens and dozens of times over the last four-plus decades. Like those conversations I've had with the Disney Legends, all those previous visits will form the fabric of Still Goofy about Disney going forward.
In addition to my blog, which I started in 2009, I have authored two books on Disney, with a third due out this spring.
The first was Disney's Dream Weavers [Dog Ear Publishing], which goes into detail about the common thread I found running through Disneyland, Freedomland, the 1964-195 New York World's Fair, and Walt Disney World. The second is On the Disney Beat [Theme Park Press], which tells the story of my more than 30 years of covering Disney, either at elaborate Walt Disney World/Disney Cruise Line press events or through extensive interviews with some of the most respected Disney Legends.
Marty Sklar, one of those Legends, graciously wrote a foreword to On the Disney Beat, leaving me both honored and humbled. In part it reads: "It's not just Chuck's reporting and writing that we at Disney appreciate so much. It's the trust that we place in Chuck — that through his knowledge and appreciation of what we have created and built, we will be treated fairly, respected for our passion and skill, and loved for 'making the magic real.'"
Hopefully, my passion for Disney will continue to shine through in future Still Goofy about Disney blogs.