Yes, you read that title correctly; there really are Disney postage stamps! They've been around since September 11, 1968 when the US Postal Service issued a stamp commemorating the life of Walt Disney.
That stamp featured a portrait of Walt, surrounded by children of the world.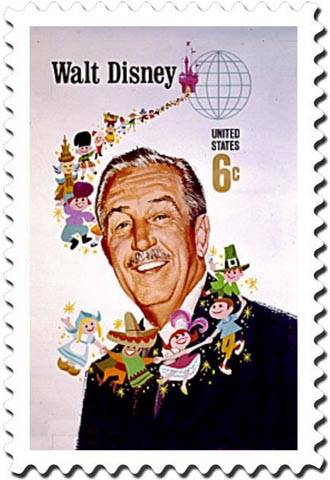 It was an immediate hit with stamp collectors around the world who scrambled to buy the stamps and some limited edition "First Day Of Issue" envelopes. Philatelists (stamp collectors) refer to these special envelopes as "covers".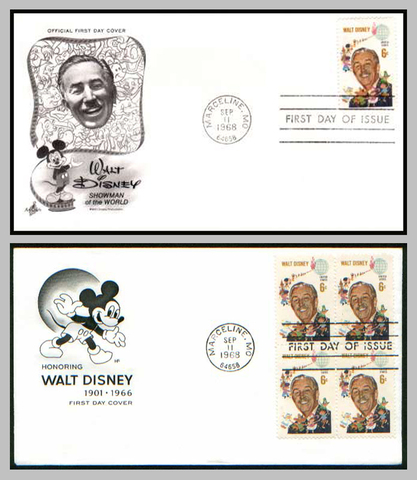 Over the next twenty years the Disney licensing machine operated in high gear as Disney artists produced custom art work for countries all around the world which were producing Disney postage stamps.
That's when Carol began her collection, in about 1989. Her first purchase resulted from a magazine ad she saw; it was a packet of 100 stamps from around the world that she purchased from a philatelic distributor in Calgary Alberta.
Since then she has kept her eyes open and her ear to the ground, following for new releases, and she has made some good buys! She is strictly a "topical collector" – she focuses entirely on Disney stamps!
All of the images below come from Carol's collection. In most cases you can click on the image to see a larger version.
Let's look at some of Carol's Disney stamps from the 1980's, starting with this group from Dominica, a small island-nation in the Lesser Antilles. They featured a Peter Pan theme and were produced for Christmas 1980.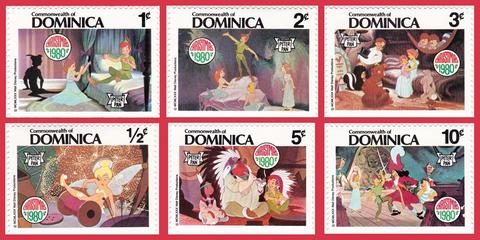 (Did you remember to click on the picture to see a larger version?)
That same year Grenada sold two series of Christmas stamps, one based on Bambi and the other featuring Snow White.
In 1982 the tiny South Asian nation of Bhutan had a special issue of stamps based on Disney's Jungle Book.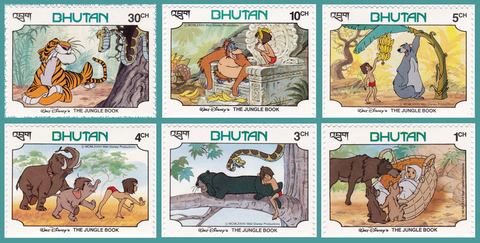 There were even stamps to commemorate the 1982 World Cup, played that year in Spain. The soccer themed stamps weren't produced in Spain though, they came from Dominica.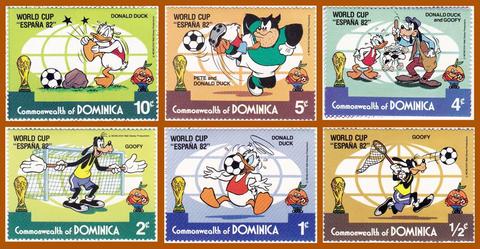 In 1983 Anguilla, a British Territory in the Caribbean, had a series of Christmas stamps showing Disney characters in scenes from Dickens stories.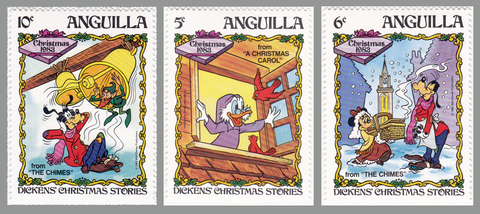 A series issued by Antigua and Barbuda celebrated Donald Duck's 50th birthday. Donald and his nephews were shown enjoying a Caribbean cruise vacation for Christmas 1984.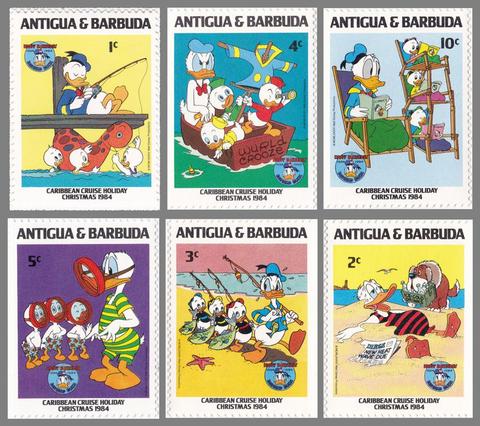 The theme was "50 Years Of Color Animation" in the series issued by Romania in 1985.
In 1988 there was a huge stamp exposition in Chicago. "Ameripex '86" was hailed as The World's Fair of Stamps. The stamps below were produced for that event by Grenada and the Republic of Maldives.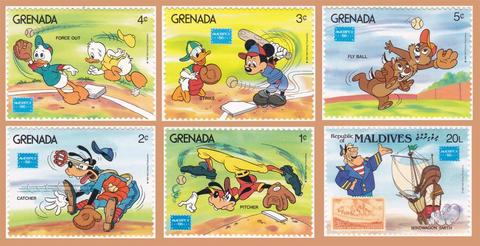 Let's conclude our little postage stamp tour of the 1980's by looking at this cute little Christmas train from 1988. These stamps were produced by St. Vincent, another tiny island-nation in the Lesser Antilles.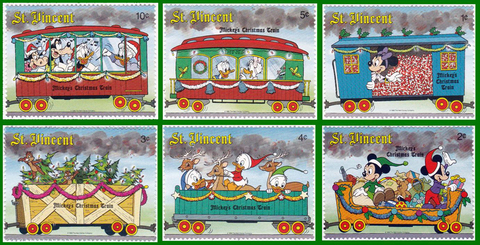 There was a Canadian addition to Carol's collection in 1996. Canada Post and Walt Disney World joined forces to celebrate the 25th anniversary of Walt Disney World by issuing a stamp series featuring Canada's most popular bear. She didn't even have to fly south to get these stamps, she picked them up in our local post office!
Since the new millennium began there have been frequent releases by the US Postal Service, based on "The Art of Disney", and Carol has collected them all.
First came the "Art of Disney Friendship" series in 2004. The four stamps in the series depict some of your favourite characters with their best friends!
Naturally Carol bought the "First Day Of Issue" covers!
The series also included a set of four 8″ X !0″ prints. My princess bought them as well, to complete her set.
The theme for 2005 was "Celebration" and Carol was thrilled when this offer from the US Postal Service arrived in the mail!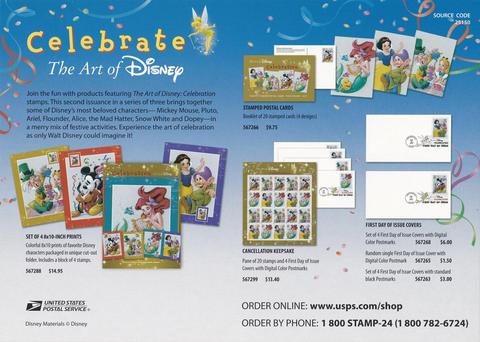 The Celebration stamps portray Disney characters enjoying festive activities; music, dancing, a birthday and a tea party.
Once again she ordered the First Day Of Issue covers!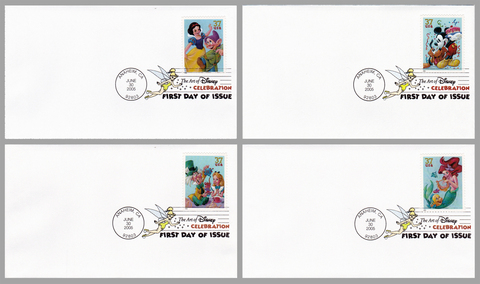 . . . and the 8″ X 10″ prints . . .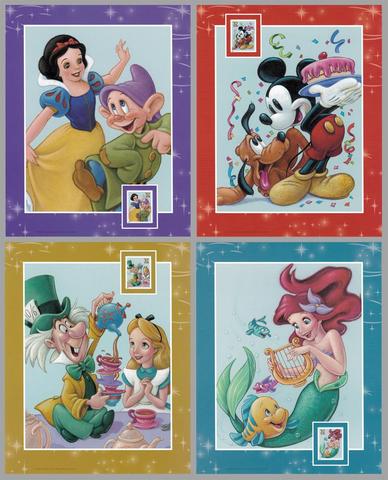 . . . and the postcards . . . you just cannot get too much of a good thing!
Things took a romantic turn in 2006. What could be sweeter than these Disney couples?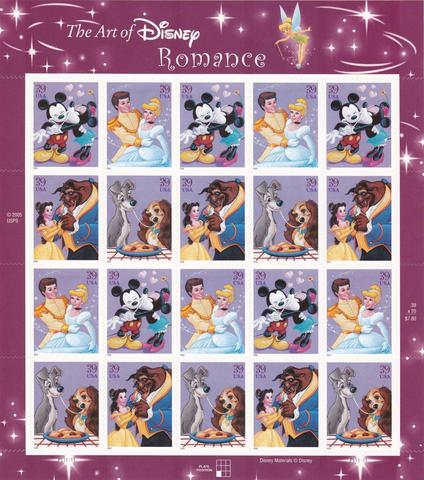 As you probably guessed, Carol just had to have the First Day Of Issue covers! They were released at the 2006 EPCOT Flower and Garden Show and each cover shows the corresponding topiary that was on display during the festival.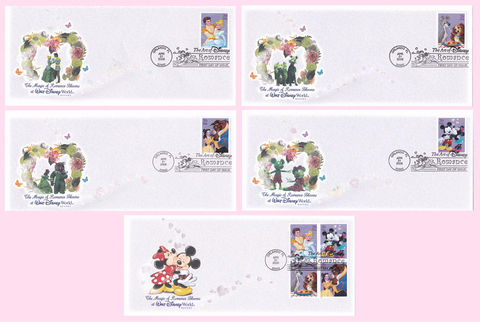 . . . and the 8″ X 10″ prints.
We attended the Flower and Garden show that year and Carol was lucky enough to pick up one of the special framed cachets. It was a Limited Edition of 185.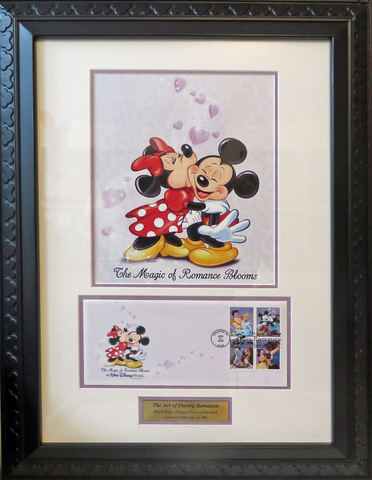 Magic took center stage in 2007. There were four magical moments from Disney animated feature films depicted on the stamps that year.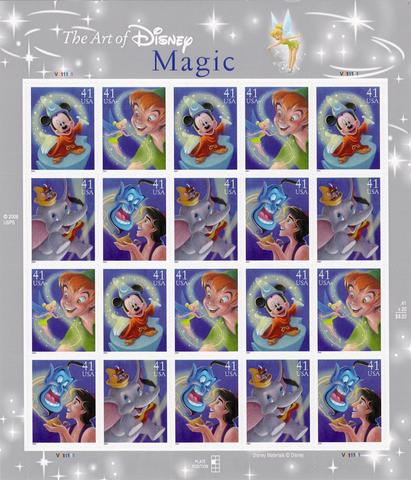 Of course she bought the First Day Of Issue covers and the prints . . .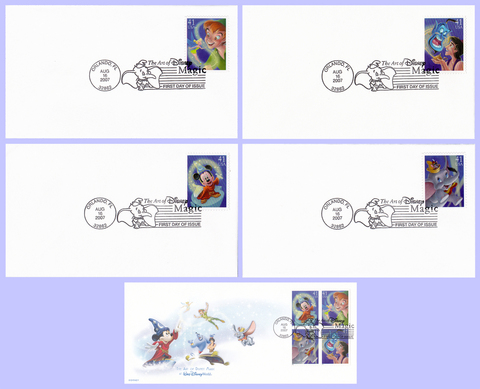 . . . and the postcards!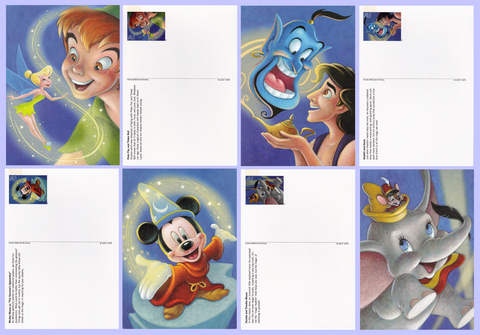 In 2007 the stamps shone their spotlight on Disney Imagination.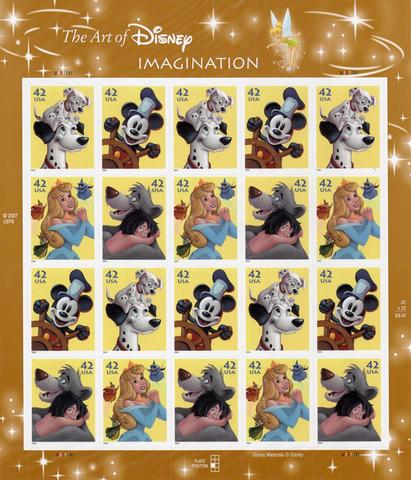 Carol added a sheet of stamps, the First Day Of Issue covers and the prints to her collection.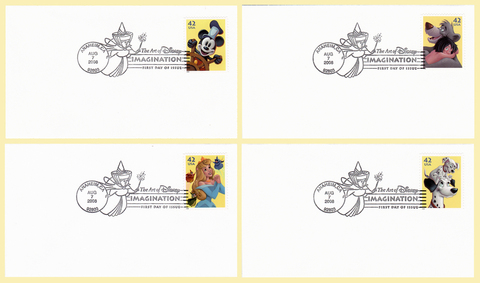 The next issue from USPS was in 2011, the "Send A Hello" series showing characters from five popular Disney/Pixar animated features.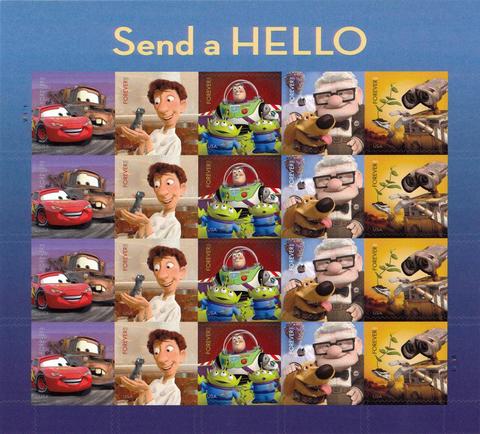 Carol bought the standard covers and the First Day Of Issue covers.
In 2012 they followed with the "Mail A Smile" series, once again depicting five Disney/Pixar films.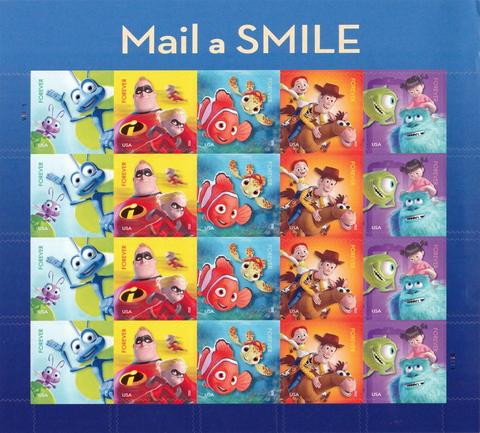 Once again Carol bought both sets of covers.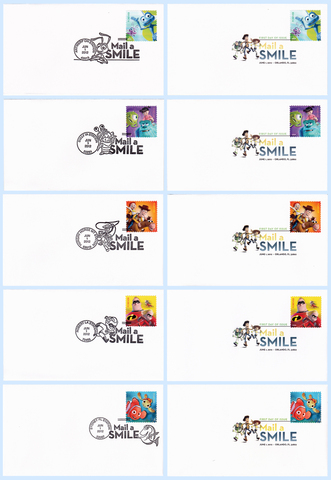 Alas, there haven't been any new releases in North America in the past few years, but Carol continues to keep her eyes and ears open looking for new philatelic treasure!
There are some resources available for aspiring Disney philatelists! There is an out-of-print book dedicated to collecting Disney stamps; there are Disney stamp collecting albums and kits; there is even a Facebook page for Disney stamp collectors. A simple Internet search should help you find these resources if you want to read more, or begin your own collection!