This past weekend, the Walt Disney World Swan and Dolphin Resort hosted its sixth annual Food & Wine Classic, two evenings of sampling appetizer-size portions of food, wine and beer in an outdoor atmosphere with live entertainment. Each night has a different menu at the 12 food stations that represent restaurants and chefs that are part of the Walt Disney World Swan and Dolphin.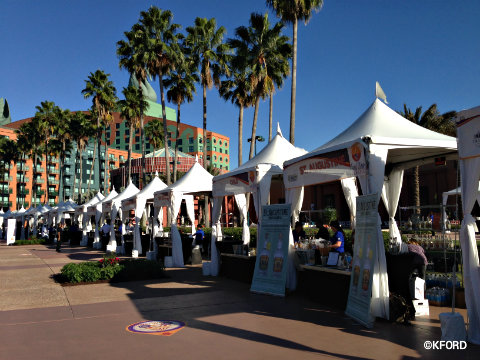 This was my third year covering the Food & Wine Classic for AllEars.Net, and it's an event I look forward to every year. The atmosphere is decidedly adult, though there aren't age restrictions for participants, and it feels more relaxed than other nearby events. It's not as crowded at the Epcot International Food and Wine Festival is on weekends, and the event lasts for three and half hours (an hour longer than Party for the Senses), which means less rushing from one food dish to another. If you haven't tried this event, I recommend putting it on your calendar for next year. It's a great date night! Official dates for 2016 have not yet been announced, but it typically is held the last weekend in October.
Guests can begin the evening with a one-hour, hands-on seminar, if they choose. Topics include wine blending, Italian wines, champagne, beer, mixology, tequila, pasta making, sushi and sake, wine and cheese pairing, and the Brazilian cocktail, caipirinha. Beverage seminars are $45 per person, and pasta-making and pairing seminars are $60 per person.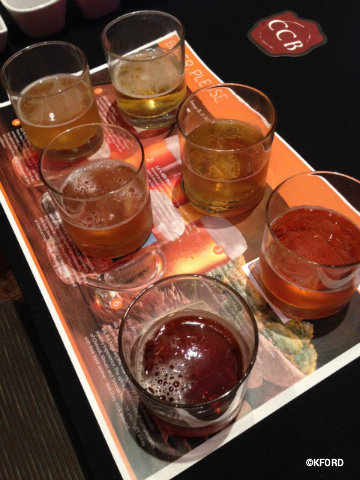 My husband had attended the "Beer, Please" seminar in the past and enjoyed it so much, he couldn't wait to go again this year. Presented by instructors Brian Exner, general manager of Il Mulino, and D.J. Robertson, food and beverage purchasing manager at the Swan and Dolphin, the hourlong event featured a sampling of eight different beers and an explanation of what made them drinkable and how to best pair them with the right foods.
The class this year, like the one he attended two years ago, started off covering the basics of beer ingredients, styles and definitions used by brewers. Then the class sampled various beers, starting with the lightest and working their way through to darker and more bitter brews. Their tables were arrayed with various snacks, from cheese to pretzels to bacon and bread and more, and the class participants were taught about how various types of beers were better paired with certain food groups.
A highlight of the session was when one of the brewers from Grand Rapids, Mich.-based Founders Brewing discussed the process for creating their newest Imperial Red IPA called reDANKulous. It was the one of the darkest and bitterest of the selections but also one of the most popular with the beer-loving group.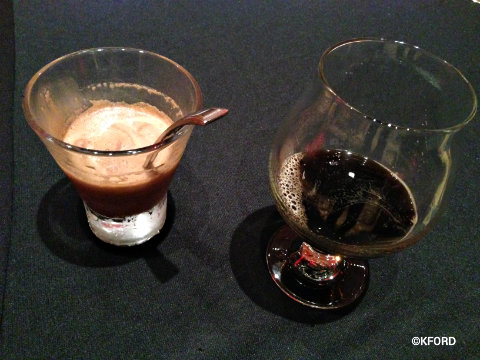 The session concluded with a beer-lovers dessert of a dark beer poured over chocolate ice cream to create a unique beer float. It might sound extreme, but my beer-loving husband said it actually was a sweet treat that took advantage of the dark brew's cocoa flavors.
The food and beverage seminars wrap up just as the causeway between the Walt Disney World Swan and Dolphin opens at 5:30 p.m. for the main event. In past years, we saw consistently long lines at stations for delicacies from celebrity chef Todd English, Kimonos, Cib's Smoke Shop and Shula's Steakhouse. This year, these stations plus eight more returned and the lines seemed much more manageable. Don't get me wrong: There's always a line for Shula's, but it moved quickly!
Among our favorite dishes from the new offerings on Friday night: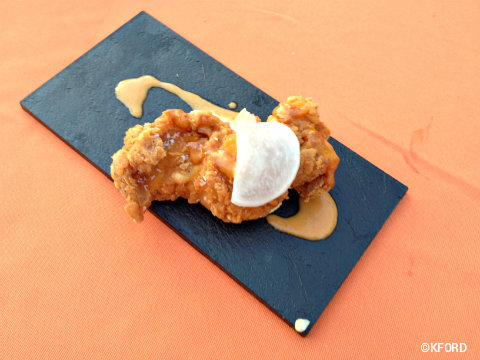 Cib's Smokehouse: Southern Fried Chicken, Creamy Polenta, Pickled Turnips, BBQ "gravy"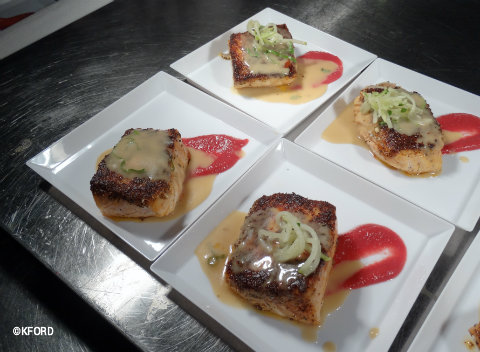 Garden Grove: Blackened Salmon, Red Beets, Green Apple, "Sauce Troisgros"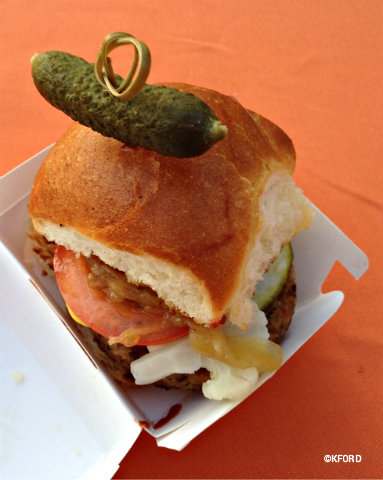 Fountain: Vegetable Slider, Pickled Vegetables, Homemade Ketchup, Caramelized Onion Relish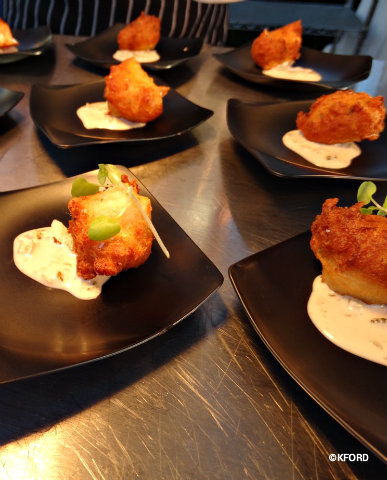 Todd English: King Crab & Hickory Smoked Mozerella Fritters, Vanilla-Cognac Remoulade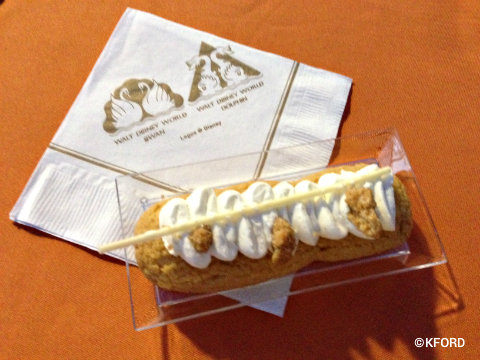 Chef Laurent Branlard's Desserts: Eclair with Caramelized Banana Cream and Coconut Streusel
Chef Laurent Branlard's Desserts: S'more Sundae
And, of course, our must-haves from returning favorites: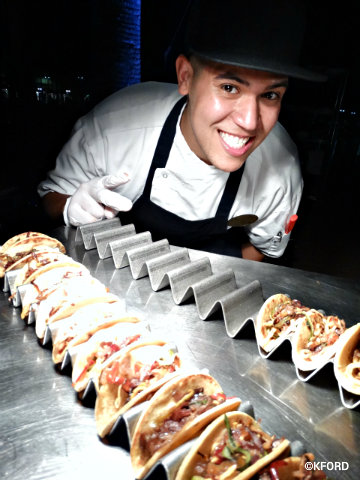 Picabu: Taqueria-corn tortilla with Barbacoa of Beef or Organic Vegetables
(Topped with cheddar cheese, lime wedge, lettuce, onion, shaved radishes, pico de gallo and hot sauces.)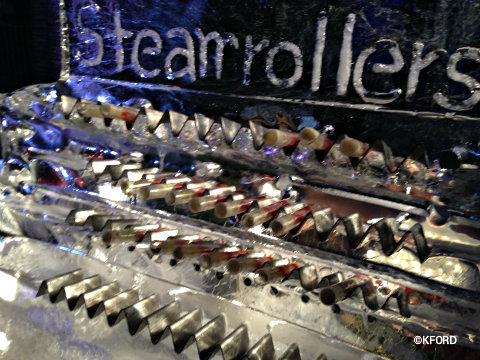 Bluezoo: Shrimp Cocktail Steamroller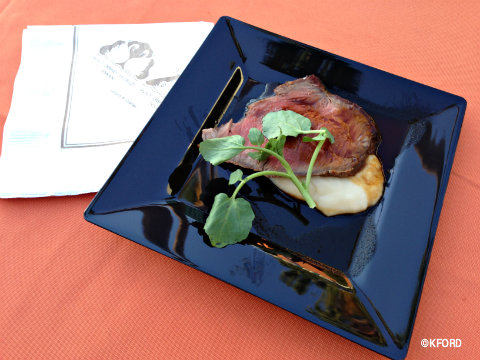 Shula's Steakhouse: Carved Prime NY Strip, Mashed Potatoes, Sauce Bordelaise
As the name indicates, the Food & Wine Classic is also all about the beverages. AllEars.Net Founder and Owner Deb Wills also attended the event on Friday, and because she is more of a wine aficionado than me, I asked her thoughts about the offerings. Here's what she had to say: "One great thing about the Classic is the selection of wines available to sample from around the world. If there is a region or type of grape you want to learn more about, this is your chance. It is impossible to try them all, so I check out the list online, prior to the Classic, and make a list of those that interest me. [There are 40 wine stations, each with at least two selections.] I particularly enjoyed tasting the wines of Italy, including the Querceto Chianti Classico Riserva, and also the wines from Washington state, such as the Canoe Ridge, Expedition Merlot."
Guests who prefer beer to wine had plenty of beverage options, as well, if they chose to upgrade their Food & Wine Classic tickets to include the Beer Garden for an additional $20. The Beer Garden was located on the Crescent Terrace near the canal with a view of the nearby Boardwalk. The area, under a canopy of shade trees, was populated with various beer and food vendors. My husband enjoyed some familiar beers from brewers such as Sam Adams, Magic Hat and Lagunitas Brewing, as well as some micro-brews from regional breweries, too. Along with the great-tasting beer offerings were warm pretzels and various mustards, and vendors offering German Style sausage and Weiner Schnitzel, too, for a perfect beer-pairing snack. My husband would have been happy to linger in this section of the festival all night, he said.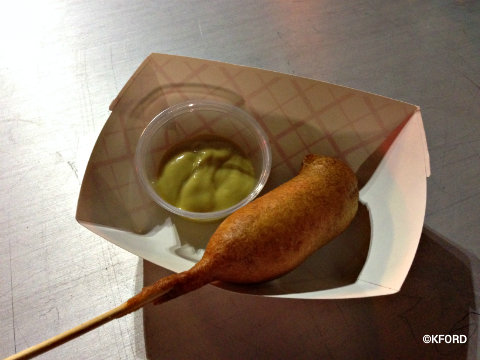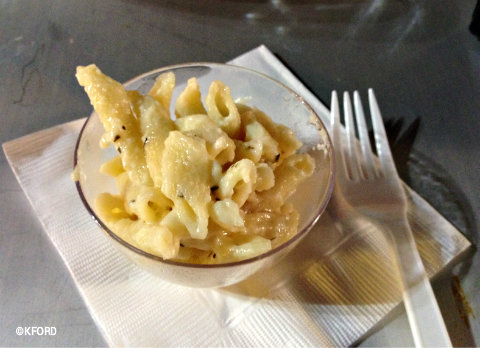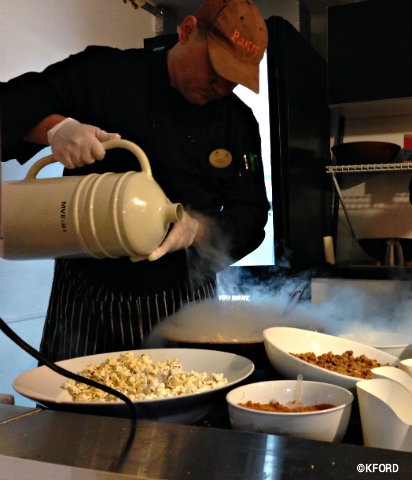 New to the Food & Wine Classic this year (and included in the all-inclusive ticket, which costs $105 when purchased in advance) was the Carnival Corner. This area, set back behind the promenade, featured five food trucks. Each served a specialty item: Texas-Style Corn Dogs, Funnel Cakes, Nitro Kettle Corn, Cabot Creamery Mac & Cheese, and Wines. My husband and I sampled each of the dishes (minus the funnel cake) and enjoyed them. It was a fun area, but we couldn't help feeling like we were wasting our calories on these snacks when we could be eating the delectable offerings from the hotels' restaurants instead! But perhaps we were not the target audience for the Carnival Corner; most of the younger crowd seemed to hang out here.
Regardless of what your taste might be, though, there's a good chance you'll find something unique and satisfying at this event, and I definitely recommend that you consider setting aside some time next fall for this food-lovers event.
DISCLAMER: I was a guest of the Walt Disney World Swan and Dolphin at its Food & Wine Classic. This did not affect my review, and my opinions are my own.