Halloween is like a ghost of Christmas past, so bring on Christmas present and the joy of shopping! Some of my favorite brands with Disney collections have revealed their holiday products, so I'm here to tempt you with a look at the goods, or should I say, goodies.
Pandora
Although I certainly had heard of Pandora charm bracelets, I didn't realize that I NEEDED one until the jewelry company teamed up with The Walt Disney Company about a year ago and introduced a line of Disney-themed charms. Pandora retailers nationwide offer a robust line, but what really interested me was the collection of Disney Parks charms exclusive to Walt Disney World and Disneyland. They depict the park icons and attractions and make great keepsakes.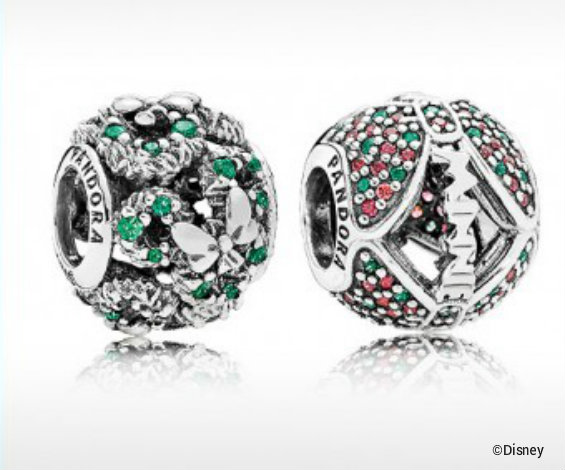 Two new holiday charms were released this past weekend at the resorts and also are available online at DisneyStore.com: Mickey Mouse Holiday Wreath Charm and Minnie Mouse Holiday Bow Charm. Each costs $75. Two Limited Edition charms — available only until Dec. 31 — also were released: Mickey Mouse Pavé Charm and Minnie Mouse Pavé Charm. Each retails for $90. The Mickey bead is a sterling silver charm with 37 clear cubic zirconia, 6 micro bead-set and 177 pavé-set black crystals and black enamel. The Minnie Pavé Charm is also a sterling silver charm with 31 clear, 6 micro bead-set, 19 pavé-set red cubic zirconia, 156 pavé-set black crystals, and black enamel.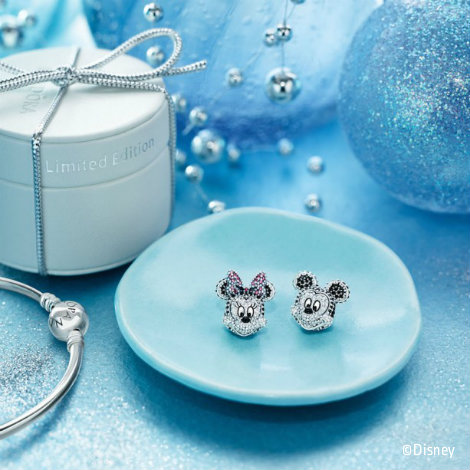 Two additional charms will be released on Nov. 13 at Disney Parks, but shoppers who use the Shop Disney Parks app can order them on Nov. 6. A bead honoring "Wishes" Nighttime Spectacular at Magic Kingdom and one celebrating the 75th Anniversary of Walt Disney's "Fantasia" make their debut this week. The Fantasia charm is a limited release product and will only be available while supplies last.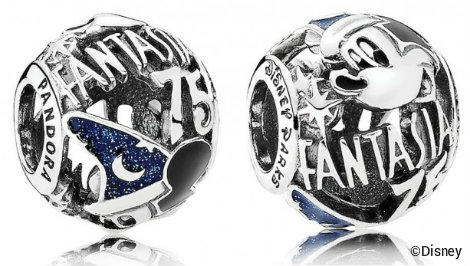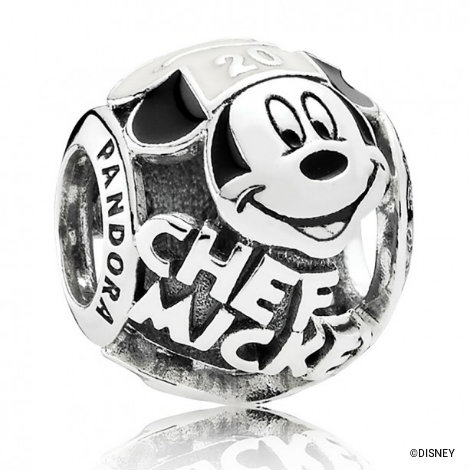 Finally, you might also consider the relatively recently released charms for the 20th Epcot International Food and Wine Festival, which depicts Chef Mickey, and the four charms designed for the Diamond Celebration of the 60th anniversary of Disneyland. They all now are available online.
The Disney Collection by Vera Bradley
Last month, Vera Bradley Co-founder and Chief Creative Officer Barbara Bradley Baekgaard visited Walt Disney World for the release of two new patterns in the Disney Collection by Vera Bradley. "Mickey Meets Birdie" is a black-and-white pattern with hot pink accents that comes in 10 styles, including the popular Hipster Bag, a Zip ID Case and a Vera Bag (tote).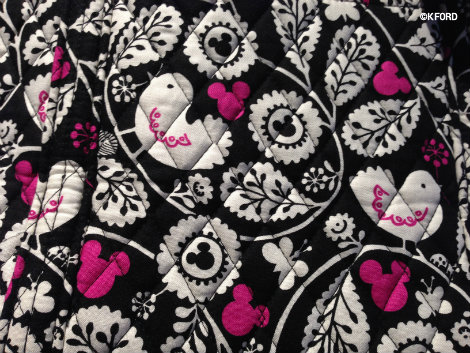 Steven Miller, Merchandise Communications Manager at Walt Disney World, described on The Disney Parks Blog the inspiration behind the pattern: "Barbara Bradley Baekgaard's chic home has always been filled with beautiful bright colors, patterns and design pieces — many of which contain scenic landscapes and birds. When Barbara's first grandson, Christopher, visited her home as a child he would point out all the birds in each room and repeat, 'Birdie, birdie, birdie.' One day, after several visits and 'bird watches,' Christopher was asked which grandparent he was visiting and he enthusiastically replied, 'Grandma Birdie!' The name was quickly adopted by all of Barbara's 14 grandchildren and family. Barbara loves Disney, so [Mickey Meets Birdie] is the perfect representation of a match made in heaven!"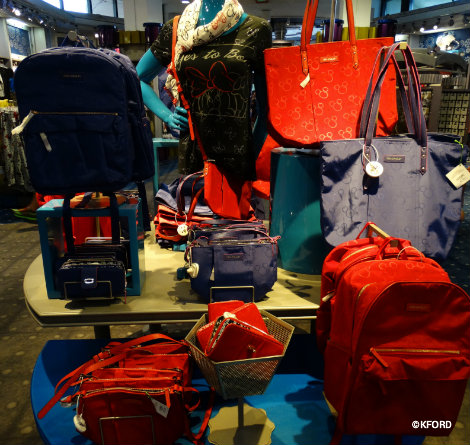 The second pattern released in October is "Preppy Poly," and it is offered in Violet and Tango Red. The solid colors have a subtle pattern of the classic three-circle Mickey Mouse shape. Four styles are available: Backpack, wallet, tote and crossbody bags.
Most of the products in both patterns are available at Disney Parks and online.
Dooney & Bourke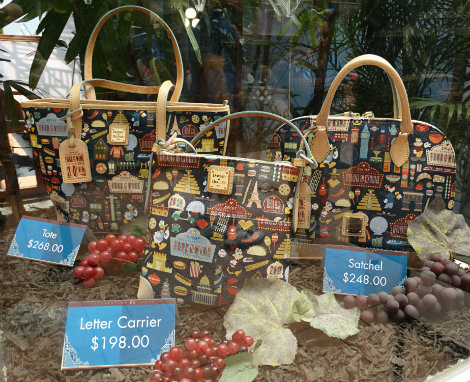 Dooney & Bourke, the maker of popular high-end handbags, continues to release new Disney-themed patterns for different seasons and events at Disney Parks. Most recently, three bags debuted at the Epcot International Food and Wine Festival: a Satchel ($248), Tote ($268) and Letter Carrier ($198).
New Disney Dooney & Bourke bags typically are released for runDisney weekends, as well. But because the upcoming Disney Wine and Dine Half Marathon Weekend falls during the Food and Wine Festival, these are the only bags introduced. They are available for purchase in the Festival Center at Epcot through Nov. 16. They are not for sale online as of yet.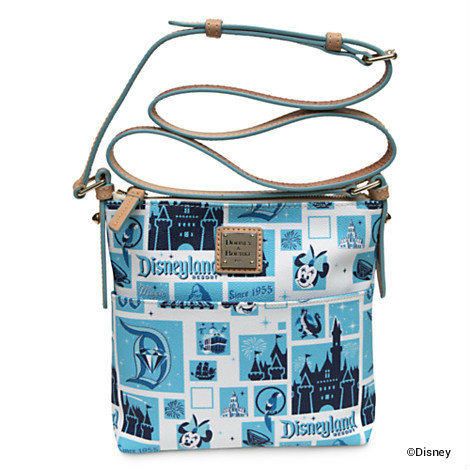 At the beginning of the summer, Dooney & Bourke also debuted its Disneyland Diamond Anniversary Celebration collection, but the four bags have only recently been added to the online store, in addition to the California parks. Now, more customers can choose from the Letter Carrier, Crossbody Satchel, Shopper and Wristlet styles.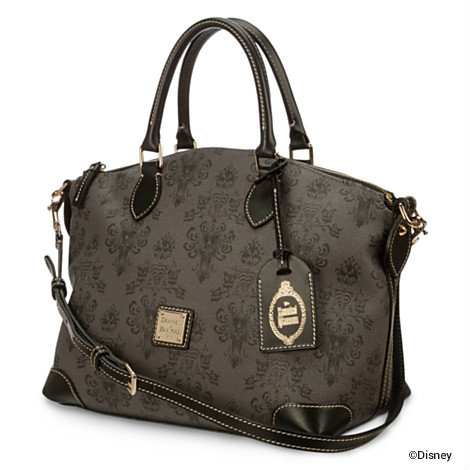 For the fall season, Dooney & Bourke released a new version of its Haunted Mansion pattern that replicates the famous wallpaper inside the attraction. Choose from Crossbody, Crossbody Pouchette, Shopper Tote, Satchel and Weekender bags at Disney Parks and online.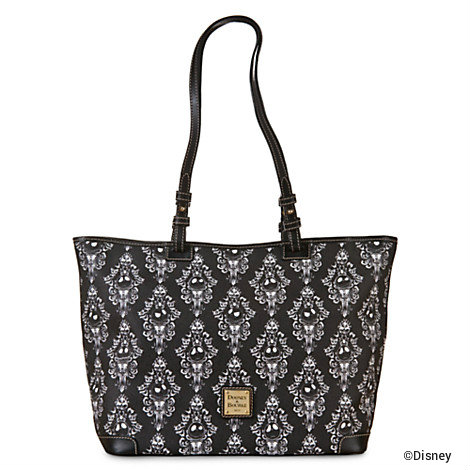 Finally, just in time for Halloween and Christmas, a Jack Skellington pattern was released on Shopper Tote and Wristlet bags, which also are available in parks and online.
Vans
Vans, a shoe and clothing brand that got its start in Anaheim, Calif., teamed up with Disney earlier this year to put Disney's iconic characters on some of its most popular products, including its signature slip-on shoes and backpacks that are loved by skaters. Mickey Mouse, Minnie Mouse, Donald Duck, Disney Princesses, Ariel and Winnie the Pooh made their debut in the initial offering. Now look for 101 Dalmatians, Alice in Wonderland and The Jungle Book characters with a Villains pattern on the way. Products can be purchased at Vans stores or online at Vans.com