I live in upstate New York near Lake Ontario and it has been a brutal past six weeks from late January to early March. In fact, not only was February of 2015 the coldest one ever, it was the coldest MONTH ever recorded for my area. So, I hope you will forgive me if I share with you a few photos from my last cruise on the Disney Dream to break up the season and remind me of better things to come as the calendar heads towards Spring.
Here we go, mateys. Our first Port of Call was Nassau where my wife and I choose to tour the Atlantis resort on nearby Paradise Island.
The Atlantis resort on Paradise Island.
Nikon D700/24-120VR, f/16, ISO 200, EV 0, 24mm focal length, HDR image.
See the span between the two buildings? That is the Bridge Suite (aka the Michael Jackson Suite) which costs $25,000 (US) a night with a four night minimum. Anyone ever stay in the Bridge Suite?
I choose to use a High Dynamic Range (HDR) set of five photos which I merged together using Photomatix software. The reason was the sunlight was coming from behind the buildings which created a lot of dark shadows. Using HDR processing, I was able to pull out the details and colors in those shadows.
My next stop of the tour of Atlantis was the Aquarium which holds a large variety of sea creatures and treasures to see, photograph and learn about. The shark tunnel was fun to hang out in to see the reaction of fellow tourists as they watched sharks and rays swim over their heads.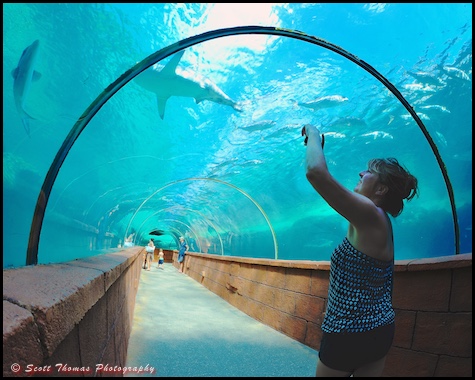 A tourist photographs a shark swimming overhead at the Atlantis resort aquarium.
Nikon D700/Tokina 11-16mm, 1/125s, f/11, ISO 500, EV 0, 15mm focal length.
I wanted to do two things with this photo: A person doing something and enough depth of field to show the length of the tunnel. To do both, I put on the Tokina 11-16mm wide angle zoom lens (this lens is available for Canon, Nikon and Sony mounts) and set the aperture to f/11 using Aperture priority mode. My camera was set not to go below 1/125th of a second for its shutter speed. This produced an ISO of 500 which was pretty good for this location. All I had to do was wait for someone to come along. If you have family with you, they could be your models.
After having lunch at Atlantis, we went back to the ship to relax and enjoy the evening cruise to Castaway Cay, Disney Cruise Line's private island. We disembarked the next morning and were told Captain Jack Sparrow would soon be joining us. Always wanting to meet the scallywag, we waited.
Captain Jack Sparrow on Castaway Cay.
Nikon D700/28-300VR, 1/320s, f/13, ISO 200, EV 0, 38mm focal length, fill flash.
Jack and I had a good conversation about where to find rum on the island and something about wenches…but back to the photo. Notice it was a bright sunny day on Castaway Cay and what do I like to use on such days? Anyone? That is correct! I used Fill Flash to open up the shadows on people's or, in this case, pirate's faces. Gave the Captain a nice sparkle in his mischievous eyes, aye?
Assured by the good Captain I would find rum and food at Serenity Bay, the adults only beach on Castaway Cay, my wife and I took the next tram out.
A couple enjoying Serenity Bay on Castaway Cay.
Nikon D700/28-300VR, 1/125s, f/18, ISO 200, EV -0.3, 300mm focal length
Does this scene fit the name Serenity Bay or what? Notice I did not put the people in the center of the frame. I followed the Rule of Thirds to create a more natural and pleasing to the eyes scene.
Earlier that day, I had left my cabin before sunrise to photograph around the Disney Dream and watch as we docked at Castaway Cay. With today's camera and lens technology, I was able to photograph in the low light without a tripod.
The Disney Dream early in the morning sailing Caribbean waters.
Nikon D700/28-300VR, 1/80s, f/3.5, ISO 6400, EV 0, 28mm focal length.
This is when proper hand-holding of your camera comes into play to get sharp photos even in low light conditions.
The last night at sea, we enjoyed the talents of Greta Salóme, an Icelandic singer and violinist, performing in the Atrium of the Disney Dream. She played many Disney classics including a version of "Let It Go" from the animated movie, Frozen, which everyone loved.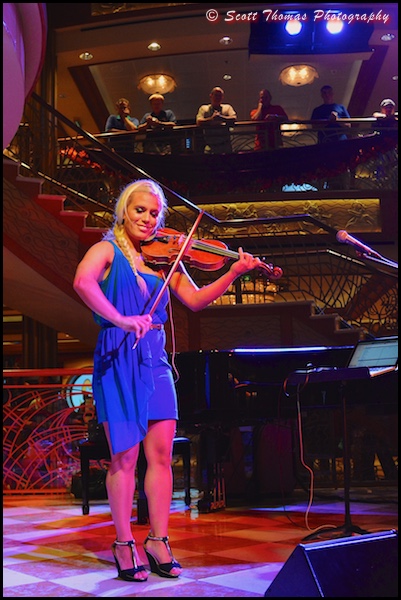 Greta Salóme performing in the Atrium of the Disney Dream.
Nikon D700/24-120VR, 1/200s, f/4, ISO 1600, EV 0, 24mm focal length.
I encourage you to look up Greta Salóme's music. As you can see, there is a lot one can do and expereience on a Disney Cruise.
I am warmed up now.