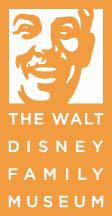 THE WALT DISNEY FAMILY MUSEUM SEPTEMBER 2014
Programs, Activities, Screenings, and Special Events
SPECIAL EXHIBITIONS

Leading Ladies and Femmes Fatales: The Art of Marc Davis
Now through November 3, 2014 | Theater Gallery
FREE for members or with museum admission | $20 adults | $15 seniors and students
$12 children (ages 6 to 17)
The Walt Disney Family Museum is excited to present the exhibition Leading Ladies and Femmes Fatales: The Art of Marc Davis. On view in the museum's Theater Gallery from April 30 to November 3, 2014, this exhibition co-curated by the museum's director of collections and exhibitions, Michael Labrie, and animator Andreas Deja spotlights some 70 original pencil animation drawings, conceptual artwork, paintings, cels, and photographs from animator and Imagineer Marc Davis (1913-2000). Leading Ladies and Femmes Fatales highlights Davis' female characters in film-such as Peter Pan's Tinker Bell, Sleeping Beauty's title heroine Aurora, its villain Maleficent, and One Hundred and One Dalmatians' Cruella de Vil-as well as in live entertainment, his fine art, and through his beloved wife Alice Davis. Both Alice and Marc worked with a team of Disney artists and engineers to design and dress the Audio-Animatronics® figures for it's a small world, including famed artist Mary Blair, one of Walt's most recognizable leading ladies.
SCREENINGS
FILM OF THE MONTH
One Hundred and One Dalmatians
Screens through Sept, daily at 1:30 & 4pm (except Tuesdays-check our calendar online for exceptions)
Free with museum admission
Join us for this fur-raising adventure featuring one of Disney's most outrageous villains.
DISCUSSIONS
SPOTLIGHT TALKS
A Glimpse into the Art of Marc Davis
Every Friday, Saturday, & Sunday in September | 11am, 1 & 3pm | Theater Lobby
Free with museum admission
Learn more about one of The Walt Disney Studios' most celebrated artists as we look closer at one aspect of Marc Davis' multifaceted career.
Marc Davis: Walt's Renaissance Man – SOLD OUT
Saturday, September 13 | 3-4:30pm | Theater
$18 members | $20 general |$15 youth (17 and under)
During his 43 years at The Walt Disney Studios, Disney Legend Marc Davis was assigned and produced some of the most difficult animation requested by Walt and his directors. Join master animator Andreas Deja and Bob Kurtz, former Davis student and founder of the Burbank-based animation studio Kurtz and Friends, for a discussion of Davis' far-reaching talents and considerable influence on the field of animation. Offered in conjunction with the special exhibition, Leading Ladies and Femmes Fatales: The Art of Marc Davis.

Over There with Steve Pilcher
Saturday, September 20 | 12:30-5:30pm | Lower Lobby & Theater
Premium package (members only-includes reserved-seating, copy of Over There, and entry into reception): $36 general, $10 child | Program only: $12 member (general), $5 member (child); $20 general, $9 child.
Join Pixar artist Steve Pilcher for a reading, presentation, and book signing for his newest book Over There. Museum members who purchase the premium package are invited to a private reception (12-2pm) with the author before the program (2:30-3:30pm), followed by a book signing (4-5:30pm).
CLASSES & ACTIVITIES
OPEN STUDIO | Armature Building for Animation
Saturday & Sunday, September 6 & 7, September 13 & 14 | 1pm – 4pm | Learning Center
Free with museum admission
The armature is a crucial structural piece of any sculpted character or stop motion puppet. Learn the essentials of armature-making to help build and bring your own original character to life!

LITTLE OPEN STUDIO | Summer Fun!
Every Saturday in September | 10am – Noon | Lower Lobby or Front Porch
Free with museum admission
Designed for ages 7 and under, Little Open Studio is a place where young ones and their families can put small hands to work creating artwork inspired by what they see here at the museum.