Star Wars, just like Disney, has legions of fans and the two worlds often join forces in the endless search for more money. If you're a Star Wars fan then you already know about Star Wars Weekends at Disney's Hollywood Studios, an annual event every spring. Disney fans know that rumors are spreading like wildfire about Disneyland's Tomorrowland receiving a Star Wars makeover. For the record, I'm not cool with that. Build a new land like they did with Cars Land or create an extension of Tomorrowland. Who needs Harbor Blvd. and a dozen or so hotels and restaurants? Just send Darth Vader over to Best Western and Mimi's Cafe and word will spread quickly.
For now, Star Wars and Disney fans are happy with Star Tours, Jedi Training Academy (the kids are happy, the adults are jealous) and heaps of souvenirs. Don't get greedy like this guy.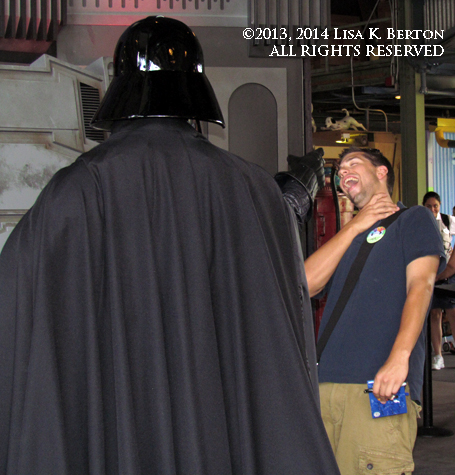 Star Wars and Disney super geek fan Scott will post his admiration on Thursday.
Come on over and "Like" my Facebook page or follow me on Twitter, my handle is lisano1.